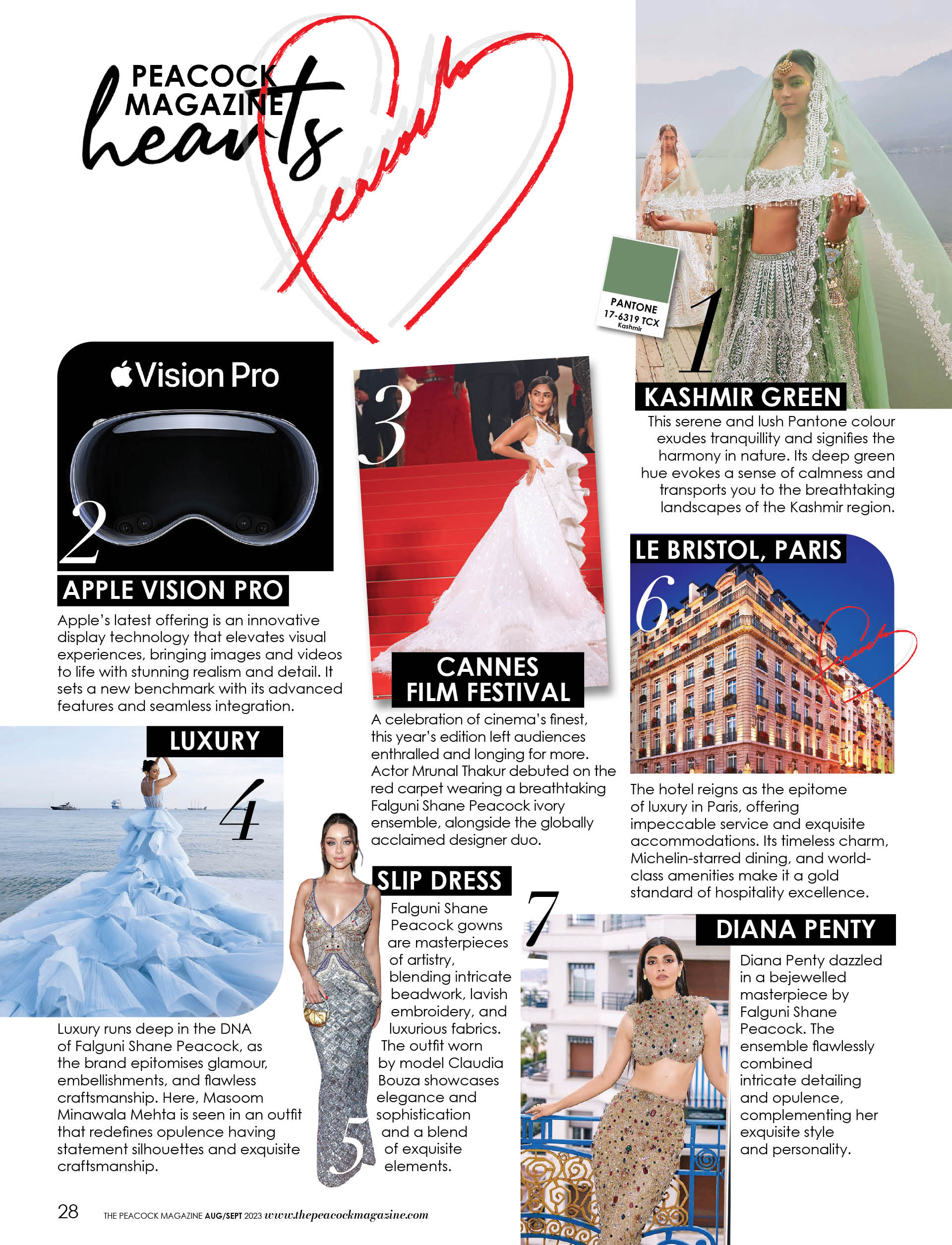 KASHMIR GREEN
This serene and lush Pantone colour exudes tranquillity and signifies the harmony in nature. Its deep green hue evokes a sense of calmness and transports you to the breathtaking landscapes of the Kashmir region.
APPLE VISION PRO
Apple's latest offering is an innovative display technology that elevates visual experiences, bringing images and videos to life with stunning realism and detail. It sets a new benchmark with its advanced features and seamless integration.
CANNES FILM FESTIVAL
A celebration of cinema's finest, this year's edition left audiences enthralled and longing for more. Actor Mrunal Thakur debuted on the red carpet wearing a breathtaking Falguni Shane Peacock ivory ensemble, alongside the globally acclaimed designer duo.
LUXURY
Luxury runs deep in the DNA of Falguni Shane Peacock, as the brand epitomises glamour, embellishments, and flawless craftsmanship. Here, Masoom Minawala Mehta is seen in an outfit that redefines opulence having statement silhouettes and exquisite craftsmanship.
SLIP DRESS
Falguni Shane Peacock gowns are masterpieces of artistry, blending intricate beadwork, lavish embroidery, and luxurious fabrics. The outfit worn by model Claudia Bouza showcases elegance and sophistication and a blend of exquisite elements.
LE BRISTOL, PARIS
The hotel reigns as the epitome of luxury in Paris, offering impeccable service and exquisite accommodations. Its timeless charm, Michelin-starred dining, and world-class amenities make it a gold standard of hospitality excellence.
DIANA PENTY
Diana Penty dazzled in a bejewelled masterpiece by Falguni Shane Peacock. The ensemble flawlessly combined intricate detailing and opulence, complementing her exquisite style and personality.
MONOCHROME
Monochrome holds timeless significance in fashion, effortlessly creating a sleek and sophisticated look while allowing for versatile styling options that emphasise the interplay of textures, shapes, and silhouettes. Tamannaah is seen here in one such couture ensemble by Falguni Shane Peacock.
COURCHEVEL
This winter wonderland nestled in the French Alps captivates with its breathtaking beauty, world-class ski slopes, luxurious chalets, luxury shopping, gourmet cuisine, and a vibrant après-ski scene, creating memorable experiences.
NINE PERFECT STRANGERS
A thought-provoking and suspenseful series, this one expertly weaves complex character arcs with a mysterious plot. With stellar performances by the likes of Nicole Kidman and an engaging storytelling, the series keeps viewers hooked from start to finish.
AIR
The 2023 sports drama starring Matt Damon, Ben Affleck and others is based on the real-life events of sports giant Nike getting the then budding basketball player Michael Jordan on board, thus birthing the first-ever pair of Nike Air Jordan.
ARSEMA THOMAS
Netflix's Queen Charlotte famed Arsema Thomas sports a power look in this midnight black blazer with sequins arranged in ray-like patterns. Thomas effortlessly blends glamour and power in this three-piece look.
NAJWA KARAM
Lebanese singer, songwriter, and fashion icon gives yet another trend-setting glamorous look in this custom hot pink ombré gown by Falguni Shane Peacock. The couture outfit has a short trail with feathers on the hemline that adds to the grandeur of the look.
MAITREYI RAMAKRISHNAN
The Never Have I Ever actor stunned in a custom long dress by Falguni Shane Peacock, exuding confidence and boldness. With the power shoulders being the highlight of the outfit, Ramakrishnan made a fierce and fashionable statement on the red carpet.
BRESHA WEBB
Chrome appliqué dresses make an impeccable fashion statement with their blend of metallic shine and contemporary detailing. Taking a cue here is actor Bresha Webb in this custom Falguni Shane Peacock outfit channelling futuristic allure.
SHUBMAN GILL
A bomber jacket is an essential wardrobe hero, effortlessly combining style and versatility. Its timeless design, functionality, and ability to elevate both casual and dressy outfits make it a must-have fashion staple. Case in point: Indian right-hand top-order batter Shubman Gill.