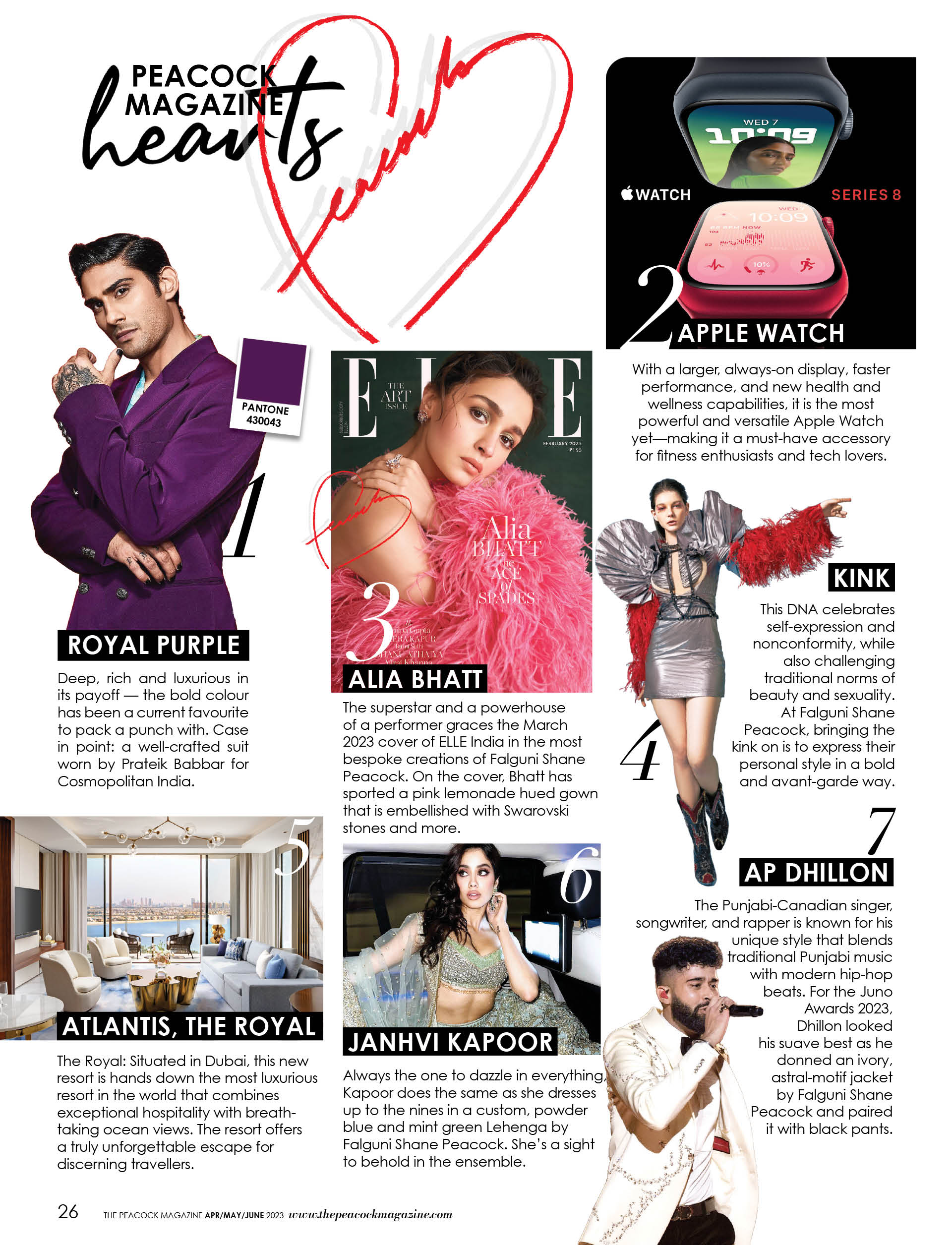 ROYAL PURPLE
Deep, rich and luxurious in its payoff — the bold colour has been a current favourite to pack a punch with. Case in point: a well-crafted suit worn by Prateik Babbar for Cosmopolitan India.
APPLE WATCH
With a larger, always-on display, faster performance, and new health and wellness capabilities, it is the most powerful and versatile Apple Watch yet—making it a must-have accessory for fitness enthusiasts and tech lovers.
ALIA BHATT
The superstar and a powerhouse of a performer graces the March 2023 cover of ELLE India in the most bespoke creations of Falguni Shane Peacock. On the cover, Bhatt has sported a pink lemonade hued gown that is embellished with Swarovski stones and more.
KINK
This DNA celebrates self-expression and nonconformity, while also challenging traditional norms of beauty and sexuality. At Falguni Shane Peacock, bringing the kink on is to express their personal style in a bold and avant-garde way.
ATLANTIS, THE ROYAL
Situated in Dubai, this new resort is hands down the most luxurious resort in the world that combines exceptional hospitality with breath-taking ocean views. The resort offers a truly unforgettable escape for discerning travellers.
JANHVI KAPOOR
Always the one to dazzle in everything, Kapoor does the same as she dresses up to the nines in a custom, powder blue and mint green Lehenga by Falguni Shane Peacock. She's a sight to behold in the ensemble.
AP DHILLON
The Punjabi-Canadian singer, songwriter, and rapper is known for his unique style that blends traditional Punjabi music with modern hip-hop beats. For the Juno Awards 2023, Dhillon looked his suave best as he donned an ivory, astral-motif jacket by Falguni Shane Peacock and paired it with black pants.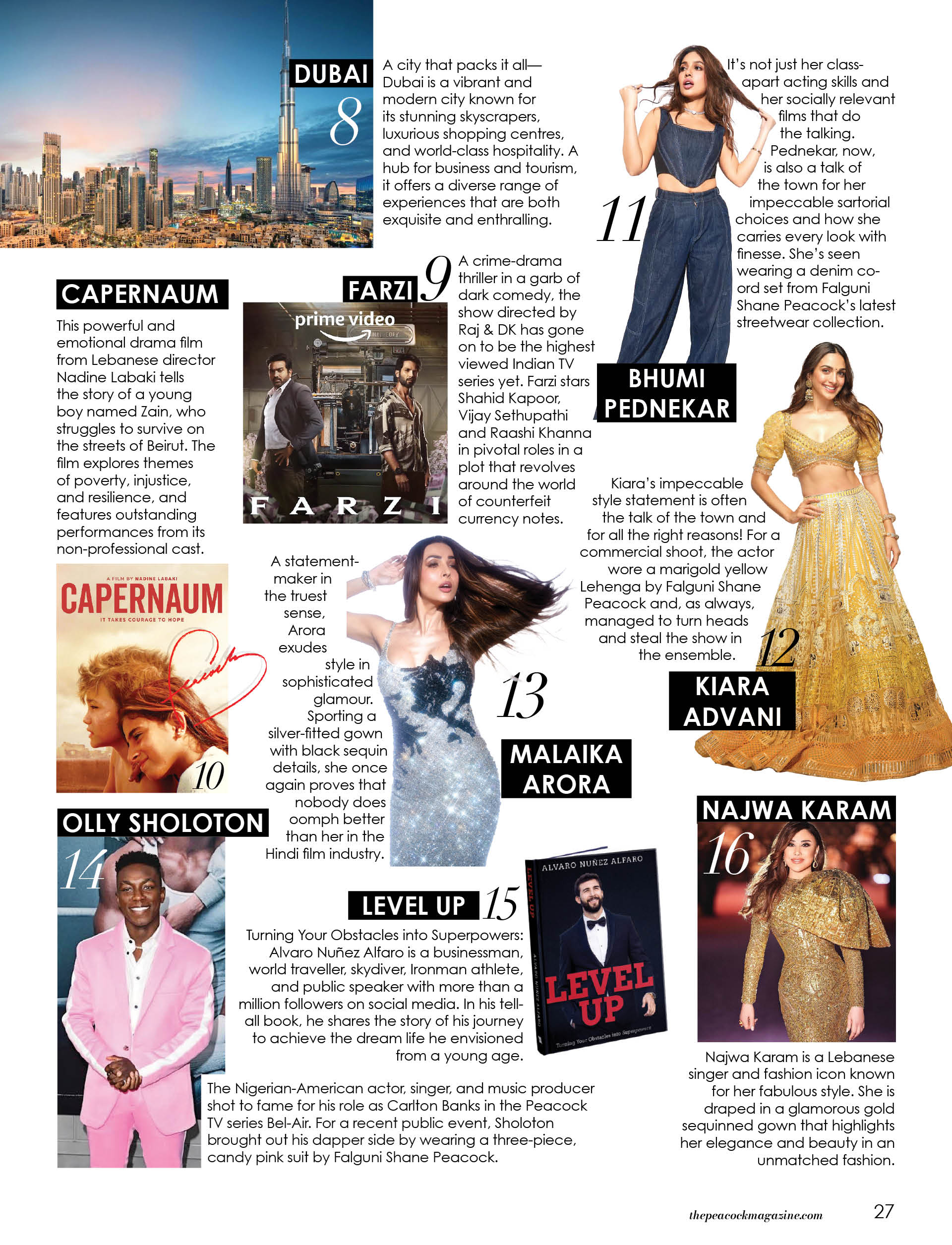 DUBAI
A city that packs it all—Dubai is a vibrant and modern city known for its stunning skyscrapers, luxurious shopping centres, and world-class hospitality. A hub for business and tourism, it offers a diverse range of experiences that are both exquisite and enthralling.
FARZI
A crime-drama thriller in a garb of dark comedy, the show directed by Raj & DK has gone on to be the highest viewed Indian TV series yet. Farzi stars Shahid Kapoor, Vijay Sethupathi and Raashi Khanna in pivotal roles in a plot that revolves around the world of counterfeit currency notes.
CAPERNAUM
This powerful and emotional drama film from Lebanese director Nadine Labaki tells the story of a young boy named Zain, who struggles to survive on the streets of Beirut. The film explores themes of poverty, injustice, and resilience, and features outstanding performances from its non-professional cast.
BHUMI PEDNEKAR
It's not just her class-apart acting skills and her socially relevant films that do the talking. Pednekar, now, is also a talk of the town for her impeccable sartorial choices and how she carries every look with finesse. She's seen wearing a denim co-ord set from Falguni Shane Peacock's latest streetwear collection.
KIARA ADVANI
Kiara's impeccable style statement is often the talk of the town and for all the right reasons! For a commercial shoot, the actor wore a marigold yellow Lehenga by Falguni Shane Peacock and, as always, managed to turn heads and steal the show in the ensemble.
MALAIKA ARORA
A statement-maker in the truest sense, Arora exudes style in sophisticated glamour. Sporting a silver-fitted gown with black sequin details, she once again proves that nobody does oomph better than her in the Hindi film industry.
OLLY SHOLOTON
The Nigerian-American actor, singer, and music producer shot to fame for his role as Carlton Banks in the Peacock TV series Bel-Air. For a recent public event, Sholoton brought out his dapper side by wearing a three-piece, candy pink suit by Falguni Shane Peacock.
LEVEL UP
Turning Your Obstacles into Superpowers: Alvaro Nuñez Alfaro is a businessman, world traveller, skydiver, Ironman athlete, and public speaker with more than a million followers on social media. In his tell-all book, he shares the story of his journey to achieve the dream life he envisioned from a young age.
NAJWA KARAM
Najwa Karam is a Lebanese singer and fashion icon known for her fabulous style. She is draped in a glamorous gold sequinned gown that highlights her elegance and beauty in an unmatched fashion.