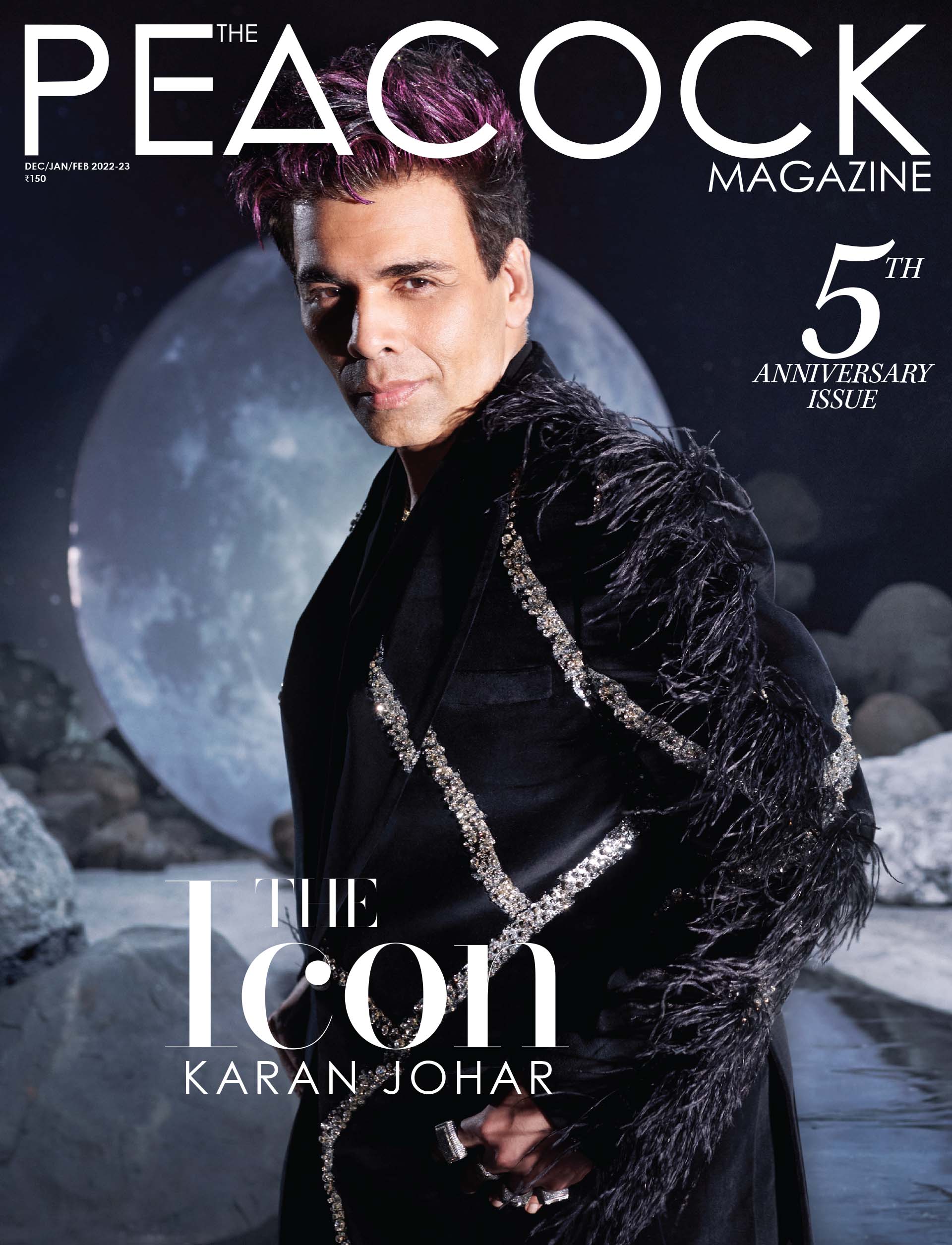 CREDITS-

PHOTOGRAPHER – VAISHNAV PRAVEEN
STYLIST – EKA LAKHANI
STYLE TEAM – ARPITA & MAYURI SRIVASTAVA
DRESS TEAM – SHEIKH MEHBOOB & AYAAN RK ANSARI
MAKEUP – PARESH KALGUTKAR
HAIRSTYLIST – DARSHAN YEWALEKAR
ASSISTED BY – PRATIK KALE
ALL SHOES – VERSACE, DOLCE & GABBANA, RICK OWENS
ALL SUNGLASSES & ACCESSORIES – LOEWE, KUBORAUM, GUCCI, ZILLIONAIRE, ANNA-KARIN KARLSSON, DRIP PROJECT, VIVIENNE WESTWOOD, INOX MEN'S JEWELLERY, THE NOBLE SCULPTOR
PRODUCTION – NIHARIKA SINGH OF STUDIO LITTLE DUMPLING
KARAN'S PR AGENCY – HYPE PR
MANAGED BY – LENN S
WARDROBE – FALGUNI SHANE PEACOCK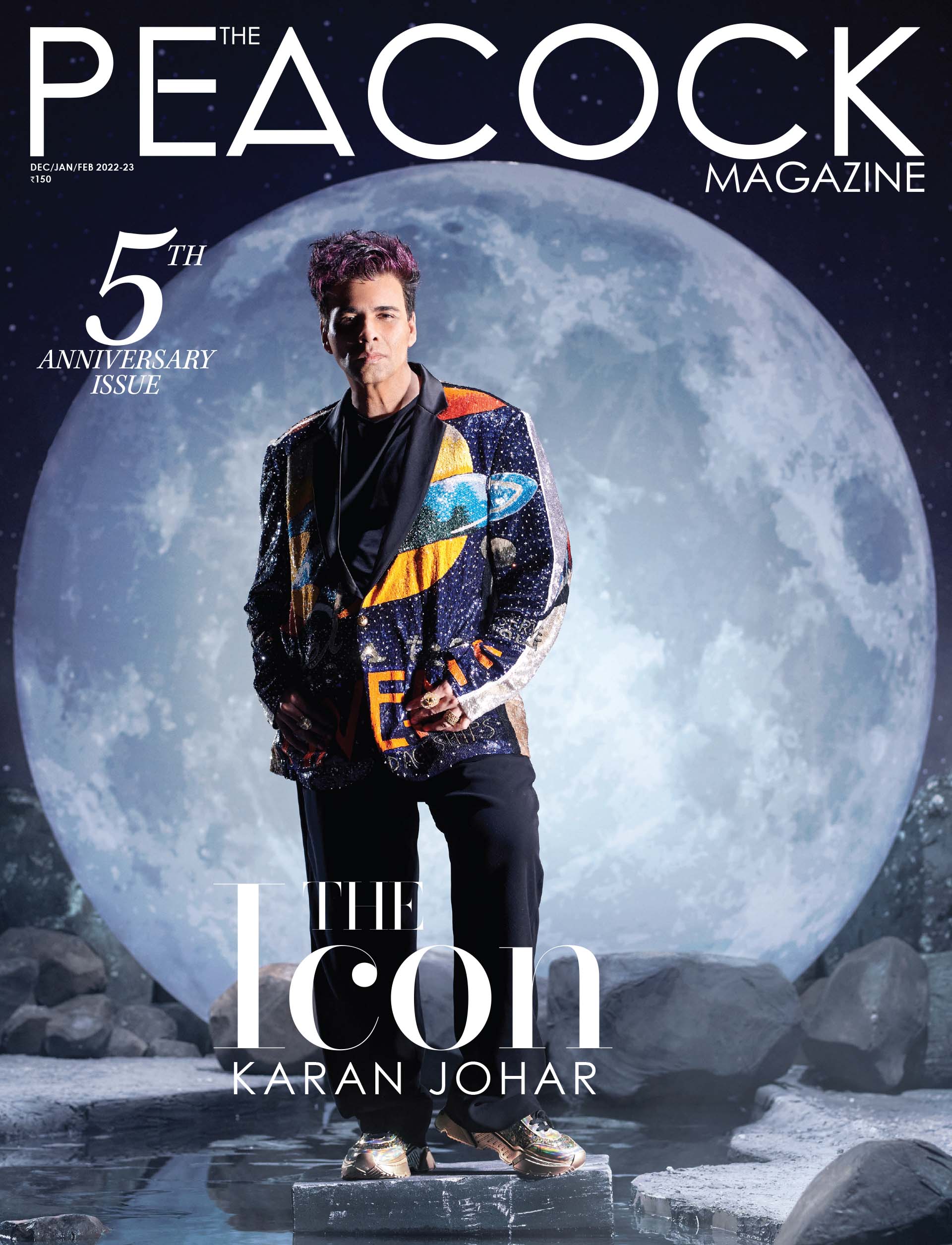 Our cover star of the fifth-anniversary issue does not need any introduction—not because he is a famous personality but simply because he is an icon, a legend for shaping Indian cinema into what it is today. Karan Johar, since his debut, has churned out films that are nothing short of milestones in Indian cinema. Over the years, he has entertained people through his films — whether it is projecting fairytale romance on the screen or showcasing larger-than-life family dramas – his forte is unmatchable, making him the one-and-only that can ever be! Along the lines of blockbuster films, Johar has proven to be so much more than a filmmaker. From hosting India's number one talk show where every episode promises and delivers to be better than the last one to hosting some of the grandest parties where he shows how to serve fashion looks like no other — Johar has truly redefined 'entertainment' and 'fashion' to a great extent. With his magnetic social media presence, he is a definite mass favourite because of the bone-tickling insight he gives on life through the hilarious videos he shoots for his Instagram followers. To sum it up, he aces everything that he sets his heart and mind on—making him the master of all trades (unlike the age-old adage).
ohar — the guiding star of the stars and the ultimate dream maker of Indian cinema, spoke candidly as The Peacock Magazine got him talking about a host of topics. During the conversation, we found out how he considers the rise of pan-Indian films to be the future of Indian cinema, why it is about time we should ditch the 'Bollywood' and other similar tags and what makes the director of a film the unspoken therapist on the film sets. Read on for the excerpts.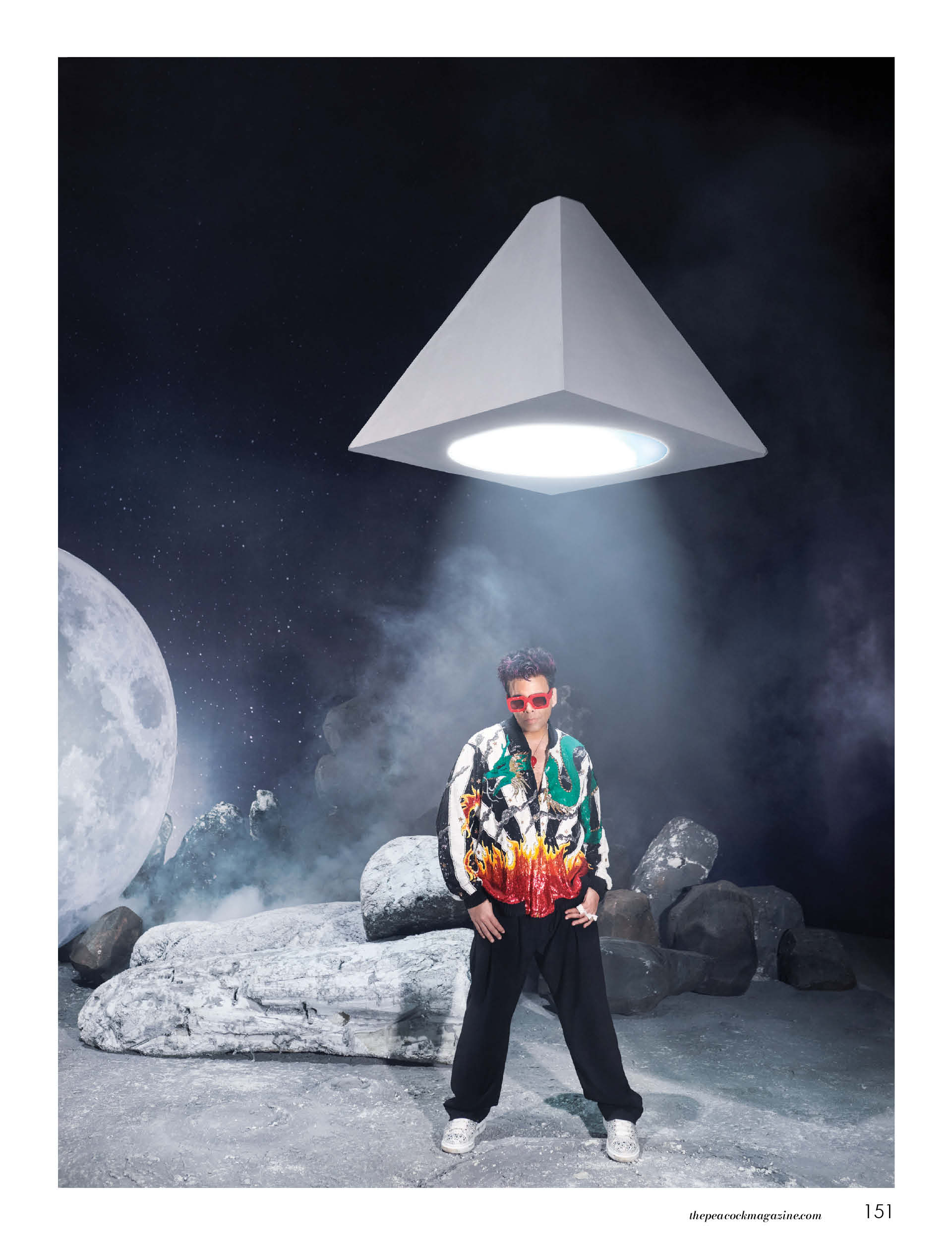 Q) There will never be another Karan Johar, not even close. Who do you attribute it all to?
I mean, it's a very flattering question, and I feel like a lot has to do with the goodwill that I have amassed owing to my father. I would attribute it to all the goodwill that my father created. It was a legacy given to me, that I inherited, and I hopefully have made him very, very proud.
Q) Was 'timing' a factor in your success?
I think it wasn't timing that was a factor in my success. It was more about destiny. I really believe that I was destined to be an assistant director on Dilwale Dulhania Le Jayenge, destined to work with Shah Rukh Khan, destined for him to offer me himself in my first directorial venture on the top of a mountain in Switzerland. It's all destiny. I believe that I give destiny much more, much more credit than timing, ever.
Q) One can say you have the 'Midas' touch. But where do you think you acquired a determination to succeed?
I was born ambitious. I always wanted to achieve — be at the top of my class, barring sports because I always came last there and I was not entirely a sporty person. But winning the gold for debates, drama, elocution and all that was very important. So, my ambition levels were always very, very high. And the fire in my belly to succeed was always there. It still exists — I'm happy to report. (laughs)
Q) Do you have a confidante with whom you discuss and take advice from?
I take advice from Aditya Chopra — my best friend on all business and personal matters. And, of course, Shah Rukh Khan, who I consider as an elder brother figure in my life.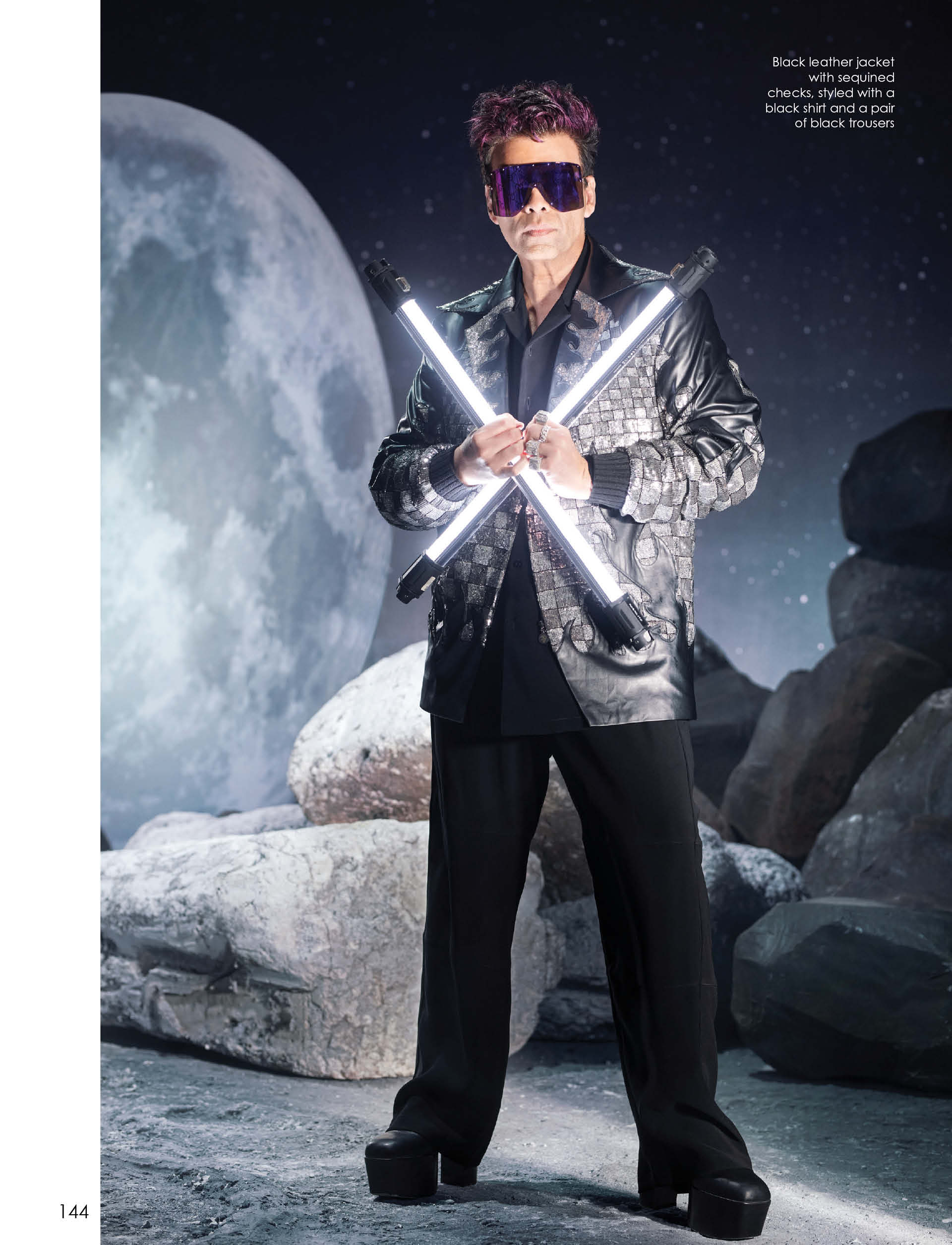 Q) Who is your current muse?
My current muse. I don't have a muse; but I have a daughter, Alia Bhatt.
Q) What are some of your biggest learnings as a filmmaker?
My job as a filmmaker is 90% people-handling, 10% talent and creativity. So, basically, dealing with people's egos, delusions, mindsets and moods is predominantly what my job as a filmmaker is. 10% you can put your creativity to its best use.
Q) What mindset are you in when you sit down to write?
I never sit down and write. I, actually, think and then make someone else type. Yes, this does sound strange, but I never sit down and actually write. My thoughts and mindset come through, I think, under the water and in my shower. I think the best then!
Q) How does an idea for a film come together?
I think it's an amalgamation of many observations that you make at a certain period of time, and from there a germ is born within you. Your observations could be the things you watch or people you observe.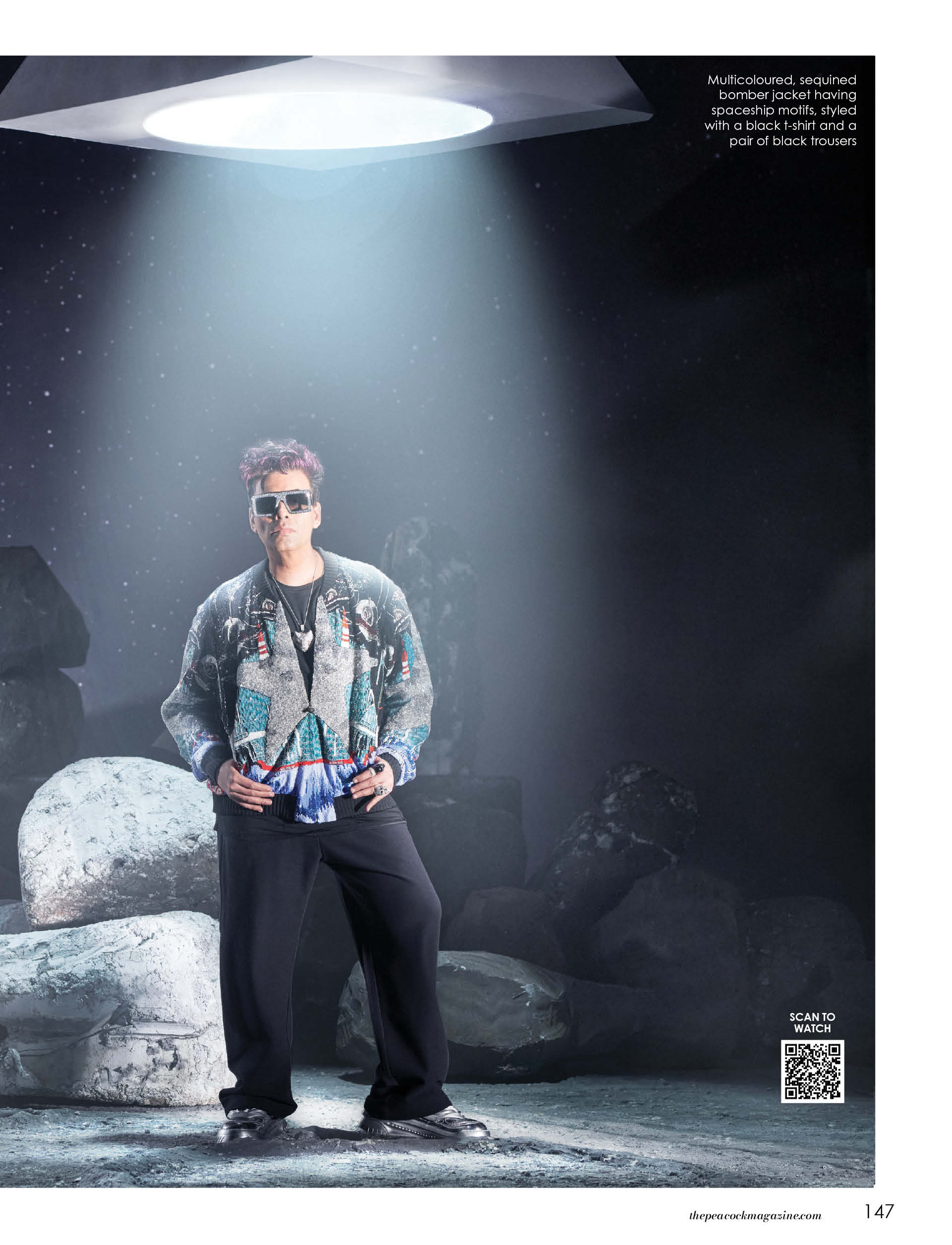 Q) Are there movies that you oriented yourself on?
I think Ae Dil Hai Mushkil is a very personal film for me. It's a one-sided love story that was a big part of my life and I was able to actually translate that inner emotion on celluloid. So, that film for me will always be very personal because it has a piece of my broken heart in it.
Q) What's the mark of a good story for you?
A story that actually has a strong beginning, middle and end is a great story for me.
Q) Your films seem to look at the world through rose-tinted glasses. Why is that?
I lived in a very moderate, tiny house when I was growing up, and I always imagined when I saw those movies that were larger than life that I would one day actually be able to captivate that larger-in-life feeling in my cinema. I love beauty, I love glamour, I love grandeur, and I like the glory of all that comes with movie-making. And I hope that my cinema has reflected that because I've enjoyed it at every beat. For me, cinema is a larger-than-life medium, and capturing the essence of that larger than life is what I've always aspired for. So, though my glasses are rose-tinted, my reality check is always around me, who is my mother.
Q) Do you see your influence in the work of other filmmakers?
Well, I believe that I'm glad that one can do enough work where they can become a kind of school of sort of filmmaking. And I think whenever there is a typical Bollywood song with dancers, glamour, glory and glitz, it said, oh, this is like a Karan Johar-type of song, which I'm happy with and I take it as a compliment.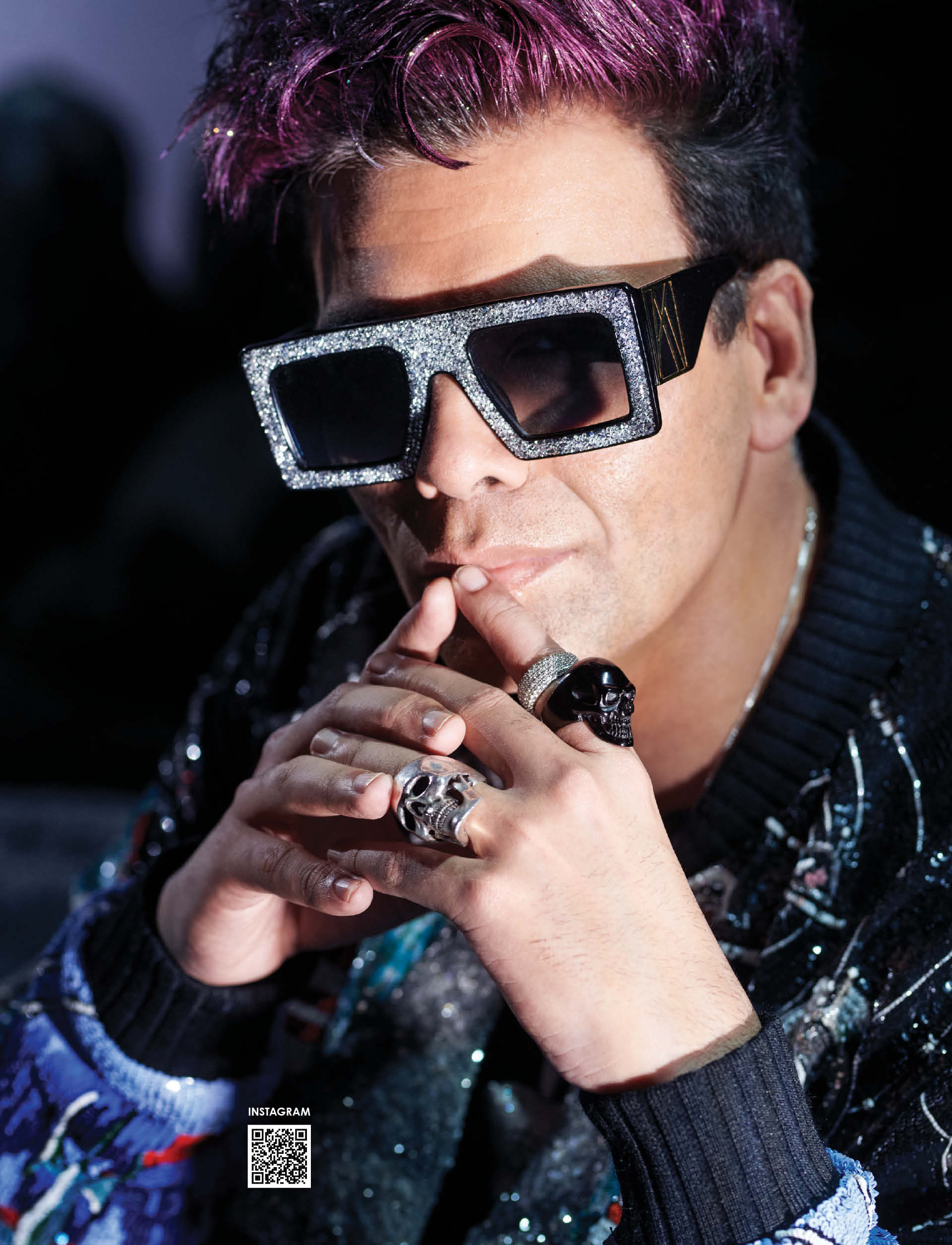 Q) What drives you to constantly push the limits of innovation in film?
I think it's important to be relevant, to be with the times, to constantly reinvent your mindset according to the atmosphere around you. So, if VFX is of a certain nature around you, then you have to make sure that you implement the tonality, syntax and quality of your VFX in your cinema. Be it sound, be it other the technical departments — you have to be with your time. So, innovation comes from actually acknowledging the atmosphere that exists technically around you.
Q) Do you think the director is a 'high priest' of any film?
I think the director is like the therapist on set more than anything else. He has to listen to everybody's moods, anxieties, stresses and basically, manoeuvre his or her way through that situation. He's definitely no high priest. He is more like the therapist on set.
Q) When did your interest in pan-Indian filmmaking start?
I think that we call ourselves Bollywood, Hollywood, Tollywood — all that is wrong. We're Indian cinema at first and pan-India actually was waiting to happen. The first crossover that actually happened was when Telugu cinema worked so beautifully in the Hindi belts. That was the crossover that was most successful, not the crossover to the West, but the crossover internally — where the north and the south, the west and the east can amalgamate and be proudly called Indian cinema and we can drop the 'Bollywood' tag for life.
Q) From a storytelling perspective, has that advancement in technology (VFX, multidimensional) resulted in better movies?
Yes, absolutely. Today technology has enhanced the big-event films, the spectacle films and we are able to tell stories — be it in the mythology world, be it in the high-event world. Many, many stories and narratives have been possible because of this strong influence of VFX and computer graphics.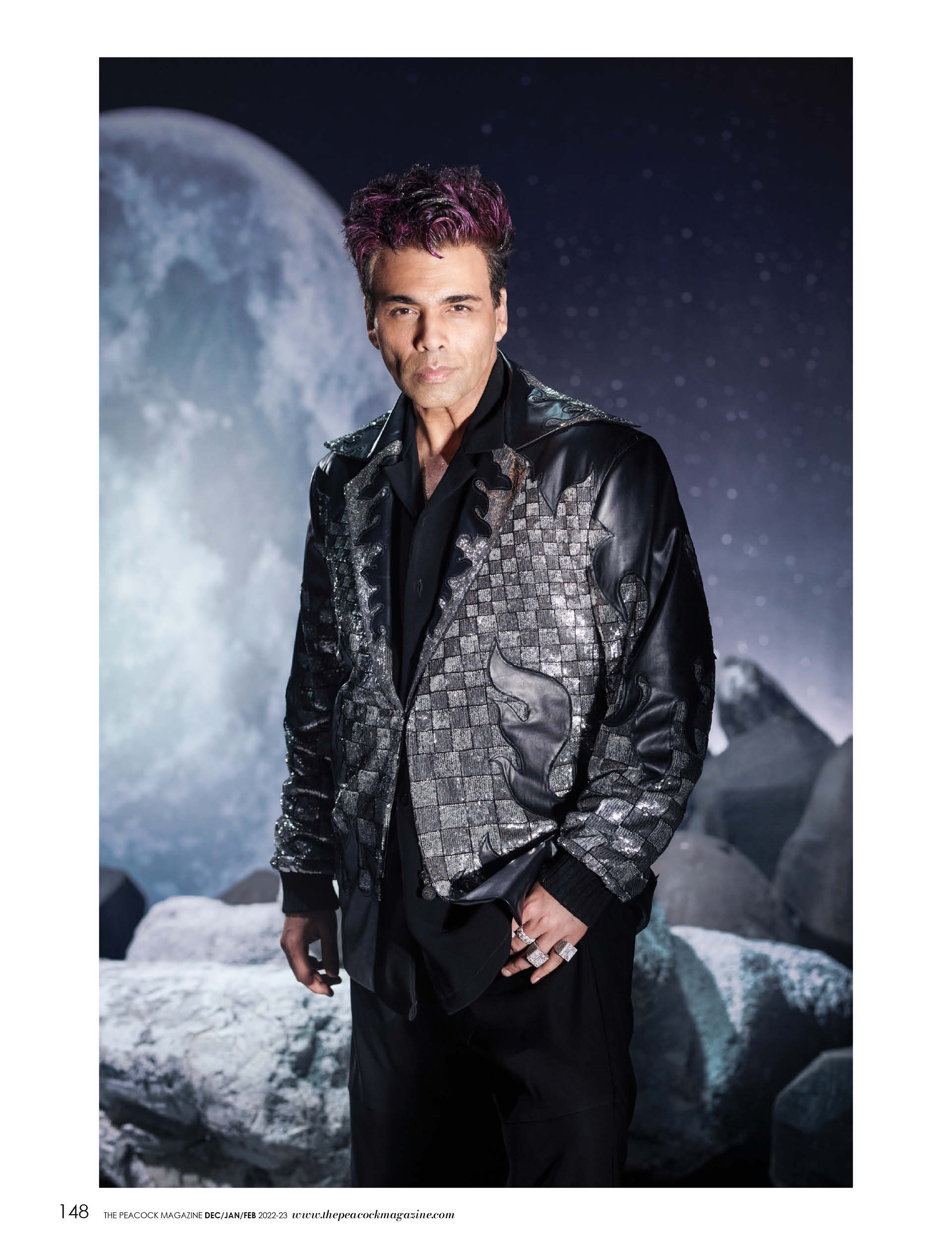 Q) How do you handle the dynamics of working with multiple star leads in your movies?
I think I would say handling people and their egos is now something that I could say I could give a masterclass in. People management is a skill set that very few have and I'm glad that I acquired it. Thanks to my parenting!
Q) What is the one change that you would like to see in the Indian film industry?
I would like the film industry to actually stop being a part of the herd mentality. We have a terrifying problem. We are always following the herd, that's one. I believe we should be original, have the conviction to tell our stories without emulating or kind of trying to copy someone else. Second is, punctuality. I believe we're not a punctual industry and I believe we have to kind of give value to time — ours and everybody else's.
Q) Are there any genres that you don't like — as an audience or filmmaker?
I don't like horror films, though I have attempted making two horror films and both have been horrible experiences.
Q) Moving on from films, what makes a good TV show for you?
A good TV show is one that engages you season after season. Somewhere the characters are so compelling and the sub-tracks and the sidetracks equally engaging where you can keep going on and on and on watching it season after season, because you're so engaged with the characters.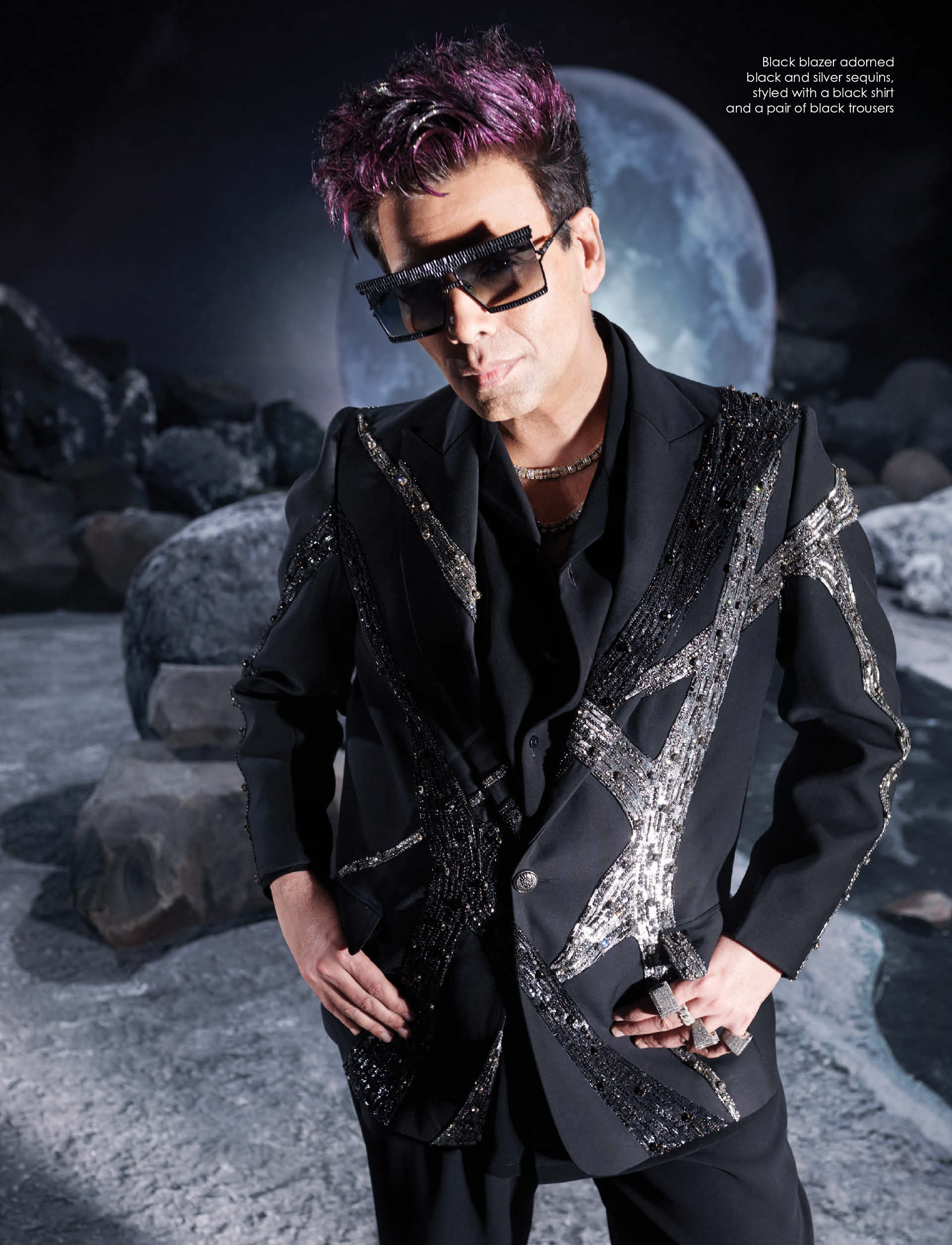 Q) You've been seen endorsing a plethora of brands — either via IG collaboration or a commercial. How do you decide which brand/product you want to be a face of?
I think that the products actually go with my personality, my lifestyle and my general ethos, as a human being — those are the products that I endorse. Some just don't go with my personality or what I stand for as a human being. Those products I stay clear off!
Q) What fuels your decision making these days?
The only thing that has ever fueled my decision-making is my instinct. I think we don't value instinct as much as we should. Instinct is everything; it is gold, and we have to tap into our individual instincts to actually achieve our goals.
Q) At 50, what's your definition of love?
Love could be very, many things to many people. Love is a tough four-letter word to describe. Love is a feeling that you can't express. But love is also sometimes like a slap on your face when it happens to you. So, when you feel that stinging slap on your face — and I say this symbolically, you know somewhere there's love. Also, love is a feeling that enters when there's a third person involved, when you feel that you could lose out on that to another person. And that's when the feeling of love truly penetrates. As I said, love is something that you can't describe. It's a feeling. It's a feeling that makes you lose sleep, makes you skip a beat, makes you want to kind of stare at your phone to find out if the person is online or stalk them on Instagram, sometimes. I mean it makes you do the strangest things!
Q) Your book The Unsuitable Boy earned rave reviews. Any plans to pen down another one? If yes, on what subject?
Well, no, I think I wrote that as a memoir when I was 44. Maybe 20 years from now, I'll write part 2 of The Unsuitable Boy. I'm sure many things would have unravelled by that time!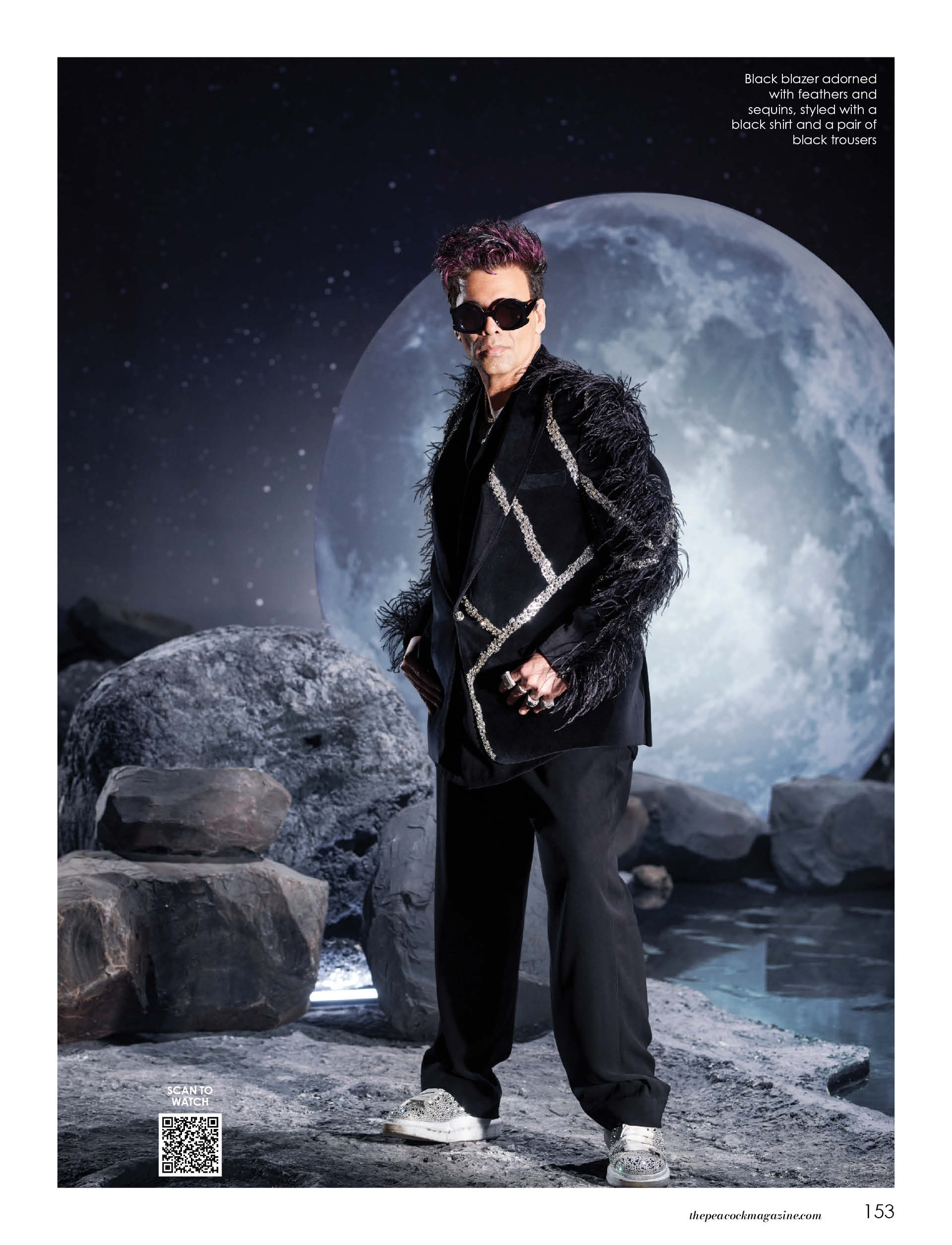 Q) With Yash and Roohi growing up, your parental instinct would be altered accordingly. What is the equation that you share with them?
I have an amazing, friendly-yet-respectful, reverential relationship with my children. It's the way I was raised, where I was very friendly with my mother. She was like my best friend, but also there was a huge boundary of love, respect and reverence. I want to have that same relationship with Yash and Roohi.
Q) What are you working on next? Which unseen aspect of your personality will we see in the coming time?
Well, I'm working on an action film next, which I don't want to disclose more about. But yes, making an action film is the most unthinkable thing but I'm planning to go out of my comfort zone and probably, hopefully, create a world that I have never ever created before.
Q) How do you unwind after a long day at work?
I watch Netflix and maybe not chill. But I watch a lot of digital content on Netflix, Hotstar, Amazon and other channels in my bed very happily. That's my relaxing time!
Q) According to you, what should be any person's wardrobe MVPs?
The most valuable possession of any person's wardrobe should be their athleisure, because that's what really is what's happening today and athleisure is here to stay.
Q) What are your favourite timeless wardrobe staples?
Well, I think I don't hold onto products but shine, sequins, bling are all my things. So, everything sequin-y is a staple in my wardrobe.
Q) What are some fashion pieces that are totally worth the overspend?
I love jackets. I like all kinds of jackets, like I'm a big jacket freak. So, any kind of oversized jacket with things on it. Not simple ones at all. I can't bear clean, simple things. They bore me to tears!
Q) Describe your closet to us.
It's like a bedroom full of all kinds of colourful clothes. It's a 1BHK with every kind of colour that you can find on planet Earth – it's in my wardrobe.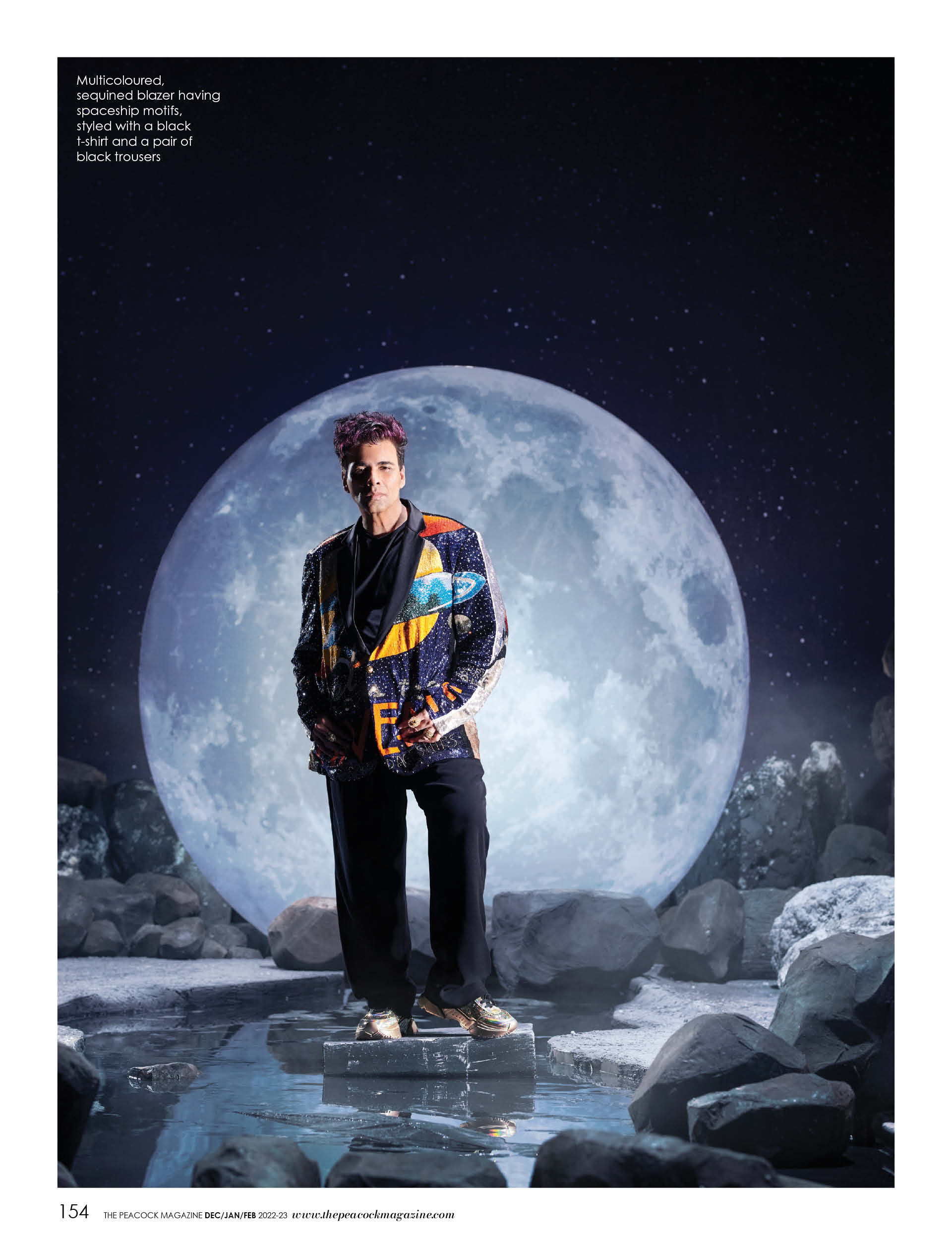 Q) Most celebrities would like to buy your wardrobe out. But if you could buy out someone's
wardrobe, who would it be?
I would like to walk into Mr (Amitabh) Bachchan's wardrobe. I think he'll have such amazing fashion, down from the '70s till today. I'll just like to be a secret voyeur to that wardrobe!