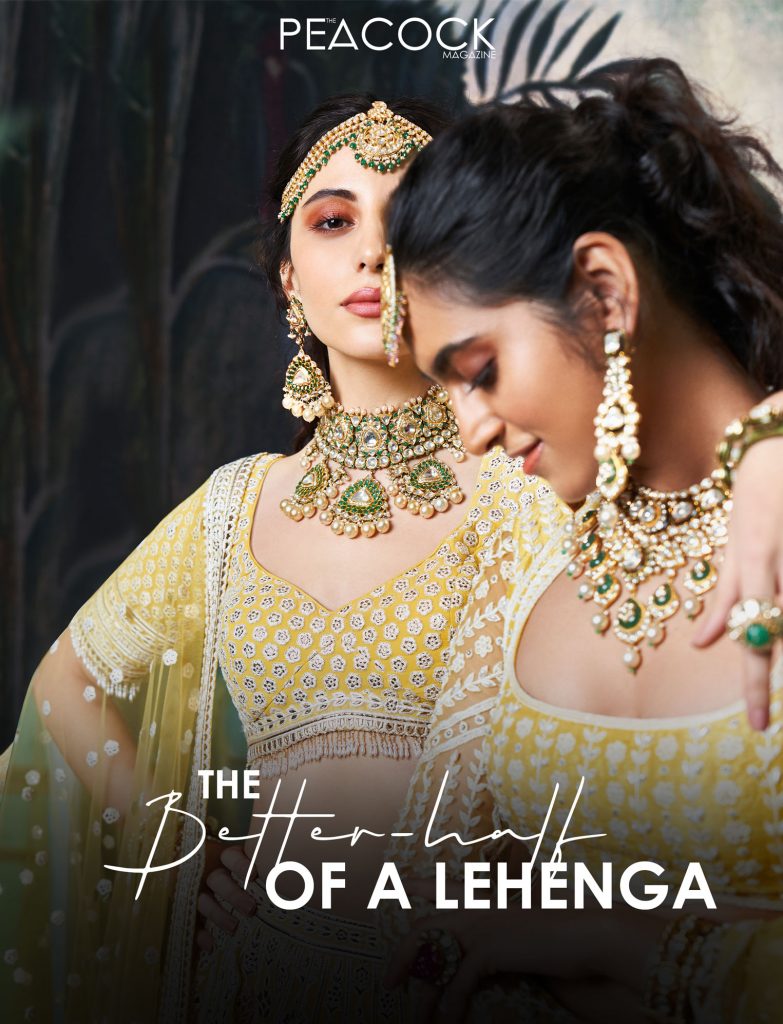 There ain't no lehenga if there ain't no blouse that stands out and adds to the beauty of the bespoke lehenga. Cut from the same cloth but yet a standing out feature to an outfit, the blouse has evolved and come a long way. From being a simple half or full-sleeves top quintessentially belonging to the saree or a Ghagra, it progressed along with the times. Gone are the days when a blouse had to align and match by the main garment. Today, a blouse holds its own and can be styled in ways that were never-seen-before. Giving this significant part of an Indian outfit an identity of its own is Falguni Shane Peacock, who took their blouse game a notch higher. Taking this traditional silhouette and turning it around to make it contemporary, is where the brand's forte lies in. An FSP blouse is for the FSP woman who is fearless to experiment and play with her personality; strong enough to carry a never-seen-before look with grace and positively sparking a trend with the modern blouse styles.
We dived into Falguni Shane Peacock's latest-in-line collections and curated 10 blouse styles that are contemporary yet classic and trendy yet timeless.
1)


(On the right) This silver-hued, heavily cropped corset embellished blouse with a deep neckline and sheer fitted sleeves tapering down to the wrist giving the piece a majestic look. Adorned with grid work detailing, fan panel below the neckline, and a Dori, the blouse is sure to make the wearer look ethereal.
2)


(On the right) If you thought a blouse was all about being a single piece, think again! The genius of Falguni Shane Peacock crafted a peplum blouse and how! The half-sleeves beige blouse with sheer neckline is replete with a scallop bordered peplum by the waistline. It is adorned with numerous crystals and foliage motifs, giving it a regal touch.
3)


(On the left) For the ones who dare-to-bare, this yellow and ivory bralette blouse with sheer shoulder panel is an ideal. The sleeves of the blouse are matched with the length of the corset to give it a complete look. The exquisite piece has neatly pleated ruffles and shapely cut mirrors.
4)


(On the right) Those who opt for wearing minimal without fear, this one is for you! Floral motifs in chrome applique along with tassels on the half-sleeves bralette blouse is a delicate-yet-daring piece to sport. We recommend it for making this understated piece a hands-down choice for a reception do.
5)


(On the right) Light green is an unconventional, beautiful color that Falguni Shane Peacock infused in their stylish, deep-neck halter blouse. With floral motifs in chrome applique and tassels on the sleeves and bust line, the blouse is sure to catch someone's eye and attention. Pro-tip: Pair this blouse with any garment of your choice, right from a lehenga to a saree.
6)


Elegant, ethereal, and elaborate – are the three word that immediately strikes your mind when you glance at this intricately detailed midnight blue blouse. This traditional half-sleeved blouse with floral and foliage motifs in chrome applique and ivory silk threads is surely a head-turner. The blouse earned an unmistakable reputation for its cut-out and a thin belt-like detail with little tassels fastened to it.
7)


(On the left) Take a cue from this one-of-a-kind powder pink blouse to turn up the glam-meter. The décolletage neckline is accentuated with a thin belt-like detail running along the neckline, adding the oomph quotient to it. The stylish blouse is adorned with chrome applique foliage motifs and tassels along the sleeves for a classy finish.
8)


(On the right) Cloud grey-like finish, feather-covered sleeves, and wide-neck collar are a few of the prominent features of the signature Falguni Shane Peacock blouse. This contemporary piece has been given a traditional spin by encrusting it with numerous crystals and organza flowers.
9)


(On the left) Chic-n-sassy, glam-n-funky, and several other fashion-inspired 'this-n-that's go well with the ultra-stylish blouse. This handcrafted blouse is an indisputable choice for a glamorous Sangeet night or a reception do, thanks to the swaying feather details that make it stand apart.
10)


(On the left) Who wouldn't want to make a statement with this elegant, deep-neck, full-sleeves blouse in the mauve and red? Definitely, not us! This classy blouse is done up neatly with foliage embroidery over its sheer sleeves while leaving the neckline run a little deep with window-like cut-out detail. Style it with a sheer saree or a bespoke Lehenga, this blouse is sure to leave a lasting impression.