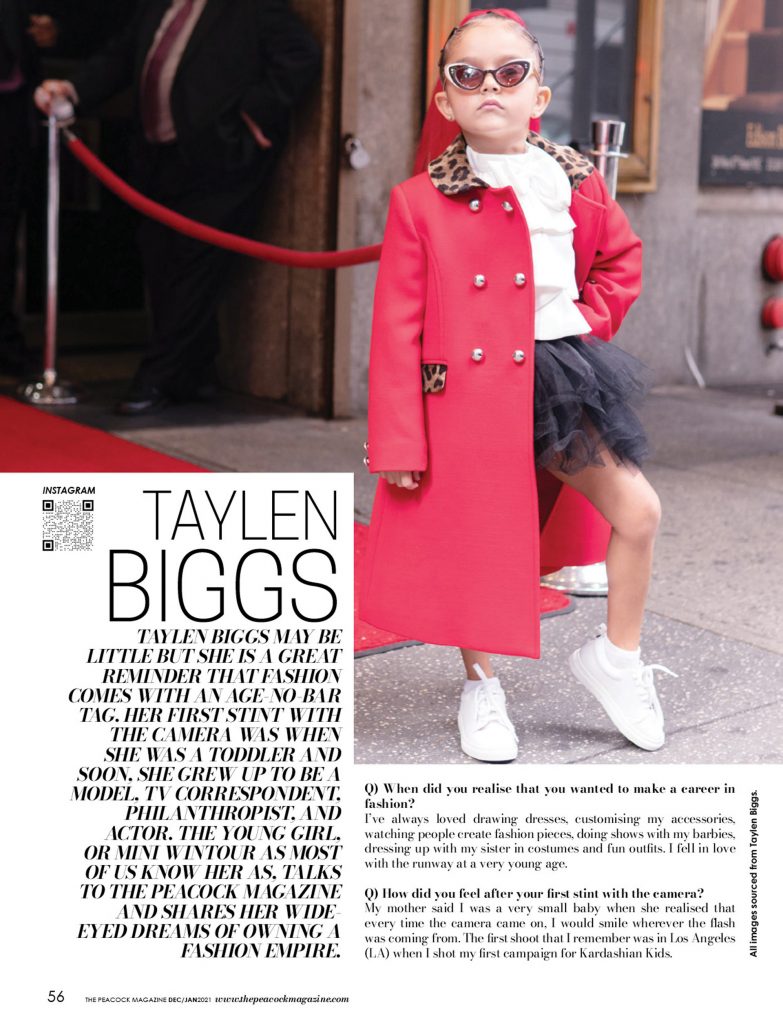 CREDITS – All images sourced from the artist.
Taylen Biggs may be little but she is a great reminder that fashion comes with an age-no-bar tag. Her first stint with the camera was when she was a toddler and soon, she grew up to be a model, TV correspondent, philanthropist, and actor. The young girl, or Mini Wintour as most of us know her as, talks to The Peacock Magazine and shares her wide-eyed dreams of owning a fashion empire.
[Q] When did you realise that you wanted to make a career in fashion?
I've always loved drawing dresses, customising my accessories, watching people create fashion pieces, doing shows with my barbies, dressing up with my sister in costumes and fun outfits. I fell in love with the runway at a very young age.
[Q] How did you feel after your first stint with the camera?
My mother said I was a very small baby when she realised that every time the camera came on, I would smile wherever the flash was coming from. The first shoot that I remember was in Los Angeles (LA) when I shot my first campaign for Kardashian Kids.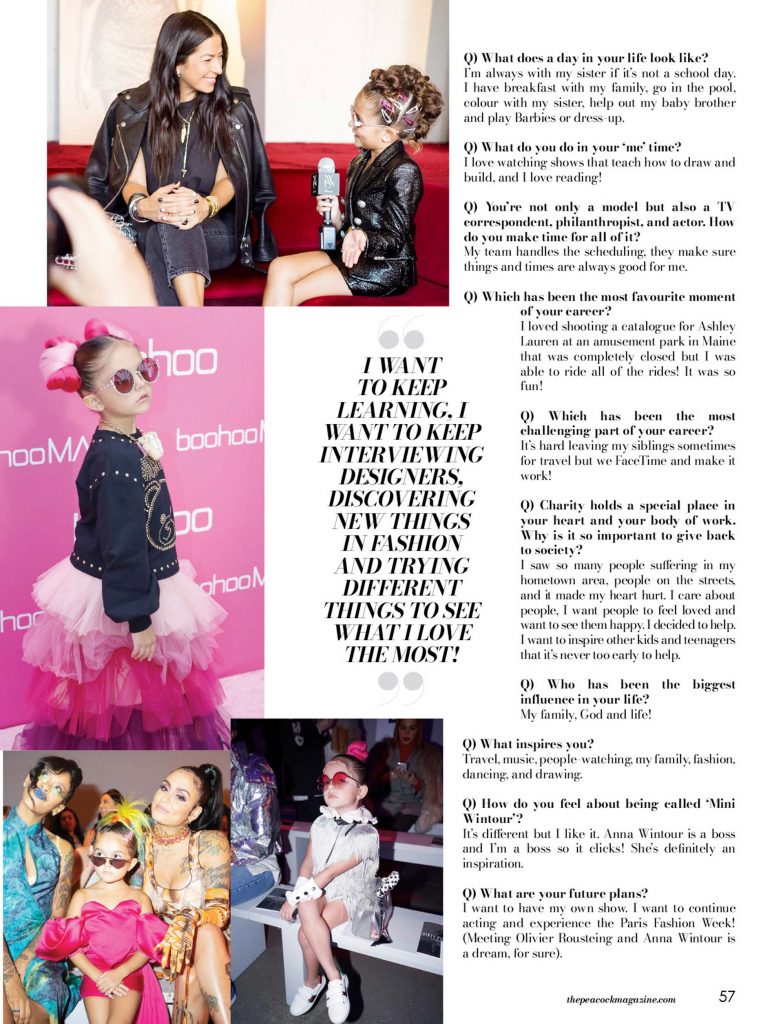 [Q] What does a day in your life look like?
I'm always with my sister if it's not a school day. I have breakfast with my family, go in the pool, colour with my sister, help out my baby brother and play Barbies or dress-up.
[Q] What do you do in your 'me' time?
I love watching shows that teach how to draw and build, and I love reading!
[Q] You're not only a model but also a TV correspondent, philanthropist, and actor. How do you make time for all of it?
My team handles the scheduling, they make sure things and times are always good for me.
[Q] Which has been the most favourite moment of your career?
I loved shooting a catalogue for Ashley Lauren at an amusement park in Maine that was completely closed but I was able to ride all of the rides! It was so fun!
[Q] Which has been the most challenging part of your career?
It's hard leaving my siblings sometimes for travel but we FaceTime and make it work!
[Q] Charity holds a special place in your heart and your body of work. Why is it so important to give back to society?
I saw so many people suffering in my hometown area, people on the streets, and it made my heart hurt. I care about people, I want people to feel loved and want to see them happy. I decided to help. I want to inspire other kids and teenagers that it's never too early to help.
[Q] Who has been the biggest influence in your life?
My family, God and life!
[Q] What inspires you?
Travel, music, people-watching, my family, fashion, dancing, and drawing.
[Q] How do you feel about being called 'Mini Wintour'?
It's different but I like it. Anna Wintour is a boss and I'm a boss so it clicks! She's definitely an inspiration.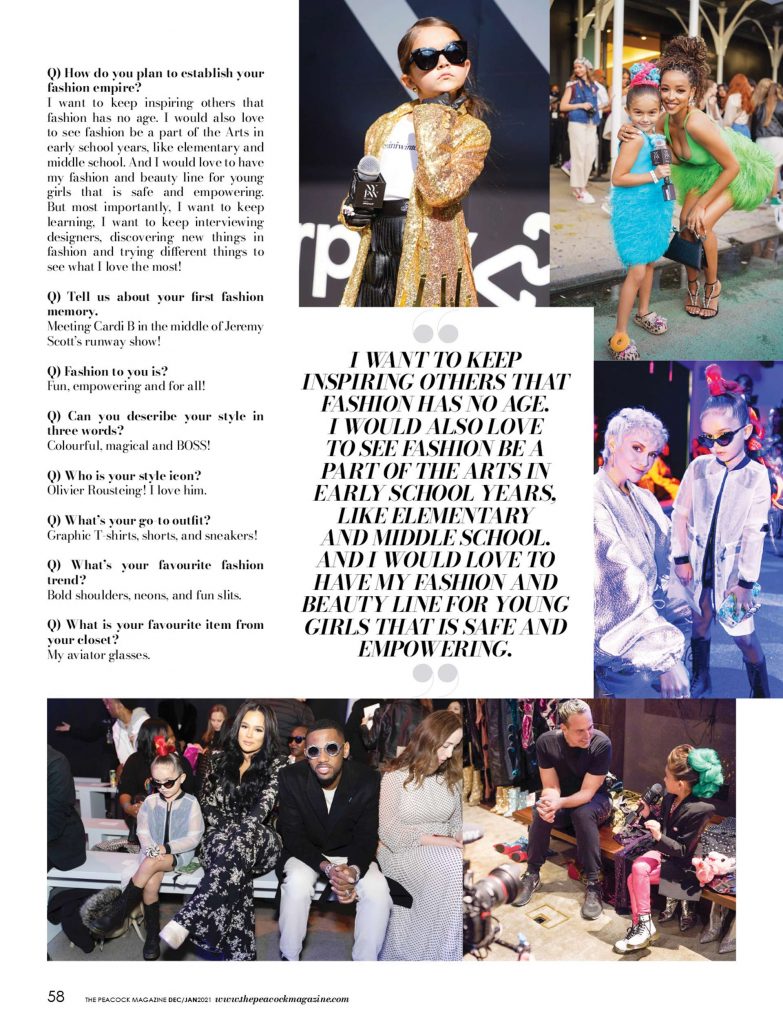 [Q] What are your future plans?
I want to have my own show. I want to continue acting and experience the Paris Fashion Week! (Meeting Olivier Rousteing and Anna Wintour is a dream, for sure).
[Q] How do you plan to establish your fashion empire?
I want to keep inspiring others that fashion has no age. I would also love to see fashion be a part of the Arts in early school years, like elementary and middle school. And I would love to have my fashion and beauty line for young girls that is safe and empowering. But most importantly, I want to keep learning, I want to keep interviewing designers, discovering new things in fashion and trying different things to see what I love the most!
[Q] Tell us about your first fashion memory.
Meeting Cardi B in the middle of Jeremy Scott's runway show!
[Q] Fashion to you is?
Fun, empowering and for all!
[Q] Can you describe your style in three words?
Colourful, magical and BOSS!
[Q] Who is your style icon?
Olivier Rousteing! I love him.
[Q] What's your go-to outfit?
Graphic T-shirts, shorts, and sneakers!
[Q] What's your favourite fashion trend?
Bold shoulders, neons, and fun slits.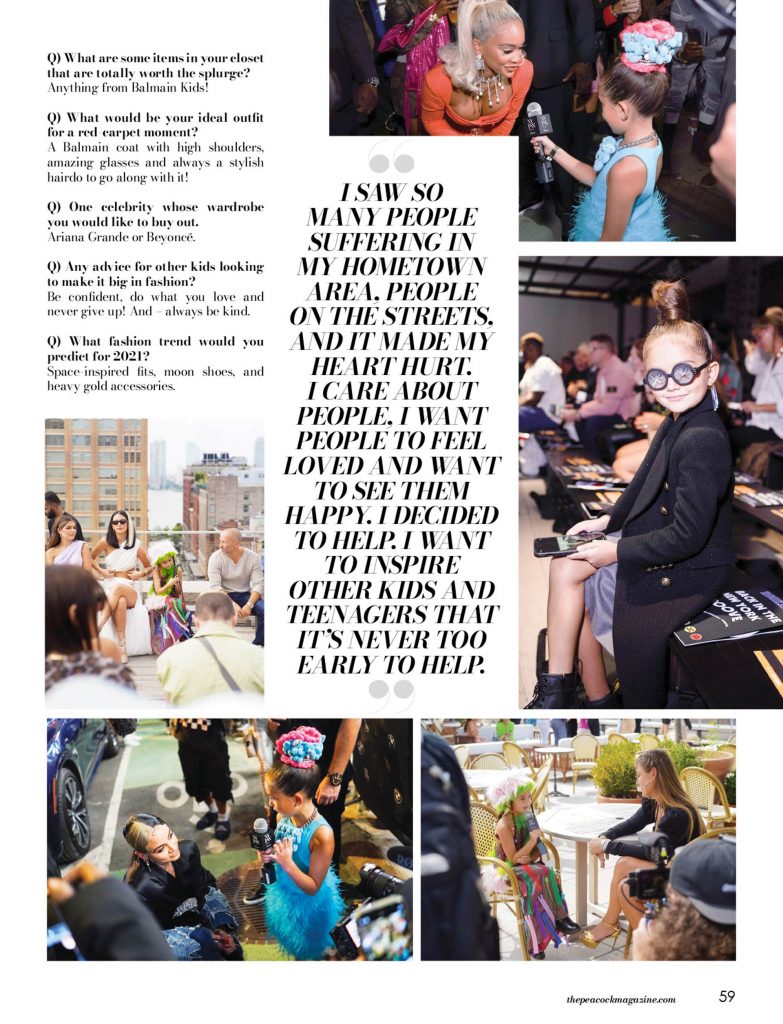 [Q] What is your favourite item from your closet?
My aviator glasses.
[Q] What are some items in your closet that are totally worth the splurge?
Anything from Balmain Kids!
[Q] What would be your ideal outfit for a red-carpet moment?
A Balmain coat with high shoulders, amazing glasses and always a stylish hairdo to go along with it!
[Q] One celebrity whose wardrobe you would like to buy out.
Ariana Grande or Beyoncé.
[Q] Any advice for other kids looking to make it big in fashion?
Be confident, do what you love and never give up! And — always be kind.
[Q] What fashion trend would you predict for 2021?
Space-inspired fits, moon shoes, and heavy gold accessories.