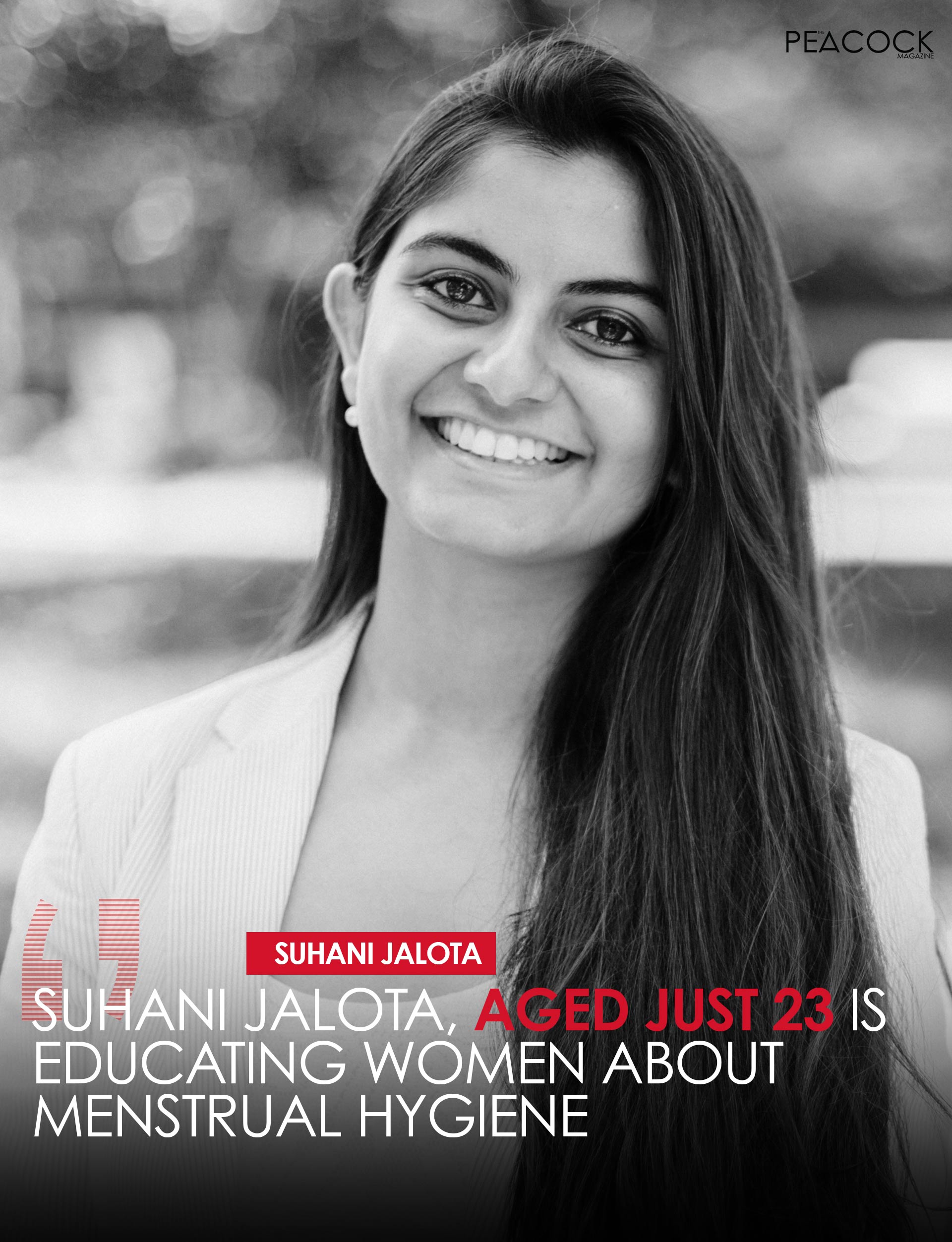 At 23, Suhani Jalota, CEO of The Myna Mahila Foundation, is not only educating women about menstrual hygiene, but she is also giving them employment by manufacturing these products. Started in 2015, The Myna Mahila Foundation provided sanitary napkins to over 15000 women residing in the slums of Mumbai. A cause so noble it was advocated by then actress and the current Duchess of Sussex, Meghan Markle, who applauded Suhani for her efforts during her visit in India. Apart from providing employment, they also conduct classes on learning English, life skills and health education for all-around progress. Their aim is to provide affordable sanitation for women who are underprivileged and are still dealing with the stigma around menstruation. In a detailed interview for the woman's issue of The Peacock Magazine, Suhani Jalota talks about what women empowerment means to her and the changes she envisions for them in the future.
1) WHAT IS WOMEN EMPOWERMENT TO YOU?
"Is the ability of women to stand on their own two feet confidently and assuringly, knowing that she is in control. She would be financially stable, have the ability to speak up at home, school or work, be able to ask the "why" questions, and be free to dream. She would consider herself to be important enough to spend on her own health and education, and invest in the wellbeing of her family and future generations."
2) WHAT MEASURES CAN BE TAKEN TO EMPOWER WOMEN?
"Women have so much potential that goes untouched, which if it did, it could change the world. We need more interventions that help women understand their own self-worth. Often, while working in slums, we find that when girls are asked what they want to be when they grow up, they say "Don't know!", assuming a family member will make that decision for them. If our girls are growing up directionless, how close can be to meeting their potential? We need to help women find a direction. They have a voice already but need a platform to be heard. They need more female role models who are relatable yet aspirational to the common Indian girl. We need education programs about communication and leadership for women and girls, especially early in school. We need to educate parents about the importance of the girl child. And we each need to do our own part in making a girl who is feeling less sure of herself, feel more confident and ready to take on the world!"
3) WHAT MADE YOU PICK THE CAUSE YOU WORK FOR?
"Women need their rights, and nothing can stand between a woman and her freedom. The incredible, powerful, selfless women I had met seven years ago while conducting sanitation research are now managing Myna, where we have a common vision to make women's health care accessible and affordable for all at their doorstep. We spend a lot of time understanding the unique challenges of each woman we interact with and empower them to take control.
Pads are a means for women to tangibly speak about a taboo topic. But periods are not alone in their abandonment. Domestic violence, sexual assault, and a women's agency to work and step out of her house are all topics that women remain silent about. Unless there is a healthcare emergency, it's unlikely that these women will talk about their physical bodies and how they are feeling. The Myna movement is one where women are confidently speaking up about themselves and about the most difficult topics. That's the first step to better hygiene.
Myna Mahila Foundation officially founded it in July 2015 through the conversations to increase the employment of women in the local communities had been happening for a couple of years prior to that."
4) AS A PART OF SOCIETY, WHAT ARE THE CHANGES DO YOU WANT TO SEE FOR THE BETTERMENT OF WOMEN?
"India is one of the only countries where female labour force participation is declining! We need the adolescent girls and young women who are currently sitting at home without employment or educational qualifications to come out and want to work. For this to happen, we need to create more jobs where women can equally partake and pay men and women equally. At the same time, interventions to help women feel more empowered could push them into the labour force. We also need more women in leadership roles in business, government, politics, finance, technology, and other sectors where they are underrepresented. Further, women should support one another to get up the ladder and be successful together."
5) IS THE PATRIARCHAL DOMINANCE IN SOCIETY FINALLY COMING TO AN END?
"Definitely not! Patriarchy is still very much present. This is precisely why it is so challenging to convince women in the slums that they are important. They go home to their abusive husbands who remind them of the true power dynamic every day. How can a woman who was forced into marriage to a much older man when she was only 15 and who beats her every day believe that patriarchy has come to an end? There is more awareness and the #Metoo movement has really helped men become more conscious of their moves, but most of the cases are still hidden.
On a different note, I experience patriarchy as a female founder and CEO where people (often middle-aged men) quickly form judgements about me and would rather ask me personal questions about my education and marriage rather than about the organization, whereas a man in the same position would never be asked that!"