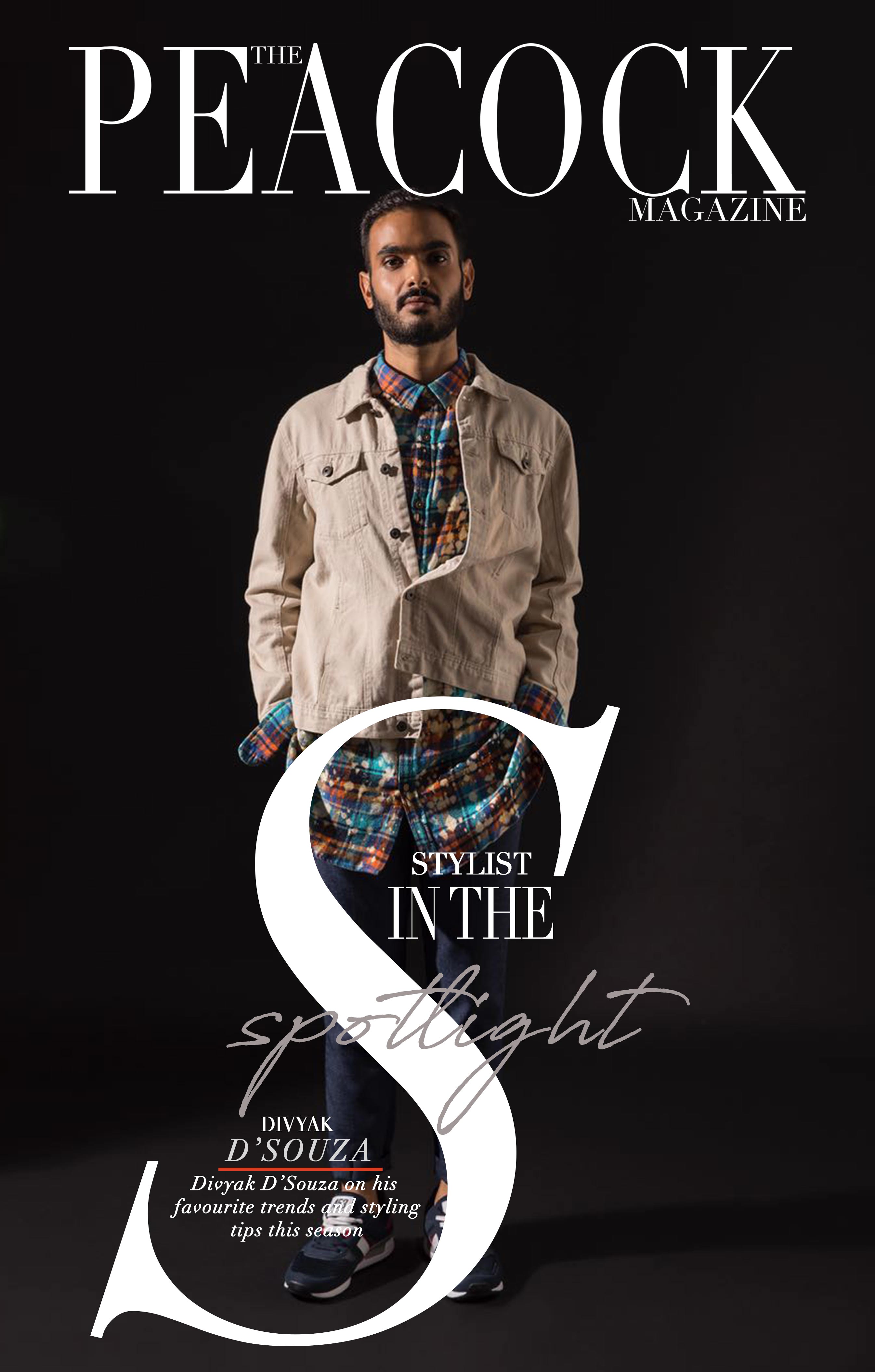 Having recently garnered immense popularity for his personal physical transformation, Divyak D'souza, one of the most sought-after stylists of the country is the one we put under the spotlight this month. With no initial inclination towards fashion, Divyak's ingress in fashion was purely an experiment that turned into a fledged passion. He began his career as a junior stylist at GQ and gradually moved up the ladder by progressing as a senior stylist to now becoming a fashion director at an elite magazine like Harper's Bazaar. Known for his vivacious energy, D'Souza has styled a number of Bollywood celebrities for high-fashion editorials and glossy covers. Recently emerged as a style maven, actress Parineeti Chopra credits a lot of her style evolution to D'souza as he has styled the starlet for innumerable red carpet events and magazine covers. His personal style is minimal-chic, but his glamorous vision is well documented through his versatile body of work. In a quick conversation, the stylist revealed the hot trends for the season, the celebrity who's trying too hard and much more.
1) WHAT WOULD BE YOUR TOP TIPS FOR PEOPLE TO DRESS UP THIS PARTY SEASON?
"Dress to reflect your mood, always. Whether you would rather be eating fries in bed, or dancing till the sunrise. Personally, I'm feeling the late 70s and 80s party dressing – bold shapes, boxy tailoring and colour blocking".

2) WHAT IS YOUR WARDROBE MVP (MOST VALUABLE POSSESSION)?
"A navy blue suit unlined and made in cotton. It is super versatile and easy to mix-n-match".

3) MINIMALISM OR MAXIMALISM?
"Minimalism for the win"

4) WHO ARE THE MOST OVERRATED AND UNDERSTATED STYLE ICONS?
"I think everyone's always talking about people in the public eye, many of who are very fashionable. But I feel true style doesn't have to mean you're a consumer of fashion. I've seen mountain climbing men in Mexico wear bell-sleeved shirts, and Manipuri women accessorizing themselves in the most artistically pleasing way. Real style is happening where social media isn't looking".

5) A CELEBRITY YOU THINK IS TRYING TOO HARD WITH HIS/HER LOOKS?
"Just one? I just saw a picture of Disha Patani in a sports bra teamed with a lehenga somewhere. But not being a hater, we all have off-days".

6) A CELEBRITY WHO IS A NATURAL?
"Among the people I've worked with: Rahul Khanna among the men, Sharmila Tagore among women"

7) WHAT SELF-STYLED LOOK ARE YOU PARTICULARLY NOT FOND OF?
"The list is long, but I feel my 'Princess Jasmine gone wrong' look would be a highlight. Harem pants plus kohl-lined eyes, enough said".

8) WHAT WOULD YOU NEVER WANT ANYONE TO WEAR?
"Anything that they wear for the approval of others"

9) FAVOURITE TREND RIGHT NOW?
"Maybe I'm oversimplifying, but trends are just a marketing gimmick. I think to find your 'classics' and reinvent them depending on your mood, comfort, weather, occasion".

10) WHAT ARE YOUR THOUGHTS ON PEOPLE OBSESSING OVER AIRPORT LOOKS?
"If it's creating jobs for stylists, paps, make-up artists and security guards, let the show go on".

11) GO- TO DAYTIME/ EVENING LOOKS?
"A white cotton kurta with a comfortable pair of trousers for the day, and a relaxed suit with sandals for the evening, I also live in Mumbai, so truth be told there isn't much of a difference between day & night looks".

12) A CELEBRITY WHO'S WARDROBE YOU WOULD LOVE TO STEAL?
"I think somewhere between Diljit Dosanjh and David Gandy, I'd be quite successful in putting together looks I'd like to wear. (Also some archival pieces from Jackie Shroff)"

13) HEELS OR SNEAKERS?
"Depends on the look"

14) WHAT DOES FASHION MEAN TO YOU, IN ONE WORD?
"Commercial art, that's two words though".

15) LEATHER OR DENIM?
"Tough question! Both channel such different moods. Gun to head, I'll pick denim".

16) FEATHER OR FUR?
"Faux-fur"

17) WHICH MOVIE CHARACTER'S STYLE WOULD YOU LOVE TO STEAL?
"Rekha in Khoon Bhari Maang".