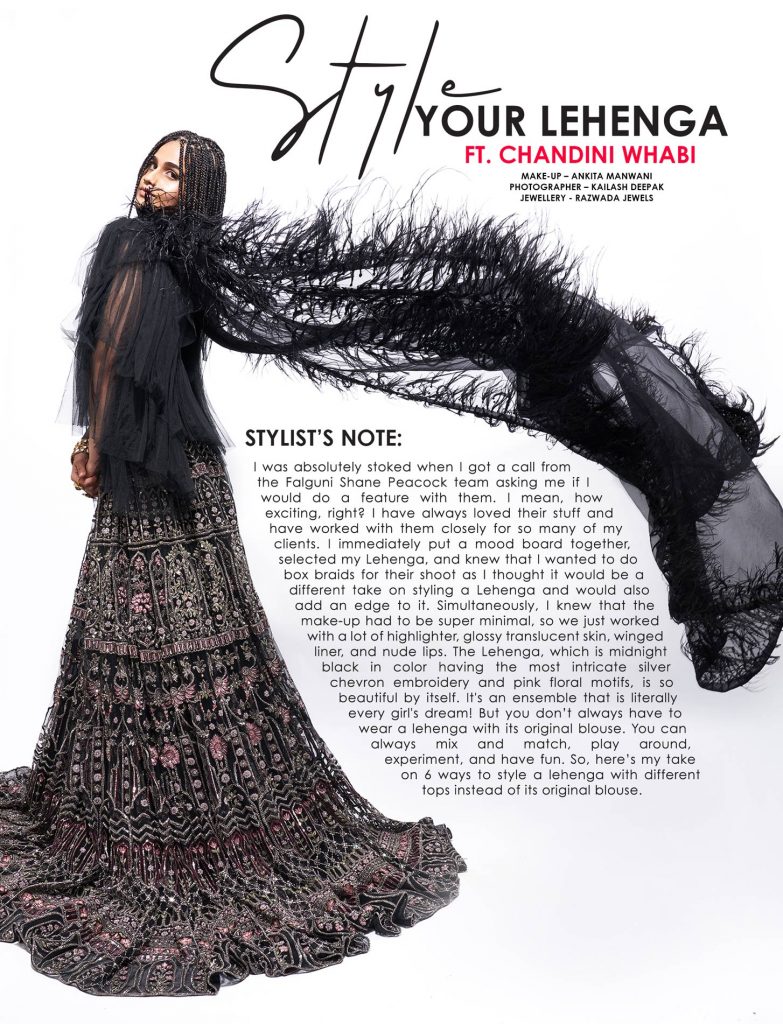 CREDITS-
PHOTOGRAPHER – KAILASH DEEPAK
MAKE-UP – ANKITA MANWANI
JEWELLERY – RAZWADA JEWELS
LEHENGA – FALGUNI SHANE PEACOCK
What makes the usually wow Jacqueline Fernandez visually wow? It's her stylist Chandini Whabi. Known for putting together the most eye-catching looks for Jacqueline, Chandini makes her mark by dressing up the star in the most foolproof looks that blend well with the former's persona. Whabi admits that it is Jackie's trust in her that makes her want to push her boundaries and work harder for creating a look that one-of-a-kind.
For the September issue of the magazine, we asked Chandini to style one of Falguni Shane Peacock's most-sought-after black Lehenga with various kinds of blouses instead of the quintessential ones. Here's what she says before she gets on the styling spree –

STYLIST'S NOTE:
I was absolutely stoked when I got a call from the Falguni Shane Peacock team asking me if I would do a feature with them. I mean, how exciting, right? I have always loved their stuff and have worked with them closely for so many of my clients. I immediately put a mood board together, selected my Lehenga, and knew that I wanted to do box braids for their shoot as I thought it would be a different take on styling a Lehenga and would also add an edge to it. Simultaneously, I knew that the make-up had to be super minimal, so we just worked with a lot of highlighter, glossy translucent skin, winged liner, and nude lips. The Lehenga, which is midnight black in color having the most intricate silver chevron embroidery and pink floral motifs, is so beautiful by itself. It's an ensemble that is literally every girl's dream! But you don't always have to wear a lehenga with its original blouse. You can always mix and match, play around, experiment, and have fun. So, here's my take on 6 ways to style a lehenga with different tops instead of its original blouse.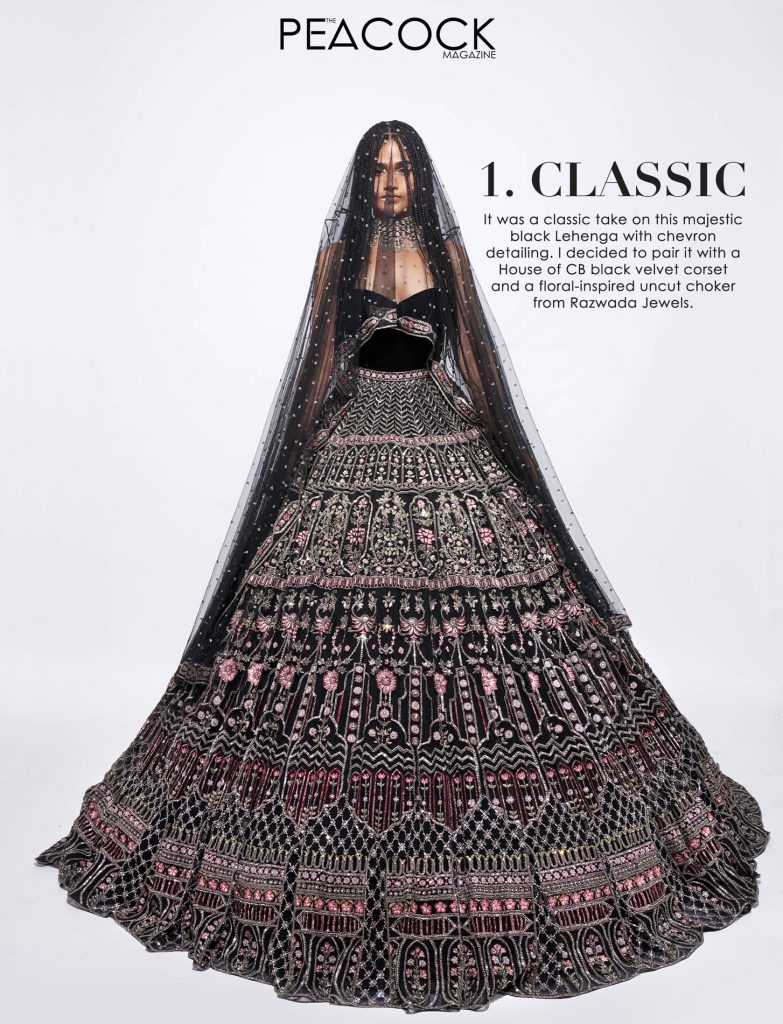 LOOK 1: CLASSIC
It was a classic take on this majestic black Lehenga with chevron detailing. I decided to pair it with a House of CB black velvet corset and a floral-inspired uncut choker from Razwada Jewels.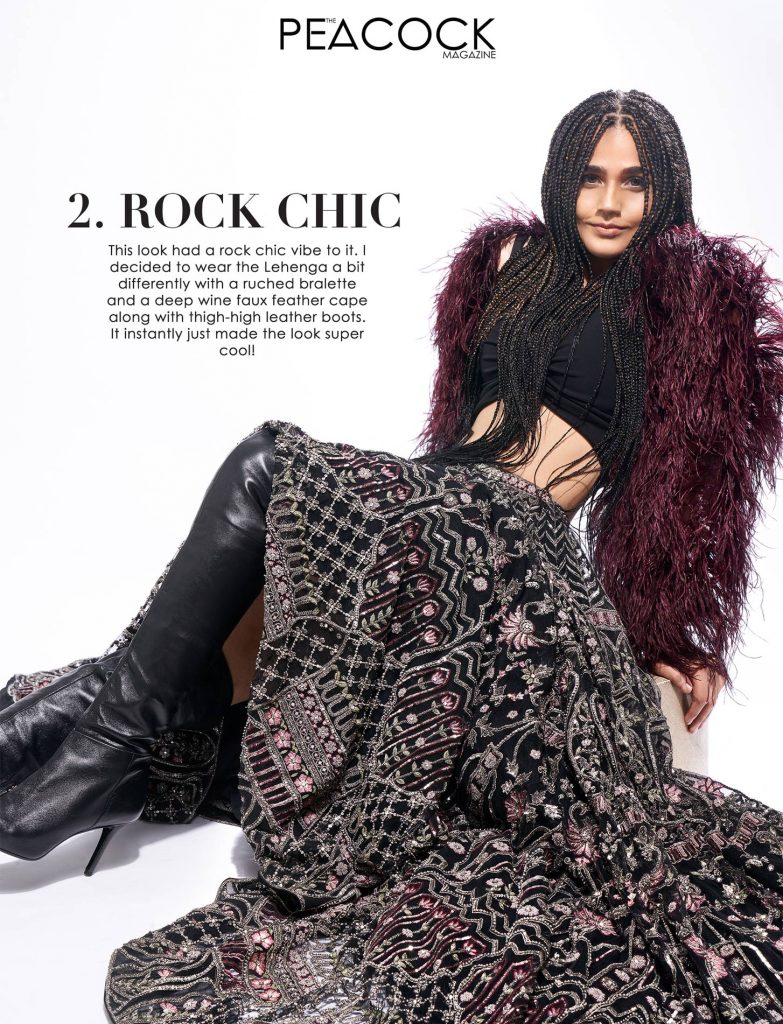 LOOK 2: ROCK CHIC
This look had a rock chic vibe to it. I decided to wear the Lehenga a bit differently with a ruched bralette and a deep wine faux feather cape along with thigh-high leather boots. It instantly just made the look super cool!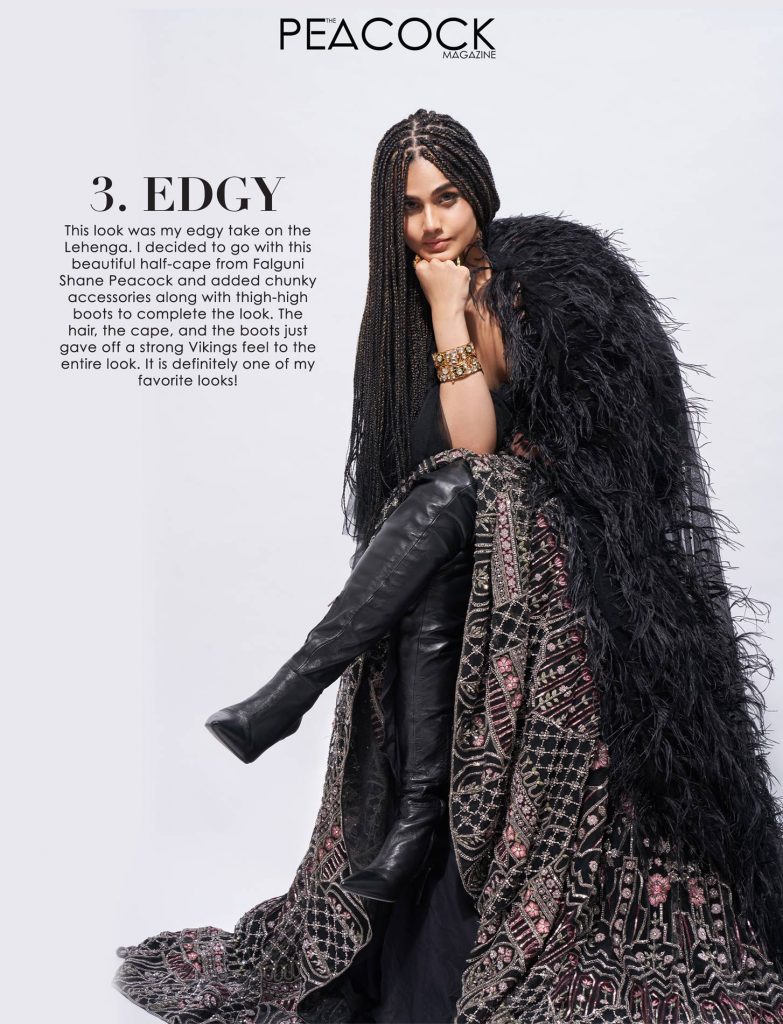 LOOK 3: EDGY
This look was my edgy take on the Lehenga. I decided to go with this beautiful half-cape from Falguni Shane Peacock and added chunky accessories along with thigh-high boots to complete the look. The hair, the cape, and the boots just gave off a strong Vikings feel to the entire look. It is definitely one of my favorite looks!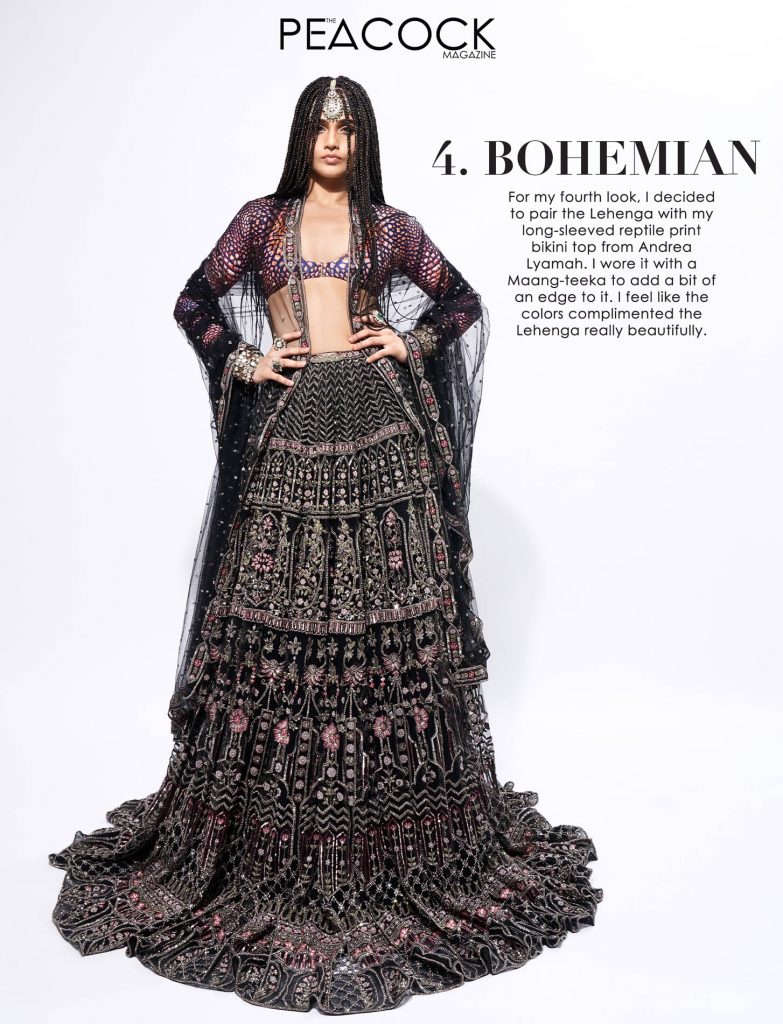 LOOK 4: BOHEMIAN
For my fourth look, I decided to pair the Lehenga with my long-sleeved reptile print bikini top from Andrea Lyamah. I wore it with a Maang-teeka to add a bit of an edge to it. I feel like the colors complimented the Lehenga really beautifully.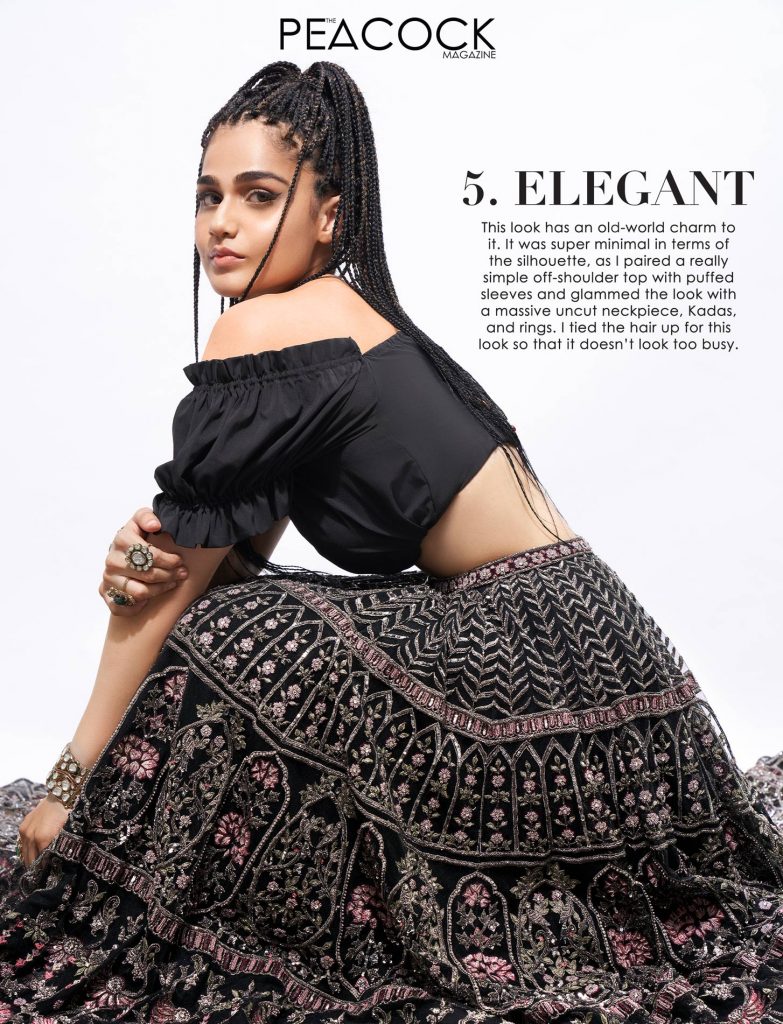 LOOK 5: ELEGANT
This look has an old-world charm to it. It was super minimal in terms of the silhouette, as I paired a really simple off-shoulder top with puffed sleeves and glammed the look with a massive uncut neckpiece, Kadas, and rings. I tied the hair up for this look so that it doesn't look too busy.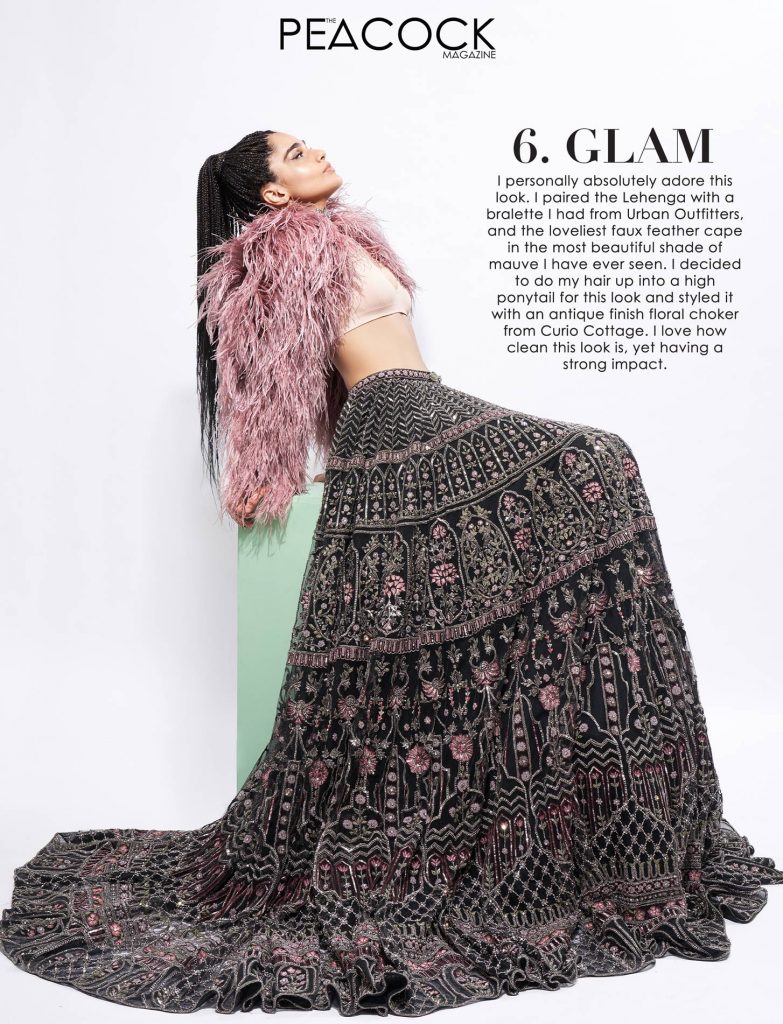 LOOK 6: GLAM
I personally absolutely adore this look. I paired the Lehenga with a bralette I had from Urban Outfitters, and the loveliest faux feather cape in the most beautiful shade of mauve I have ever seen. I decided to do my hair up into a high ponytail for this look and styled it with an antique finish floral choker from Curio Cottage. I love how clean this look is, yet having a strong impact.

Chandini is wearing a bespoke, midnight black Lehenga with silver and pink floral details in a chevron pattern, along with a tulle dupatta.