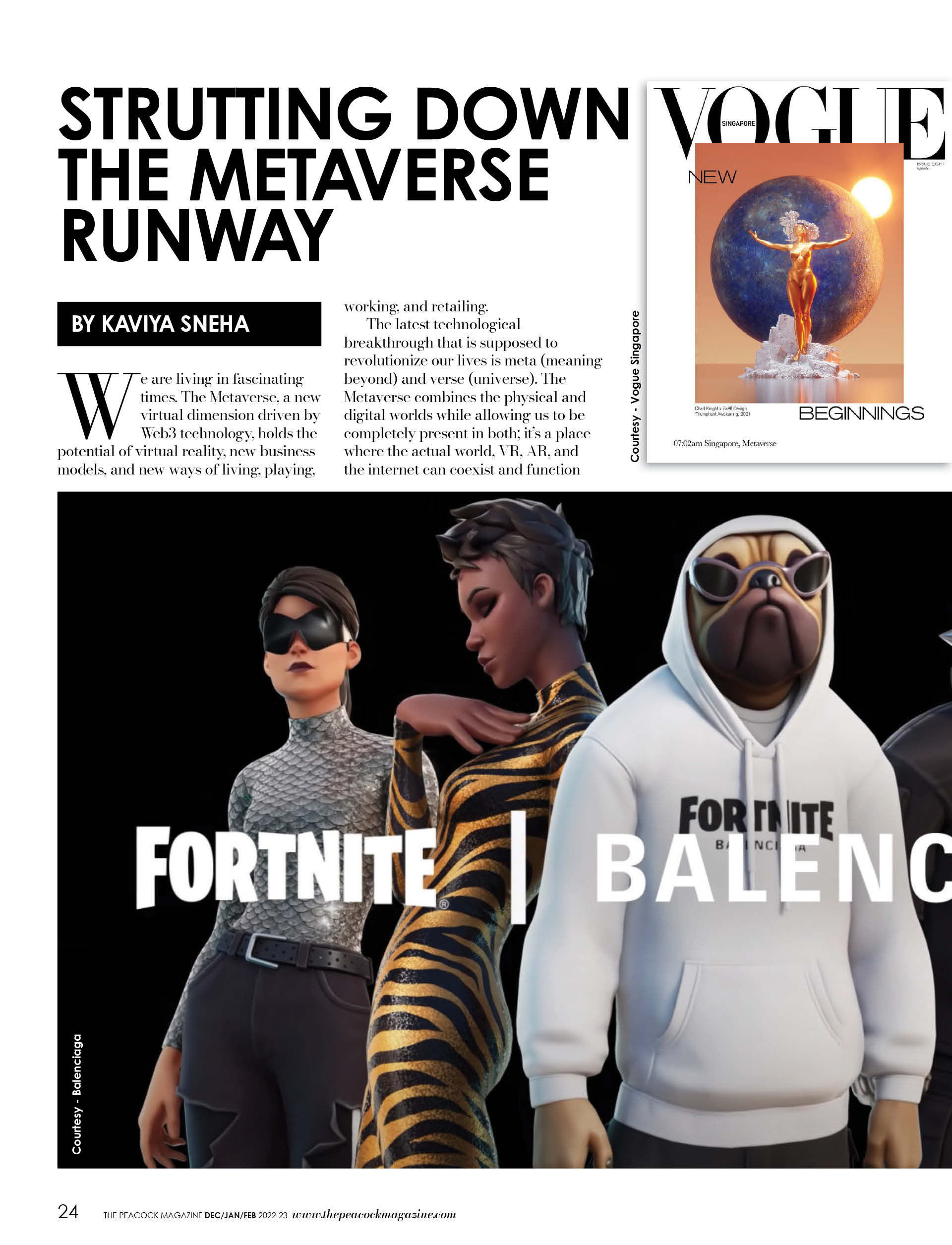 We are living in fascinating times. The Metaverse, a new virtual dimension driven by Web3 technology, holds the potential of virtual reality (VR), new business models, and new ways of living, playing, working, and retailing.
The latest technological breakthrough that is supposed to revolutionise our lives is meta (meaning beyond) and verse (universe). The Metaverse combines the physical and the digital worlds while allowing us to be completely present in both; it's a place where the actual world, VR, augmented reality (AR), and the internet can coexist and function in harmony.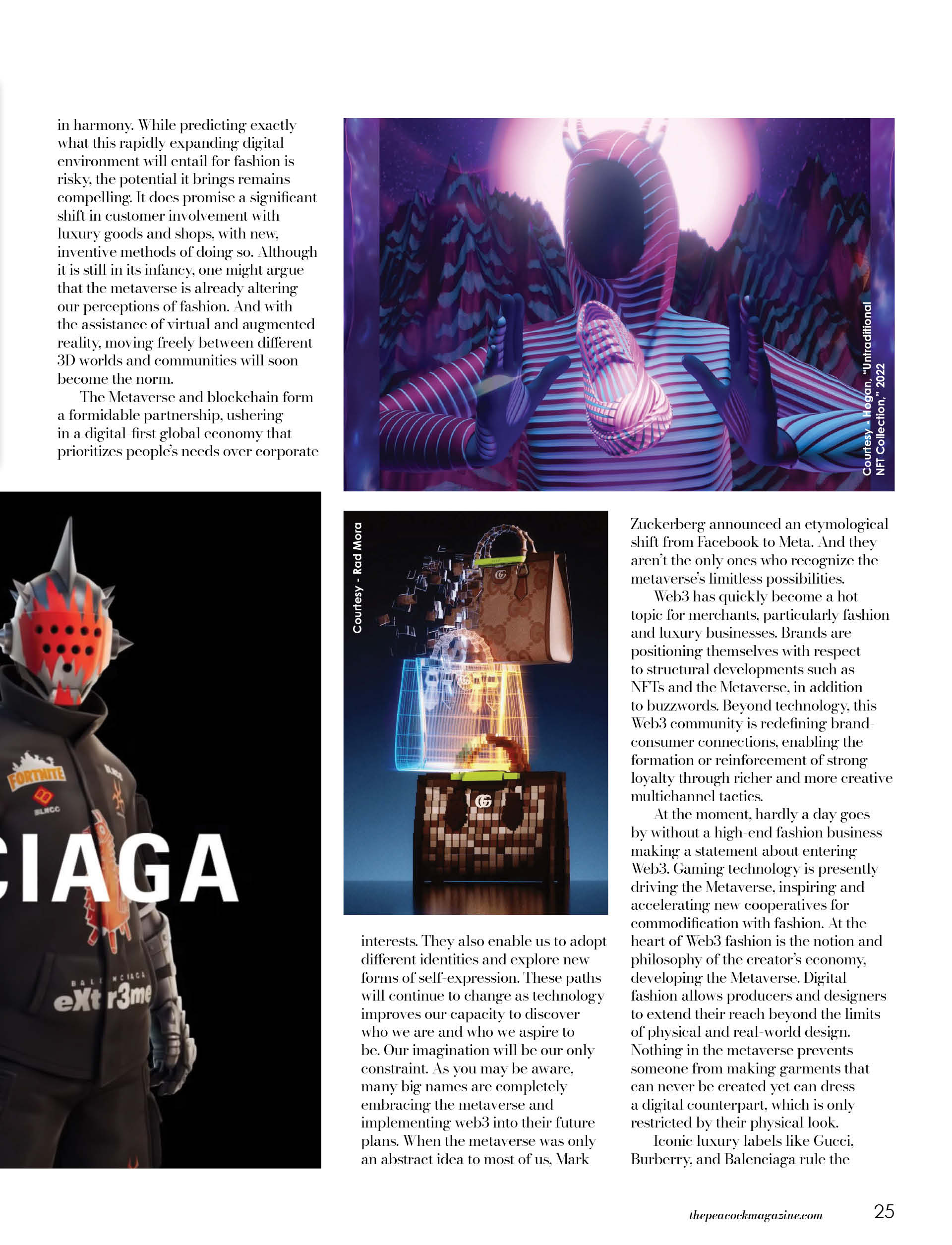 While predicting exactly what this rapidly expanding digital environment will entail for fashion is risky, the potential that it has remains compelling. It does promise a significant shift in customer involvement with luxury goods and shops, with new, inventive methods of doing so. Although it is still in its infancy, one might argue that the Metaverse is already altering our perceptions of fashion. And with the assistance of VR and AR, moving freely across different 3D worlds and communities will soon become the norm.
The Metaverse and blockchain form a formidable partnership, ushering in a digital-first global economy that prioritises people's needs over corporate interests. They also enable us to adopt different identities and explore new forms of self-expression. These paths will continue to change as technology enhances our capacity to discover who we are and who we aspire to be. Our imagination will be our only constraint. As you may be aware, many big names are completely embracing the Metaverse and implementing Web3 into their future plans. When the Metaverse was only an abstract idea to most of us, Mark Zuckerberg announced an etymological shift from Facebook to Meta. And they aren't the only ones who recognise the Metaverse's limitless possibilities.
Web3 has quickly become a hot topic for merchants, particularly fashion and luxury businesses. Brands are positioning themselves with respect to structural developments such as non-fungible tokens (NFTs) and the Metaverse, in addition to buzzwords. Beyond technology, this Web3 community is redefining brand-consumer connections, enabling the formation or reinforcement of strong loyalty through richer and more creative multichannel tactics.
At the moment, hardly a day goes by without a high-end fashion business making a statement about entering Web3. Gaming technology is presently driving the Metaverse, inspiring and accelerating new cooperatives for commodification with fashion. At the heart of Web3 fashion is the notion and philosophy of the creator economy, driving the Metaverse. Digital fashion allows producers and designers to extend their reach beyond the limits of physical and real-world design. Nothing in the Metaverse prevents someone from making garments that can never be created yet can dress a digital counterpart, which is only restricted by their physical look.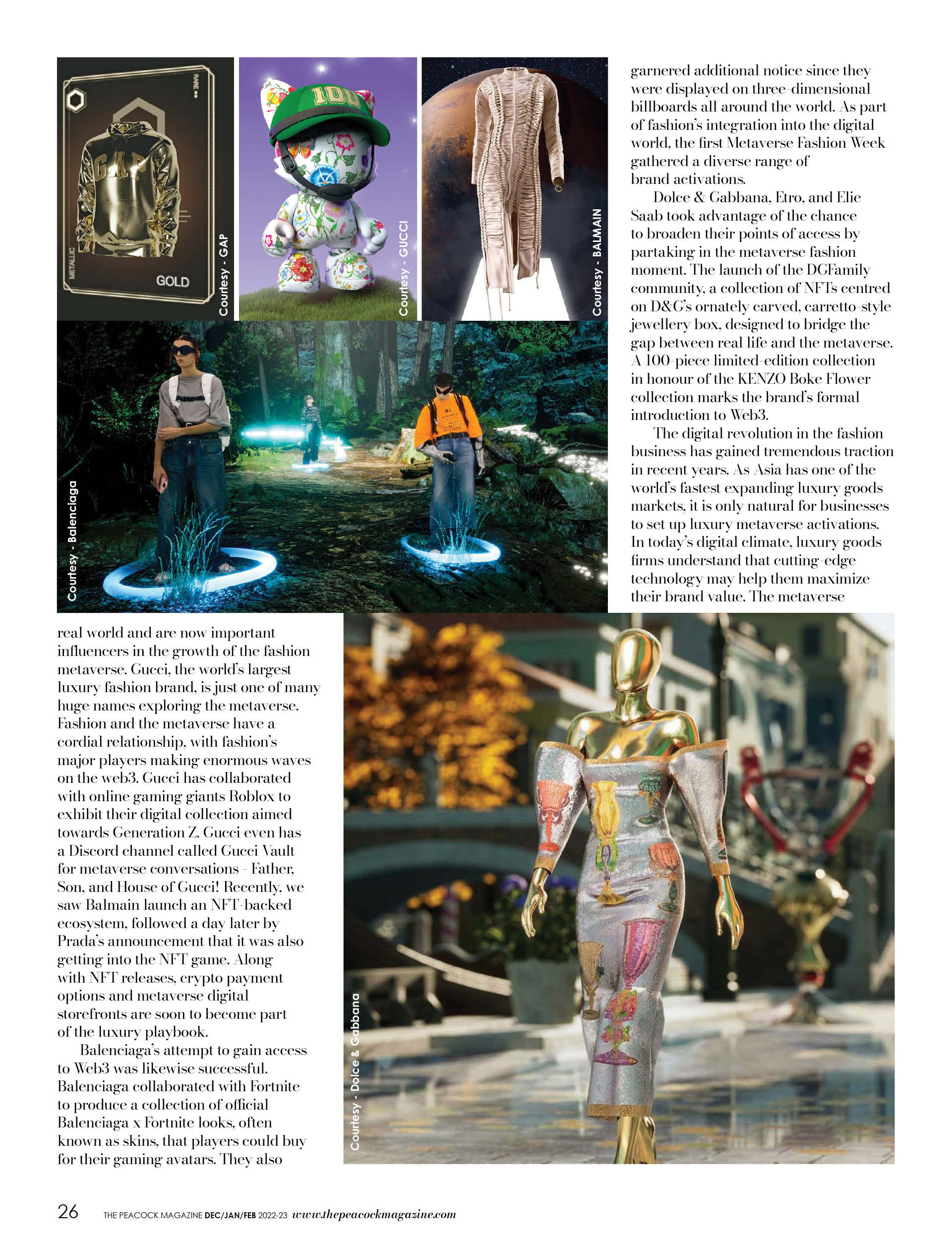 Iconic luxury labels like Gucci, Burberry, and Balenciaga rule the real world and are now important influencers in the growth of the fashion metaverse. Gucci, the world's largest luxury fashion brand, is just one of many huge names exploring the Metaverse. Fashion and the Metaverse have a cordial relationship, with fashion's major players making enormous waves in the Web3 paradigm. Gucci has collaborated with online gaming giants Roblox to exhibit their digital collection aimed towards Generation-Z. Gucci even has a Discord channel called Gucci Vault for Metaverse conversations — Father, Son, and House of Gucci! Recently, we saw Balmain launch an NFT-backed ecosystem, followed a day later by Prada's announcement that it was also getting into the NFT game as well. Along with NFT releases, crypto payment options and Metaverse digital storefronts are soon to become part of the luxury playbook.
Balenciaga's attempt to gain access to Web3 was likewise successful. Balenciaga collaborated with Fortnite to produce a collection of official Balenciaga x Fortnite looks, often known as Skins, that players could buy for their gaming avatars.
They also garnered additional notice since they were displayed on three-dimensional billboards all around the world. As part of fashion's integration into the digital world, the first Metaverse Fashion Week gathered a diverse range of brand activations.
Dolce&Gabbana, Etro, and Elie Saab took advantage of the chance to broaden their points of access by partaking in the Metaverse fashion moment. The launch of the DGFamily community, a collection of NFTs centred on D&G's ornately carved, carretto-style jewellery box, designed to bridge the gap between real life and the Metaverse. A 100-piece limited-edition collection in honour of the KENZO Boke Flower collection marks the brand's formal introduction to Web3.
The digital revolution in the fashion business has gained tremendous traction in recent years. As Asia has one of the world's fastest expanding luxury goods markets, it is only natural for businesses to set up luxury metaverse activations. In today's digital climate, luxury goods firms understand that cutting-edge technology may help them maximise their brand value.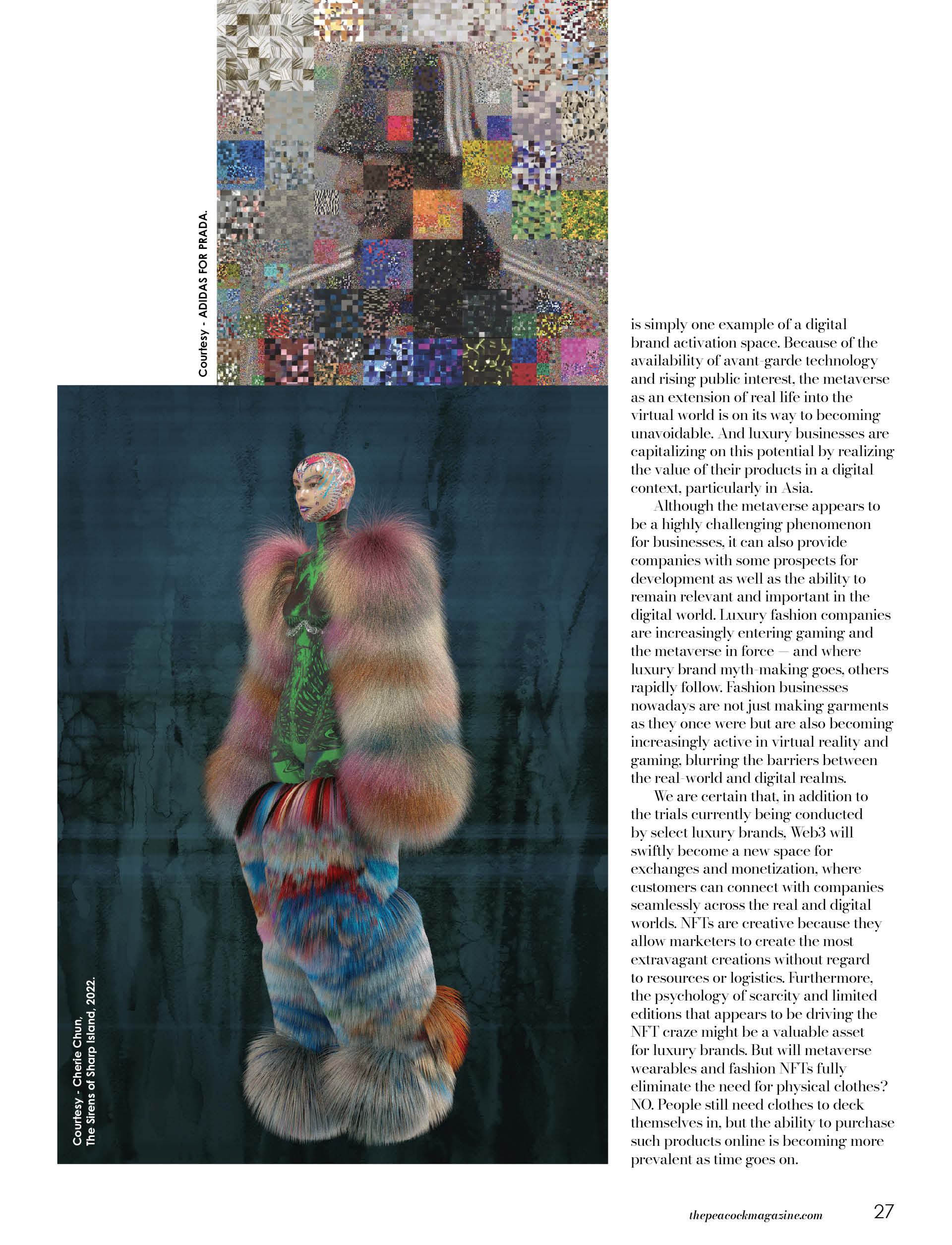 The Metaverse is simply one example of a digital brand activation space. Because of the availability of avant-garde technology and rising public interest, the Metaverse as an extension of real life into the virtual world is on its way to becoming unavoidable. And luxury businesses are capitalising on this potential by realising the value of their products in a digital context, particularly in Asia.
Although the Metaverse appears to be a highly challenging phenomenon for businesses, it can also provide companies with some prospects for development as well as the ability to remain relevant and important in the digital world. Luxury fashion companies are increasingly entering gaming and the Metaverse in force — and where luxury brand myth-making goes, others rapidly follow. Fashion businesses nowadays are not just making garments as they once were but are also becoming increasingly active in virtual reality and gaming, blurring the barriers between the real-world and digital realms.
We are certain that in addition to the trials currently being conducted by select luxury brands, Web3 will swiftly become a new space for exchanges and monetisation, where customers can connect with companies seamlessly across the real and digital worlds. NFTs are creative because they allow marketers to create the most extravagant creations without regard to resources or logistics. Furthermore, the psychology of scarcity and limited editions that appears to be driving the NFT craze might be a valuable asset for luxury brands. But will metaverse wearables and fashion NFTs fully eliminate the need for physical clothes? NO. People still need clothes to deck themselves in, but the ability to purchase such products online is becoming more prevalent as time goes on.