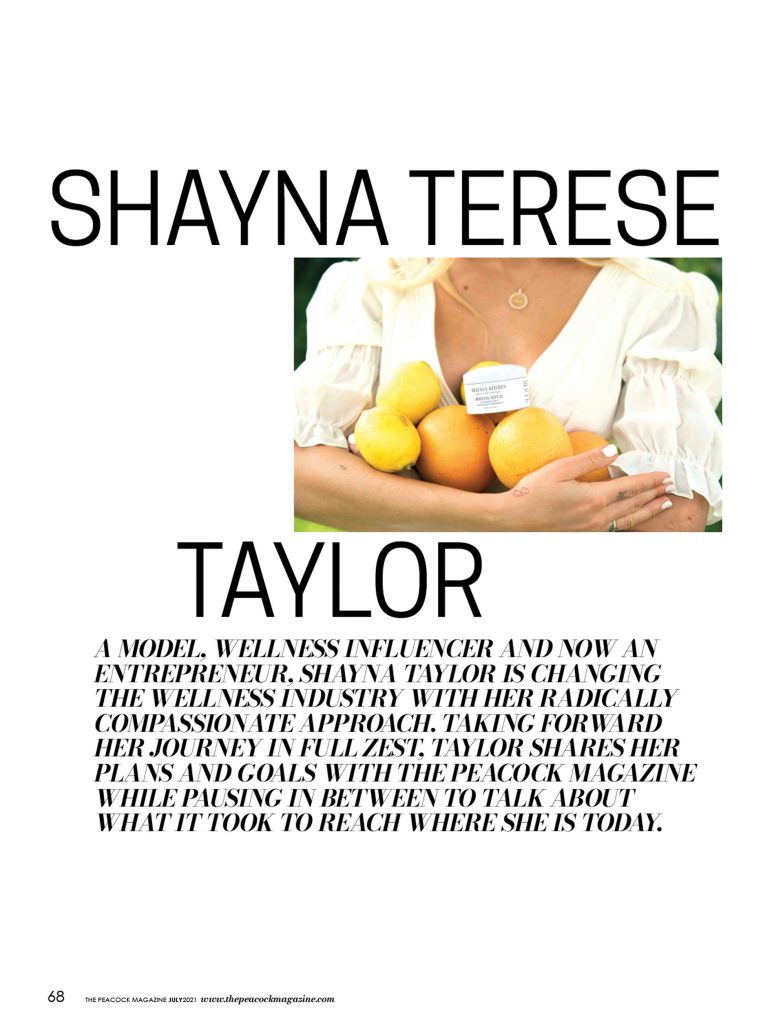 A MODEL, WELLNESS INFLUENCER AND NOW AN ENTREPRENEUR, SHAYNA TAYLOR IS CHANGING THE WELLNESS INDUSTRY WITH HER RADICALLY COMPASSIONATE APPROACH. TAKING FORWARD HER JOURNEY IN FULL ZEST, TAYLOR SHARES HER PLANS AND GOALS WITH THE PEACOCK MAGAZINE WHILE PAUSING IN BETWEEN TO TALK ABOUT WHAT IT TOOK TO REACH WHERE SHE IS TODAY.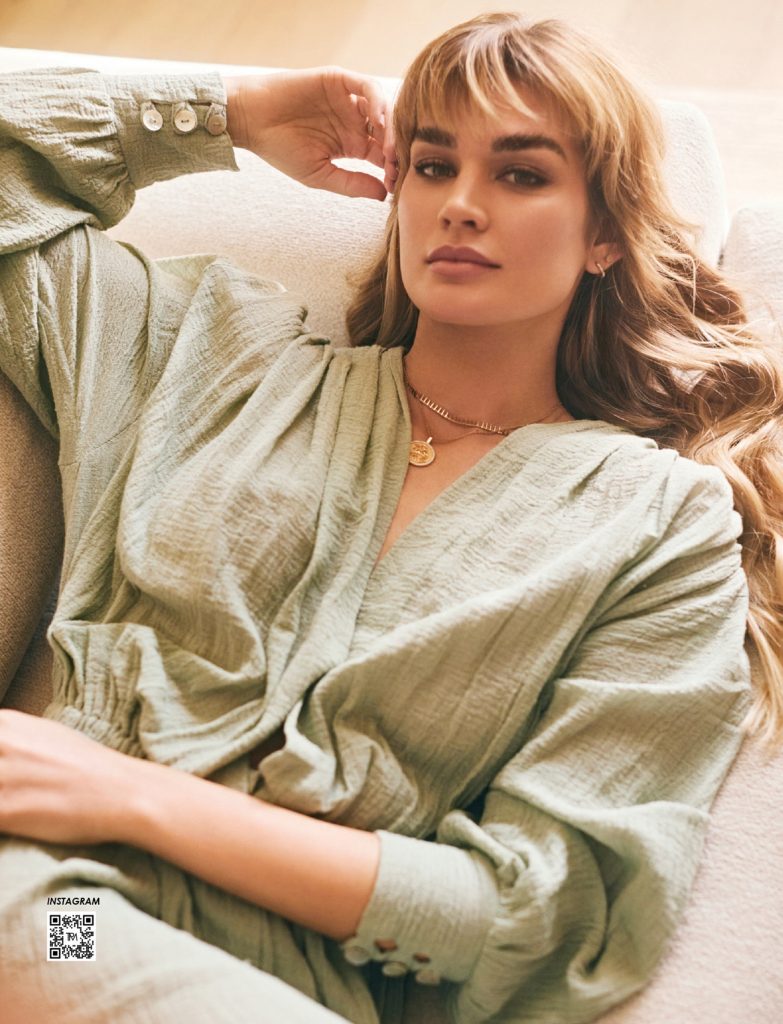 [Q] What were your growing up years like?
I was raised in Corona, CA (California) along with my brother. We were brought up by my father and had a modest upbringing. My parents divorced when I was young, but despite the drama and tension between my parents, we tried to live a normal life. My favourite childhood memories are driving out to our home on the Colorado River, where we would cook and have meals together. Listening to music and enjoying food was always our thing and that was what kept us all together. When I was a young kid, I was fairly picky, and it was not until my teenage years that my palate evolved. I became a more elevated "foodie" in those last years of high school, which led me on my path towards becoming a chef. I thank those early years for instilling a deep, life-long love affair with food and travel.
[Q] What attracted you to the fashion industry?
A love of fashion was always in my heart. When I was a little girl, I would look at magazine covers and dream of working as a model. I loved everything about the style and would eagerly ask for clothes to recreate the looks. I remember one particular year, all I wanted for Christmas was this long leather trench coat I had seen on a model in a magazine. My dad, being a single father, was always on a budget, so he got me a fake leather version. I was so elated that I couldn't wait for my winter break to end so that I could go to school and show it off. Ironically, all the kids laughed and made fun of the coat! Let's just say it took me some time before I figured out what my personal style was. I love that my style is still evolving just like the fashion industry itself.
[Q] What was your first breakthrough modelling assignment?
From a very young age, I wanted to walk in the Victoria's Secret fashion show. That was a serious goal of mine and I made it to one of the last rounds of auditions the last year the show aired in 2018. I still consider that to be my biggest achievement. I'm truly grateful that I got the experience, and even though I never walked in the show I still consider it as an accomplishment and my breakout moment.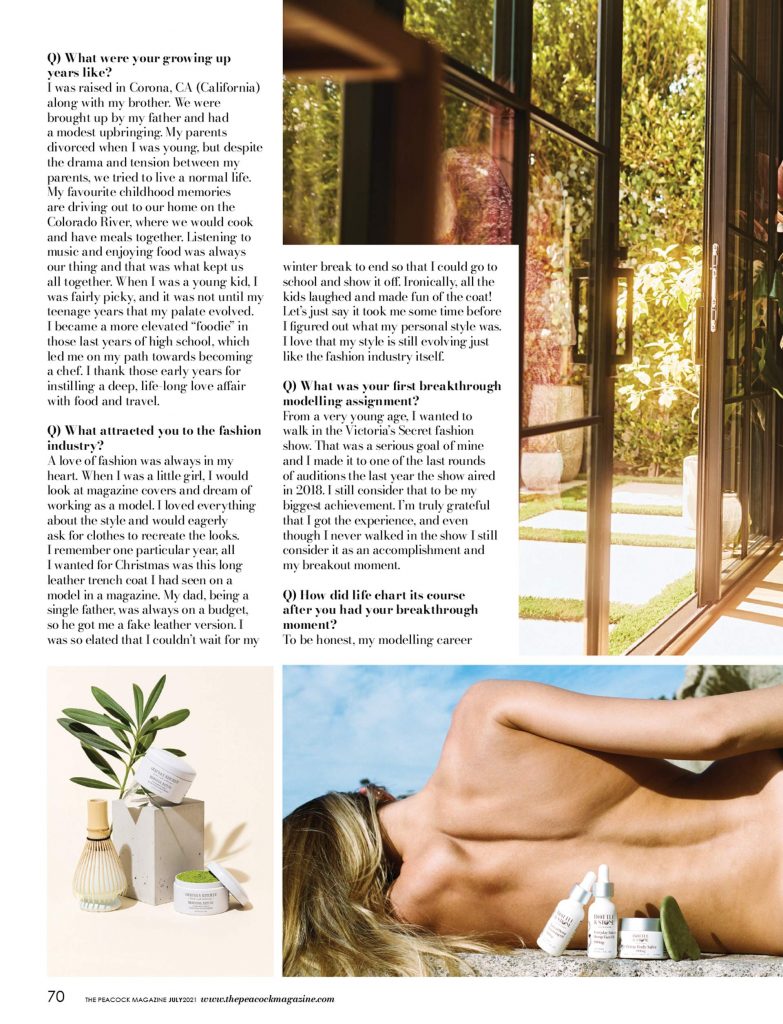 [Q] How did life chart its course after you had your breakthrough moment?
To be honest, my modelling career wasn't what made me the person that I am today. My years of working as a holistic chef, along with a deep desire and the love of helping others is what spearheaded my accomplishments. Modelling was great, but for me, there is so much more to life than how I look. I wanted to create something that I love and to share it with others that would make them feel good. Sharing my knowledge and helping educate people to thrive on their own terms is what my life's work is all about.
[Q] Shayna's Kitchen was born out of your love for cooking. What did you have in mind when you started out? What plans do you have for it now?
When I began Shayna's Kitchen, I wanted to help people on a much larger scale than I was able to when I was working as a personal chef in people's homes. My goal for SK was to educate people on how they could live a healthier lifestyle by cooking easy, accessible, healthy meals. I wanted to show people that healthy food doesn't have to taste bad, be boring, or difficult! Now SK has grown way beyond recipes and has become a platform that is about inspiring and educating people on how to live an all-around healthier lifestyle and how to live more intuitively. I am happy to be finally working on a lifestyle cookbook that will be coming out soon!
[Q] You're also a successful businesswoman today with your venture 'Bottle & Stone.' What were the challenges that you faced in your career as an entrepreneur?
Becoming an entrepreneur in my 20s has come with many challenges. When I started off, I was setting up my companies with no formal business expertise, and just rolling with my instincts. Thankfully, I was lucky, and the mistakes I made taught me the lessons I needed to become the successful entrepreneur I am today. No school can prepare you for the ups and downs of owning your business. My personal challenge has been to find a balance between being the CEO, the public face of my brands, and balancing my personal life. I love to be hands-on at every stage, but I also want to be the voice and the creator of all the public-facing content. I wouldn't want it any other way but knowing how to balance those three aspects of the business can be challenging at times.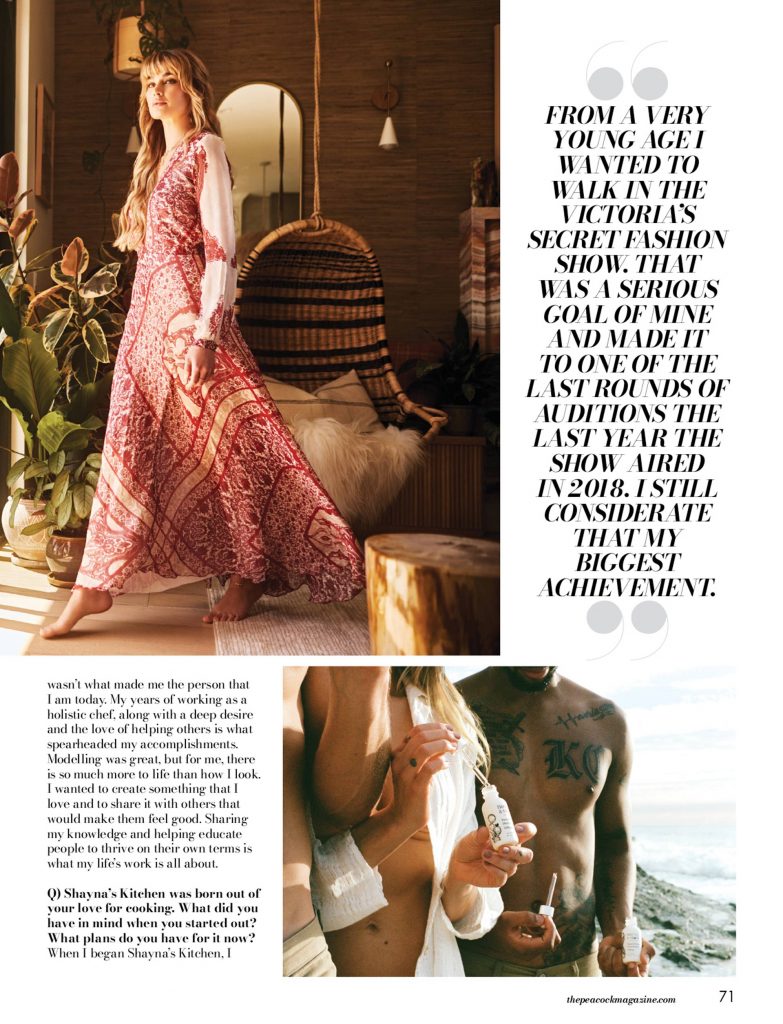 [Q] As an entrepreneur, what are the three important lessons you've learned and would like to pass it forward?
The three most important lessons I've learned being an entrepreneur are:
1. Always be patient and know that good things take time. 2. Be prepared for ups and downs, the ebb and flow, stress and joy that comes with trying to build something in the beginning. 3. To always rely on yourself to get things done.
[Q] After A Sense of Well-being, what other podcasts are you working on?
I am continuing to create and put out new episodes for my podcast A Sense of Wellbeing — continuously educating people on how to live a healthier lifestyle.
[Q] Who has been the biggest influence in your life?
To be honest, I have been the biggest influence in my life. I am constantly evolving, learning and growing.
[Q] Who has been inspiring you lately?
Lately, nature has been a huge inspiration for my life and work. It's amazing how much of the universe's creativity surrounds us. There is a limitless amount of ingenuity that I get when I am with nature. It is amazing how much it can fuel one's creativity when we allow ourselves to live in the present and be inspired by the world around us.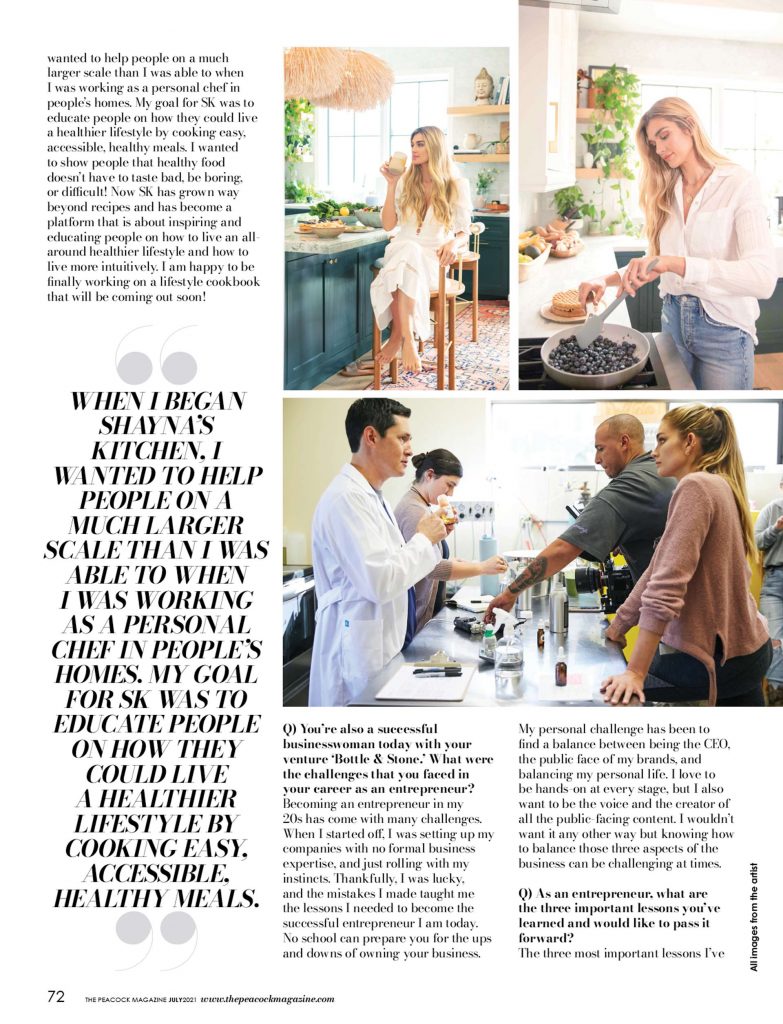 [Q] What is that one thing in your career that you would have done differently if you could go back in time and change it?
I wouldn't change anything honestly . I think life is all in divine timing and that every bump in the road makes you stronger. To want to change my story would be to neglect all the lessons and opportunities I needed to grow and become the knowledgeable person I am today.
[Q] You're a supermodel, wellness expert, chef and entrepreneur. Which role do you enjoy the most and why?
I have to say being a wellness expert, chef and entrepreneur are all neck and neck with what I enjoy the most. I love inspiring people daily, even if I am only able to help just one person a day, that makes what I do worth it.
[Q] Describe your fashion aesthetics?
My fashion aesthetics is like my life aesthetic; natural, calm, and comfortable, but with a unique twist.
[Q] What does your usual workday look like?
My day at work is always different. In a typical week, we do a lot of brainstorming for future projects, filming new content, including my recipes for Shayna's Kitchen as well as packing and fulfilling matcha orders. I love sharing informative topics that I care about, and always tapping into my spirituality and inspirational motivation. And of course, taking tons of calls and Zoom meetings.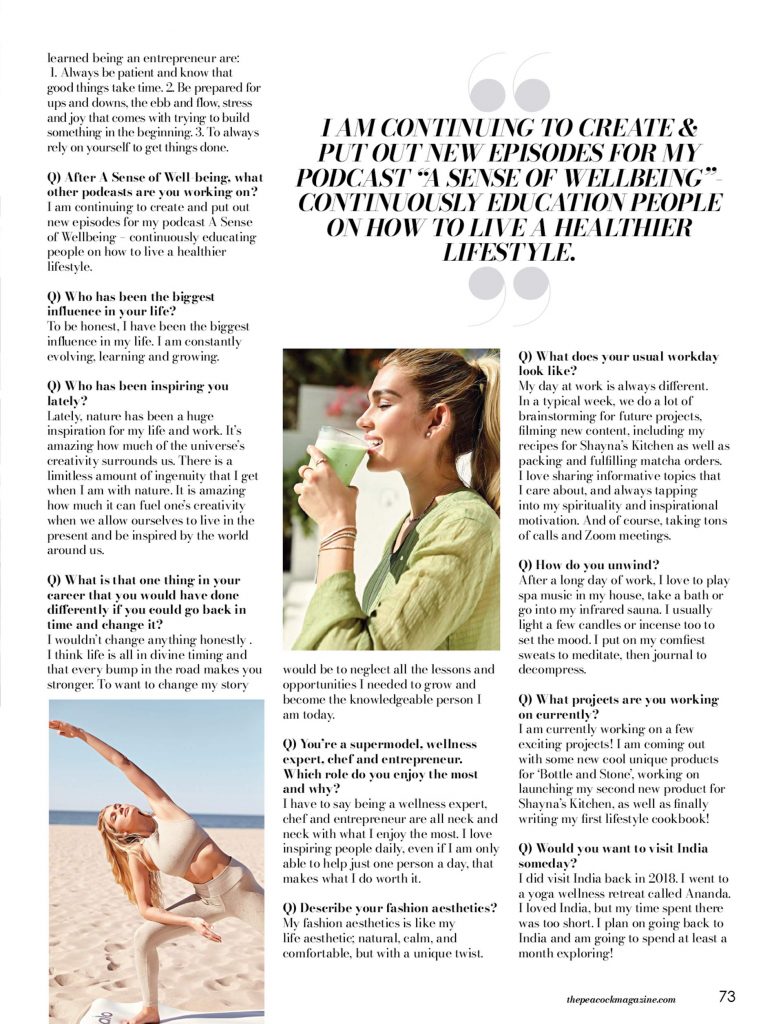 [Q] How do you unwind?
After a long day of work, I love to play spa music in my house, take a bath or go into my infrared sauna. I usually light a few candles or incense too to set the mood. I put on my comfiest sweats to meditate, then journal to decompress.
[Q] What projects are you working on currently?
I am currently working on a few exciting projects! I am coming out with some new cool unique products for 'Bottle and Stone', working on launching my second new product for Shayna's Kitchen, as well as finally writing my first lifestyle cookbook!
[Q] Would you want to visit India someday?
I did visit India back in 2018. I went to a yoga wellness retreat called Ananda. I loved India, but my time spent there was too short. I plan on going back to India and am going to spend at least a month exploring!