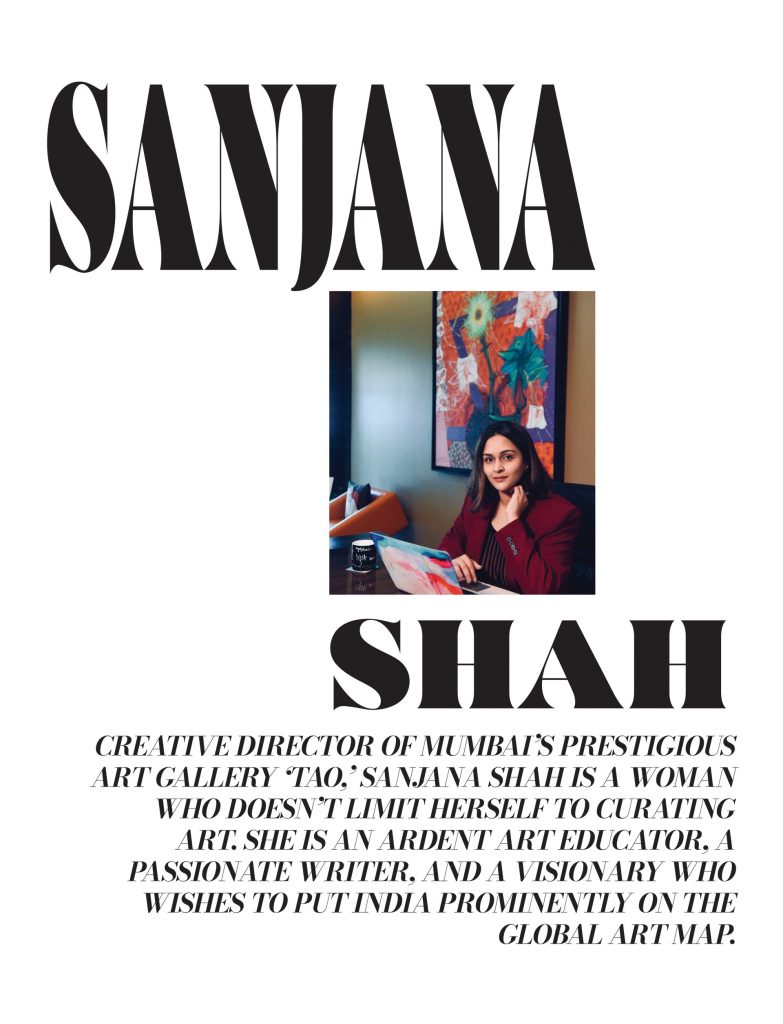 CREATIVE DIRECTOR OF MUMBAI'S PRESTIGIOUS ART GALLERY 'TAO,' SANJANA SHAH IS A WOMAN WHO DOESN'T LIMIT HERSELF TO CURATING ART. SHE IS AN ARDENT ART EDUCATOR, A PASSIONATE WRITER, AND A VISIONARY WHO WISHES TO PUT INDIA PROMINENTLY ON THE GLOBAL ART MAP.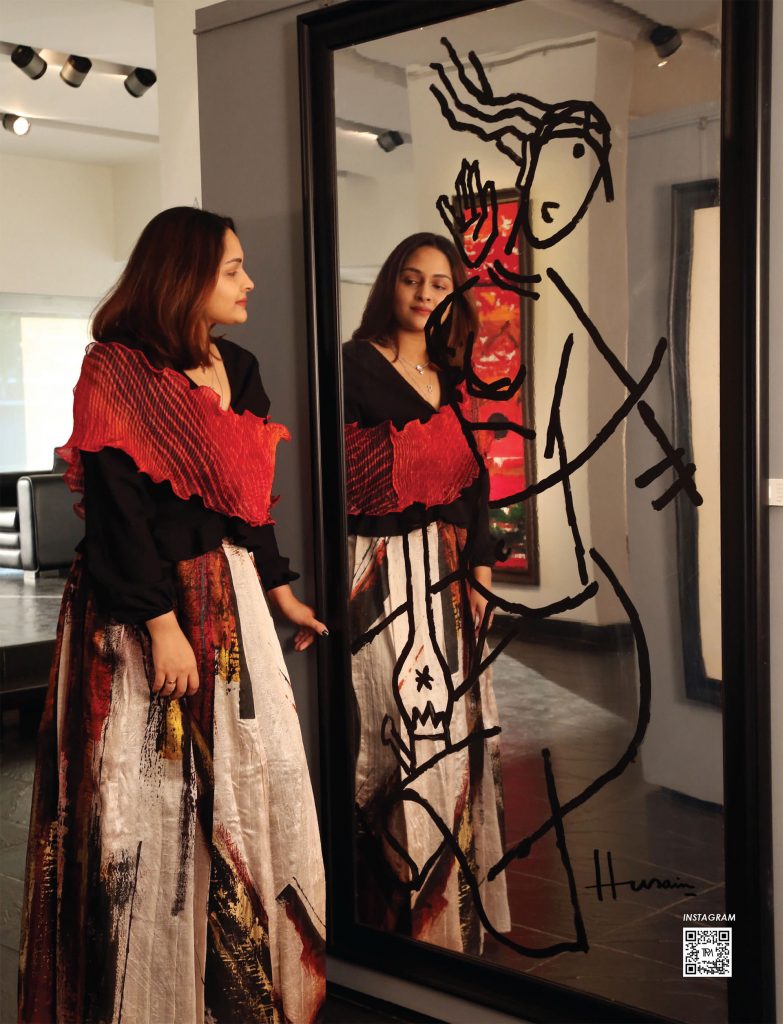 CREDITS-
Images sourced from the artist.

[Q] How were your growing up years like?
My growing up years were filled with art, music, and much passion. My parents were a romantic pair and enjoyed evenings filled with old Hindi music, candlelight dinners, and stimulating conversation. I remember there being a constant curiosity for the new and innovative! Our travels were focused on going to different places in order to gain a variety of experiences. Living well and keeping a harmonious environment at home was a crucial endeavor. No matter the stress at work, it was rarely brought home. My mom was a creative soul through and through, while my father was more business-minded and pragmatic. However, the combination they brought together was one of balance and mutual support. My brother and I were taught to reach higher while always keeping one eye to the ground.
[Q] What is your earliest memory of art?
My earliest memory of art is when I used to spend Sundays painting with my mother. I still remember that first Sunday when I saw her set up her painting supplies and asked if I could join. I must have been around 5 or 6 years old and she gave me my own mini canvas to work on alongside her. It was so exciting! I felt like I was a part of this extremely special activity that was unique to my mom and me!
[Q] When and how did you find yourself taking interest in curating art?
I think for me, there was never one particular point, but rather natural gravitation towards this world of art. I already had an inherent aesthetic eye for anything design-related be it fashion, interiors, or even plating. So curation came about for me at a very early age with assisting mom on the smaller things at home, color-coordinating or giving my opinions on what to place where, and then eventually branching out to co-curating exhibitions at Tao when I was older and getting done with college. It initially started out as a hobby I was passionate about but I still remember the first time I wrote a proper curatorial concept note for Tao's 16th Anniversary show 'Scape and Scope,' and how organic the whole process was for me. I felt completely at home engaging with the art and understanding how to communicate its essence to the audience through my words. That's when it became clearer and clearer that curating art was something I wanted to do for the long run.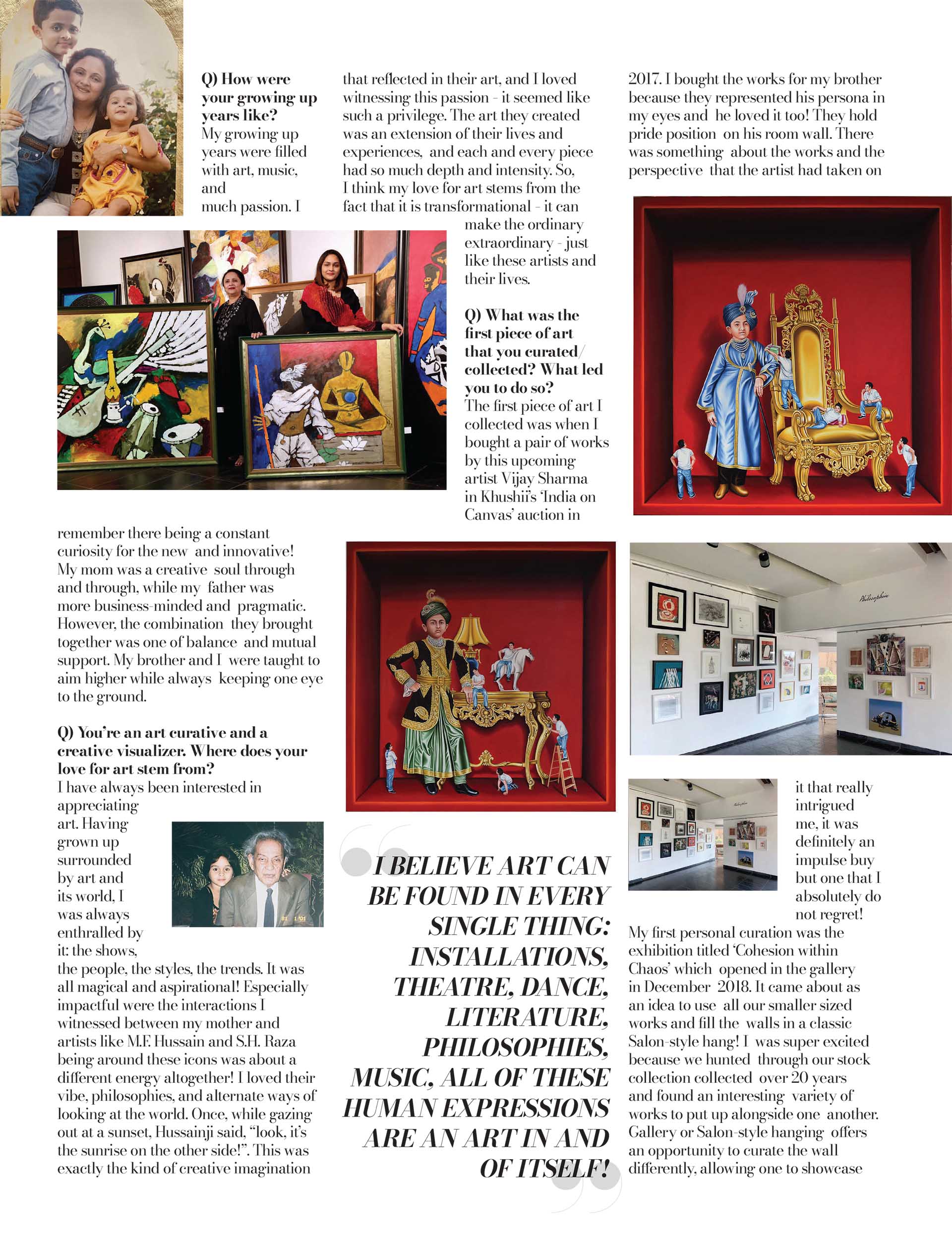 [Q] You're an art curative and a creative visualizer. Where does your love for art stem from?
I have always been interested in appreciating art. Having grown up surrounded by art and its world, I was always enthralled by it: the shows, the people, the styles, the trends. It was all magical and aspirational! Especially impactful were the interactions I witnessed between my mother and artists like M.F. Hussain and S.H. Raza. Being around these icons was different energy altogether! I loved their vibe, philosophies, and alternate ways of looking at the world. Once, while gazing out at a sunset, Hussainji said, "Look, it's the sunrise on the other side!". This was exactly the kind of creative imagination that was used in the art, and I loved witnessing this passion, it seemed like such a privilege. The art they created was an extension of their life and experiences and each-and-every piece had so much depth and intensity. So, I think my love for art stems from the fact that it is transformational, it can make the ordinary extraordinary, just like these artists and their lives.
[Q] What was the first piece of art that you curated/collected? What led you to do so?
The first piece of art I collected was when I bought a pair of works by this upcoming artist Vijay Sharma in Khushii's 'India on Canvas' auction in 2017. I bought the works for my brother because they represented his persona in my eyes, and he loved it too! They hold a pride position on his room wall. There was something about the works and the perspective that the artist had taken on them that really intrigued me. It was definitely an impulse buy but one that I do not regret!
Eternal III & IV by Vijay Sharma
My first personal curation was the exhibition titled 'Cohesion within Chaos,' which opened in the gallery in December 2018. It came about as an idea to use all our smaller-sized works and fill the walls in a classic salon-style hang! I was super excited because we hunted through our stock collection collected over 20 years and found an interesting variety of works to put up alongside one another. Gallery or salon-style hanging offers an opportunity to curate the wall differently, allowing one to showcase their creativity with a dramatic flair. It is interesting to observe how much curatorial consistency the juxtaposition of artworks in every medium can bring to any space! So, I was attempting to bring an overall curatorial 'Cohesion within the chaos'.
Cohesion within Chaos
Cohesion within Chaos
[Q] What is the main motivation that goes behind curating most of your pieces?
The main motivation is to do justice to the communication. As a curator, you are the conduit, the translator of the artistic vision, the conveyor to the common audience. It is a sacred and incredibly important job and one has to be able to do justice to it. The artist does their job through their creative expression. They are blessed with the talent of being able to create and it is the curator's job to communicate this creation without any dilution. I feel privileged to be able to interact so intimately with artists as they work in their studios and show me the process of their practice. Interacting with them, understanding their thoughts and ideas is enthralling and once I have all my information in place I work towards putting it all together in an innovative manner through the exhibition. I keep clear communication as the foundation of any curatorial venture, followed by an intent to create dialogue and parallel ways of thinking to help the audience connect with the artist and take something away in terms of their own introspection! Hence, ensuring communication followed by facilitating connection is the main motivation for me personally.
[Q] 'Tao' is a platform that goes beyond showcasing art. It is also about publishing various art books, organizing art education workshops, interactive sessions with artists, and other knowledge-based lectures. How does all of it blend in together with Tao's vision?
I believe that this is the time to expand and encompass a wider idea of art that goes beyond the canvas, curation that explores dimensions, ideas, and parallel thinking in order to open the mind of the viewer. The Indian landscape is more than ready to embrace this today! Initiatives like our #EducateForArt is the one that is much needed in this evolving art landscape. With increased international exposure, a global art network, and fascination with all things aesthetic, people are increasingly more interested in what 'art' is and how to make sense of it! Our goal is to bring together and build a like-minded community of people passionate about art, be it young students yearning to learn more, earning professionals looking to start their own collection, or veterans just looking for some creative food-for-thought! Conversations around art have primarily been limited either to those eagerly passionate art connoisseurs who actively search for art or to those who have had the fortitude of having an art education abroad. Rarely is there an entry point or initiation of sorts that can include the clueless yet curious bystander who can enter galleries and see the works of art on the walls, but never truly understand it. We hope to create workshops and programs for people at all levels of exposure and our specific workshops for children are designed to inculcate and maintain an eye for art from a young age itself. The idea is to bring together art enthusiasts, students, artists, teachers, critics, writers, and many more people across the spectrum who can be a part of this movement and spread the knowledge in order to preserve our rich tradition of the arts.
[Q] What were some of the highlighting happenings in your life as an art curator?
I think one of the best feelings is to do independent curation at other gallery spaces in different cities. The recognition and appreciation of that is truly a moment of pride. One of my highlight exhibitions was one at 079 Stories, Ahmedabad, where I curated my first group show as an independent curator titled 'The Art of Storytelling' in October 2018. Another exciting exhibition that's very close to my heart was one that I did in Hyderabad in December 2019, as a charity show to raise funds for WWF. Most recently, during COVID-19, I got the amazing opportunity to be invited to be the Indian Ambassador for the Arte Laguna Prize Competition that's held annually in Venice! It's a competition that focuses on giving a platform to contemporary artists globally and my role was to recommend the right artists to apply and assist them with this. It allowed me to virtually interact with amazing art curators and gallerists from all over the globe despite being in lockdown! This was truly the highlight of this entire last year.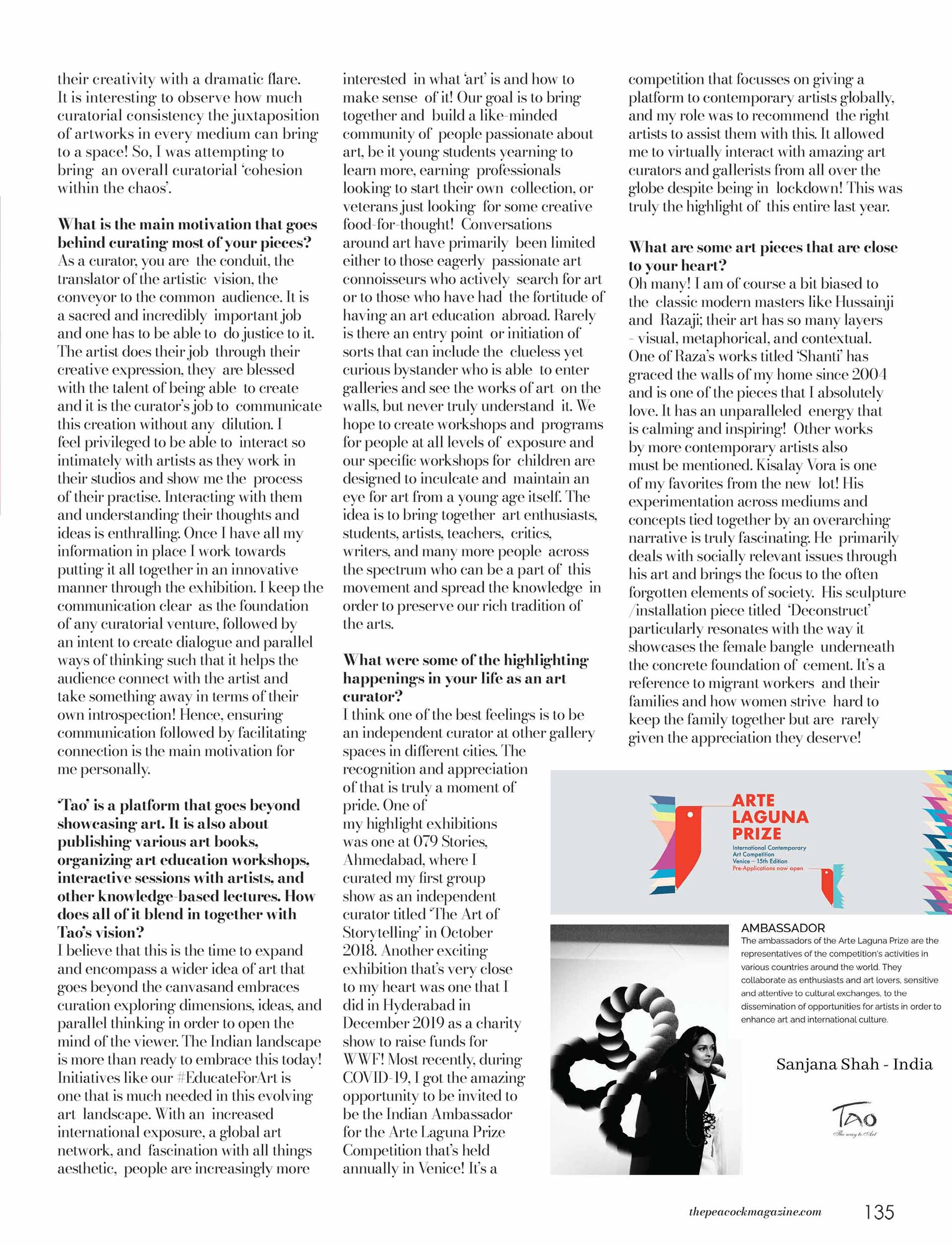 [Q] What has been your most favorite exhibit so far?
Our 18th Anniversary show titled 'No Corners' that previewed in February 2018 remains one of my favorite exhibitions. It was all about art that didn't contain the usual square and rectangular canvas shapes but was rather more fluid in terms of mediums, visuals, and ideas. Some of the interesting artists participating in this group show were Ali Akbar Mehta, Anwar, Jayasri Burman, Shuvaprasanna, Sudhir Patwardhan, and Sujata Bajaj. I had written the write-up and this quote from it encapsulates the essence of the exhibit:
"Corners are comfortable. It charts out familiar territory, it represents geometric shapes that we all know and love – squares, rectangles, and triangles. But what if there were no corners, no meeting points or limitations, just a continuous boundary that encompasses all?"
It is in the art that we have the ability to experiment, break boundaries, think literally 'out of the box,' and defy all traditions, conventions, and rules.
[Q] What are some art pieces that are close to your heart?
Oh many! I am, of course, a bit biased to the classic Modern Masters like Hussainji and Razaji. Their art has so many layers, visual, metaphorical, and contextual. One of Raza's works titled 'Shanti' have graced the walls of my home since 2004 and is one of my most absolute pieces. It has this unparalleled energy that is calming and inspiring!
Shanti, S.H. Raza, 2004.
Other works by more contemporary artists also must be mentioned. Kisalay Vora is one of my favorite from the new lot! His experimentation across mediums and concepts tied together by an over-arching narrative is truly fascinating. He primarily deals with socially relevant issues through his art and brings the focus to the often forgotten elements of society. His sculpture/installation piece titled 'Deconstruct' particularly resonates with the way it showcases the female bangle underneath the concrete foundation of cement. It's a reference to migrant workers and their families and how women strive hard to keep the family together but are rarely given the appreciation they deserve!
Deconstruct, Kisalay Vora, 2018.
[Q] One person who is on the top of your bucket list to showcase?
Anish Kapoor has always been a major personal favorite. Being able to display his work and collaborating with his creativity will be such an honor. Another favorite is Zarina Hashmi who was someone I always dreamt of working with up until her death last year. Nevertheless, curating an exhibition of her works as a tribute to her fascinating life will be so exciting!
[Q] Who are your biggest influences/mentors?
One of the most influential people in my life has to first be my mother Kalpana Shah who is a self-taught gallerist and artist. Her passion for art fuelled her forwards and made her take the bold decision of starting Tao as a housewife in her forties. She always told me, "Creativity ends when calculation begins," and till today the philosophy in Tao is to focus on the intent of overall growth and value creation, not purely on income.
There are many other incredibly inspiring people in the art world! Saryu Doshi is another lady that I have immense respect for. Her intellect and wisdom as an Art Historian, Academic, and Curator, is inspiring and she remains a powerhouse in the art world even today that
[Q] What is the first thing you notice when you see an artist's artwork?
I usually begin by just feeling the work and its energy. Every artwork has emotions and triggers reciprocal emotions in the viewer. Good art speaks. So, I usually let myself just be around the art at that moment and experience it fully. I notice whether it speaks to me and what it seems to say and that's when the true depth and intensity is allowed to come out, in our spectating silence. I never read the artwork title or 'about' section until I have first neutrally and very subjectively experienced it!
[Q] Do you curate pieces of emerging artists? What do you look for while selecting their artwork?
Yes, I am increasingly focussing more on emerging artists as they will be the next generation making an impact on India's art landscape. While working with younger artists, it's normal to see a trend of chaotic experimentation and exploration. They are still figuring out their ideas and their style and so it's natural to be a bit confused along the way. But as a curator, this makes it hard sometimes to put it all together into a format that can be explained and understood. That's why I don't focus too much on looking for skills or mediums when I select artworks from these artists as there is too much variety to choose from. Instead, I focus on the larger narrative that their multitude of practices is attempting to explore. Good artists at any age usually have a clear idea of the experience of life and its resultant role of influence in their art. Hence the overarching narrative is pretty clear despite the nitty-gritty of the work itself being complex. I search for this depth, this story, and this narrative when I select artworks!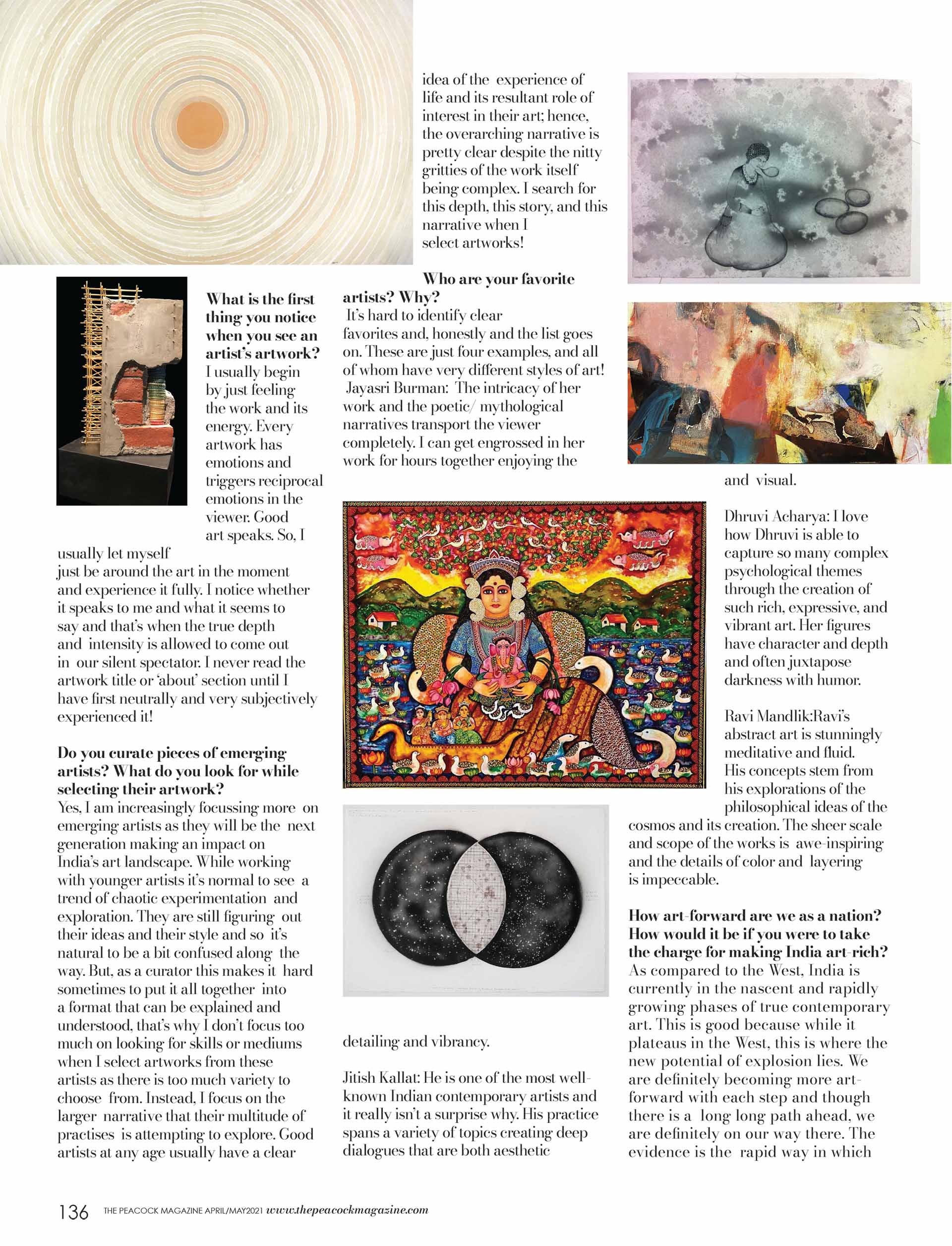 [Q] Who are your favorite artists? Why?
It's hard to identify clear favorites and honestly, the list goes on. But these are just 4 examples all of whom have very different styles of art!
Jayasri Burman – The intricacy of her work and the poetic/mythological narratives transports the viewer completely. I can get engrossed in her work for hours together enjoying the detailing and vibrancy.
Ganesh and Parvati, Jayasri Burman, 2020.
Jitish Kallat – He is one of the most well-known Indian contemporary artists and it really isn't a surprise why. His practice spans a variety of topics creating deep dialogues that are both aesthetic and visual.
Rain Study, Jitish Kallat, 2018.
Dhruvi Acharya – I love how Dhruvi can capture so many complex psychological themes but through the creation of such rich, expressive, and vibrant art. Her figures have character and depth and often juxtapose darkness with humor.
Nest, Dhruvi Acharya, 2013.
Ravi Mandlik – Ravi's abstract art is stunningly meditative and fluid. His concepts stem from his explorations of the philosophical ideas of the cosmos and its creation. The sheer scale and scope of the works are awe-inspiring and the details of color and layering are impeccable.
Geist, Ravi Mandlik, 2020.
[Q] What are some of the things you are obsessed with as an art curator?
I love being around art! It makes me so happy to just be in the gallery space or artist studio space being surrounded by all the colors, textures, and stories. It's a beautiful world of its own that has so much beauty and vulnerability. Art allows you to be, it allows you to embrace, accept and express yourself. I am most obsessed to be able to get such intimate and exclusive access to artworks and their energy!
Another thing I love is the social dimension of the art world! I am, by nature, a peoples person and find that I can organically socialize well and enjoy meeting new people. The art industry runs on these interactions and exchanges! Therefore attending/hosting previews and interacting with interesting new people is a high in and of itself.
One of my most favorite moments is when a client falls in love with an art piece and truly enjoys it. I feel so happy when clients come and tell me how much they are loving the look and feel of the new artwork they bought from us! I think the energy in any home is completely transformed with the right art that resonates with them, so when I can advise someone on how to enhance their homes like this, it brings me a lot of joy as a curator and consultant!
[Q] What is that one coveted piece of art that you still have not been able to lay your hands upon?
Well, to be honest, nothing yet. I've always been lucky enough to be able to buy every piece I've liked whether it's from the Tao shows or any other one. I guess perhaps a few pieces here and there over the year where I liked it but it was already sold! Like this one piece of Atul Dodiya's in his recent 2019 exhibit with Chemould. However, more or less if an artwork is available and I like it, mom and I usually don't hesitate to buy it!
[Q] What is your favorite art event of the year?
I quite enjoy attending all kinds of art biennales and fairs! It's always a great space to see what's new and innovative in the Indian art scene. India Art Fair is of course a classic that I absolutely love attending. It's so interesting to see the innovative themes every year and interact with the young and upcoming artists. The art networks surrounding these events are great and meeting other gallerists and curators is always a good way to keep in the loop and collaborate! The Kochi Biennale is another lovely event that does some great site-specific art!
[Q] How art-forward are we as a nation? How would it be if you were to take the charge of making India art-rich?
As compared to the West, India is currently in the nascent and rapidly growing phases of true, contemporary art. This is good because while it plateaus in the West, this is where the new potential of explosion lies. We are definitely becoming more art-forward which each step and though there is a long, long path ahead, we are definitely on our way there. The evidence is the rapid way in which we dealt with COVID-19. All galleries immediately took their shows online and learnt the virtual ways of conducting walkthroughs/seminars and other engaging methods to keep art relevant. Auctions went digital and earned more than they ever have before, breaking some amazing records! Innovation, quick-thinking, and growth of creativity both amongst artists and art facilitators is crucial to keep up this pace and as a person at the forefront of the art world, it is my constant endeavor to bring India on to the global map. All of my attempts at collaborating, be it with individual international artists to bring them down to work with our Indian artists or with galleries and public museums to do cultural exchanges, hopefully, will work to continue making India more and more art-rich.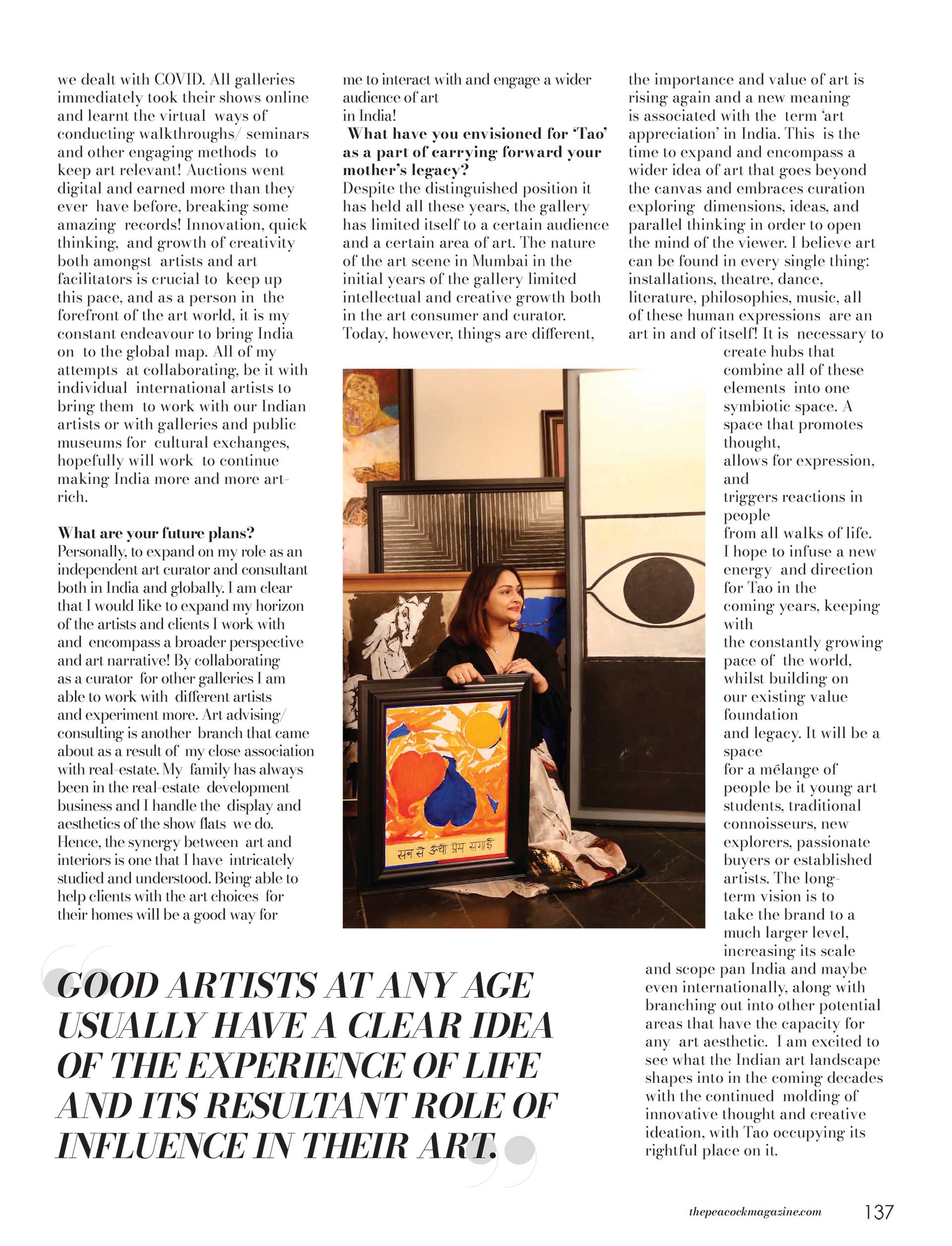 [Q] Which are your top three art destinations?
Florence, for all the absolutely stunning Renaissance Art!
London, because I am biased to the city where I learned so much about art from my courses at Christie's and Sotheby's!
New York, because it is the undisputed city of modern and contemporary art. The museums, the vibe, the people in the art districts all of them live and breathe creativity!
[Q] Who is Sanjana when not an art curator?
I am many things, a passionate aesthete of anything related to design be it fashion, home décor, or even plating of food. I also am a complete movie and theatre buff! Most weekends are spent watching a new play at NCPA or a movie that's just released. I am also a major music lover and have been learning the basics of classical Hindustani for a few years now. All in all, creativity is inseparable from who I am. All kinds of art, not just fine art, enthrall me. And I make it a point to keep my curiosity constantly alive. I am passionate about all of the arts because every medium is an inherent expression.
[Q] What passion do you harbor apart from art?
However, at my core, I am truly a writer. Writing for me has always been the most natural way of expression. So, apart from my art-focused curatorial writing, I also write as a way to introspect around themes like philosophy, people, relationships, and experiences. I call these my minimalist musings, and I will hopefully publish them all one day. I am also an avid reader and enjoy pleasure reading on the subjects of ancient history, philosophy, culture, and anthropology.
[Q] What are your future plans?
Personally, to expand on my role as an independent art curator and consultant, both in India and globally. I am clear that I would like to expand my horizon of the artists and clients I work with and encompass a broader perspective and art narrative! By collaborating as a curator for other galleries, I can work with different artists and experiment more.
Art advising/consulting is another branch that came about as a result of my close association with real-estate. My family has always been in the real-estate development business and I handle the display and aesthetics of the show flats we do up. Hence, the synergy between art and interiors is one that I have intricately studied and understood. Being able to help clients with the art choices for their homes will be a good way for me to interact with and engage a wider audience of art in India!
[Q] What have you envisioned for 'Tao' as a part of carrying forward your mother's legacy?
Despite the distinguished position it has held all these years, the gallery has limited itself to a certain audience and a certain area of art. The nature of the art scene in Mumbai in the initial years of the gallery limited intellectual and creative growth both in the art consumer and curator. Today, however, things are different. The importance and value of art is rising again and a new meaning is associated with the term 'art appreciation' in India. This is the time to expand and encompass a wider idea of art that goes beyond the canvas, curation that explores dimensions, ideas, and parallel thinking in order to open the mind of the viewer.
I believe art can be found in every single thing: installations, theatre, dance, literature, philosophies, music, all of these human expressions are an art in and of itself! It is necessary to create hubs that combine all of these elements into one symbiotic space. A space that promotes thought, allows for expression, and triggers reactions in people from all walks of life.
I hope to infuse new energy and direction for Tao in the coming years, keeping with the constantly growing pace of the world, whilst building on our existing value foundation and legacy. It will be a space for a mélange of people be it young art students, traditional connoisseurs, new explorers, passionate buyers, or established artists. The long-term vision is to take the brand to a much larger level, increasing its scale and scope pan India and maybe even internationally, along with branching out into other potential areas that have the capacity for any art aesthetic.
I am excited to see what the Indian art landscape shapes into in the coming decades with the continued molding of innovative thought and creative ideation, with Tao occupying its rightful place on it.