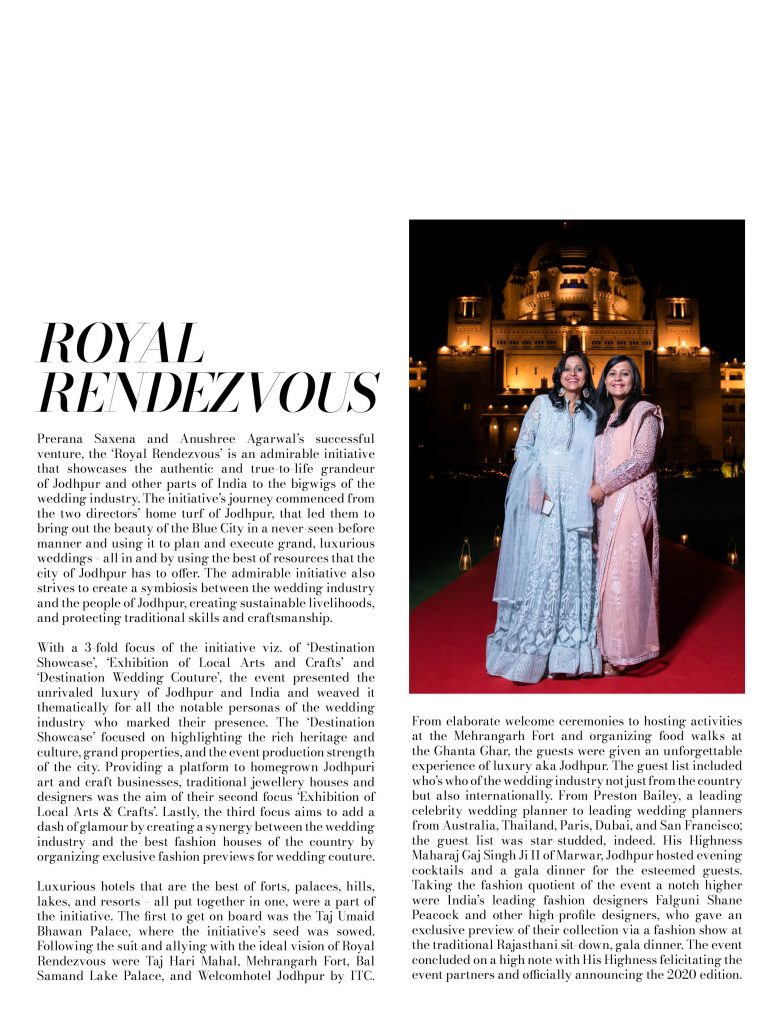 Prerana Saxena and Anushree Agarwal's successful venture 'Theme Weavers Designs', the 'Royal rendezvous' is an admirable initiative that showcases the authentic and true-to-life grandeur of Jaipur and other parts of India to the bigwigs of the wedding industry. The initiative's journey commenced from the two directors' home turf of Jodhpur, that led them to bring out the beauty of the Blue City in a never-seen-before manner and using it to plan and execute grand, luxurious weddings – all in and by using the best of resources that the city of Jodhpur has to offer. The admirable initiative also strives to create a symbiosis between the wedding industry and the people of Jodhpur, creating sustainable livelihoods and protecting traditional skills and craftsmanship.
With a 3-fold focus of the initiative viz. of 'Destination Showcase', 'Exhibition of Local Arts and Crafts' and 'Destination Wedding Couture', the event presented the unrivalled luxury of Jodhpur and India, and weaved it thematically for all the notable personas of the wedding industry who marked their presence. The 'Destination Showcase' focused on highlighting the rich heritage and culture, grand properties and the event production strength of the city. Providing a platform to homegrown Jodhpuri art and craft businesses, traditional jewellery houses and designers was the aim of their second focus 'Exhibition of Local Arts & Crafts'. Lastly, the third focus aims add a dash of glamour by creating a synergy between the wedding industry and the best fashion houses of the country by organizing exclusive fashion previews.
Luxurious hotels that are the best of forts, palaces, hills, lakes and resorts – all put together in one, were a part of the initiative. The first to get on board was the Taj Umaid Bhawan Palace, where the initiative's seed was sowed. Following the suit and allying with the ideal vision of Royal Rendezvous were Taj Hari Mahal, Mehrangarh Fort, Bal Samand Lake Palace and Welcomhotel Jodhpur by ITC. From elaborate welcome ceremonies to hosting activities at the Mehrangarh Fort and organizing food walks at the Ghanta Ghar, the guests were given an unforgettable experience of luxury aka Jodhpur. The guest list included who's who of the wedding industry not just from the country but also internationally. From Preston Bailey, a leading celebrity wedding planner to leading wedding planners from Australia, Thailand, Paris, Dubai and San Francisco; the guest list was start-studded, indeed. His Highness Maharaj Gaj Singh Ji II of Marwar, Jodhpur hosted evening cocktails and a gala dinner for the esteemed guests. Taking the fashion quotient of the event a notch higher were India's leading fashion designers Falguni Shane Peacock and other high-profile designers, who gave an exclusive preview of their collection via a fashion show at the traditional Rajasthani sit-down, gala dinner. The event concluded on a high note with His Highness felicitating the event partners and officially announcing the 2020 edition.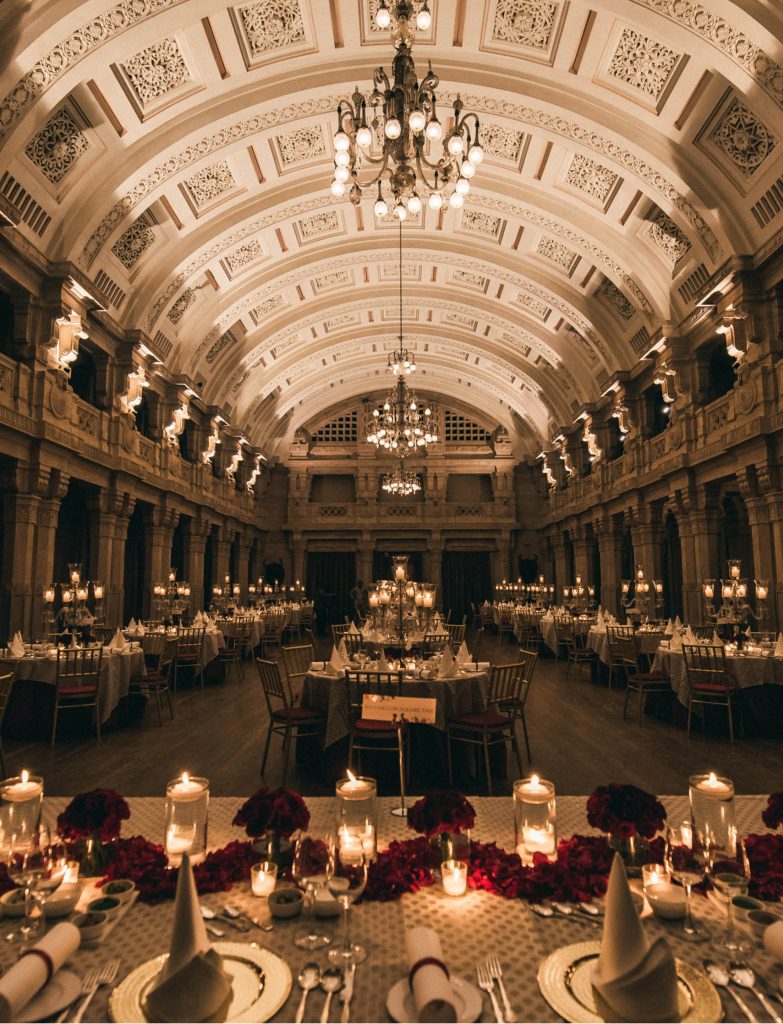 [Q] How do clients get to know about you?
Prospective clients come to us through recommendations, so word-of-mouth becomes our top reference generator. This could be through families whose weddings we have been curating since our inception, which is now over a decade, or it could be from our associates at palace hotels who believe in us. Over the years, TWD has fetched itself a name synonymous with luxury weddings, fresh designs, and ethical work culture.
Quite recently, our focused efforts on Instagram & Pinterest have got us noticed amongst couples seeking inspiration and finding suppliers on social.
[Q] Which weddings have been the highlight of your wedding planning journey so far?
Whilst each wedding designed and executed by us so far has been spectacular for us, and for our clients since that is what the couple and family wanted and that's what we have delivered. Our two highlights have been the wedding reception commissioned by His Highness Gaj Singh Ji of Jodhpur for his son at his home – the spectacular Umaid Bhawan Palace and Bal Samand Lake Palace. The other memorable event was our first ever destination wedding for 250 guests at Taj Exotica Goa.
[Q] What advice would you give to clients for having an outdoor wedding?
Choose the location wisely. Not all locations and venues are appropriate for an outdoor wedding both from an experience and aesthetics standpoint.
The timing of the year is important especially when it comes to rain or extreme heat.
Ensuring adequate safety precautions and ease of use for elderly guests and children.
Think about the backdrop! Palaces, forts, natural beauty spots such as lakes, the sea lend to a spectacular setting. Choose from that and avoid the urge to improve an already perfect outdoor setting.
With the pandemic in mind, a reputable venue chosen will ensure hygiene standards and will have all key safety protocols in place. Outdoor venues prove to be a safer bet allowing guests to enjoy themselves whilst being able to comply with safety requirements.
[Q] Which has been the most unique wedding that you planned?
On the 15th of June 2020, one of our longstanding clients engaged us to deliver his daughter's wedding with two weeks to go. Notwithstanding the tight timescale and his desire for an uncompromised setup, it was a unique experience for us during the pandemic to live up to the expectations of a father while ensuring the safety of guests, suppliers, and staff at all points. From the usage of PPE kits to weather challenges to design approval, changes, and executions; this COVID times wedding for 50 guests at ITC Grand Bharat surely tops our charts for the most exclusive, as well as challenging wedding we have done till date.
[Q] What have been the most difficult themes to execute for a wedding?
To be honest, nothing is too much for Theme Weavers Designs. We have thoroughly relished each moment of design and execution of our various concepts. Whether it was our dreamland set-up with a 1,00,000 sq.ft of construction or the grand fairytale reception for 5000 guests in Bangalore or the intimate 120 guests weddings at luxury palace hotels or an ombre-themed reception planned at Cochin. We thoroughly enjoyed a Sangeet in Goa with a 'Nautical Night' theme put together for a Raipur family and a baby announcement with a guest list of 10,000 conceptualized for a family in Morena. Even our weddings in Tuscany have a clean yet luxe vibe to them! The most favorite of those being the one at Villa Grabau! In the beginning, all the themes seem like a lot to have taken on, but as the magic unfolds, our labor of love makes every moment totally worth the effort!
[Q] How many people does it take in a team to plan and execute a wedding?
It depends on the scale of the project to be fair which is determined by the number of guests, venues, and cultural expectations! For a clientele like ours, we generally have an internal team of 10-15 people to support the project from end-to-end. Over and above that, a team of 15-30 is brought on board to manage the hospitality services. In addition, with our suppliers and their staff, one can expect a team size of 250-300 on-ground to bring the vision to reality.
[Q] If a client is on a tight budget and still has an elaborate theme, how do you bridge the gap between the two?
It is tricky and we have worked on a few such projects to speak out of the experience. However, as a general input, we think that choosing a venue that fits an overarching theme that does not require elaborate décor would do the trick. Perhaps, even stitching in cost-effective ideas engagement ideas such as polaroid wall, this-family-got-talent, or going in with locally available crafts and resources in that destination would sail the client through. Nevertheless, we strongly advise clients to pick quality as opposed to spreading their budget too thin.
[Q] What are some of the ways you measure an event's success?
When our client's guests appreciate them and the client, in turn, appreciates us! This is surely our biggest measure of success. We like to make them win and that is our real win!
Over the years, happy customers have recommended us to their friends and family which we are immensely grateful about. Our key driver is to create unique experiences, so guests talk about our client's family wedding for years to come. Thankfully, we have managed to weave long-lasting relationships with most of our clients and we strive to keep it that way. As Prerana & Annushree; co-founders of Theme Weavers Designs say, "Let's turn your dream into a theme!".