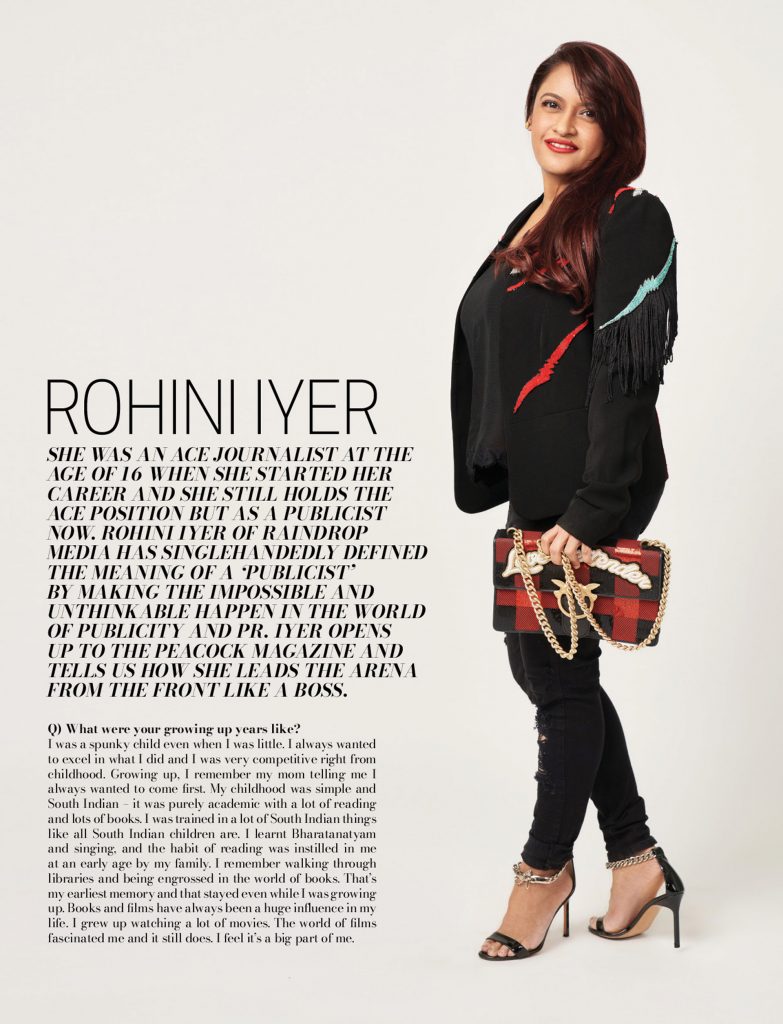 CREDITS – All images sourced from the artist.
She was an ace journalist at the age of 16 when she started her career and she still holds the ace position but as a publicist now. Rohini Iyer of Raindrop Media has singlehandedly defined the meaning of a 'publicist' by making the impossible and unthinkable happen in the world of publicity and PR. Iyer opens up to The Peacock Magazine and tells us how she leads the arena from the front like a boss.
[Q] What were your growing up years like?
I was a spunky child even when I was little. I always wanted to excel in what I did and I was very competitive right from childhood. Growing up, I remember my mom telling me I always wanted to come first. My childhood was simple and South Indian — it was purely academic with a lot of reading and lots of books. I was trained in a lot of South Indian things like all South Indian children are. I learnt Bharatanatyam and singing, and the habit of reading was instilled in me at an early age by my family. I remember walking through libraries and being engrossed in the world of books. That's my earliest memory and that stayed even while I was growing up. Books and films have always been a huge influence in my life. I grew up watching a lot of movies. The world of films fascinated me and it still does. I feel it's a big part of me.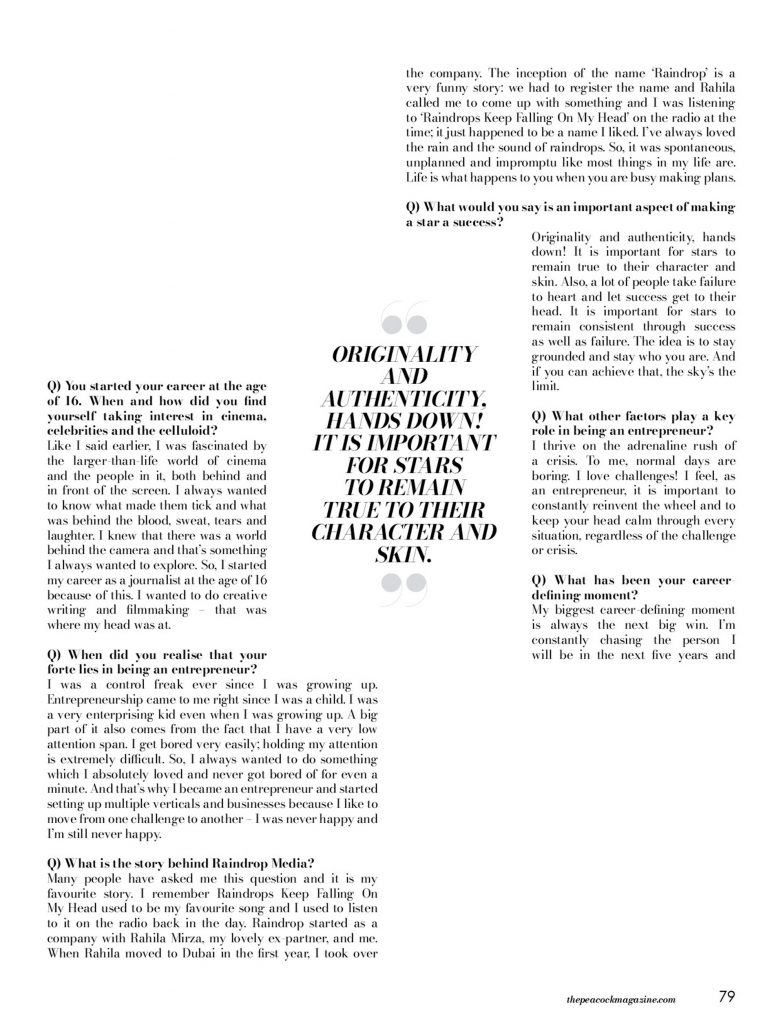 [Q] You started your career at the age of 16. When and how did you find yourself taking interest in cinema, celebrities and the celluloid?
Like I said earlier, I was fascinated by the larger-than-life world of cinema and the people in it, both behind and in front of the screen. I always wanted to know what made them tick and what was behind the blood, sweat, tears and laughter. I knew that there was a world behind the camera and that's something I always wanted to explore. So, I started my career as a journalist at the age of 16 because of this. I wanted to do creative writing and filmmaking — that was where my head was at.
[Q] When did you realise that your forte lies in being an entrepreneur?
I was a control freak ever since I was growing up. Entrepreneurship came to me right since I was a child. I was a very enterprising kid even when I was growing up. A big part of it also comes from the fact that I have a very low attention span. I get bored very easily; holding my attention is extremely difficult. So, I always wanted to do something which I absolutely loved and never got bored of for even a minute. And that's why I became an entrepreneur and started setting up multiple verticals and businesses because I like to move from one challenge to another — I was never happy and I'm still never happy.
[Q] What is the story behind Raindrop Media?
Many people have asked me this question and it is my favourite story. I remember Raindrops Keep Falling On My Head used to be my favourite song and I used to listen to it on the radio back in the day. Raindrop started as a company with Rahila Mirza, my lovely ex-partner, and me. When Rahila moved to Dubai in the first year, I took over the company. The inception of the name 'Raindrop' is a very funny story: we had to register the name and Rahila called me to come up with something and I was listening to 'Raindrops Keep Falling On My Head' on the radio at the time; it just happened to be a name I liked. I've always loved the rain and the sound of raindrops. So, it was spontaneous, unplanned and impromptu like most things in my life are. Life is what happens to you when you are busy making plans.
[Q] What would you say is an important aspect of making a star a success?
Originality and authenticity, hands down! It is important for stars to remain true to their character and skin. Also, a lot of people take failure to heart and let success get to their head. It is important for stars to remain consistent through success as well as failure. The idea is to stay grounded and stay who you are. And if you can achieve that, the sky's the limit.
[Q] What other factors play a key role in being an entrepreneur?
I thrive on the adrenaline rush of a crisis. To me, normal days are boring. I love challenges! I feel, as an entrepreneur, it is important to constantly reinvent the wheel and to keep your head calm through every situation, regardless of the challenge or crisis.
[Q] What has been your career-defining moment?
My biggest career-defining moment is always the next big win. I'm constantly chasing the person I will be in the next five years and that's why I say my big career-defining moment is yet to come. I love to keep pushing my own boundary. Like Matthew McConaughey said, "You see, every day, and every week, and every month, and every year of my life, my hero is always ten years away. I'm never going to be my hero. I'm not going to obtain that and that's fine with me because it keeps me with somebody to keep on chasing."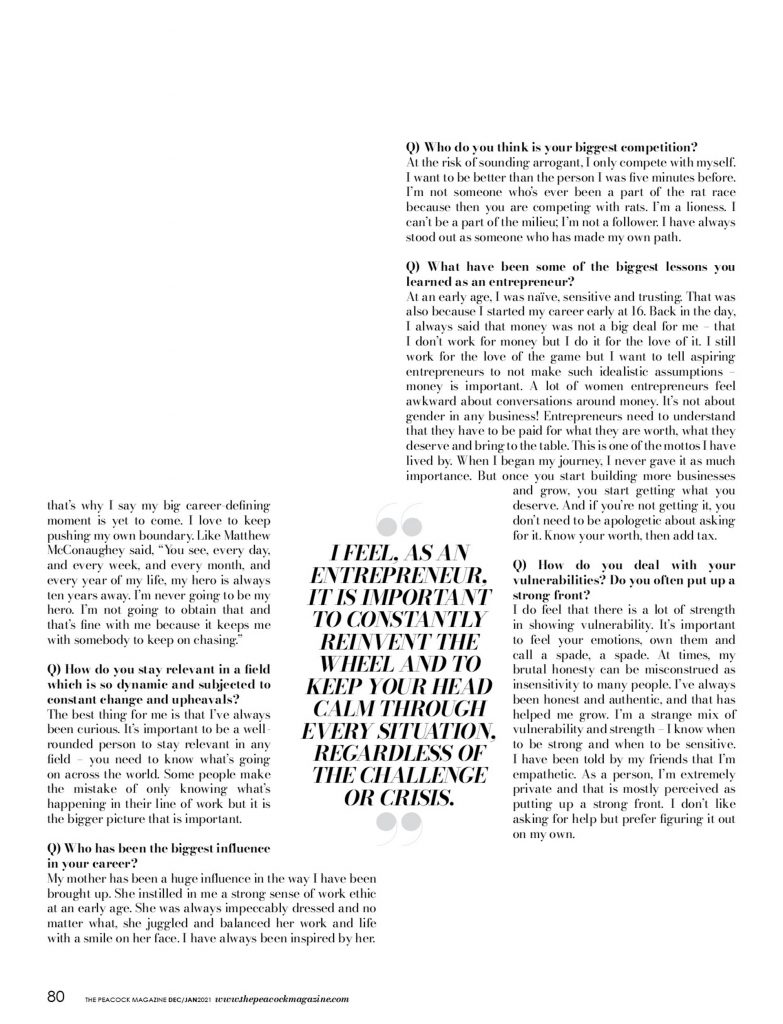 [Q] How do you stay relevant in a field which is so dynamic and subjected to constant change and upheavals?
The best thing for me is that I've always been curious. It's important to be a well-rounded person to stay relevant in any field — you need to know what's going on across the world. Some people make the mistake of only knowing what's happening in their line of work but it is the bigger picture that is important.
[Q] Who has been the biggest influence in your career?
My mother has been a huge influence in the way I have been brought up. She instilled in me a strong sense of work ethic at an early age. She was always impeccably dressed and no matter what, she juggled and balanced her work and life with a smile on her face. I have always been inspired by her.
[Q] Who do you think is your biggest competition?
At the risk of sounding arrogant, I only compete with myself. I want to be better than the person I was five minutes before. I'm not someone who's ever been a part of the rat race because then you are competing with rats. I'm a lioness. I can't be a part of the milieu; I'm not a follower. I have always stood out as someone who has made my own path.
[Q] What have been some of the biggest lessons you learned as an entrepreneur?
At an early age, I was naïve, sensitive and trusting. That was also because I started my career early at 16. Back in the day, I always said that money was not a big deal for me — that I don't work for money but I do it for the love of it. I still work for the love of the game but I want to tell aspiring entrepreneurs to not make such idealistic assumptions — money is important. A lot of women entrepreneurs feel awkward about conversations around money. It's not about gender in any business! Entrepreneurs need to understand that they have to be paid for what they are worth, what they deserve and bring to the table. This is one of the mottos I have lived by. When I began my journey, I never gave it as much importance. But once you start building more businesses and grow, you start getting what you deserve. And if you're not getting it, you don't need to be apologetic about asking for it. Know your worth, then add tax.
[Q] How do you deal with your vulnerabilities? Do you often put up a strong front?
I do feel that there is a lot of strength in showing vulnerability. It's important to feel your emotions, own them and call a spade, a spade. At times, my brutal honesty can be misconstrued as insensitivity to many people. I've always been honest and authentic, and that has helped me grow. I'm a strange mix of vulnerability and strength — I know when to be strong and when to be sensitive. I have been told by my friends that I'm empathetic. As a person, I'm extremely private and that is mostly perceived as putting up a strong front. I don't like asking for help but prefer figuring it out on my own.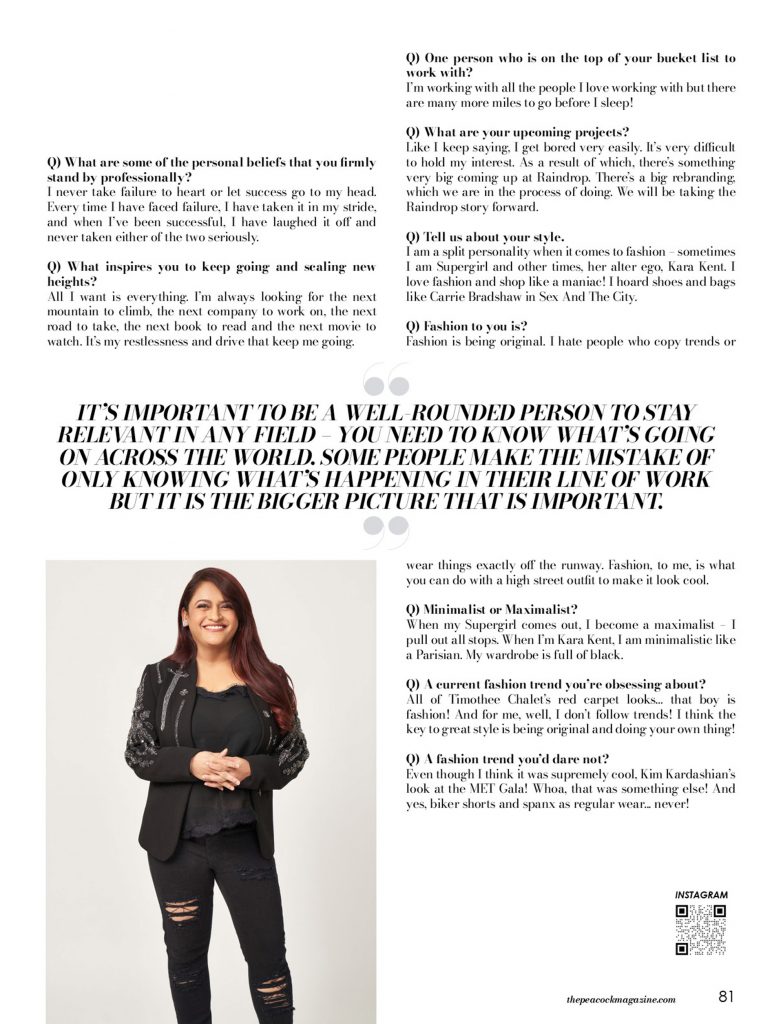 [Q] What are some of the personal beliefs that you firmly stand by professionally?
I never take failure to heart or let success go to my head. Every time I have faced failure, I have taken it in my stride, and when I've been successful, I have laughed it off and never taken either of the two seriously.
[Q] What inspires you to keep going and scaling new heights?
All I want is everything. I'm always looking for the next mountain to climb, the next company to work on, the next road to take, the next book to read and the next movie to watch. It's my restlessness and drive that keep me going.
[Q] One person who is on the top of your bucket list to work with?
I'm working with all the people I love working with but there are many more miles to go before I sleep!
[Q] What are your upcoming projects?
Like I keep saying, I get bored very easily. It's very difficult to hold my interest. As a result of which, there's something very big coming up at Raindrop. There's a big rebranding, which we are in the process of doing. We will be taking the Raindrop story forward.
[Q] Tell us about your style.
I am a split personality when it comes to fashion — sometimes I am Supergirl and other times, her alter ego, Kara Kent. I love fashion and shop like a maniac! I hoard shoes and bags like Carrie Bradshaw in Sex And The City.
[Q] Fashion to you is?
Fashion is being original. I hate people who copy trends or wear things exactly off the runway. Fashion, to me, is what you can do with a high street outfit to make it look cool.
[Q] Minimalist or Maximalist?
When my Supergirl comes out, I become a maximalist — I pull out all stops. When I'm Kara Kent, I am minimalistic like a Parisian. My wardrobe is full of black.
[Q] A current fashion trend you're obsessing about?
All of Timothee Chalet's red carpet looks… that boy is fashion! And for me, well, I don't follow trends! I think the key to great style is being original and doing your own thing!
[Q] A fashion trend you'd dare not?
Even though I think it was supremely cool, Kim Kardashian's look at the MET Gala! Whoa, that was something else! And yes, biker shorts and spanx as regular wear… never!