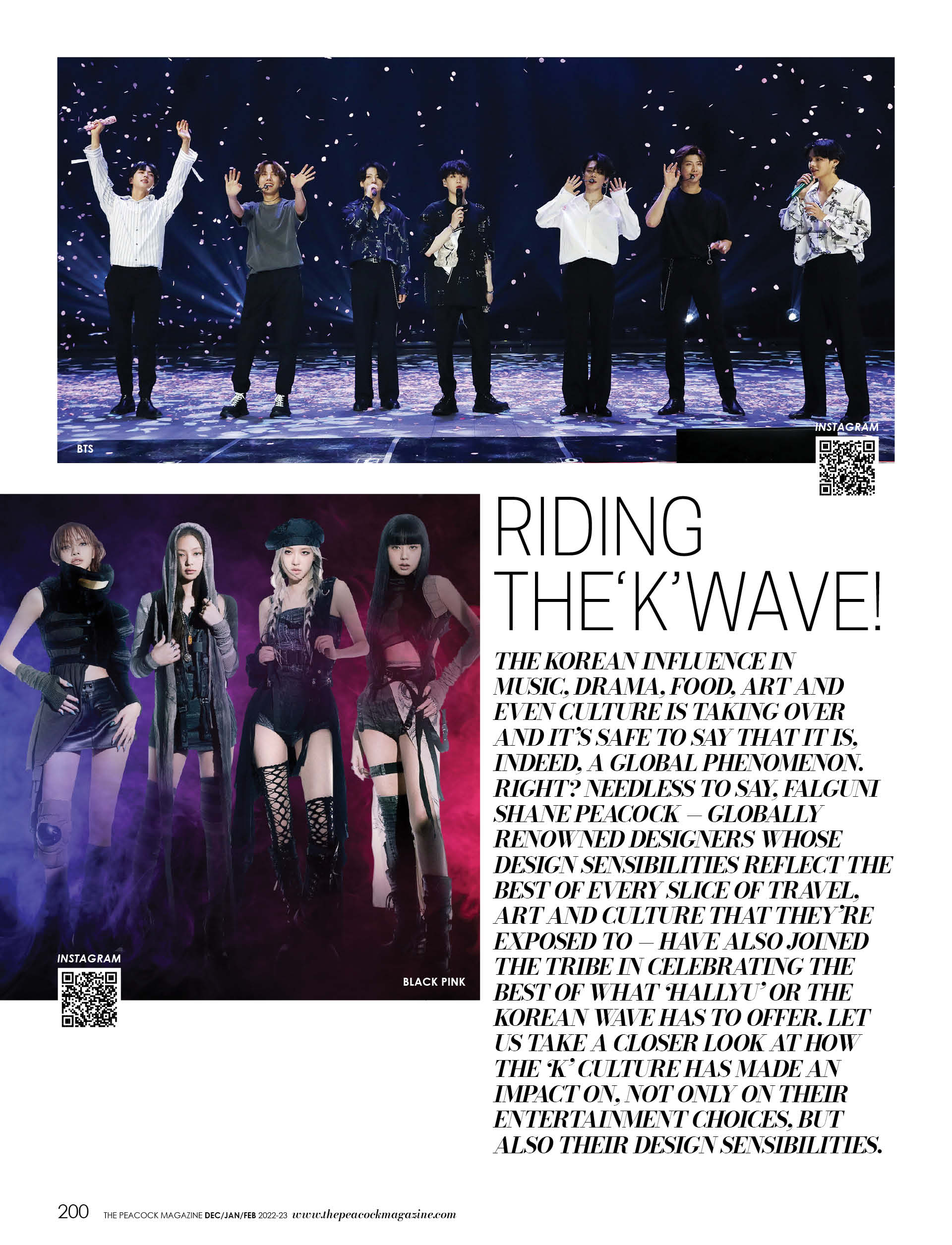 The Korean influence in music, drama, food, art and even culture is taking over and it's safe to say that it is, indeed, a global phenomenon. Right? (You know what we mean if BTS, BLACKPINK, and the likes, are the names that are springing up in your mind.) Needless to say, Falguni Peacock and Shane Peacock — globally renowned designers whose design sensibilities and personal aesthetics reflect the best of every slice of travel, art and culture that they're exposed to — have also joined the tribe in celebrating the best of what 'Hallyu' or the Korean wave has to offer. We've listed their top K-pop and K-drama picks that have made an impact not only on their entertainment choices but also their design sensibilities.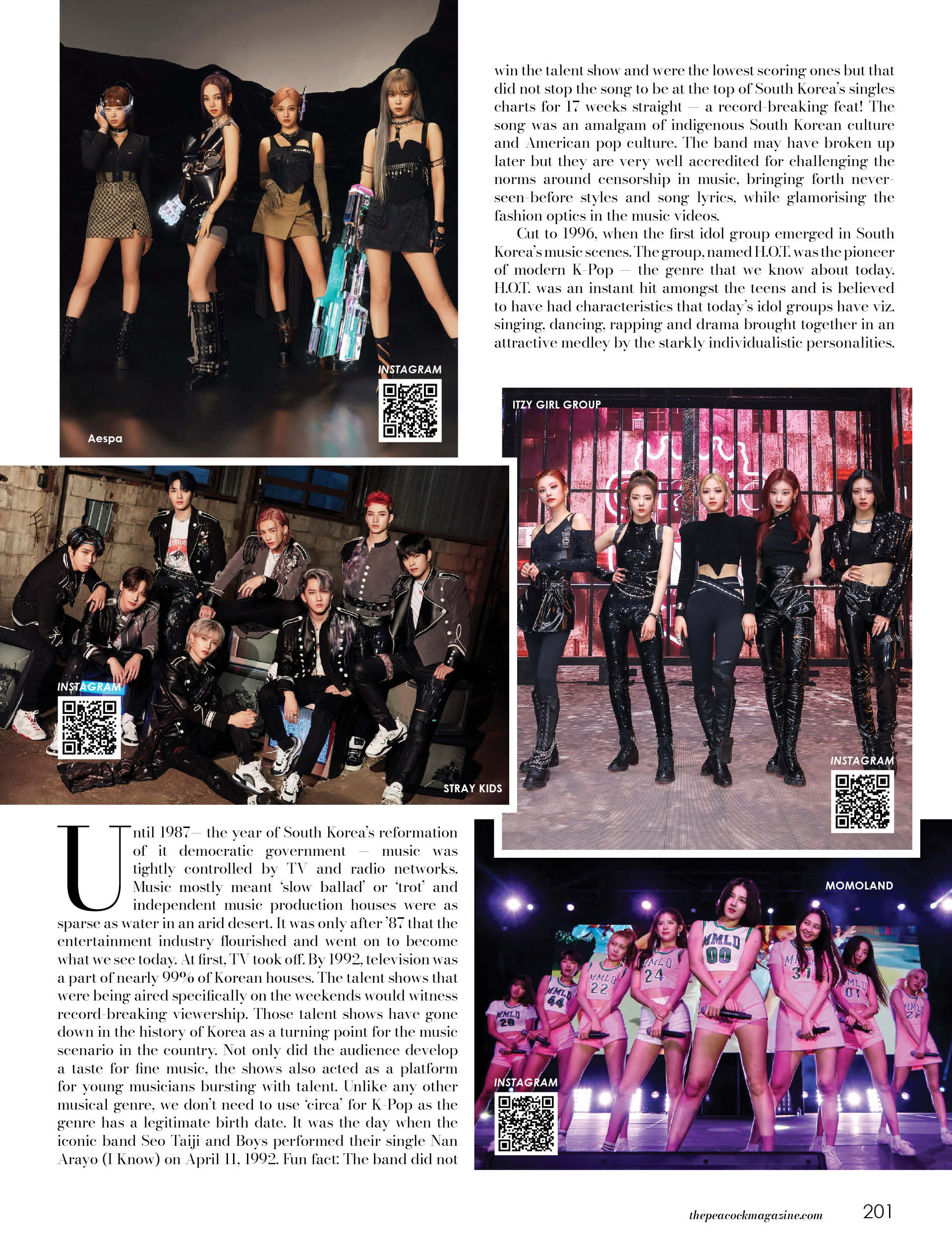 Until 1987— the year of South Korea's reformation of it democratic government — music was tightly controlled by TV and radio networks. Music mostly meant 'slow ballad' or 'trot' and independent music production houses were as sparse as water in an arid desert. It was only after '87 that the entertainment industry flourished and went on to become what we see today. At first, TV took off. By 1992, television was a part of nearly 99% of Korean houses. The talent shows that were being aired specifically on the weekends would witness record-breaking viewership. Those talent shows have gone down in the history of Korea as a turning point for the music scenario in the country. Not only did the audience develop a taste for fine music, the shows also acted as a platform for young musicians bursting with talent. Unlike any other musical genre, we don't need to use 'circa' for K-Pop as the genre has a legitimate birth date. It was the day when the iconic band Seo Taiji and Boys performed their single Nan Arayo (I Know) on April 11, 1992. Fun fact: The band did not win the talent show and were the lowest scoring ones but that did not stop the song to be at the top of South Korea's singles charts for 17 weeks straight — a record-breaking feat! The song was an amalgam of indigenous South Korean culture and American pop culture. The band may have broken up later but they are very well accredited for challenging the norms around censorship in music, bringing forth never-seen-before styles and song lyrics, while glamorising the fashion optics in the music videos.
Cut to 1996, when the first idol group emerged in South Korea's music scenes. The group, named H.O.T. was the pioneer of modern K-Pop — the genre that we know about today. H.O.T. was an instant hit amongst the teens and is believed to have had characteristics that today's idol groups have viz. singing, dancing, rapping and drama brought together in an attractive medley by the starkly individualistic personalities.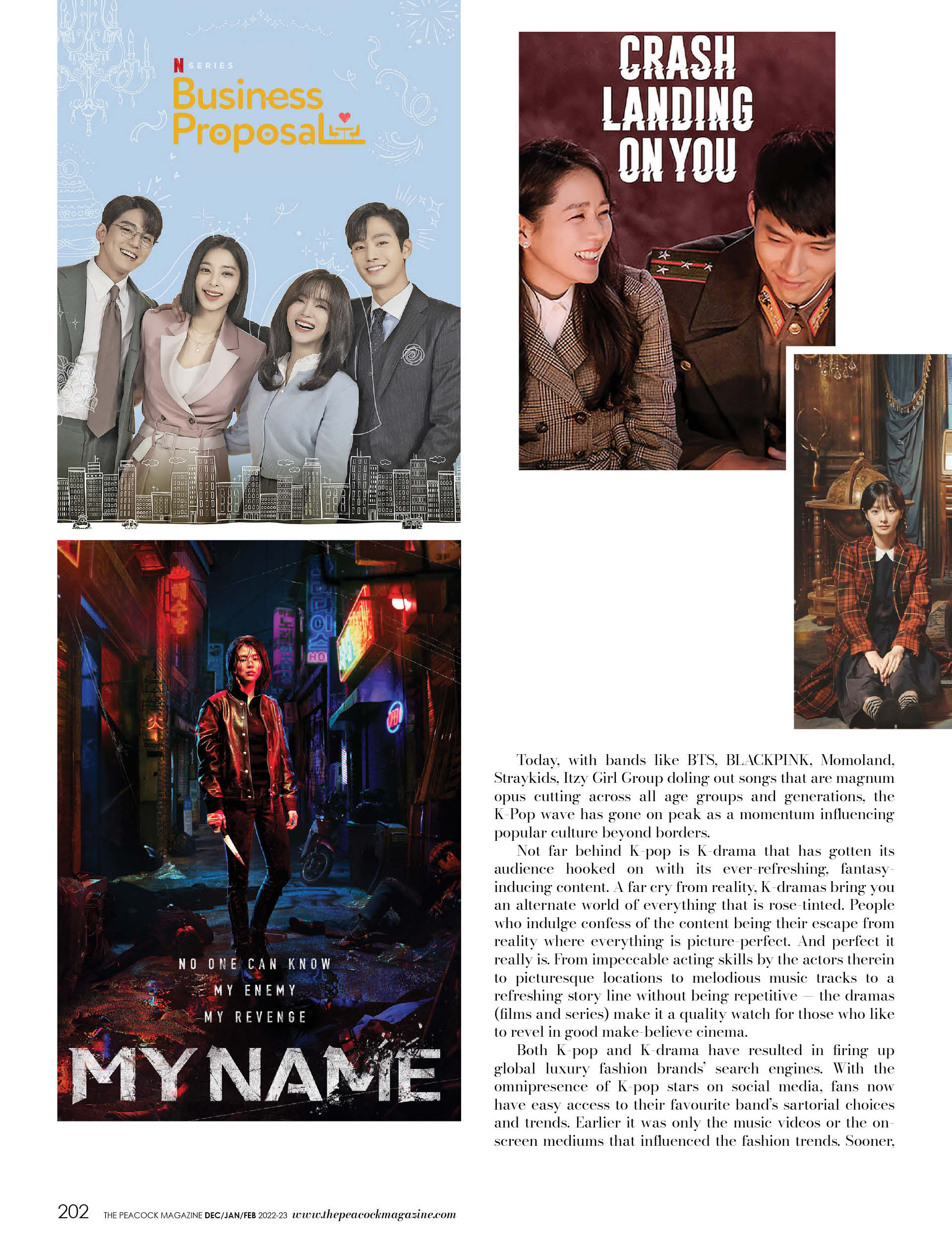 Today, with bands like BTS, BLACKPINK, Momoland, Straykids, Itzy Girl Group doling out songs that are magnum opus cutting across all age groups and generations, the K-Pop wave has gone on peak as a momentum influencing popular culture beyond borders.
Not far behind K-pop is K-drama that has gotten its audience hooked on with its ever-refreshing, fantasy-inducing content. A far cry from reality, K-dramas bring you an alternate world of everything that is rose-tinted. People who indulge confess of the content being their escape from reality where everything is picture-perfect. And perfect it really is. From impeccable acting skills by the actors therein to picturesque locations to melodious music tracks to a refreshing story line without being repetitive — the dramas (films and series) make it a quality watch for those who like to revel in good make-believe cinema.
Both K-pop and K-drama have resulted in firing up global luxury fashion brands' search engines. With the omnipresence of K-pop stars on social media, fans now have easy access to their favourite band's sartorial choices and trends. Earlier it was only the music videos or the on-screen mediums that influenced the fashion trends. Sooner,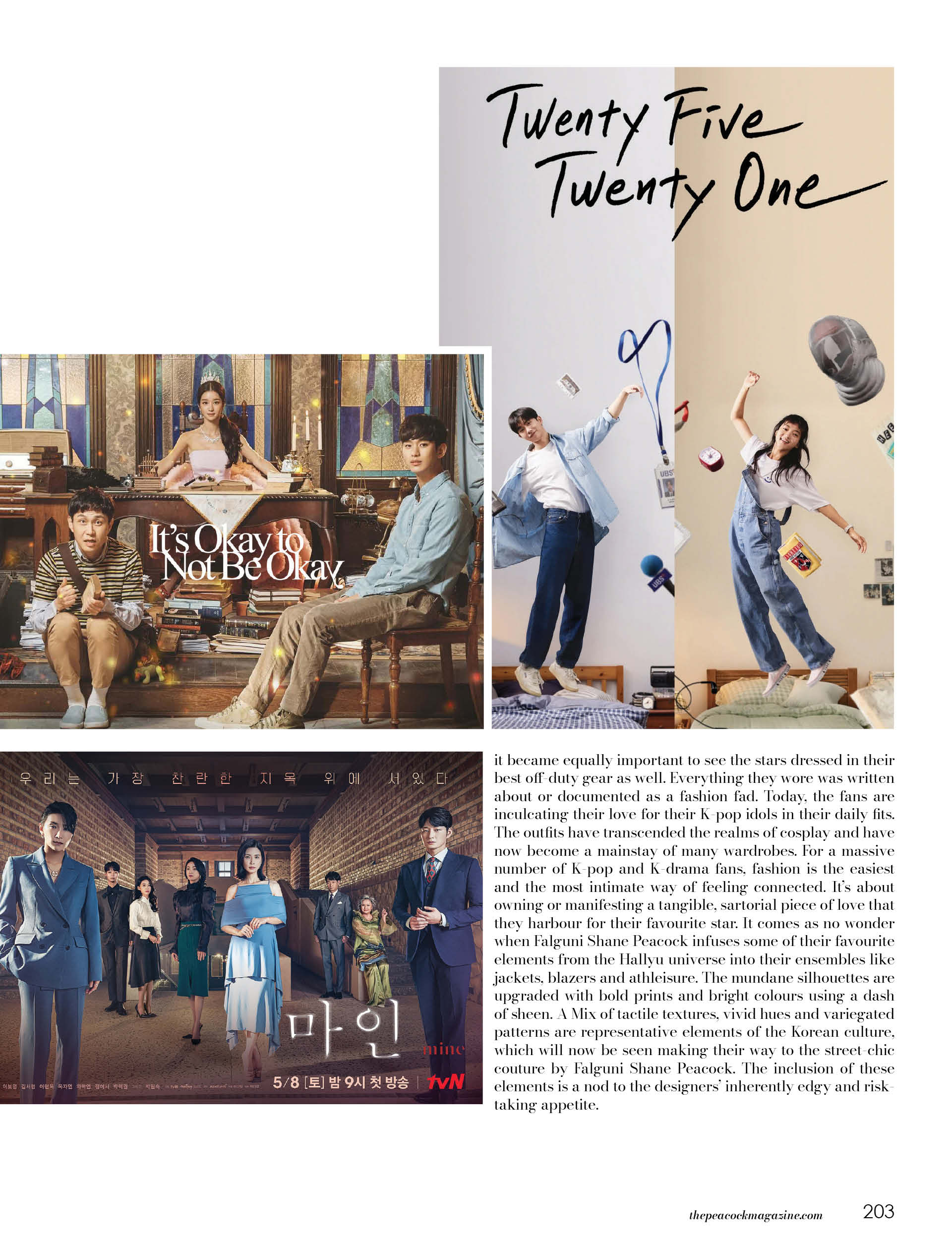 it became equally important to see the stars dressed in their best off-duty gear as well. Everything they wore was written about or documented as a fashion fad. Today, the fans are inculcating their love for their K-pop idols in their daily fits. The outfits have transcended the realms of cosplay and have now become a mainstay of many wardrobes. For a massive number of K-pop and K-drama fans, fashion is the easiest and the most intimate way of feeling connected. It's about owning or manifesting a tangible, sartorial piece of love that they harbour for their favourite star. It comes as no wonder when Falguni Shane Peacock infuses some of their favourite elements from the Hallyu universe into their ensembles like jackets, blazers and athleisure. The mundane silhouettes are upgraded with bold prints and bright colours using a dash of sheen. A Mix of tactile textures, vivid hues and variegated patterns are representative elements of the Korean culture, which will now be seen making their way to the street-chic couture by Falguni Shane Peacock. The inclusion of these elements is a nod to the designers' inherently edgy and risk-taking appetite.