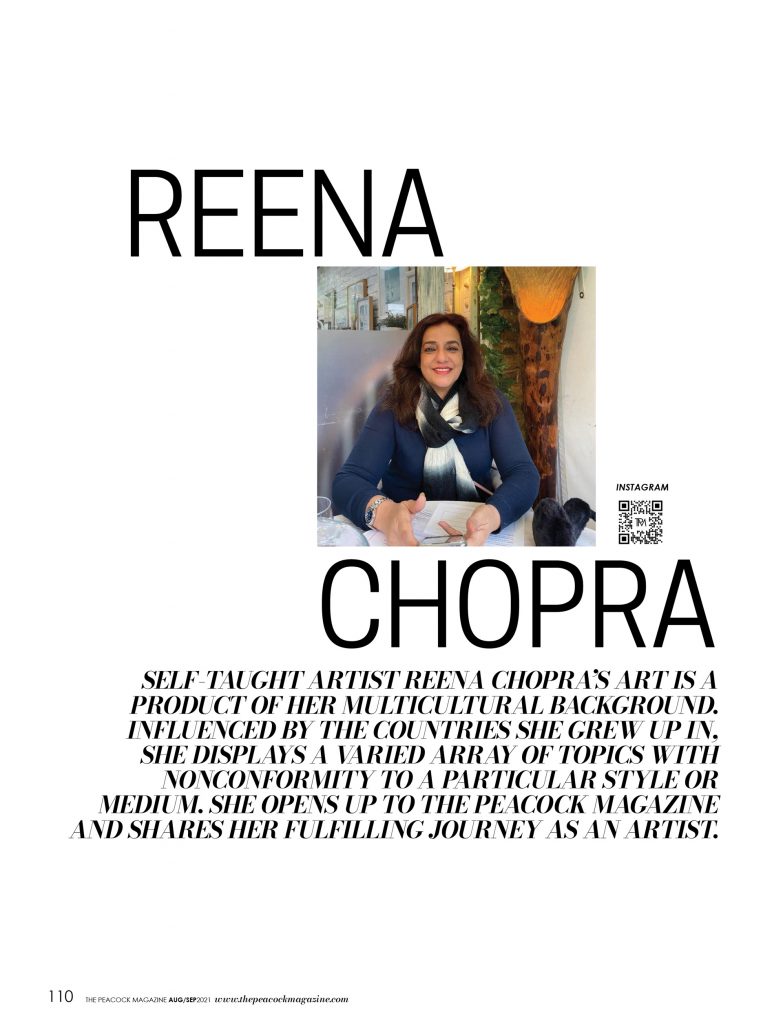 Self-taught artist reena chopra's art is a product of her multicultural background. influenced by the countries she grew up in, she displays a varied array of topics with nonconformity to a particular style or medium. she opens up to the peacock magazine and shares her fulfilling journey as an artist.

[Q] What were your growing up years like?
I was born in Singapore, brought up and studied in Kenya, and lived for a few years in Aden. My formative years were a confluence of cultures and influences: Art, music, sports, lifestyles, people, cultures, religions and languages. I was sporty and energetic, quite a mixed breed! (laughs)
[Q] What is your earliest memory of art?
I guess, I always had a good drawing hand because I remember being appreciated for my diagrams and projects in school and college, and thereafter even when helping my young children with theirs. However, I never painted formally, I only dabbled. It has always been an instinctive and fun activity for me. I didn't actually wake up one morning and say, 'Eureka! I'm an artist.'
[Q] When and how did you develop an interest in arts?
My daughter knew this about me and when all three of them flew the nest, she insisted I take up art as a hobby and pastime since I had time to do something for myself. She and the boys bought all the art equipment they could think of and surprised me on my birthday. I think I only started painting seriously because I didn't want their hard work and money to go to waste. Incidentally, my youngest one confessed to me a couple of years later that after seeing my first artwork he called his sister to say, 'Didi, I don't think this was a good idea!' (laughs)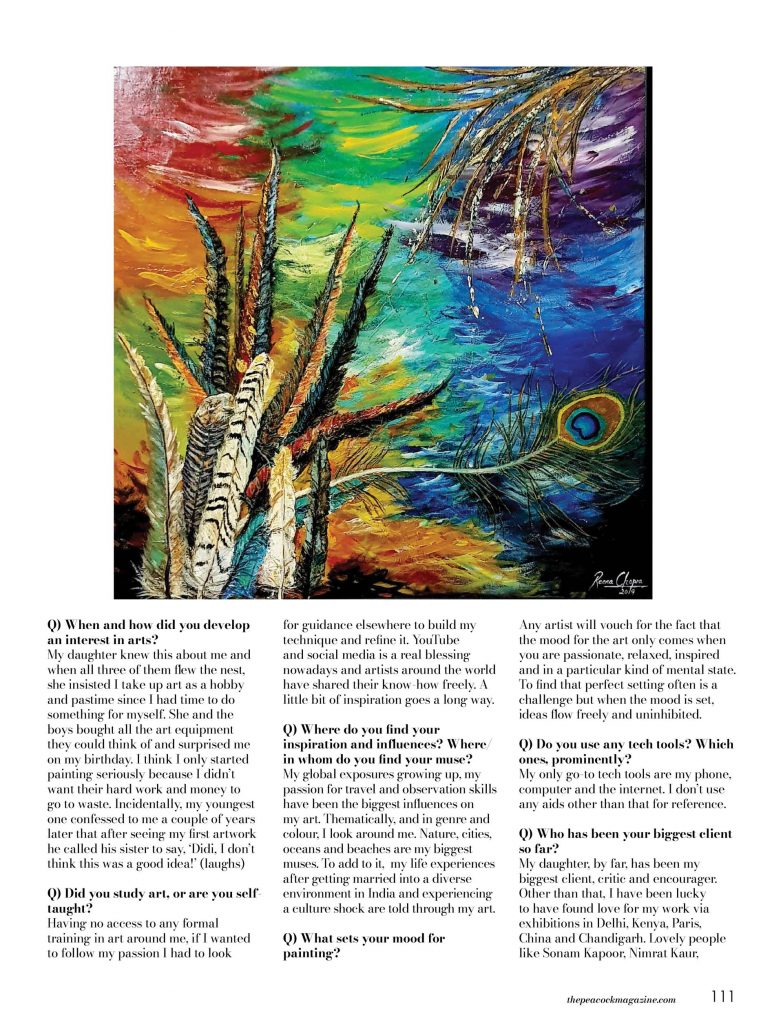 [Q] Did you study art, or are you self-taught?
Having no access to any formal training in art around me, if I wanted to follow my passion I had to look for guidance elsewhere to build my technique and refine it. YouTube and social media is a real blessing nowadays and artists around the world have shared their know-how freely. A little bit of inspiration goes a long way.
[Q] Where do you find your inspiration and influences? Where/in whom do you find your muse?
My global exposures growing up, my passion for travel and observation skills have been the biggest influences on my art. Thematically, and in genre and colour, I look around me. Nature, cities, oceans and beaches are my biggest muses. To add to it, my life experiences after getting married into a diverse environment in India and experiencing a culture shock are told through my art.
[Q] What sets your mood for painting?
Any artist will vouch for the fact that the mood for the art only comes when you are passionate, relaxed, inspired and in a particular kind of mental state. To find that perfect setting often is a challenge but when the mood is set, ideas flow freely and uninhibited.
[Q] How do you get yourself in the painting mode? Could you also describe to us your studio?
In my case, I yearn to climb up to the first floor of my house after my daily chores to a room that used to be my daughter's and now serves as a makeshift studio for me, where I can sprawl out and feel free to create. There is no time or place for creativity, you only need your mood and material around you. Sometimes I carry all my material out into the garden and spend the day in the Gazebo with nature to inspire me and bring on the happy mode. Incidentally, I do listen to music while painting and maybe even dance a little while scrutinizing my WIP (work in progress) from a distance.
[Q] Which colours do you often find yourself reaching out to in your colour palette? Any particular reason why?
Instinctively, I tend to use vibrant colours to depict my stories, happy colours that shout out their presence. However, sometimes a monochrome or minimalist mood will take over and the outcome is more controlled and in sombre shades. Each way, it works in the end to convey a certain mood or genre of creativity.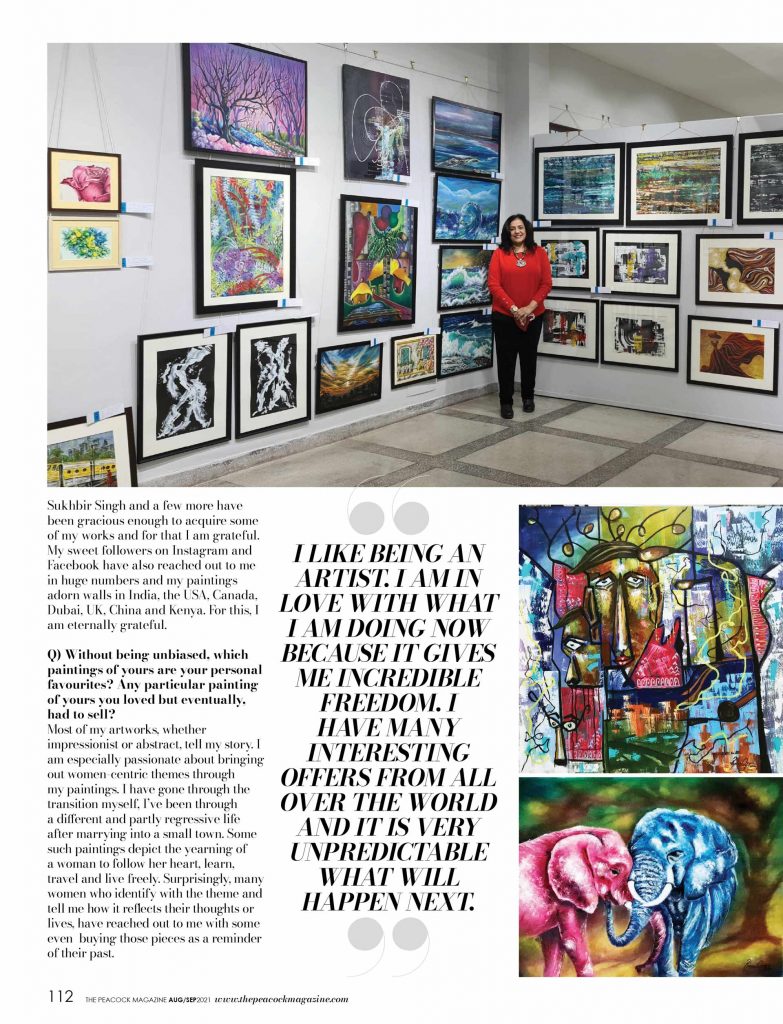 [Q] Do you use any tech tools? Which ones, prominently?
My only go-to tech tools are my phone, computer and the internet. I don't use any aids other than that for reference.
[Q] Who has been your biggest client so far?
My daughter, by far, has been my biggest client, critic and encourager. Other than that, I have been lucky to have found love for my work via exhibitions in Delhi, Kenya, Paris, China and Chandigarh. Lovely people like Sonam Kapoor, Nimrat Kaur, Sukhbir Singh and a few more have been gracious enough to acquire some of my works and for that I am grateful. My sweet followers on Instagram and Facebook have also reached out to me in huge numbers and my paintings adorn walls in India, the USA, Canada, Dubai, UK, China and Kenya. For this, I am eternally grateful.
[Q] Without being unbiased, which paintings of yours are your personal favourites? Any particular painting of yours you loved but eventually, had to sell?
Most of my artworks, whether impressionist or abstract, tell my story. I am especially passionate about bringing out women-centric themes through my paintings. I have gone through the transition myself, I've been through a different and partly regressive life after marrying into a small town. Some such paintings depict the yearning of a woman to follow her heart, learn, travel and live freely. Surprisingly, many women who identify with the theme and tell me how it reflects their thoughts or lives, have reached out to me with some even buying those pieces as a reminder of their past.
[Q] What were some of the highlights in your life as an artist?
You are a storyteller and when you find the ideal reader it is gratifying. The highlight of any artist is when they can touch some hearts and resonate with them. In China, as an invitee to the Indo-China cultural exchange, I was so happy when Chinese Bharatnatyam dancers posed in front of my Indian-art-themed paintings, especially the folk dancers piece, and giggled their way through 100 photos while each struck the same pose as in my painting. A highlight of my day!
[Q] Which creation of yours would be the most challenging one, according to you?
Challenging maybe, but some paintings take more of your time and concentration as you try and perfect each stroke and the outcome. Realistic art always takes more out of you.
[Q] Who are your favourite artists? Why?
Now that the internet has everything at your disposal, I have been following the works of many of the masters purely to get awed by their sublime prowess, especially in the physical form in museums in Paris and Vienna. But impressionists like (Henry) Matisse, (Paul) Cezanne and modernists like (Jackson) Pollock, (Wassily) Kandinsky are highly relatable. However, some of the present-day artists whose works you see on Instagram etc are extremely inspiring too.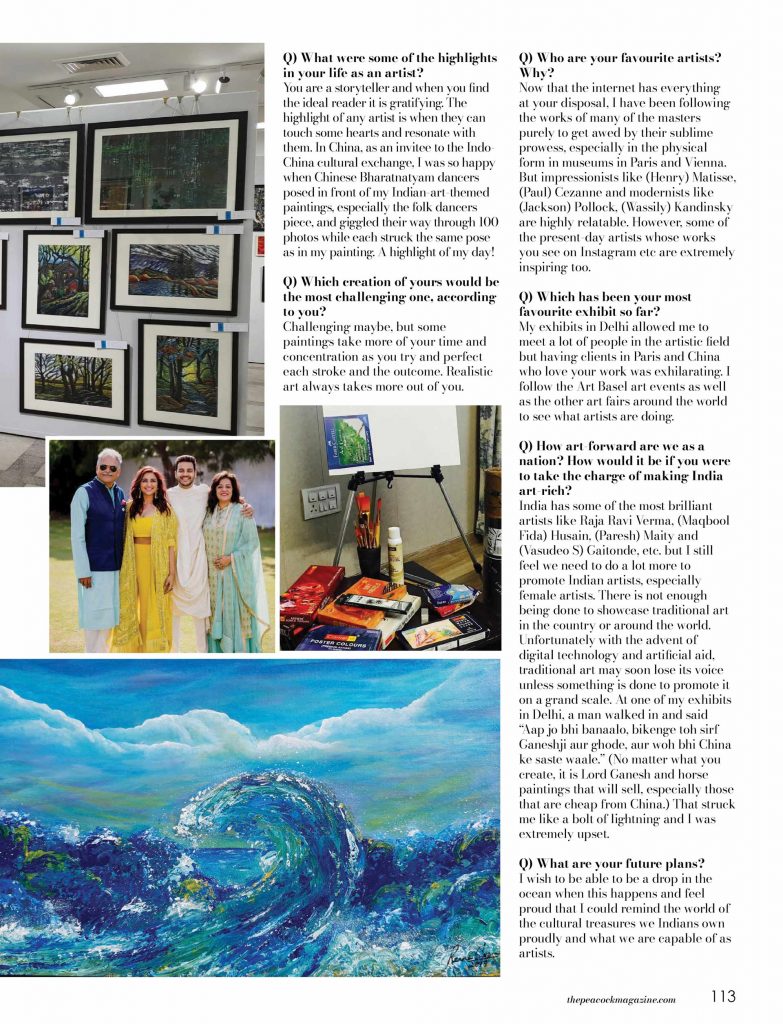 [Q] What is the first thing you notice when you see other artists' work?
There has to be an element of oomph in a painting to stand out. It could be the composition or storytelling as a whole or the colours used or the technique applied. Whatever it is, some paintings jump out at you. It's all in the eye of the beholder, some you can identify with while others are unfathomable for you.
[Q] Which has been your most favourite exhibit so far?
My exhibits in Delhi allowed me to meet a lot of people in the artistic field but having clients in Paris and China who love your work was exhilarating. I follow the Art Basel art events as well as the other art fairs around the world to see what artists are doing.
[Q] How art-forward are we as a nation? How would it be if you were to take the charge of making India art-rich?
India has some of the most brilliant artists like Raja Ravi Verma, (Maqbool Fida) Husain, (Paresh) Maity and (Vasudeo S) Gaitonde, etc. but I still feel we need to do a lot more to promote Indian artists, especially female artists. There is not enough being done to showcase traditional art in the country or around the world.
Unfortunately with the advent of digital technology and artificial aid, traditional art may soon lose its voice unless something is done to promote it on a grand scale. At one of my exhibits in Delhi, a man walked in and said "Aap jo bhi banaalo, bikenge toh sirf Ganeshji aur ghode, aur woh bhi China ke saste waale." (No matter what you create, it is Lord Ganesh and horse paintings that will sell, especially those that are cheap from China.) That struck me like a bolt of lightning and I was extremely upset.
[Q] Who is Reena Chopra when not an artist?
When I am not a mother, a wife, an entrepreneur or an artist, I am an advocate for girls and women finding their voices and beating the odds. Too much stereotyping and repression have suppressed the talents in our country and that needs to be uncovered, voiced and supported by the community and government.
[Q] What are your future plans?
I wish to be able to be a drop in the ocean when this happens and feel proud that I could remind the world of the cultural treasures we Indians own proudly and what we are capable of as artists.