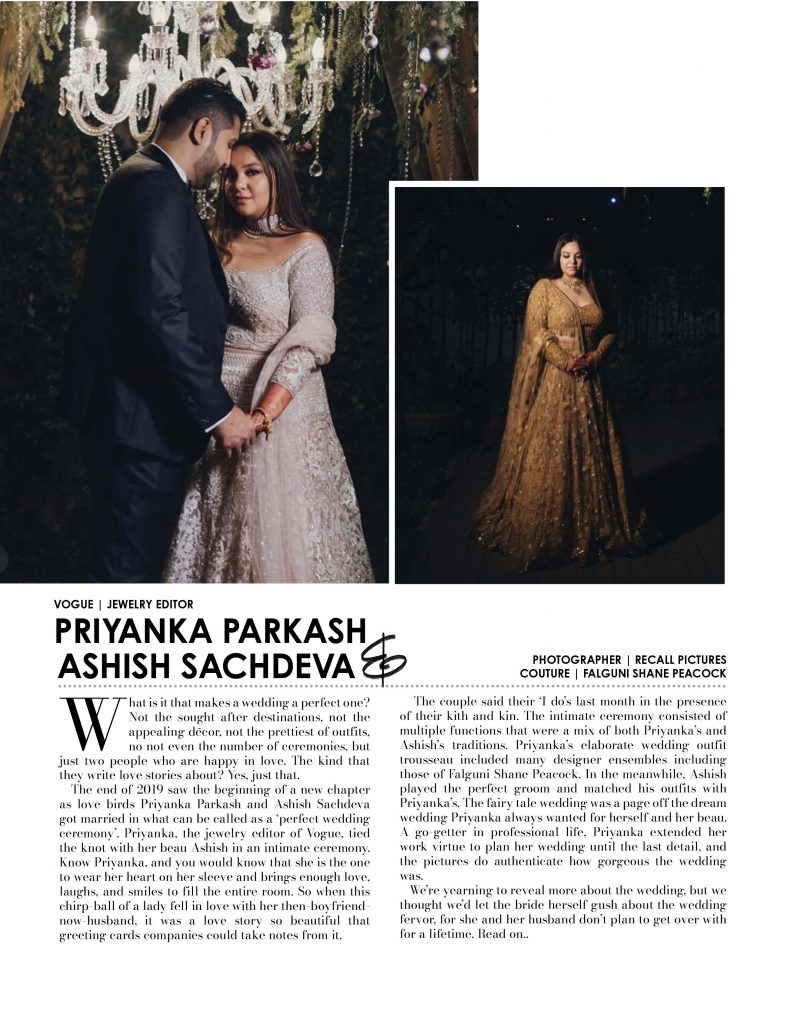 What is it that makes a wedding a perfect one? Not the sought after destinations, not the appealing décor, not the prettiest of outfits, no not even the number of ceremonies, but just two people who are happy in love. The kind that they write love stories about? Yes, just that.
The end of 2019 saw the beginning of a new chapter as love birds Priyanka Parkash and Ashish Sachdeva got married in what can be called as a 'perfect wedding ceremony'. Priyanka, the jewelry editor of Vogue, tied the knot with her beau Ashish in an intimate ceremony. Know Priyanka, and you would know that she is the one to wear her heart on her sleeve and brings enough love, laughs, and smiles to fill the entire room. So when this chirp-ball of a lady fell in love with her then-boyfriend-now-husband, it was a love story so beautiful that greeting cards companies could take notes from it.
The couple said their 'I do's last month in the presence of their kith and kin. The intimate ceremony consisted of multiple functions that were a mix of both Priyanka's and Ashish's traditions. Priyanka's elaborate wedding outfit trousseau included many designer ensembles including those of Falguni Shane Peacock. In the meanwhile, Ashish played the perfect groom and matched his outfits with Priyanka's. The fairy tale wedding was a page off the dream wedding Priyanka always wanted for herself and her beau. A go-getter in professional life, Priyanka extended her work virtue to plan her wedding until the last detail, and the pictures do authenticate how gorgeous the wedding was.
We're yearning to reveal more about the wedding, but we thought we'd let the bride herself gush about the wedding fervor, for she and her husband don't plan to get over with for a lifetime. Read on..
Read on the know all that this new bride has to gush about her wedding day..
[Q] TELL US ABOUT YOUR LOVE STORY.
"Ashish and I have been friends since we were 16. He moved to Dubai a few years later, and we always stayed in touch but were never the best of friends. Even when he would come down from Dubai to Mumbai, we would meet and go out for dinner, but it was always in our big group. It was at our friend's wedding in Goa in 2016 that we met again after many years. We spent a lot of time with each other at the wedding. I still cannot express how much I started missing him when I came back from the wedding. I kept thinking about him and wondering what he was up to, all the time. I knew then that this was definitely more than a friendship, but I only found out that he felt the same way sometime later that year while I was on a girls' trip to Dubai".
[Q] WHEN DID YOU REALIZE THAT HE WAS THE ONE AND THAT YOU WERE READY TO TAKE THE PLUNGE?
"I realized very early on into my relationship with Ashish that I had never been this comfortable with anyone else before. I think it's so important to be your complete 100 percent authentic self with the person you're going to spend your life with. I was the same around him as I would be alone. I can tell him everything, right from the stupidest to the darkest thoughts, and he just always gets it. So for me, it wasn't so much a decision, it was just a very obvious, natural next step to spend our lives together".
[Q] HOW DID YOU DEAL WITH PRE-WEDDING JITTERS?
"I didn't have any! I was more nervous about the actual event going off well as opposed to getting married".
[Q] HOW DID YOU FEEL ON THE D-DAY?
"I was extremely relaxed on my wedding day. My family and I had tequila shots at 11 AM to calm all our nerves, so I can surely say the day started off on a fun note. I only got a little panicky when we were running late while they were getting me ready. But another lesson I learned here was that – It's okay because nothing can start without the bride".
[Q] TELL US THE FIRST WORDS THAT CAME TO YOUR MIND WHEN YOU ENTERED YOUR WEDDING CEREMONY VENUE.
"Thank God I made it in time!" These were my first words, for real! I was so nervous and scared that I would make an entry after the Baarat started. But I was thrilled to have arrived on time!"
[Q] WHICH RITUALS DID YOU ENJOY THE MOST?
"It was the entrance, without a doubt, and then men of my family walking me in. It was really special and beautiful".
[Q] WHAT WAS YOUR REACTION WHEN YOUR HUSBAND GOOFED UP WITH HIS WEDDING VOWS?
"When we look back now, that moment was absolutely hilarious! He didn't goof up; he messed it up on purpose because he thought it would be the best joke ever. Little did he know I would want to kill him! We just spoke about it again recently, and I yelled at him all over again for thinking that would be funny. We also have the entire thing on video, so it's definitely something I will be showing my kids and laughing about for many years".
[Q] WHAT WAS YOUR ONE FAVORITE MOMENT FROM THE ENTIRE WEDDING CEREMONY THAT MADE YOU GO 'AWW' AND WELLED YOU UP?
"There was this one moment when my family was putting my Kaliras on. I saw my mom and my dad's sister just hug each other, and that's when it hit me that I was leaving home. I just burst out crying".
[Q] HAVE THERE BEEN ANY FUNNY GOOF-UPS THAT HAD MADE THE WEDDING MORE MEMORABLE?
"I wouldn't call it a goof-up, but my brother was so drunk while we were entering that I had to steer him from the back towards the aisle. It was like driving a car to the Mandap. The pictures are hilarious"!
[Q] WHAT IS IT THAT NOBODY TELLS A BRIDE AND IS ONLY SOMETHING THAT SHE REALIZES/EXPERIENCES ON HER WEDDING DAY?
"That everything will fall in place! You can fret and fume over small details, but on the main day, you are not going to care if the flowers weren't perfect or the lighting wasn't right, and your guests aren't going to know there was anything wrong – so don't sweat the small stuff. It all goes by so fast – just enjoy your day, have a blast, dance with your husband, and dance with your family, take great pictures and relax!"
[Q] DID YOU AND YOUR FIANCÉ PERSONALLY PLAN YOUR WEDDING TILL THE LAST DETAIL?
"P: Yes! We were given a lot of space by our families, which was quite amazing! Ashish and I almost took over every decision, right from the venue to the type of decor to who our photographer would be. To be honest, I took all the decisions, and he just agreed". (laughs)
[Q] WAS THERE A THEME FOR YOUR WEDDING?
"P: I can't say there was a theme for my wedding, but I knew I wanted it to be rustic-themed with lots of fairy lights. I also wanted it to be intimate and beautiful, but a lot of fun, at the same time. I had one rule with my fiancé while planning the wedding, which was not to have to say "Nice to meet you!" to any guest at the wedding, which meant everyone present at the do were our closest loved ones".
[Q] WHAT CUSTOMIZATION HAD YOU DONE FOR YOUR WEDDING CEREMONY? HOW DID YOU PERSONALIZE THE WEDDING DECOR?
"P: My husband Ashish Sachdeva is a Punjabi, and I am half Parsi. I wanted to incorporate both cultures in some way, so we had a mix of ceremonies. While there were the traditional Pheras, there was also a Madarsaro – which is a Parsi ritual where the bride plants a tree with her brother at her own home".
[Q] WHAT ELEMENTS FROM YOUR DREAM WEDDING DID YOU INCORPORATE INTO YOUR WEDDING CEREMONY?
"T:he entrance is something I was planning even before I was engaged. I had planned the song I wanted to walk make an entry with on my wedding day since I was a teenager. Elvis Presley's 'Can't help falling in love with you' had always been the song I wanted to play at my wedding entrance, and about two years ago, the movie 'Crazy Rich Asians' released the most beautiful version of that song. On my wedding day, I had my nieces walk in one at a time before me with a flower in their hands. Each of them got to the end of the aisle and gave the flower to my groom and then sat down, and then I entered right after. It turned out exactly as I had always imagined it would be".
[Q] WERE THERE ANY SURPRISE ELEMENTS THAT YOU HAD PLANNED FOR YOUR FIANCÉ FOR THE D-DAY?
"T:he really fun part about micromanaging a wedding is that I also planned the Baaraat even though I had nothing to do with it. We decided we didn't want to put a horse through all that noise, so instead, he rode a giant ATV, which he absolutely loved".
[Q] HOW DID YOU PLAN YOUR LOOKS FOR THE WEDDING?
"I: had a few ideas in my head very early on, but I made it a point to keep an open mind. I knew I didn't want to wear any bright colors for my Mehendi but instead do either all white or metallic. When I came for my first meeting with Falguni & Shane, I had already had the screenshot of a golden lehenga I was already in love with. When I saw it in reality, I loved it even more. I will never forget that Shane insisted I look at an ivory ensemble. I don't know why I resisted because when he showed me the ivory lehenga, I gasped. I don't think I have ever gotten emotional looking at an outfit like I did with that one. It was the most breathtaking lehenga I had ever seen. That's how we decided to do the golden one for the Mehendi and the ivory one for the wedding party".
[Q] WHY DID YOU CHOOSE FALGUNI SHANE PEACOCK TO DRESS YOU UP ON YOUR SPECIAL?
"When my then-fiancé proposed, the first person I messaged was my mom, and the second was Falguni. There was never a question for me, honestly. I knew I wanted to be a glamorous bride. I wanted the drama in my lehengas, I wanted the shine and the sparkle, and I knew going for a Falguni Shane Peacock would be a match made in heaven".
[Q] HOW DID YOU DECIDE ON THE JEWELLERY FOR YOUR WEDDING?
"Jewellery was the easiest for me to decide. The outfits were so elaborate and intricate that the jewellery didn't need to be the hero. For the golden lehenga, especially, I didn't need a lot of jewellery. I simply layered two uncut Meenakari necklaces and wore long Seher earrings. For the ivory outfit, I knew I wanted to keep the look clean, contemporary, and chic, so I layered three diamond choker necklaces and wore no other jewelry, not even earrings"!
[Q] HOW DID VOGUE MAGAZINE COME HANDY WHILE PLANNING YOUR OWN WEDDING?
"When you work in the fashion industry, you are constantly exposed to what's going on with each and every brand. For years, whenever we used to do the looks for the magazine, I think I made a mental note of what I liked, what I related to the most, etc. I feel I always knew what type of bride I wanted to be".
[Q] HOW DID YOU UNWIND AFTER THE WEDDING?
"We checked into a hotel during the wedding days and checked out only three days after the wedding. A lot of massages and gossiping about the wedding was just the best way to spend some exclusive time together while still being in the city!"