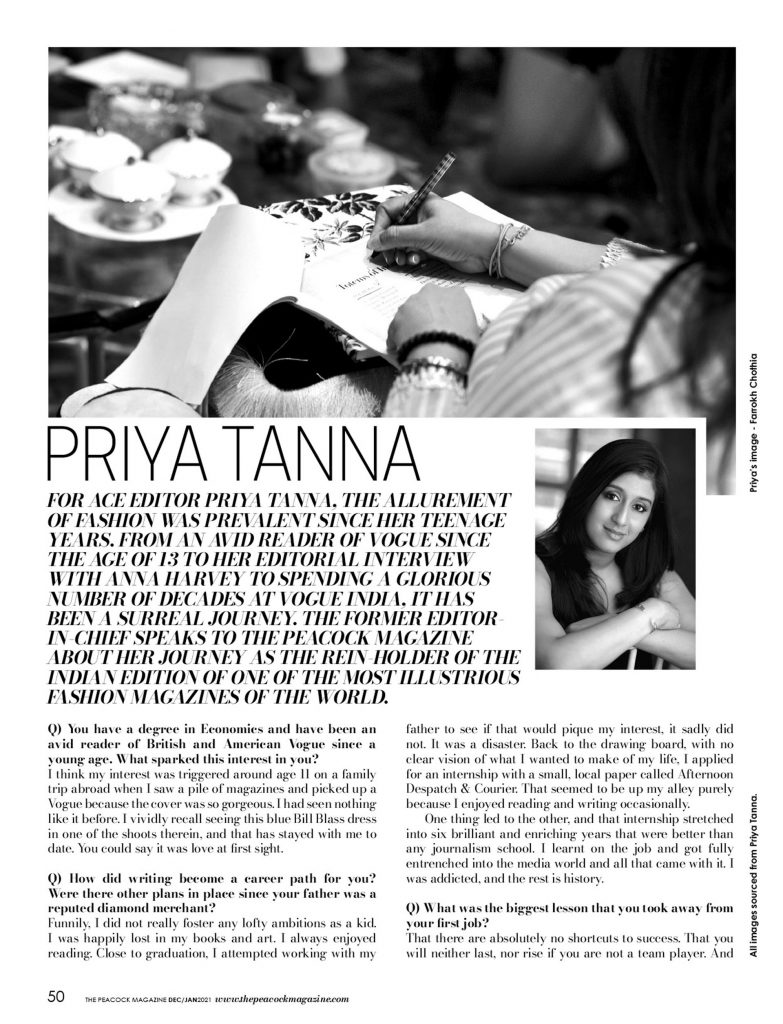 CREDITS – All images sourced from Priya Tanna.
For ace editor Priya Tanna, the allurement of fashion was prevalent since her teenage years. From an avid reader of Vogue since the age of 13 to her editorial interview with Anna Harvey to spending a glorious number of decades at Vogue India, it has been a surreal journey. The former editor-in-chief speaks to The Peacock Magazine about her journey as the rein-holder of the Indian edition of one of the most illustrious fashion magazines of the world.
[Q] You have a degree in Economics and have been an avid reader of British and American Vogue since a young age. What sparked this interest in you?
I think my interest was triggered around age 11 on a family trip abroad when I saw a pile of magazines and picked up a Vogue because the cover was so gorgeous. I had seen nothing like it before. I vividly recall seeing this blue Bill Blass dress in one of the shoots therein, and that has stayed with me to date. You could say it was love at first sight.
[Q] How did writing become a career path for you? Were there other plans in place since your father was a reputed diamond merchant?
Funnily, I did not really foster any lofty ambitions as a kid. I was happily lost in my books and art. I always enjoyed reading. Close to graduation, I attempted working with my father to see if that would pique my interest, it sadly did not. It was a disaster. Back to the drawing board, with no clear vision of what I wanted to make of my life, I applied for an internship with a small, local paper called Afternoon Despatch & Courier. That seemed to be up my alley purely because I enjoyed reading and writing occasionally.
One thing led to the other, and that internship stretched into six brilliant and enriching years that were better than any journalism school. I learnt on the job and got fully entrenched into the media world and all that came with it. I was addicted, and the rest is history.
[Q] What was the biggest lesson that you took away from your first job?
That there are absolutely no shortcuts to success. That you will neither last, nor rise if you are not a team player. And that the only way to be a good writer or journalist is to constantly stay curious and inquisitive.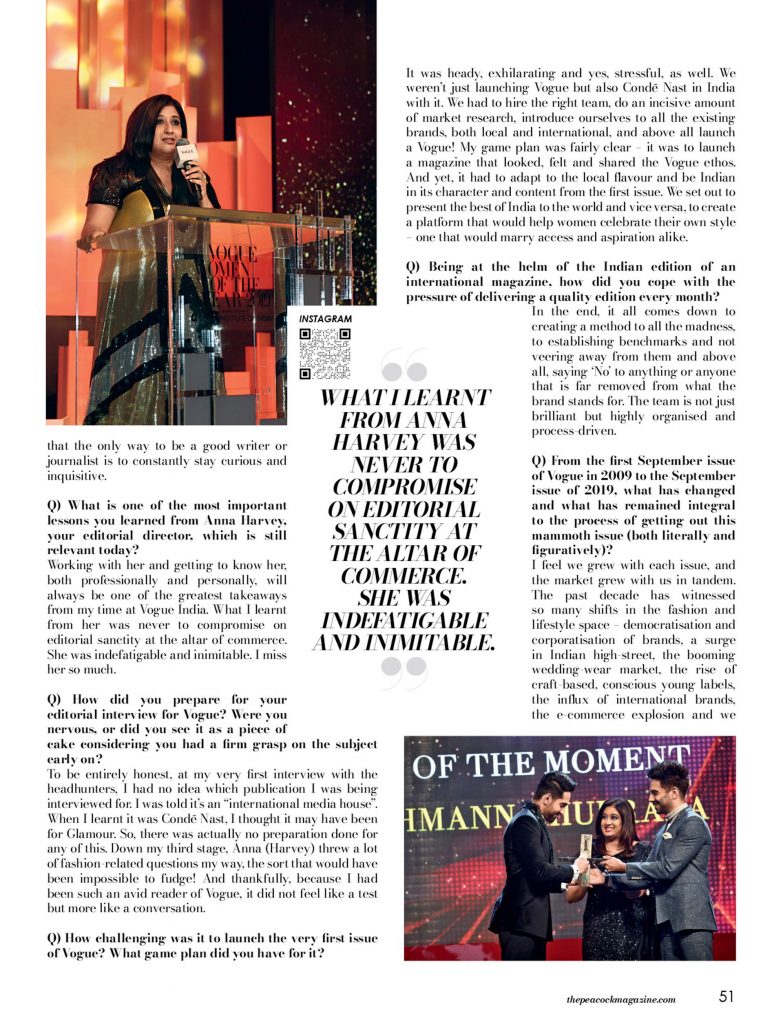 [Q] What is one of the most important lessons you learned from Anna Harvey, your editorial director, which is still relevant today?
Working with her and getting to know her, both professionally and personally, will always be one of the greatest takeaways from my time at Vogue India. What I learnt from her was never to compromise on editorial sanctity at the altar of commerce. She was indefatigable and inimitable. I miss her so much.
[Q] How did you prepare for your editorial interview for Vogue? Were you nervous, or did you see it as a piece of cake considering you had a firm grasp on the subject early on?
To be entirely honest, at my very first interview with the headhunters, I had no idea which publication I was being interviewed for. I was told it's an "international media house". When I learnt it was Condé Nast, I thought it may have been for Glamour. So, there was actually no preparation done for any of this. Down my third stage, Anna (Harvey) threw a lot of fashion-related questions my way, the sort that would have been impossible to fudge! And thankfully, because I had been such an avid reader of Vogue, it did not feel like a test but more like a conversation.
[Q] How challenging was it to launch the very first issue of Vogue? What game plan did you have for it?
It was heady, exhilarating and yes, stressful, as well. We weren't just launching Vogue but also Condé Nast in India with it. We had to hire the right team, do an incisive amount of market research, introduce ourselves to all the existing brands, both local and international, and above all launch a Vogue! My game plan was fairly clear — it was to launch a magazine that looked, felt and shared the Vogue ethos. And yet, it had to adapt to the local flavour and be Indian in its character and content from the first issue. We set out to present the best of India to the world and vice versa, to create a platform that would help women celebrate their own style — one that would marry access and aspiration alike.
[Q] Being at the helm of the Indian edition of an international magazine, how did you cope with the pressure of delivering a quality edition every month?
In the end, it all comes down to creating a method to all the madness, to establishing benchmarks and not veering away from them and above all, saying 'No' to anything or anyone that is far removed from what the brand stands for. The team is not just brilliant but highly organised and process-driven.
[Q] From the first September issue of Vogue in 2009 to the September issue of 2019, what has changed and what has remained integral to the process of getting out this mammoth issue (both literally and figuratively)?
I feel we grew with each issue, and the market grew with us in tandem. The past decade has witnessed so many shifts in the fashion and lifestyle space — democratisation and corporatisation of brands, a surge in Indian high-street, the booming wedding-wear market, the rise of craft-based, conscious young labels, the influx of international brands, the e-commerce explosion and we had the responsibility and opportunity to witness all of this, drive impact through our words and visuals and to champion fashion in India and Indian fashion. It took a lot of planning, a brilliant team and the might of Condé Nast to turn every September issue into a milestone one.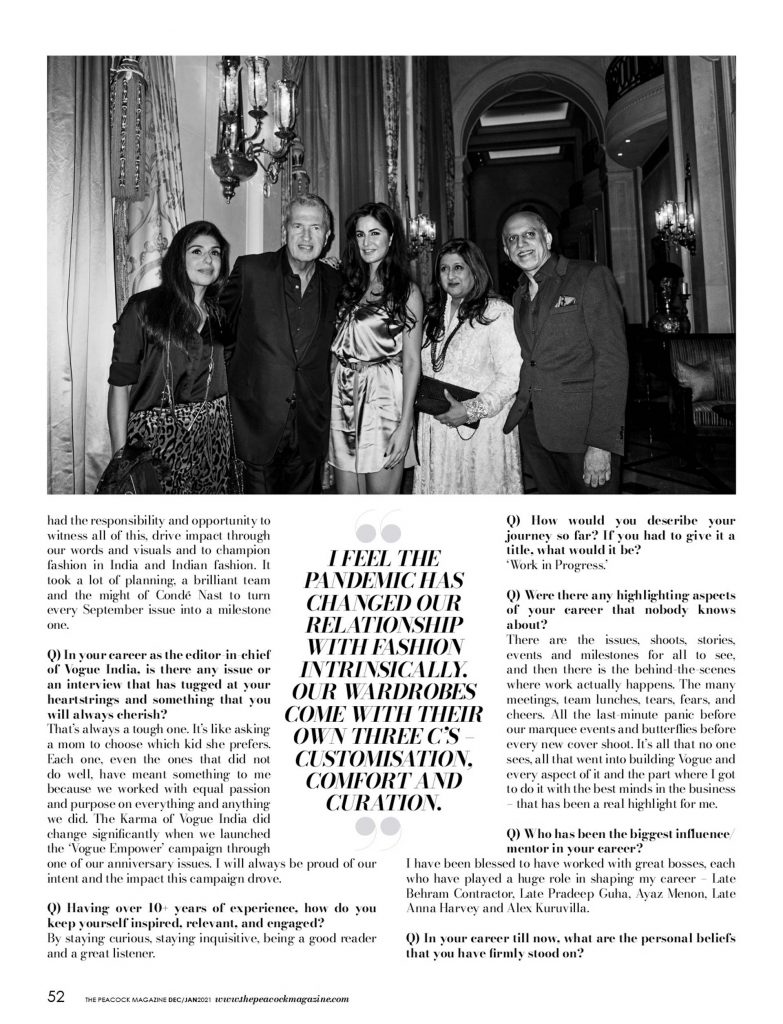 [Q] In your career as the editor-in-chief of Vogue India, is there any issue or an interview that has tugged at your heartstrings and something that you will always cherish?
That's always a tough one. It's like asking a mom to choose which kid she prefers. Each one, even the ones that did not do well, have meant something to me because we worked with equal passion and purpose on everything and anything we did. The Karma of Vogue India did change significantly when we launched the 'Vogue Empower' campaign through one of our anniversary issues. I will always be proud of our intent and the impact this campaign drove.
[Q] Having over 10+ years of experience, how do you keep yourself inspired, relevant, and engaged?
By staying curious, staying inquisitive, being a good reader and a great listener.
[Q] How would you describe your journey so far? If you had to give it a title, what would it be?
'Work in Progress.'
[Q] Were there any highlighting aspects of your career that nobody knows about?
There are the issues, shoots, stories, events and milestones for all to see, and then there is the behind-the-scenes where work actually happens. The many meetings, team lunches, tears, fears, and cheers. All the last-minute panic before our marquee events and butterflies before every new cover shoot. It's all that no one sees, all that went into building Vogue and every aspect of it and the part where I got to do it with the best minds in the business — that has been a real highlight for me.
[Q] Who has been the biggest influence/mentor in your career?
I have been blessed to have worked with great bosses, each who have played a huge role in shaping my career — Late Behram Contractor, Late Pradeep Guha, Ayaz Menon, Late Anna Harvey and Alex Kuruvilla.
[Q] In your career till now, what are the personal beliefs that you have firmly stood on?
That this is a job, it's not who we are. It's what we do. I can't let a designation or a career-high/ low change who I am and what I stand for. I also strongly believe in maintaining a work-life balance.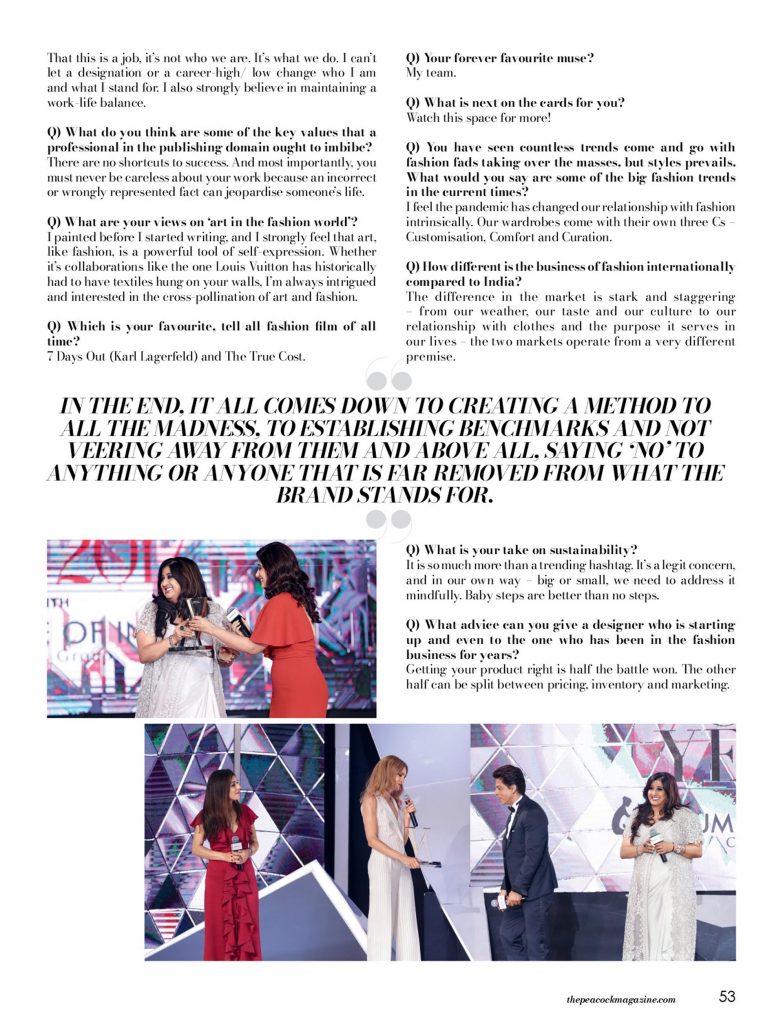 [Q] What do you think are some of the key values that a professional in the publishing domain ought to imbibe?
There are no shortcuts to success. And most importantly, you must never be careless about your work because an incorrect or wrongly represented fact can jeopardise someone's life.
[Q] What are your views on 'art in the fashion world'?
I painted before I started writing, and I strongly feel that art, like fashion, is a powerful tool of self-expression. Whether it's collaborations like the one Louis Vuitton has historically had to have textiles hung on your walls, I'm always intrigued and interested in the cross-pollination of art and fashion.
[Q] Which is your favourite, tell-all fashion film of all time?
7 Days Out (Karl Lagerfeld) and The True Cost.
[Q] Your forever favourite muse?
My team.
[Q] What is next on the cards for you?
Watch this space for more!
[Q] You have seen countless trends come and go with fashion fads taking over the masses, but styles prevails. What would you say are some of the big fashion trends in the current times?
I feel the pandemic has changed our relationship with fashion intrinsically. Our wardrobes come with their own three Cs — Customisation, Comfort and Curation.
[Q] How different is the business of fashion internationally compared to India?
The difference in the market is stark and staggering — from our weather, our taste and our culture to our relationship with clothes and the purpose it serves in our lives — the two markets operate from a very different premise.
[Q] What is your take on sustainability?
It is so much more than a trending hashtag. It's a legit concern, and in our own way — big or small, we need to address it mindfully. Baby steps are better than no steps.
[Q] What advice can you give a designer who is starting up and even to the one who has been in the fashion business for years?
Getting your product right is half the battle won. The other half can be split between pricing, inventory and marketing.