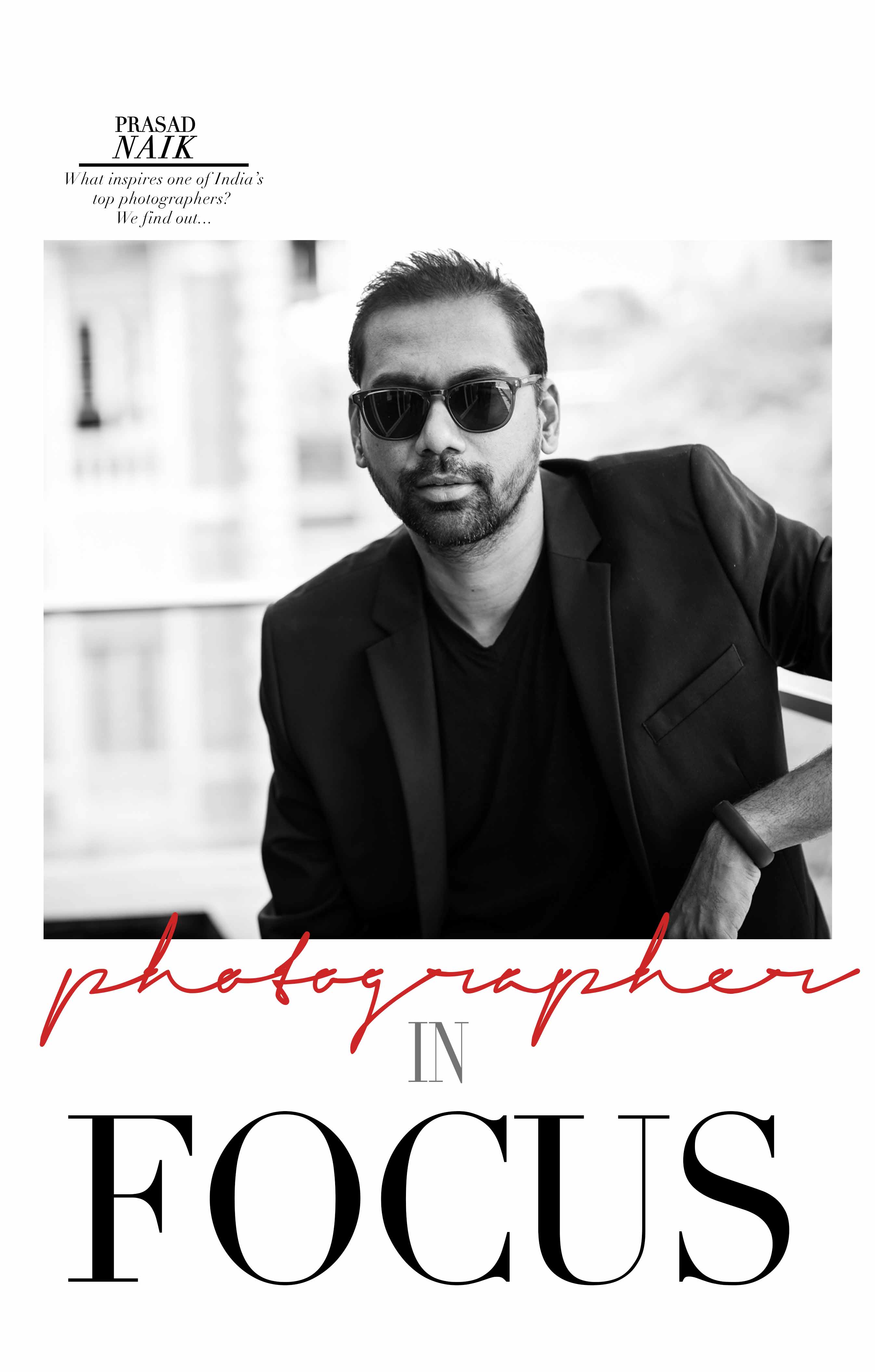 The Mumbai based fashion and beauty photographer has one too many accolades after his name. Ever since he started his career in photography back in the 90's, his work in the fashion business has built his credibility over the years. The photographer has managed to have an individual projection of fashion and beauty, which has remained unfiltered over time. Naik has shot fashion editorials and covers for elite magazines like Vogue, Elle, Femina and GQ, with every esteemed project – he showcased his flair for injecting high voltage glamour in his assignments. Apart from the list of glossies, Prasad has worked with giant fashion and beauty brands like Killer jeans, Nivea, L'Oréal and Lakme. The man behind the lens has captured the who's who of Bollywood, right from the veteran Sridevi to recently debuted Janhvi Kapoor. Actresses like Kangana Rnaut, Katrina Kaif, Deepika Padukone and Sonam Kapoor have also been captured by the sort-after photographer in breathtaking campaigns, editorials and covers.
1) HOW WOULD YOU DISTINGUISH YOURSELF/ YOUR PHOTOGRAPHY STYLE FROM OTHER PHOTOGRAPHERS IN THE COUNTRY?
Simple & minimalistic

2) HOW DO YOU MANAGE TO DO SOMETHING DIFFERENT WITH CELEBRITIES WHO HAVE ALREADY BEEN PHOTOGRAPHED BY VARIOUS PHOTOGRAPHERS IN VARIOUS DIFFERENT WAYS?
I always use their personality to shoot pictures.

3) TELL US ABOUT A SHOOT THAT ABSOLUTELY DID NOT GO AS PLANNED/ WENT ABSOLUTELY HAYWIRE!
There are many shoots like that. Cannot pinpoint one, but I always learn something from my mistakes.

4) WHAT ACCORDING TO YOU HAS BEEN YOUR BEST WORK?
I am still learning something new every day.

5) IS THERE SOMETHING YOU REALLY WANTED TO DO BUT STILL HAVEN'T GOTTEN THE OPPORTUNITY TO DO?
Many things to be done are still on my agenda.

6) WHO ACCORDING TO YOU IS THE MOST PHOTOGENIC PERSON YOU HAVE PHOTOGRAPHED? / WHO WOULD YOU LOVE TO PHOTOGRAPH AND STILL HAVEN'T GOTTEN THE CHANCE TO?
I think every person is photogenic, they all have different personalities.

7) WHAT IS YOUR FAVOURITE PHOTOGRAPHING STYLE OF ALL TIMES?
Candid street photography.

8) IF NOT A PHOTOGRAPHER, WHAT WOULD YOU BE?
I love to travel, so I would pursue something in that field.

9) WHICH IS THE MOST PICTURESQUE LOCATION IN THE WORLD?
Mumbai

10) WHERE DO YOU SEEK INSPIRATION FROM?
Travel & meeting different people.

11) ONE THING YOU LOVE AND ONE THING YOU HATE ABOUT YOUR JOB?
I love everything about my job.

12) YOUR FAVOURITE PLACE IN THE WORLD?
Mumbai

13) THE WORD/PHRASE YOU USE THE MOST?
Simplicity

14) WHICH PICTURE TAKEN BY YOU "SAYS A THOUSAND WORDS"?
I think all the pictures that I've taken speak a thousand words.