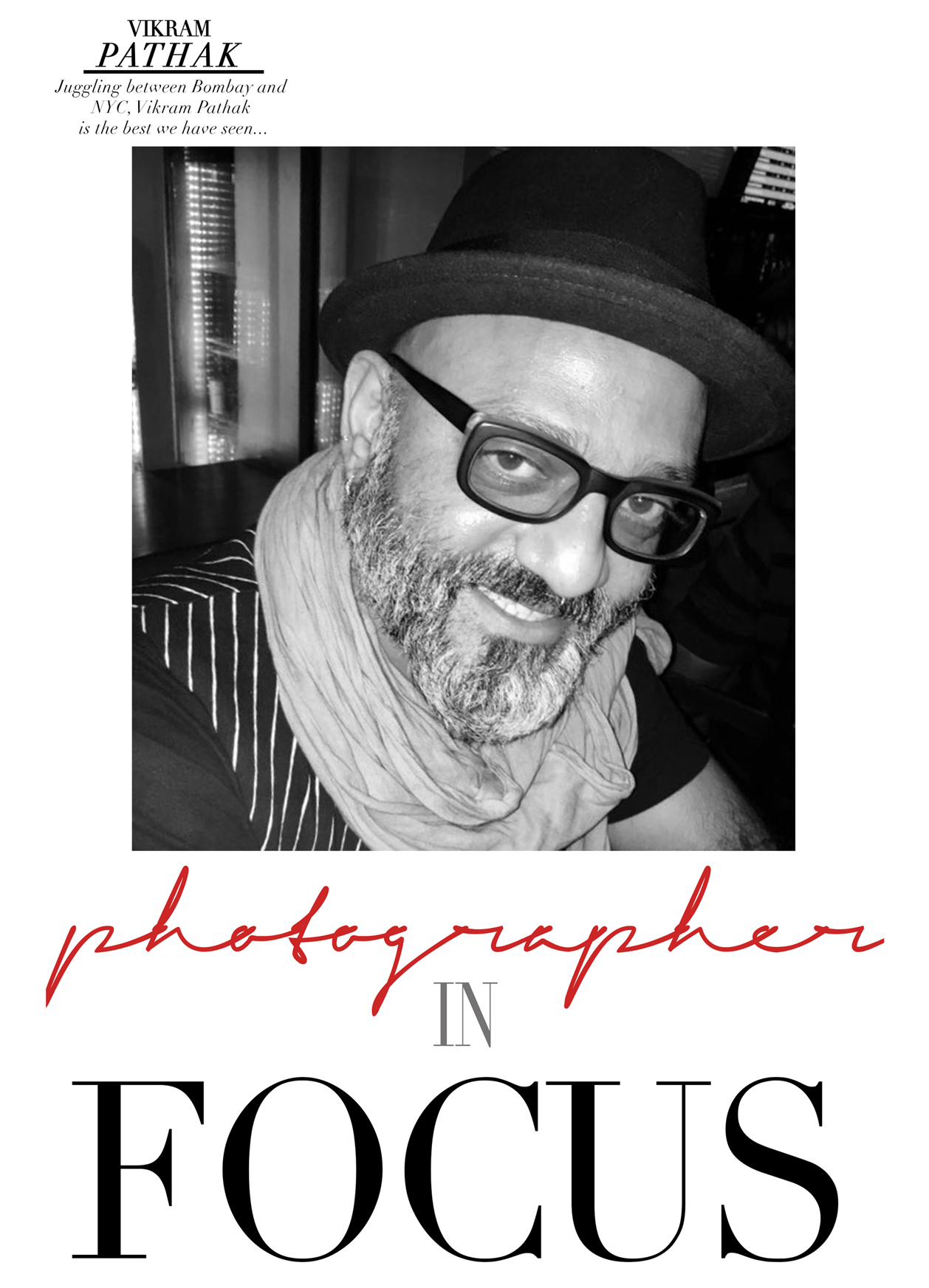 1. HOW WOULD YOU DISTINGUISH YOURSELF/ YOUR PHOTOGRAPHY STYLE FROM OTHER PHOTOGRAPHERS IN THE COUNTRY ?
"Well my style of photography has a lot of range. Right from being super edgy to shooting classic fashion on location or in the studio. So I would say that my work is extremely versatile and I get bored doing the same thing so I keep changing."
2.HOW DO YOU MANAGE TO DO SOMETHING DIFFERENT WITH CELEBRITIES WHO HAVE ALREADY BEEN PHOTOGRAPHED BY VARIOUS PHOTOGRAPHERS IN VARIOUS DIFFERENT WAYS?
"So its all about one's energy, experience , instincts, vision, thought process, exposure to various cultures, personal image making techniques etc. and thats what makes one image-maker different from another."
3. TELL US ABOUT A SHOOT THAT ABSOLUTELY DID NOT GO AS PLANNED/ WENT ABSOLUTELY HAYWIRE!
"We were scheduled to shoot for a local fashion magazine in New York and as we all know the weather is so unpredictable in this city ! Call time was 5 am and there were clear skies. All Crew and models on time and happy to be on set ! We get ready and all of us jump into our production Van and out on location to get the 1st shot of the day. All of a sudden it starts pouring , the art director of the magazine freaks out and my instinct was just to ask the driver to get us to Canal street and we bought 15 huge black umbrellas and used them as props and had the models carry them for the entire shoot and that's what really made this shoot amazingly different! So, when something goes haywire we can always wire it the way we want."
4. WHAT ACCORDING TO YOU HAS BEEN YOUR BEST WORK?
"ILove Shooting Editorials And Most Of My Fashion Work Is With Magazines In Nyc. I Would Say That Is The Best I Have Done. I Can'T Really Pick One Shoot As They Are All My Babies."
5. IS THERE SOMETHING YOU REALLY WANTED TO DO BUT STILL HAVEN'T GOTTEN THE OPPORTUNITY TO DO?
"IWould Love To Shoot A Feature For Vogue Italia !!!"
6. WHO DID YOU LOVE WORKING WITH THE MOST?
"Again, I Have Been Blessed To Be Working With Amazing Professionals Who Love What They Do And I Have Never Had A Bad Work Day So I Really Can'T Pick One. They Were All Great To Work With."
7. WHO ACCORDING TO YOU IS THE MOST PHOTOGENIC PERSON YOU HAVE PHOTOGRAPHED? / WHO WOULD YOU LOVE TO PHOTOGRAPH AND STILL HAVEN'T GOTTEN THE CHANCE TO?
"After shooting for so many years now the idea of people being photogenic has disappeared. I believe all of us are and it just takes that right person to be able to bring out the best and capture the moments. I would love to shoot with Lady Gaga !!!"
8.WHAT IS YOUR FAVOURITE PHOTOGRAPHING STYLE OF ALL TIMES?
"From super edgy to classic work, I really don't have one favourite style. I guess that makes me a chameleon, as my own work changes all the time!"
9. IF NOT A PHOTOGRAPHER, WHAT WOULD YOU BE?
"Never thought of it until now but I have started directing Videos. So yes, I would be a Director."
10. WHICH IS THE MOST PICTURESQUE LOCATION IN THE WORLD?
"NYC! Maybe I am biased but each time I shoot here it's always different."
11. WHERE DO YOU SEEK INSPIRATION FROM?
"From designers , Artists, Music ,Locations, nature, people , books, and I am a dreamer ie. A field of all possibilities."
12. ONE THING YOU LOVE AND ONE THING YOU HATE ABOUT YOUR JOB?
"I Love that we make magic happen- we translate imagination into reality.One thing I Dislike is that people don't get it !!!!"
13. YOUR FAVOURITE PLACE IN THE WORLD?
"Cant imagine living anywhere except NYC but I am secretly dating Italy."
14. THE WORD/PHRASE YOU USE THE MOST?
"Are you kidding me."
15. TELL US THE THOUGHT BEHIND YOUR EXCLUSIVE COFFEE TABLE BOOK? WHAT MADE YOU COMPILE IT?
"All of my work is online or sitting in hard drives. Finally, I realised that it really does not satisfy me! So we had to go ahead and compile a book. I still love to touch and see at the same time."
16. I'M SURE THE BOOK BRINGS BACK MANY MEMORIES, ANY IN PARTICULAR THAT YOU FONDLY REMEMBER?
"Shooting for over 20 years now, all the shoots have merged into one big party !!! But all the images in this book are from past 4 years and each time I look at them they make me relive those special moments."
17. IS THERE ANYTHING YOU COULD'VE DONE DIFFERENTLY?
"No it's all perfect just the way it is !!!!"
18. IF YOU COULD INVITE ANY 3 PEOPLE FOR A DREAM DINNER, WHO WOULD THEY BE?
"Dream dinner does not apply to me as I love being with my friends and family and wherever we are is a dream come true ! But is it possible to be a part of the last supper and invite Allah and Krishna?."