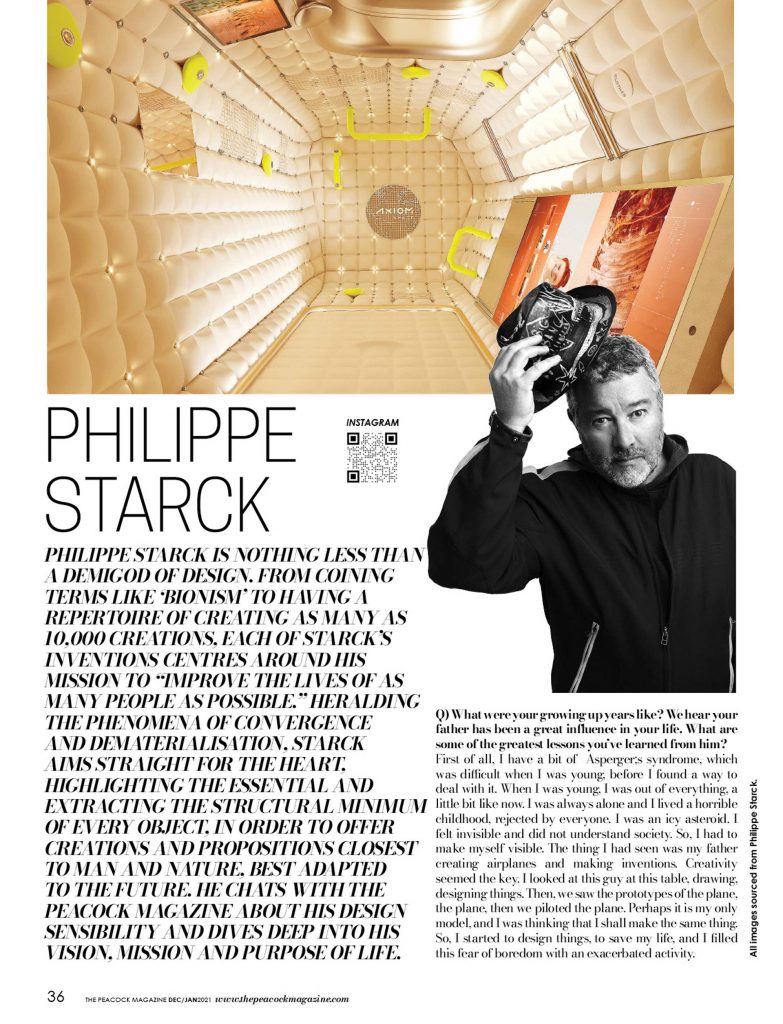 Philippe Starck is nothing less than a demigod of design. From coining terms like 'Bionism' to having a repertoire of creating as many as 10,000 creations, each of Starck's inventions centres around his mission to "improve the lives of as many people as possible." Heralding the phenomena of convergence and dematerialisation, Starck aims straight for the heart, highlighting the essential and extracting the structural minimum of every object, in order to offer creations and propositions closest to Man and Nature, best adapted to the future. He chats with The Peacock Magazine about his design sensibility and dives deep into his vision, mission and purpose of life.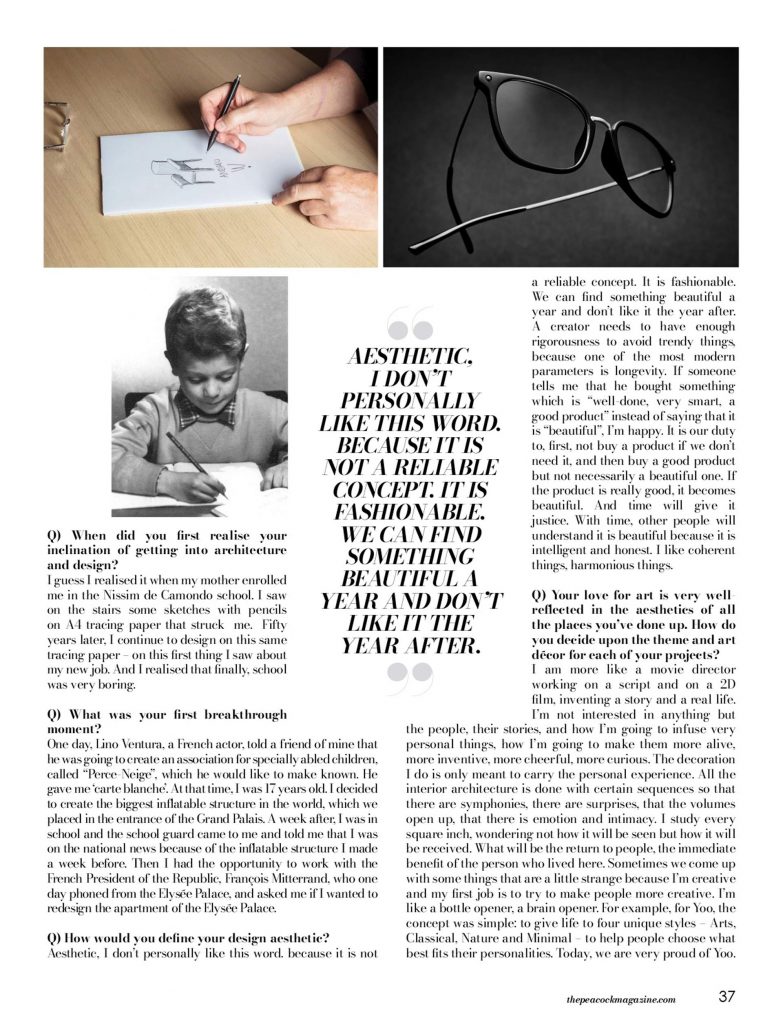 [Q] What were your growing up years like? We hear your father has been a great influence in your life. What are some of the greatest lessons you've learned from him?
First of all, I have a bit of Asperger's syndrome, which was difficult when I was young, before I found a way to deal with it. When I was young, I was out of everything, a little bit like now. I was always alone and I lived a horrible childhood, rejected by everyone. I was an icy asteroid. I felt invisible and did not understand society. So, I had to make myself visible. The thing I had seen was my father creating airplanes and making inventions. Creativity seemed the key. I looked at this guy at this table, drawing, designing things. Then, we saw the prototypes of the plane, the plane, then we piloted the plane. Perhaps it is my only model, and I was thinking that I shall make the same thing. So, I started to design things, to save my life, and I filled this fear of boredom with an exacerbated activity.
[Q] When did you first realise your inclination of getting into architecture and design?
I guess I realised it when my mother enrolled me in the Nissim de Camondo school. I saw on the stairs some sketches with pencils on A4 tracing paper that struck me. Fifty years later, I continue to design on this same tracing paper — on this first thing I saw about my new job. And I realised that finally, school was very boring.
[Q] What was your first breakthrough moment?
One day, Lino Ventura, a French actor, told a friend of mine that he was going to create an association for specially abled children, called "Perce-Neige", which he would like to make known. He gave me 'carte blanche'. At that time, I was 17 years old. I decided to create the biggest inflatable structure in the world, which we placed in the entrance of the Grand Palais. A week after, I was in school and the school guard came to me and told me that I was on the national news because of the inflatable structure I made a week before. Then I had the opportunity to work with the French President of the Republic, François Mitterrand, who one day phoned from the Elysée Palace, and asked me if I wanted to redesign the apartment of the Elysée Palace.
[Q] How would you define your design aesthetic?
Aesthetic, I don't personally like this word. because it is not a reliable concept. It is fashionable. We can find something beautiful a year and don't like it the year after. A creator needs to have enough rigorousness to avoid trendy things, because one of the most modern parameters is longevity. If someone tells me that he bought something which is "well-done, very smart, a good product" instead of saying that it is "beautiful", I'm happy. It is our duty to, first, not buy a product if we don't need it, and then buy a good product but not necessarily a beautiful one.
If the product is really good, it becomes beautiful. And time will give it justice. With time, other people will understand it is beautiful because it is intelligent and honest. I like coherent things, harmonious things.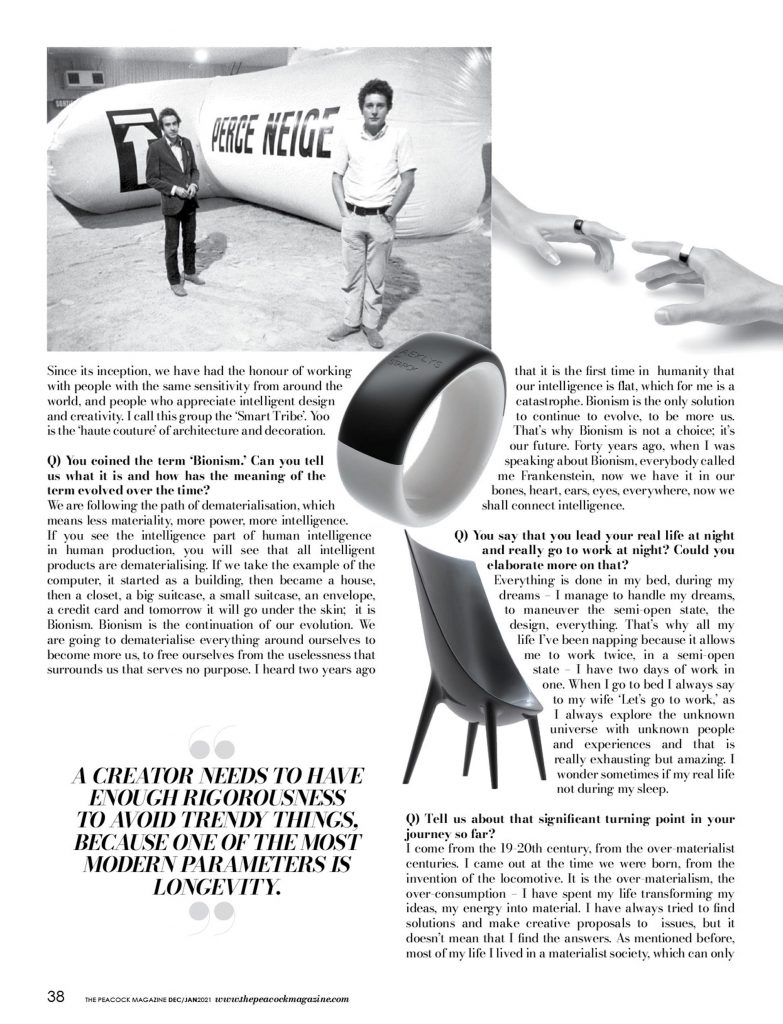 [Q] Your love for art is very well-reflected in the aesthetics of all the places you've done up. How do you decide upon the theme and art décor for each of your projects?
I am more like a movie director working on a script and on a 2D film, inventing a story and a real life. I'm not interested in anything but the people, their stories, and how I'm going to infuse very personal things, how I'm going to make them more alive, more inventive, more cheerful, more curious. The decoration I do is only meant to carry the personal experience. All the interior architecture is done with certain sequences so that there are symphonies, there are surprises, that the volumes open up, that there is emotion and intimacy. I study every square inch, wondering not how it will be seen but how it will be received. What will be the return to people, the immediate benefit of the person who lived here. Sometimes we come up with some things that are a little strange because I'm creative and my first job is to try to make people more creative. I'm like a bottle opener, a brain opener. For example, for Yoo, the concept was simple: to give life to four unique styles — Arts, Classical, Nature and Minimal — to help people choose what best fits their personalities. Today, we are very proud of Yoo. Since its inception, we have had the honour of working with people with the same sensitivity from around the world, and people who appreciate intelligent design and creativity. I call this group the 'Smart Tribe'. Yoo is the 'haute couture' of architecture and decoration.
[Q] You coined the term 'Bionism.' Can you tell us what it is and how has the meaning of the term evolved over the time?
We are following the path of dematerialisation, which means less materiality, more power, more intelligence. If you see the intelligence part of human intelligence in human production, you will see that all intelligent products are dematerialising. If we take the example of the computer, it started as a building, then became a house, then a closet, a big suitcase, a small suitcase, an envelope, a credit card and tomorrow it will go under the skin; it is Bionism. Bionism is the continuation of our evolution. We are going to dematerialise everything around ourselves to become more us, to free ourselves from the uselessness that surrounds us that serves no purpose. I heard two years ago that it is the first time in humanity that our intelligence is flat, which for me is a catastrophe. Bionism is the only solution to continue to evolve, to be more us. That's why Bionism is not a choice; it's our future. Forty years ago, when I was speaking about Bionism, everybody called me Frankenstein, now we have it in our bones, heart, ears, eyes, everywhere, now we shall connect intelligence.
[Q] You say that you lead your real life at night and really go to work at night? Could you elaborate more on that?
Everything is done in my bed, during my dreams — I manage to handle my dreams, to maneuver the semi-open state, the design, everything. That's why all my life I've been napping because it allows me to work twice, in a semi-open state — I have two days of work in one. When I go to bed I always say to my wife 'Let's go to work,' as I always explore the unknown universe with unknown people and experiences and that is really exhausting but amazing. I wonder sometimes if my real life is not during my sleep.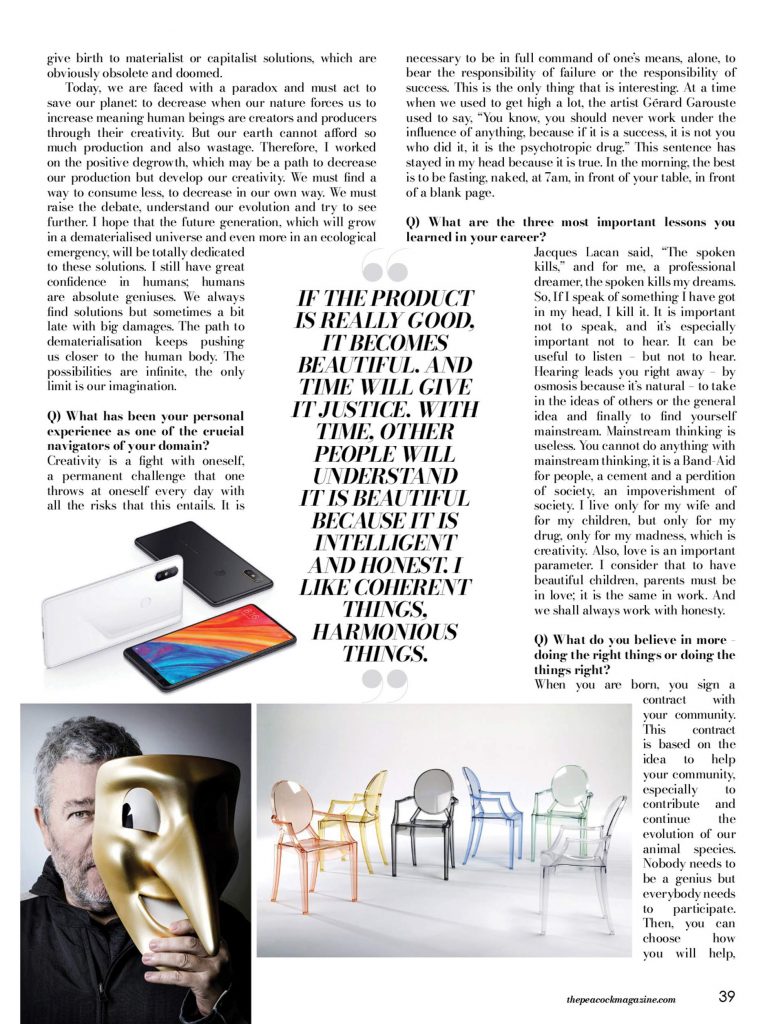 [Q] Tell us about that significant turning point in your journey so far?
I come from the 19-20th century, from the over-materialist centuries. I came out at the time we were born, from the invention of the locomotive. It is the over-materialism, the over-consumption — I have spent my life transforming my ideas, my energy into material. I have always tried to find solutions and make creative proposals to issues, but it doesn't mean that I find the answers. As mentioned before, most of my life I lived in a materialist society, which can only give birth to materialist or capitalist solutions, which are obviously obsolete and doomed.
Today, we are faced with a paradox and must act to save our planet: to decrease when our nature forces us to increase meaning human beings are creators and producers through their creativity. But our earth cannot afford so much production and also wastage. Therefore, I worked on the positive degrowth, which may be a path to decrease our production but develop our creativity. We must find a way to consume less, to decrease in our own way. We must raise the debate, understand our evolution and try to see further. I hope that the future generation, which will grow in a dematerialised universe and even more in an ecological emergency, will be totally dedicated to these solutions. I still have great confidence in humans; humans are absolute geniuses. We always find solutions but sometimes a bit late with big damages. The path to dematerialisation keeps pushing us closer to the human body. The possibilities are infinite, the only limit is our imagination.
[Q] What has been your personal experience as one of the crucial navigators of your domain?
Creativity is a fight with oneself, a permanent challenge that one throws at oneself every day with all the risks that this entails. It is necessary to be in full command of one's means, alone, to bear the responsibility of failure or the responsibility of success. This is the only thing that is interesting. At a time when we used to get high a lot, the artist Gérard Garouste used to say, "You know, you should never work under the influence of anything, because if it is a success, it is not you who did it, it is the psychotropic drug." This sentence has stayed in my head because it is true. In the morning, the best is to be fasting, naked, at 7am, in front of your table, in front of a blank page.
[Q] What are the three most important lessons you learned in your career?
Jacques Lacan said, "The spoken kills," and for me, a professional dreamer, the spoken kills my dreams. So, If I speak of something I have got in my head, I kill it. It is important not to speak, and it's especially important not to hear. It can be useful to listen — but not to hear. Hearing leads you right away — by osmosis because it's natural — to take in the ideas of others or the general idea and finally to find yourself mainstream. Mainstream thinking is useless. You cannot do anything with mainstream thinking, it is a Band-Aid for people, a cement and a perdition of society, an impoverishment of society. I live only for my wife and for my children, but only for my drug, only for my madness, which is creativity. Also, love is an important parameter. I consider that to have beautiful children, parents must be in love; it is the same in work. And we shall always work with honesty.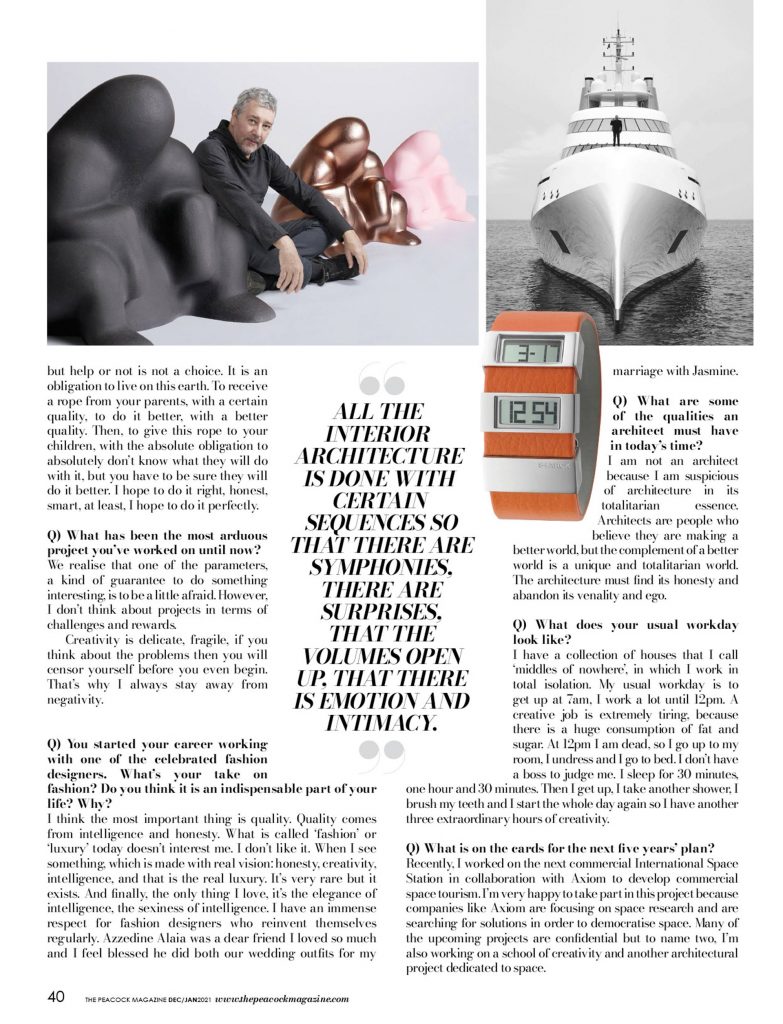 [Q] What do you believe in more – doing the right things or doing the things right?
When you are born, you sign a contract with your community. This contract is based on the idea to help your community, especially to contribute and continue the evolution of our animal species. Nobody needs to be a genius but everybody needs to participate. Then, you can choose how you will help, but help or not is not a choice. It is an obligation to live on this earth. To receive a rope from your parents, with a certain quality, to do it better, with a better quality. Then, to give this rope to your children, with the absolute obligation to absolutely don't know what they will do with it, but you have to be sure they will do it better. I hope to do it right, honest, smart, at least, I hope to do it perfectly.
[Q] What has been the most arduous project you've worked on until now?
We realise that one of the parameters, a kind of guarantee to do something interesting, is to be a little afraid. However, I don't think about projects in terms of challenges and rewards.
Creativity is delicate, fragile, if you think about the problems then you will censor yourself before you even begin. That's why I always stay away from negativity.
[Q] You started your career working with one of the celebrated fashion designers. What's your take on fashion? Do you think it is an indispensable part of your life? Why?
I think the most important thing is quality. Quality comes from intelligence and honesty. What is called 'fashion' or 'luxury' today doesn't interest me. I don't like it. When I see something, which is made with real vision: honesty, creativity, intelligence, and that is the real luxury. It's very rare but it exists. And finally, the only thing I love, it's the elegance of intelligence, the sexiness of intelligence. I have an immense respect for fashion designers who reinvent themselves regularly. Azzedine Alaia was a dear friend I loved so much and I feel blessed he did both our wedding outfits for my marriage with Jasmine.
[Q] What are some of the qualities an architect must have in today's time?
I am not an architect because I am suspicious of architecture in its totalitarian essence. Architects are people who believe they are making a better world, but the complement of a better world is a unique and totalitarian world. The architecture must find its honesty and abandon its venality and ego.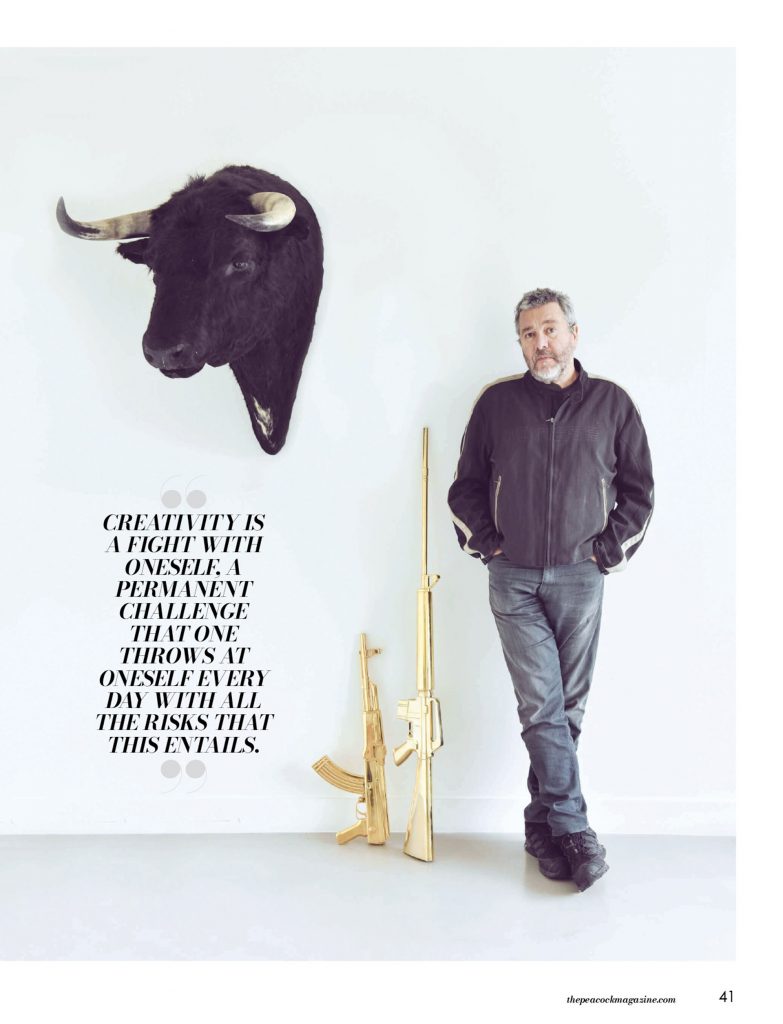 [Q] What does your usual workday look like?
I have a collection of houses that I call 'middles of nowhere', in which I work in total isolation. My usual workday is to get up at 7am, I work a lot until 12pm. A creative job is extremely tiring, because there is a huge consumption of fat and sugar. At 12pm I am dead, so I go up to my room, I undress and I go to bed. I don't have a boss to judge me. I sleep for 30 minutes, one hour and 30 minutes. Then I get up, I take another shower, I brush my teeth and I start the whole day again so I have another three extraordinary hours of creativity.
[Q] What is on the cards for the next five years' plan?
Recently, I worked on the next commercial International Space Station in collaboration with Axiom to develop commercial space tourism. I'm very happy to take part in this project because companies like Axiom are focusing on space research and are searching for solutions in order to democratise space. Many of the upcoming projects are confidential but to name two, I'm also working on a school of creativity and another architectural project dedicated to space.