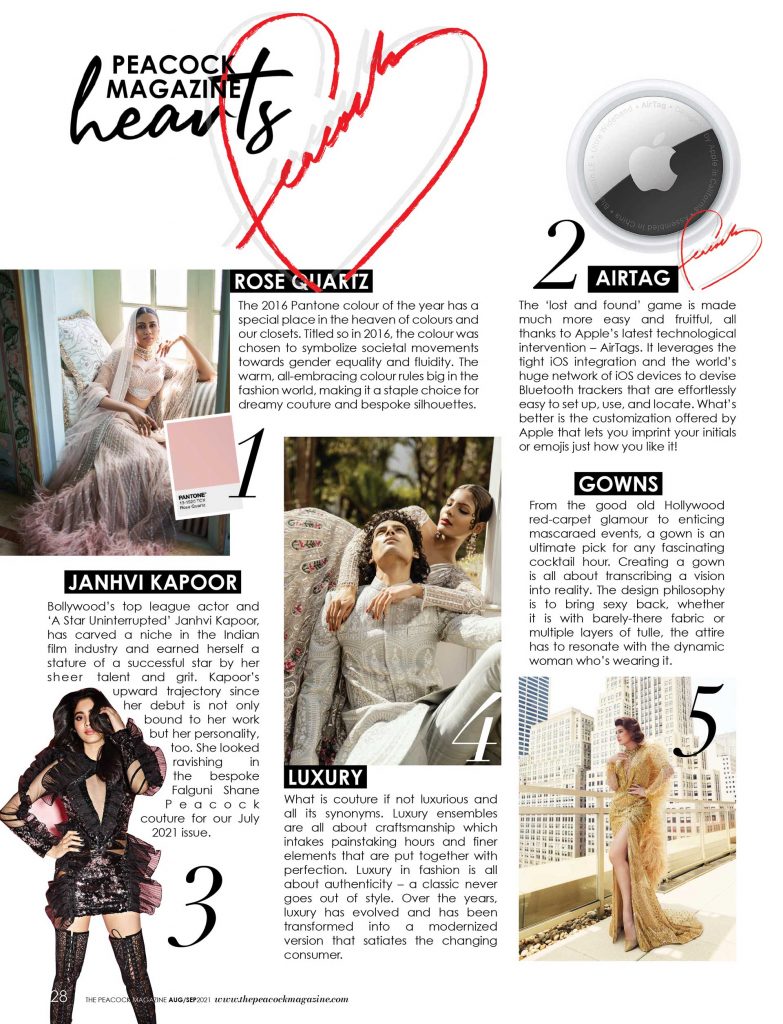 [1] Rose Quartz
The 2016 Pantone colour of the year has a special place in the heaven of colours and closets. Titled so in 2016, the colour was chosen to symbolise societal movements affirming gender equality and fluidity. The warm, all-embracing colour rules big in the fashion world, making it a staple choice for dreamy couture and bespoke silhouettes.
[2] AirTag
The 'lost and found' game is made much more easy and fruitful, all thanks to Apple's latest technological intervention – AirTags. It leverages the tight iOS integration and the world's huge network of iOS devices to devise Bluetooth trackers that are effortlessly easy to set up, use and locate. What's better is the customisation offered by Apple that lets you imprint your initials or emojis just how you like it!
[3] Janhvi Kapoor
Bollywood's top league actor and A Star Uninterrupted Janhvi Kapoor, has carved a niche in the Indian film industry and earned herself a stature of a successful star by her sheer talent and grit. Kapoor's upward trajectory since her debut is not only driven by her work but her personality too. She looked ravishing in the bespoke Falguni Shane Peacock couture for our July 2021 issue.
[4] Luxury
What is couture if not luxurious and all its synonyms. Luxury ensembles are all about craftsmanship which takes painstaking hours as the finer elements are put together with perfection. Luxury in fashion is all about authenticity – a classic never goes out of style. Over the years, luxury has evolved and has been transformed into a modernised version that satiates the needs of the changing consumer.
[5] Gowns
From good old Hollywood red-carpet glamour to enticing masquerade events, a gown is an ultimate pick for any fascinating cocktail hour. Creating a gown is all about transcribing a vision into reality. The design philosophy is to bring sexy back, whether it is with barely there fabric or multiple layers of tulle, the attire has to resonate with the dynamic woman who's wearing it.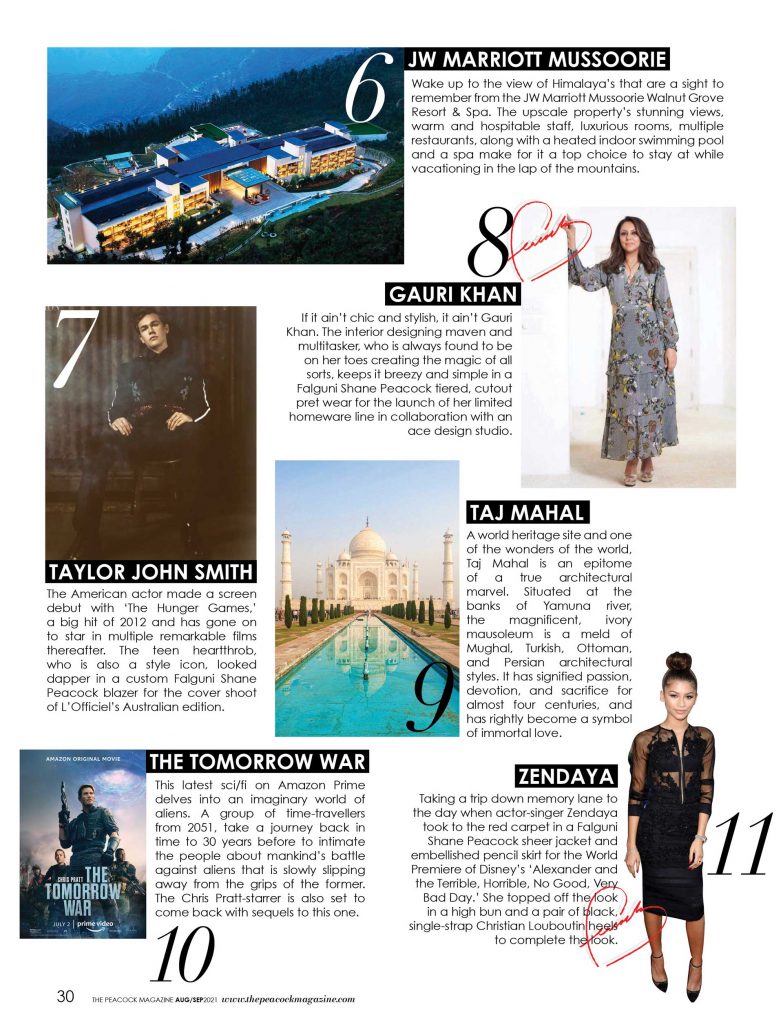 [6] JW Marriott Mussoorie
Wake up to the view of the Himalayas that are a sight to remember from the JW Marriott Mussoorie Walnut Grove Resort & Spa. The upscale property's stunning views, warm and hospitable staff, luxurious rooms, multiple restaurants, along with a heated indoor swimming pool and a spa make it a top vacationing hotspot in the lap of the mountains.
[7] The Tomorrow War
This latest sci/fi on Amazon Prime delves into an imaginary world of aliens. A group of time travellers from 2051 take a journey back in time to 30 years before to educate the people about mankind's battle against aliens that is slowly slipping away from the grips of the former. The Chris Pratt-starrer is also set to come back with sequels to this one.
[8] Gauri Khan
If it ain't chic and stylish, it ain't Gauri Khan. The interior designing maven and multitasker, who is always found to be on her toes creating magic of all sorts, keeps it breezy and simple in a Falguni Shane Peacock tiered, cutout pret wear. The occasion is the launch of her limited homeware line in collaboration with an ace design studio.
[9] Taylor John Smith
The American actor made a screen debut with The Hunger Games, a big hit of 2012 and has gone on to star in multiple remarkable films thereafter. The teen heartthrob, who is also a style icon, looked dapper in a custom Falguni Shane Peacock blazer for the cover shoot of L'Officiel's Australian edition.
[10] ORRA x FSP
With its proud existence since 1888, ORRA is undoubtedly one of the fine jewellery retailers in India. The exquisite brand, which has an impressive network of stores all over India, is a staunch believer in deploying fine craftsmanship to every piece of jewellery created at its design centre. Luxury design label Falguni Shane Peacock recently collaborated with the jewellery bigwig to launch a word-perfect line of jewellery.
[11] Zendaya
Take a trip down memory lane to the day when actor-singer Zendaya took to the red carpet in a Falguni Shane Peacock sheer jacket and an embellished pencil skirt for the world premiere of Disney's Alexander and the Terrible, Horrible, No Good, Very Bad Day. She topped off the look in a high bun and a pair of black, single-strap Christian Louboutin heels to complete the look