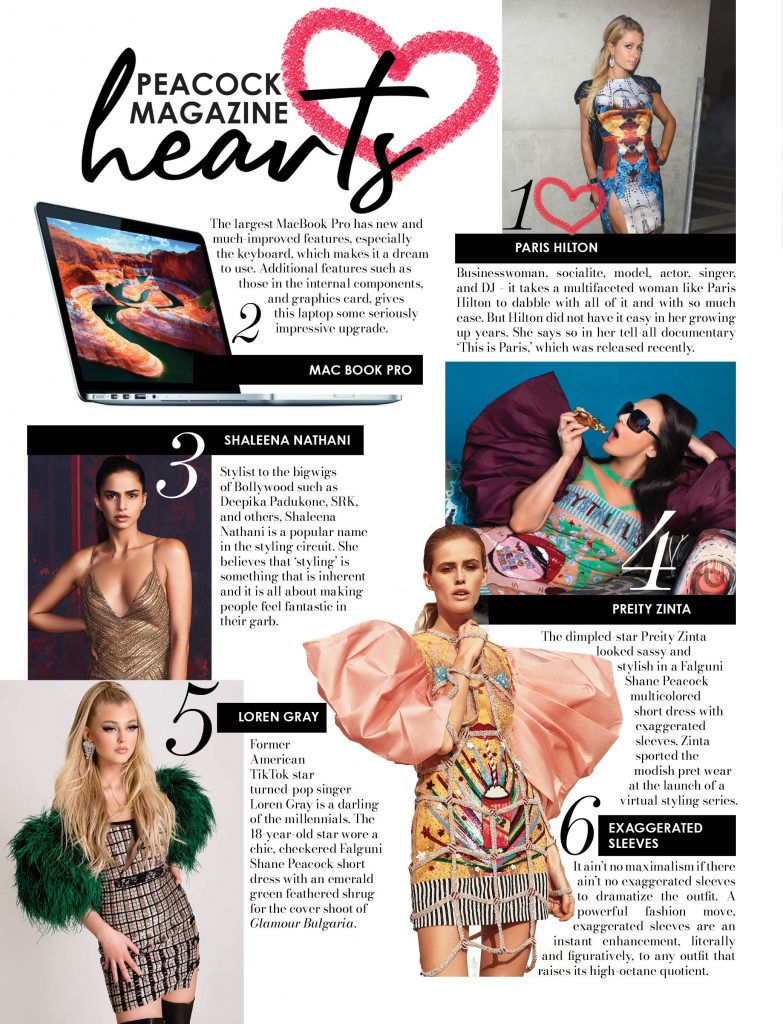 [1] Paris Hilton
Businesswoman, socialite, model, actor, singer, and DJ – it takes a multifaceted woman like Paris Hilton to dabble with all of it and with so much ease. But Hilton did not have it easy in her growing up years. She says so in her tell-all documentary 'This is Paris,' which was released recently.
[2] Mac Book Pro
The largest MacBook Pro has new and much-improved features, especially the keyboard, which makes it a dream to use. Additional features such as those in the internal components, graphics card, etc, give this laptop some seriously impressive upgrade.
[3] Shaleena Nathani
Stylist to the bigwigs of Bollywood such as Deepika Padukone, SRK, and others, Shaleena Nathani is a popular name in the styling circuit. Nathani believes that 'styling' is something that is inherent and it is all about making people feel fantastic in their garb.
[4] Preity Zinta
The dimpled-star Preity Zinta looked sassy and stylish in a Falguni Shane Peacock multicolored short dress with exaggerated sleeves. Preity sported the modish pret wear at the launch of a virtual styling series.
[5] Loren Gray
Former TikTok star turned American pop singer Loren Gray is a darling of the millennials. The 18-year old star wore a chic, checkered Falguni Shane Peacock short dress with an emerald green feathered shrug for the cover shoot of Glamour Bulgaria.
[6] Exaggerated Sleeves
It ain't no maximalism if there ain't no exaggerated sleeves to dramatize the outfit. A powerful fashion move, exaggerated sleeves are an instant upliftment, literally and figuratively, to any outfit to raise its high-octane quotient.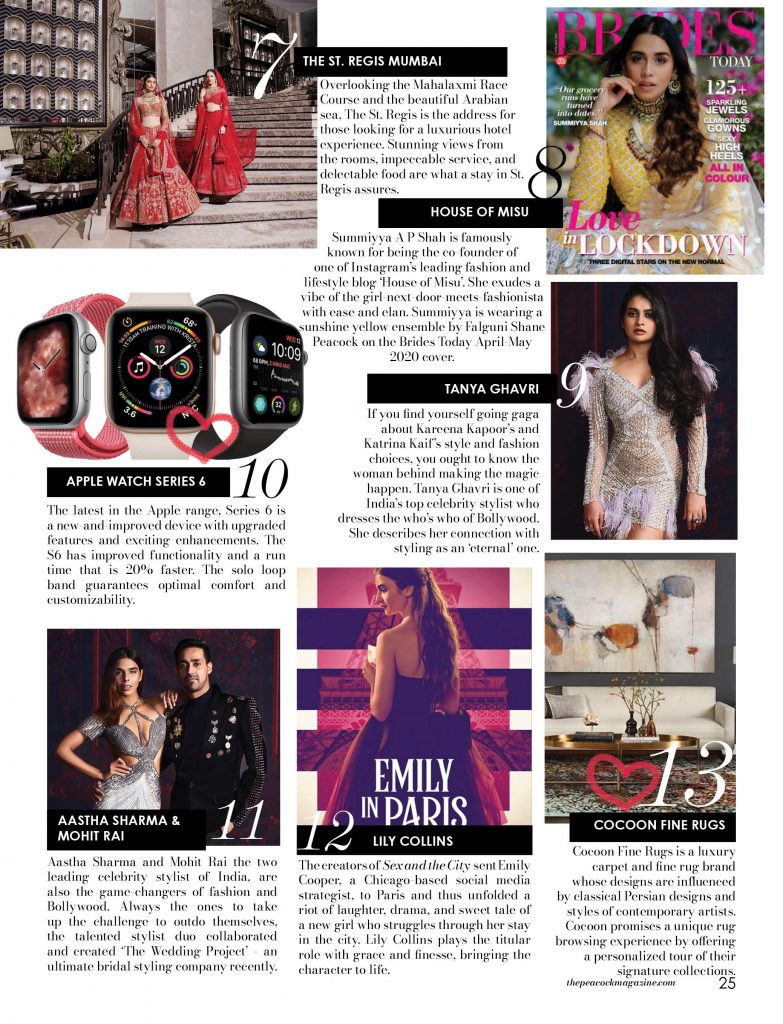 [7] The St. Regis Mumbai
Overlooking the Mahalaxmi Race Course and the beautiful Arabian sea, The St. Regis is an address for those looking for a luxurious hotel experience. Stunning views from the rooms, impeccable service, and delectable food are what a stay in St. Regis assures for.
[8] House of Misu
Summiyya A P Shah is famously known for being the co-founder of one of Instagram's leading fashion and lifestyle blog 'House of Misu.' She exudes a vibe of the girl-next-door-meets-fashionista with ease and elan. Summiyya is wearing a sunshine yellow ensemble by Falguni Shane Peacock on the Brides Today April-May 2020 cover.
[9] Tanya Ghavri
If you find yourself going gaga about Kareena Kapoor's and Katrina Kaif's style and fashion choices, you ought to know the woman behind making the magic happen. Tanya Ghavri is one of India's top celebrity stylist who dresses the who's who of Bollywood. She describes her connection with styling as an 'eternal' one.
[10] Apple Watch Series 6
The latest in the range, Apple Watch Series 6 is a new-and-improved device with upgraded features and exciting enhancements. The S6 has improved functionality and a run time that is 20% faster. The solo loop band guarantees optimal comfort and customizability.
[11] Aastha Sharma & Mohit Rai
Aastha Sharma and Mohit Rai are two of the leading celebrity stylists, who are also the game-changers of fashion and Bollywood. Always the ones to take up the challenge to outdo themselves, the talented stylist duo collaborated and created 'The Wedding Project' – an ultimate bridal styling company recently.
[12] Emily in Paris/Lily Collins
The creators of 'Sex and the City' sent Emily Cooper, a Chicago-based social media strategist, to Paris and thus unfolded a riot of laughter, drama, and sweet tale of a new girl who struggles through her stay in the city. Lily Collins plays the titular role with grace and finesse, brings the character to life.
[13] Cocoon Fine Rugs
Cocoon Fine Rugs is a luxury carpet and fine rug brand whose designs are influenced by classical Persian designs and styles of contemporary artists. Cocoon promises a unique rug browsing experience by giving a personalized tour of our signature collections.