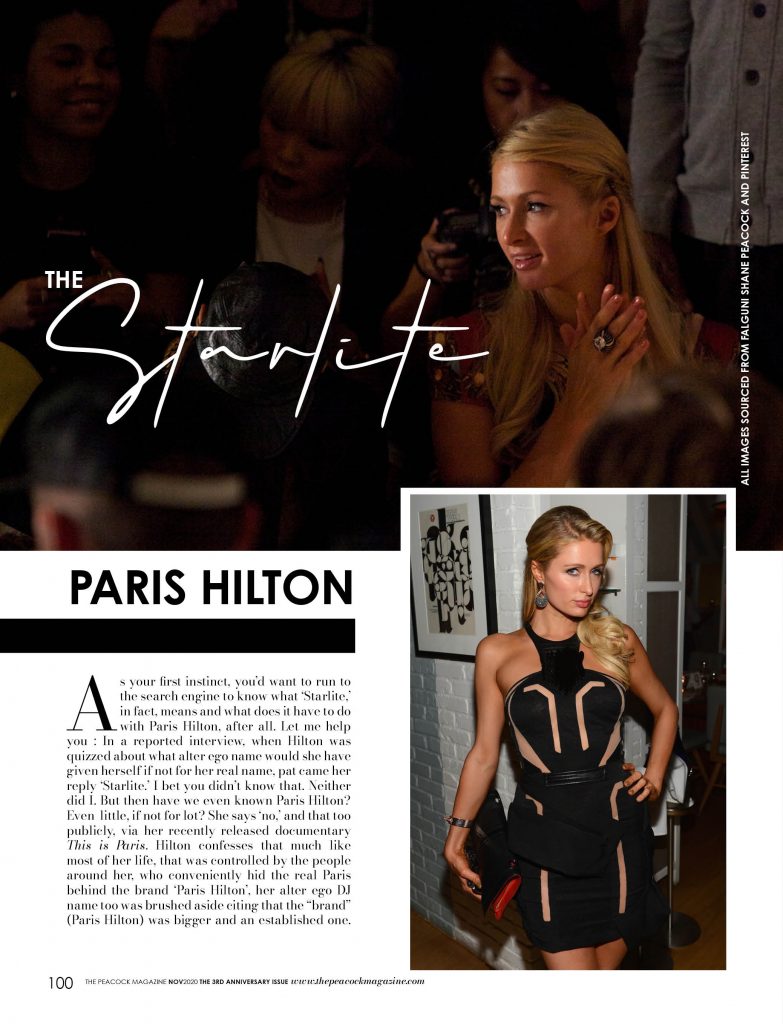 As your first instinct, you'd want to run to the search engine to know what 'Starlite,' in fact, means and what does it have to do with Paris Hilton, after all. Let me help you – In a reported interview, when Paris was quizzed about what alter ego name would she have given herself if not for her real name, pat came her reply 'Starlite.' I bet you didn't know that. Neither did I. But then have we even known Paris Hilton? Even a little, if not for a lot? She says 'no,' and that too publicly, via her recently released documentary 'This is Paris'. Hilton confesses that much like most of her life, that was controlled by the people around her, who conveniently hid the real Paris behind the brand 'Paris Hilton', her alter ego DJ name too was brush aside citing that the "brand" (Paris Hilton) was bigger and an established one.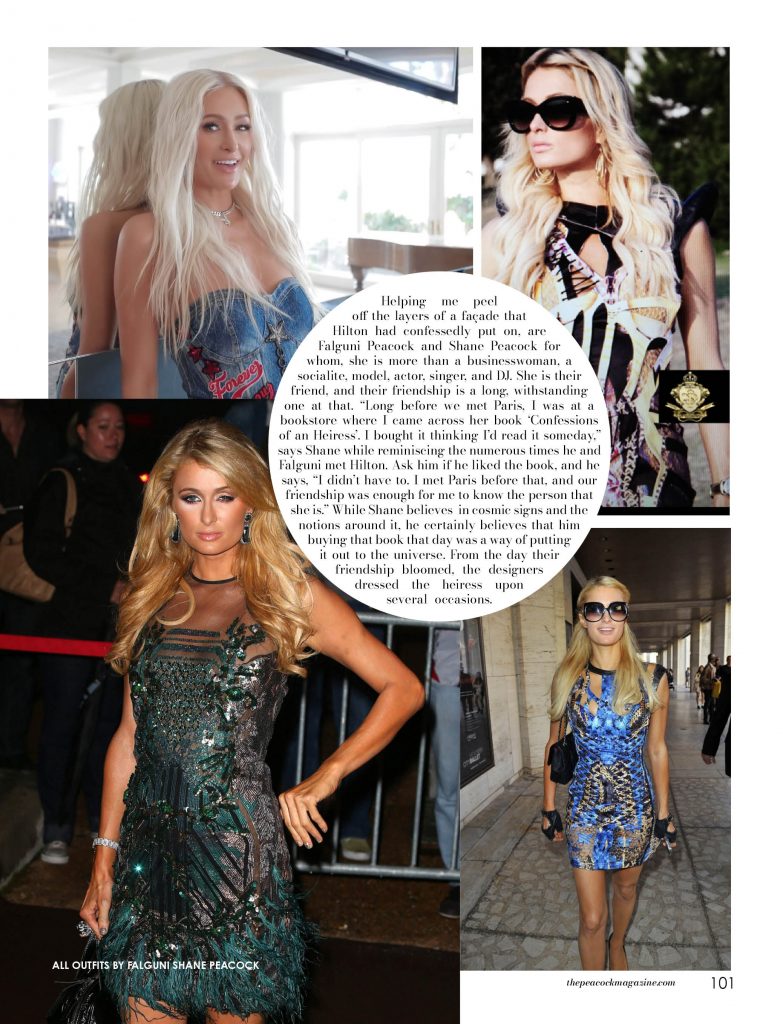 Helping me peel off the layers of façade that Paris had confessedly put on, are Falguni Peacock and Shane Peacock for whom, Paris is more than a businesswoman, socialite, model, actor, singer, and DJ. She is their friend, and their friendship is a long, withstanding one at that. "Long before we met Paris, I was at a bookstore where I came across her book 'Confessions of an Heiress'. I bought it thinking I'd read it someday," says Shane while reminiscing the numerous times he and Falguni met Paris. Ask him if he liked the book, and he says, "I didn't have to. I met Paris before that, and our friendship was enough for me to know the person that she is." While Shane doesn't believe in cosmic signs and the notions around it, he certainly believes that him buying that book that day was a way of putting it out to the universe. From the day their friendship bloomed, the designers dressed the heiress upon several occasions.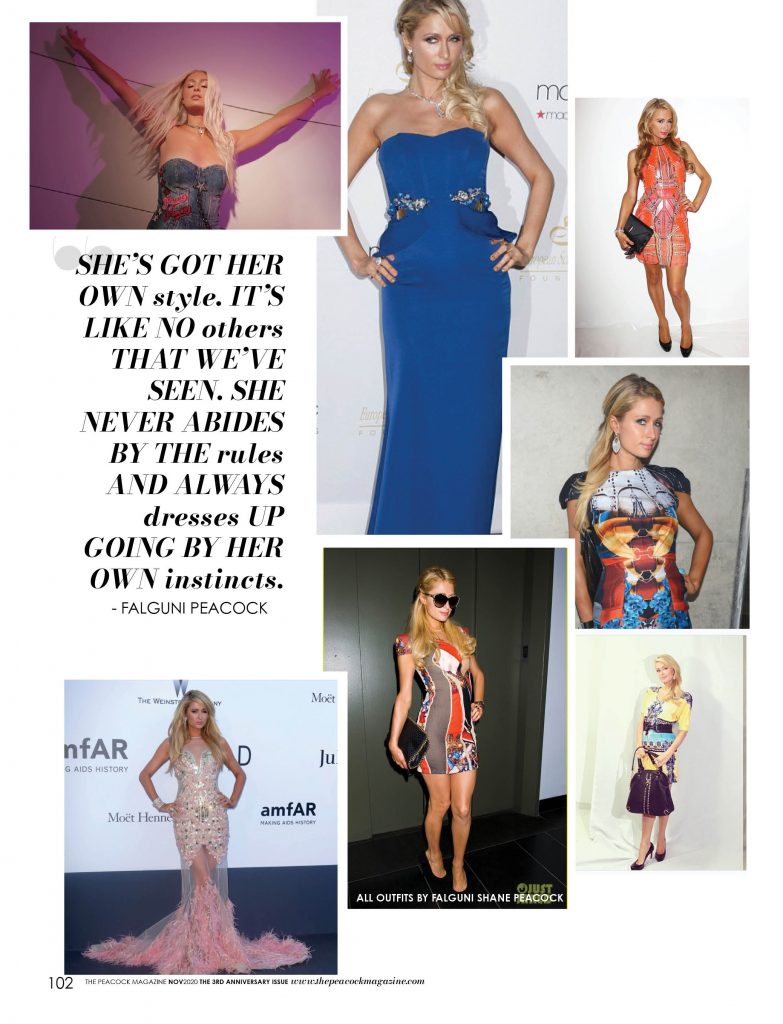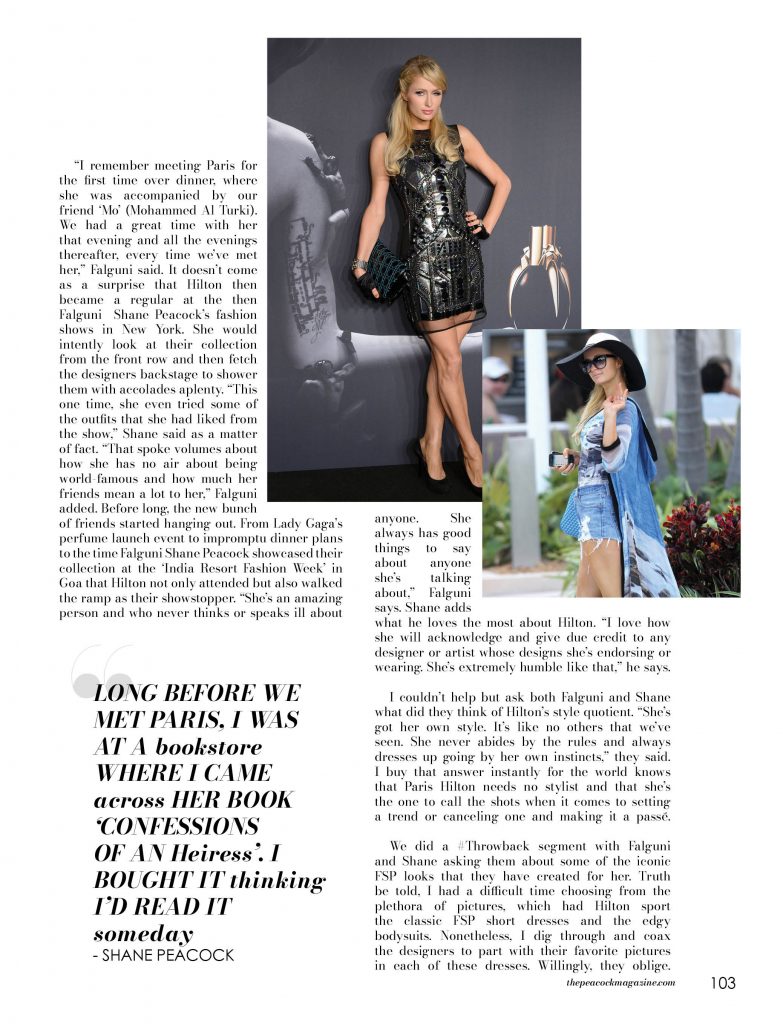 "I remember meeting Paris for the first time over dinner, where she was accompanied by our friend 'Mo' (Mohammed Al Turki). We had a great time with her that evening and all the evenings thereafter, every time we've met her," Falguni said. It doesn't come as a surprise that Paris then became a regular the then 'Falguni & Shane Peacock's fashion shows in New York. She would intently look at their collection from the front row and then fetch the designers backstage to shower them with accolades aplenty. "This one time, she even tried some of the outfits that she had liked from the show," Shane said as a matter of fact. "That spoke volumes about how she has no air about being world-famous and how much her friends mean a lot to her," Falguni added. Before long, the new bunch of friends started hanging out. From Lady Gaga's concert to impromptu dinner plans to the time Falguni Shane Peacock showcased their collection at the 'India Resort Fashion Week' in Goa that Paris not only attended but also walked the ramp as their showstopper. "She's an amazing person and who never thinks or speaks ill about anyone. She always has good things to say about anyone she's talking about," Falguni says. Shane adds what he loves the most about Paris. "I love how she will acknowledge and give due credit to any designer or artist whose designs she's endorsing or wearing. She's extremely humble like that," he says.
I couldn't help but ask both Falguni and Shane what did they think of Paris' style quotient. "She's got her own style. It's like no others that we've seen. She never abides by the rules and always dresses up going by her own instincts," they said. I buy that answer instantly for the world knows that Paris Hilton needs no stylist and that she's the one to call the shots when it comes to setting a trend or canceling one and making it a passé.
We did a #Throwback segment with Falguni and Shane asking them about some of the iconic FSP looks that they have created for her. Truth be told, I had a difficult time choosing from the plethora of pictures which had Paris sport the classic FSP short dresses and the edgy bodysuits. Nonetheless, I dig through and choose the five best ones and coaxed the designers to part with their favorite memory or anecdote about each of these dresses. Willingly, they oblige.