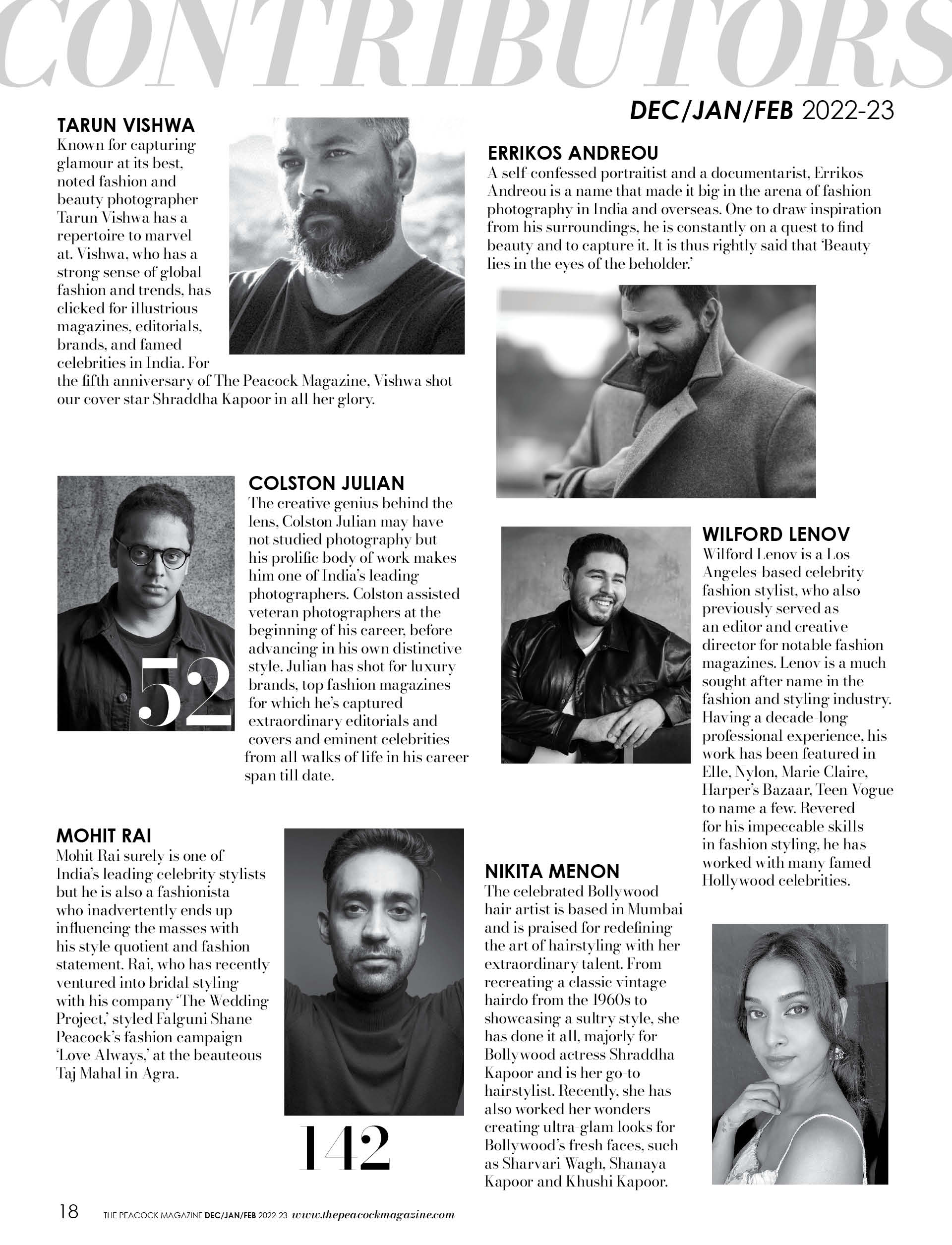 [1] Tarun Vishwa
Known for capturing glamour at its best, noted fashion and beauty photographer Tarun Vishwa has a repertoire to marvel at. Vishwa, who has a strong sense of global fashion and trends, has clicked for illustrious magazines, editorials, brands, and famed celebrities in India. For the fifth anniversary of The Peacock Magazine, Vishwa shot our cover star Shraddha Kapoor in all her glory.
[2] Colston Julian
A creative genius behind the lens, Colston Julian may have not studied photography but his prolific body of work makes him one of India's leading photographers. Julian assisted veteran photographers at the beginning of his career, before pursuing his own distinctive style. Julian has shot for luxury brands and some top fashion magazines capturing extraordinary editorials and covers featuring eminent celebrities from all walks of life till date.
[3] Mohit Rai
Mohit Rai surely is one of India's leading celebrity stylists but he is also a fashionista who inadvertently ends up influencing the masses with his style quotient and fashion statement. Rai, who has recently ventured into bridal styling with his company 'The Wedding Project,' styled Falguni Shane Peacock's fashion campaign 'Love Always,' at the beauteous Taj Mahal in Agra.
[4] Errikos Andreou
A self-confessed portraitist and a documentarist, Errikos Andreou is a name that made it big in the arena of fashion photography in India and overseas. Living up to the maxim of 'Beauty lies in the eyes of the beholder, ' he is constantly on a quest to find beauty and to capture it.
[5] Wilford Lenov
Wilford Lenov is a Los Angeles-based celebrity fashion stylist, who also previously served as an editor and creative director for notable fashion magazines. Lenov is a much sought after name in the fashion and styling industry. Having a decade-long professional experience, his work has been featured in Elle, Nylon, Marie Claire, Harper's Bazaar, Teen Vogue to name a few. Revered for his impeccable skills in fashion styling, he has worked with many famed Hollywood celebrities.
[6] Nikita Menon
The celebrated Bollywood hair artist is based in Mumbai and is praised for redefining the art of hairstyling with her extraordinary talent. From recreating a classic vintage hairdo from the 1960s to showcasing a sultry style, she has done it all, majorly for Bollywood actress Shraddha Kapoor and is her go-to hairstylist. Recently, she has also worked her wonders creating ultra-glam looks for Bollywood's fresh faces, such as Sharvari Wagh, Shanaya Kapoor and Khushi Kapoor.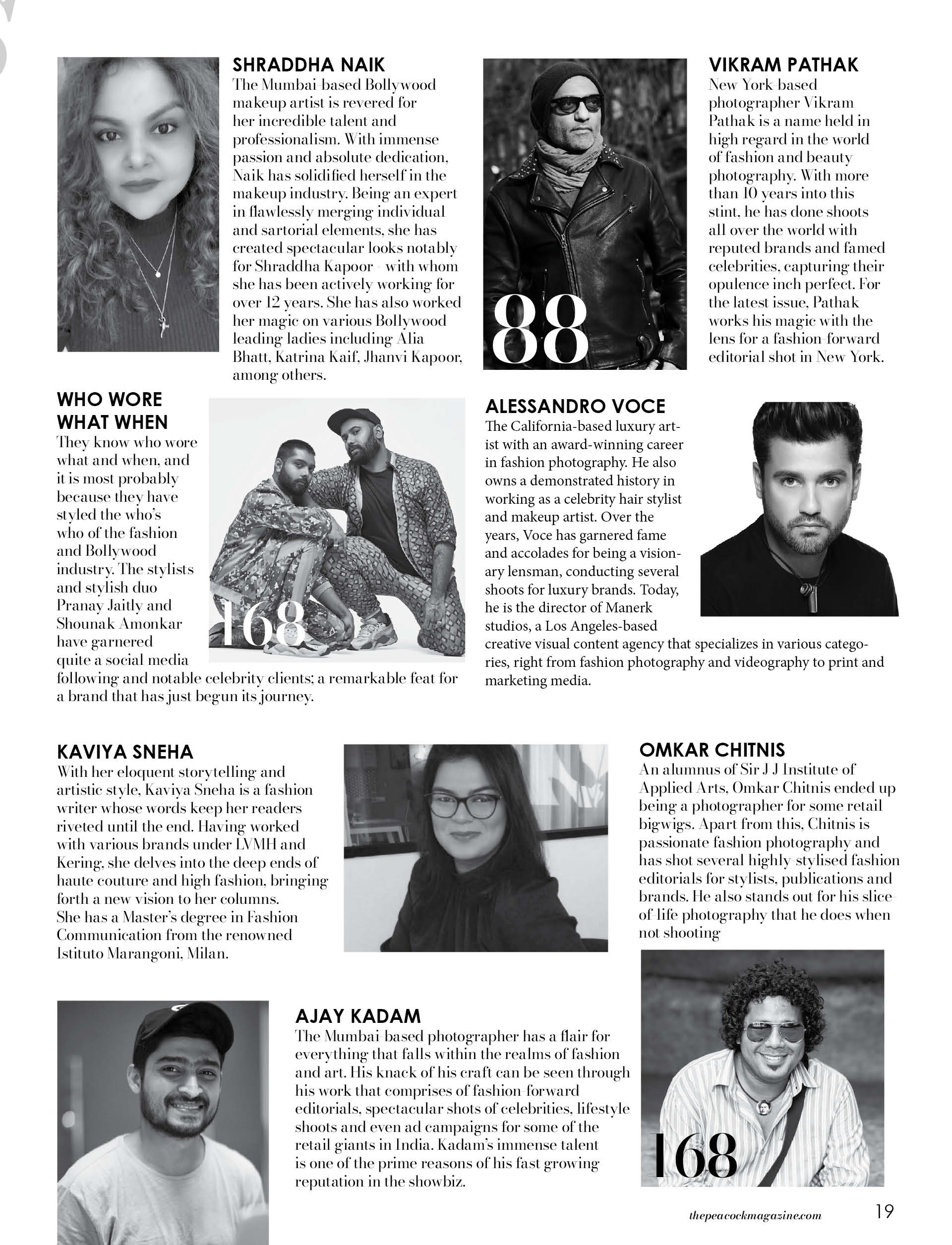 [7] Shraddha Naik
The Mumbai-based Bollywood makeup artist is revered for her incredible talent and professionalism. With immense passion and absolute dedication, Naik has solidified herself in the makeup industry. Being an expert in flawlessly merging individual and sartorial elements, she has created spectacular looks notably for Shraddha Kapoor – with whom she has been actively working for over 12 years. She has also worked her magic on various Bollywood leading ladies including Alia Bhatt, Katrina Kaif, Jhanvi Kapoor, among others.
[8] Who Wore What When
They know who wore what and when, and it is most probably because they have styled the who's who of the fashion and Bollywood industry. The stylists and stylish duo Pranay Jaitly and Shounak Amonkar have garnered quite a social media following and notable celebrity clients; a remarkable feat for a brand that has just begun its journey.
[9] Kaviya Sneha
With her eloquent storytelling and artistic style, Kaviya Sneha is a fashion writer whose words keep her readers riveted until the end. Having worked with various brands under LVMH and Kering, she delves into the deep ends of haute couture and high fashion, bringing forth a new vision to her columns. She has a Master's degree in Fashion Communication from the renowned Istituto Marangoni, Milan
[10] Ajay Kadam
The Mumbai-based photographer has a flair for everything that falls within the realms of fashion and art. His knack for his craft can be seen through his work that comprises fashion-forward editorials, spectacular shots of celebrities, lifestyle shoots and even ad campaigns for some of the retail giants in India. Kadam's immense talent is one of the prime reasons for his fast-growing reputation in showbiz.
[11] Vikram Pathak
New York-based photographer Vikram Pathak is a name held in high regard in the world of fashion and beauty photography. With more than 10 years into this profession, he has done shoots all over the world with reputed brands and famed celebrities, capturing their opulence quotient par excellence. For the latest issue, Pathak works his magic with the lens for a fashion-forward editorial shot in New York.
[12] Alessandro Voce
Alessandro Voce is a California-based luxury artist with an award-winning career in fashion photography. He also owns a demonstrated history in working as a celebrity hair stylist and makeup artist. Over the years, Voce has garnered fame and accolades for being a visionary lensman, conducting several shoots for luxury brands. Today, he is the director of Manerk studios, a Los Angeles-based creative visual content agency that specializes in various categories, right from fashion photography and videography to print and marketing media.
[13] Omkar Chitnis
An alumnus of Sir J J Institute of Applied Arts, Omkar Chitnis ended up being a photographer for some retail bigwigs. Apart from this, Chitnis is passionate about fashion photography and has shot several fashion editorials for stylists, publications and brands. He also stands out for his slice-of-life photography that he does when not shooting hyper-stylised campaigns.