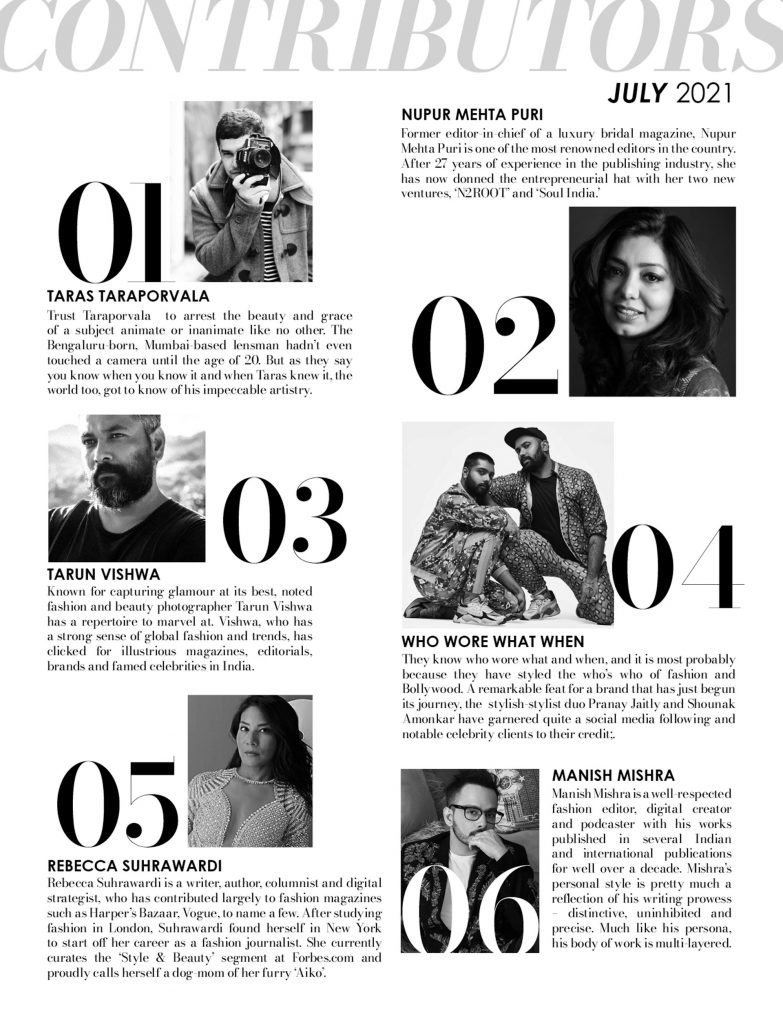 [1] Taras Taraporvala
Trust Taraporvala to arrest the beauty and grace of a subject animate or inanimate like no other. The Bengaluru-born, Mumbai-based lensman hadn't even touched a camera until the age of 20. But as they say you know when you know it and when Taras knew it, the world too, got to know of his impeccable artistry.
[2] Nupur Mehta Puri
Former editor-in-chief of a luxury bridal magazine, Nupur Mehta Puri is one of the most renowned editors in the country. After 27 years of experience in the publishing industry, she has now donned the entrepreneurial hat with her two new ventures, 'N2ROOT' and 'Soul India.'
[3] Tarun Vishwa
Known for capturing glamour at its best, noted fashion and beauty photographer Tarun Vishwa has a repertoire to marvel at. Vishwa, who has a strong sense of global fashion and trends, has clicked for illustrious magazines, editorials, brands and famed celebrities in India.
[4] Who Wore What When
They know who wore what and when, and it is most probably because they have styled the who's who of fashion and Bollywood. A remarkable feat for a brand that has just begun its journey, the stylish-stylist duo Pranay Jaitly and Shounak Amonkar have garnered quite a social media following and notable celebrity clients to their credit;.
[5] Rebecca Suhrawardi
Rebecca Suhrawardi is a writer, author, columnist and digital strategist, who has contributed largely to fashion magazines such as Harper's Bazaar, Vogue, to name a few. After studying fashion in London, Suhrawardi found herself in New York to start off her career as a fashion journalist. She currently curates the 'Style & Beauty' segment at Forbes.com and proudly calls herself a dog-mom of her furry 'Aiko'.
[6] Manish Mishra
Manish Mishra is a well-respected fashion editor, digital creator and podcaster with his works published in several Indian and international publications for well over a decade. Mishra's personal style is pretty much a reflection of his writing prowess — distinctive, uninhibited and precise. Much like his persona, his body of work is multi-layered.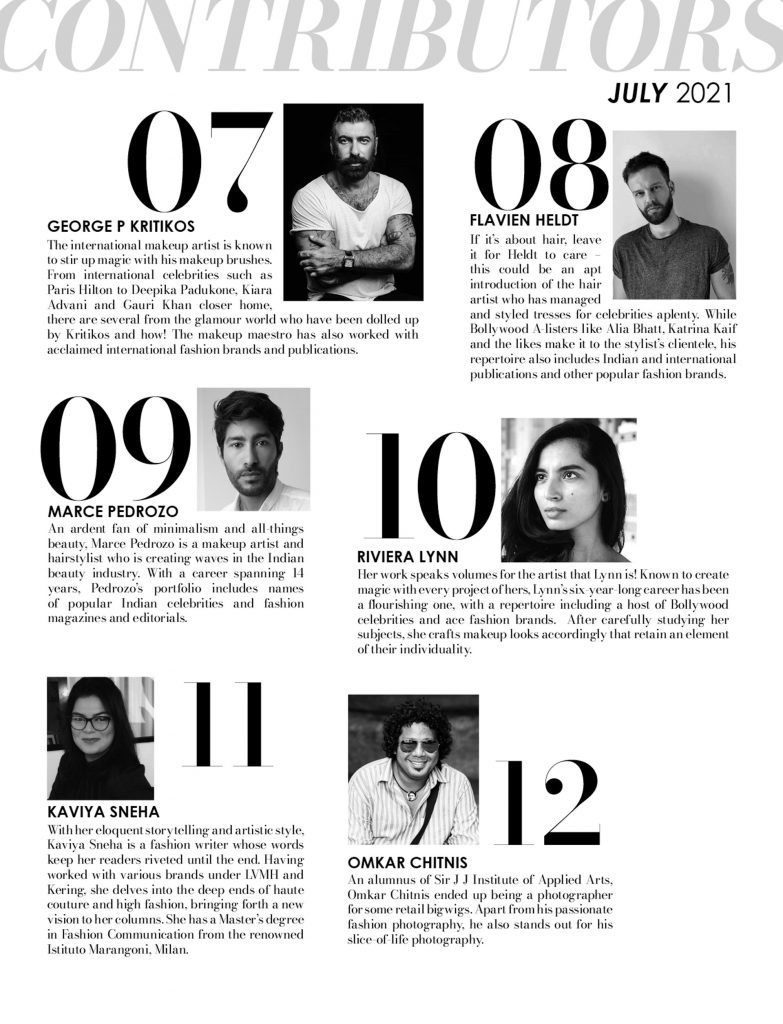 [7] George P Kritikos
The international makeup artist is known to stir up magic with his makeup brushes. From international celebrities such as Paris Hilton to Deepika Padukone, Kiara Advani and Gauri Khan closer home, there are several from the glamour world who have been dolled up by Kritikos and how! The makeup maestro has also worked with acclaimed international fashion brands and publications.
[8] Flavien Heldt
If it's about hair, leave it for Heldt to care — this could be an apt introduction of the hair artist who has managed and styled tresses for celebrities aplenty. While Bollywood A-listers like Alia Bhatt, Katrina Kaif and the likes make it to the stylist's clientele, his repertoire also includes Indian and international publications and other popular fashion brands.
[9] Marce Pedrozo
An ardent fan of minimalism and all-things beauty, Marce Pedrozo is a makeup artist and hairstylist who is creating waves in the Indian beauty industry. With a career spanning 14 years, Pedrozo's portfolio includes names of popular Indian celebrities and fashion magazines and editorials.
[10] Riviera Lynn
Her work speaks volumes for the artist that Lynn is! Known to create magic with every project of hers, Lynn's six-year-long career has been a flourishing one, with a repertoire including a host of Bollywood celebrities and ace fashion brands. After carefully studying her subjects, she crafts makeup looks accordingly that retain an element of their individuality.
[11] Kaviya Sneha
With her eloquent storytelling and artistic style, Kaviya Sneha is a fashion writer whose words keep her readers riveted until the end. Having worked with various brands under LVMH and Kering, she delves into the deep ends of haute couture and high fashion, bringing forth a new vision to her columns. She has a Master's degree in Fashion Communication from the renowned Istituto Marangoni, Milan.
[12] Omkar Chitnis
An alumnus of Sir J J Institute of Applied Arts, Omkar Chitnis ended up being a photographer for some retail bigwigs. Apart from his passionate fashion photography, he also stands out for his slice-of-life photography.