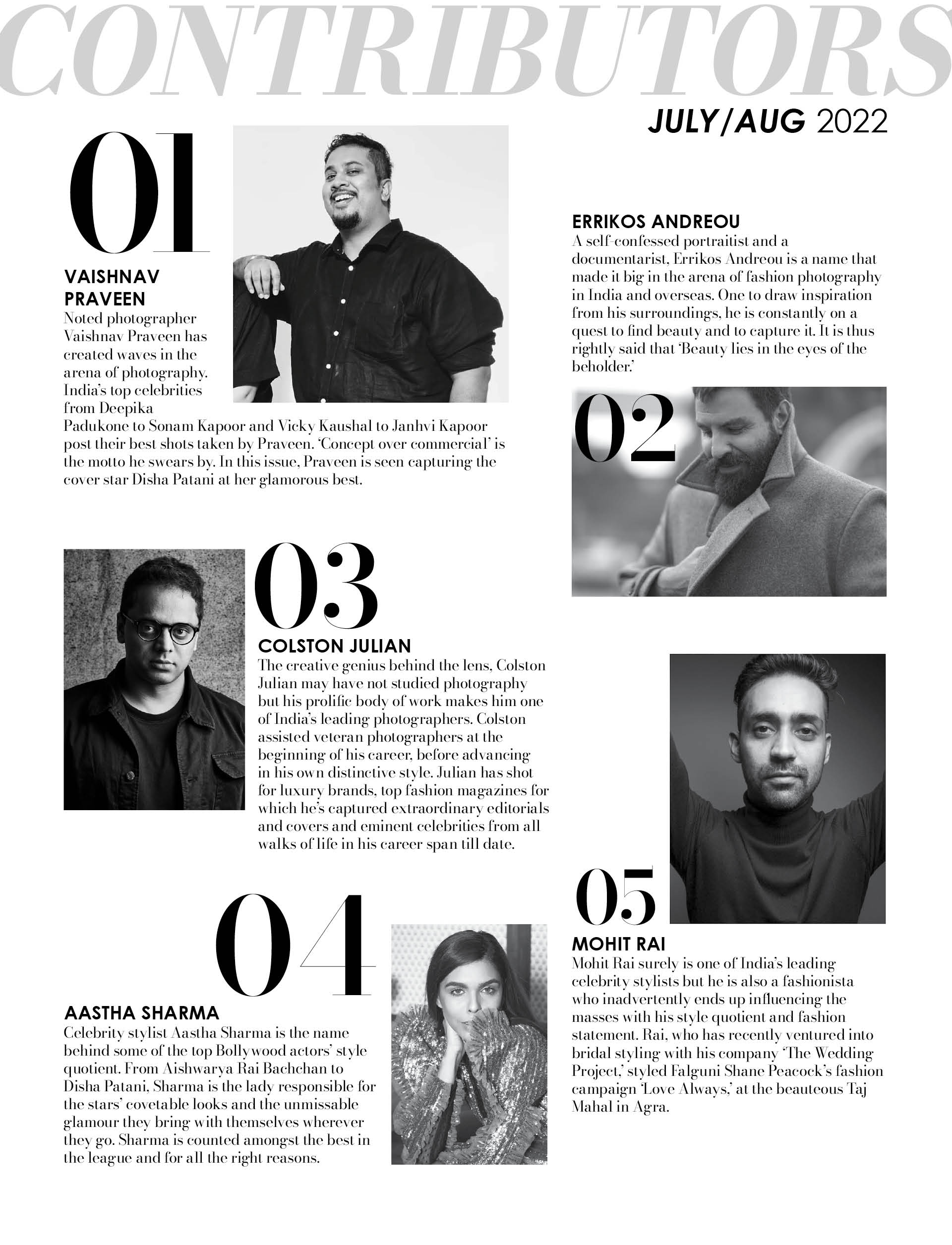 [1] Vaishnav Praveen
Noted photographer Vaishnav Praveen has created waves in the arena of photography. India's top celebrities from Deepika Padukone to Sonam Kapoor and Vicky Kaushal to Janhvi Kapoor post their best shots taken by Praveen. 'Concept over commercial' is the motto he swears by. In this issue, Praveen is seen capturing the cover star Disha Patani at her glamorous best.
[2] Errikos Andreou
A self-confessed portraitist and a documentarist, Errikos Andreou is a name that made it big in the arena of fashion photography in India and overseas. One to draw inspiration from his surroundings, he is constantly on a quest to find beauty and to capture it. It is thus rightly said that 'Beauty lies in the eyes of the beholder.'
[3] Colston Julian
The creative genius behind the lens, Colston Julian may have not studied photography but his prolific body of work makes him one of India's leading photographers. Colston assisted veteran photographers at the beginning of his career, before advancing in his own distinctive style. Julian has shot for luxury brands, top fashion magazines for which he's captured extraordinary editorials and covers and eminent celebrities from all walks of life in his career span till date.
[6] Aastha Sharma
Celebrity stylist Aastha Sharma is the name behind some of the top Bollywood actors' style quotient. From Aishwarya Rai Bachchan to Disha Patani, Sharma is the lady responsible for the stars' covetable looks and the unmissable glamour they bring with themselves wherever they go. Sharma is counted amongst the best in the league and for all the right reasons.
[5] Mohit Rai
Mohit Rai surely is one of India's leading celebrity stylists but he is also a fashionista who inadvertently ends up influencing the masses with his style quotient and fashion statement. Rai, who has recently ventured into bridal styling with his company 'The Wedding Project,' styled Falguni Shane Peacock's fashion campaign 'Love Always,' at the beauteous Taj Mahal in Agra.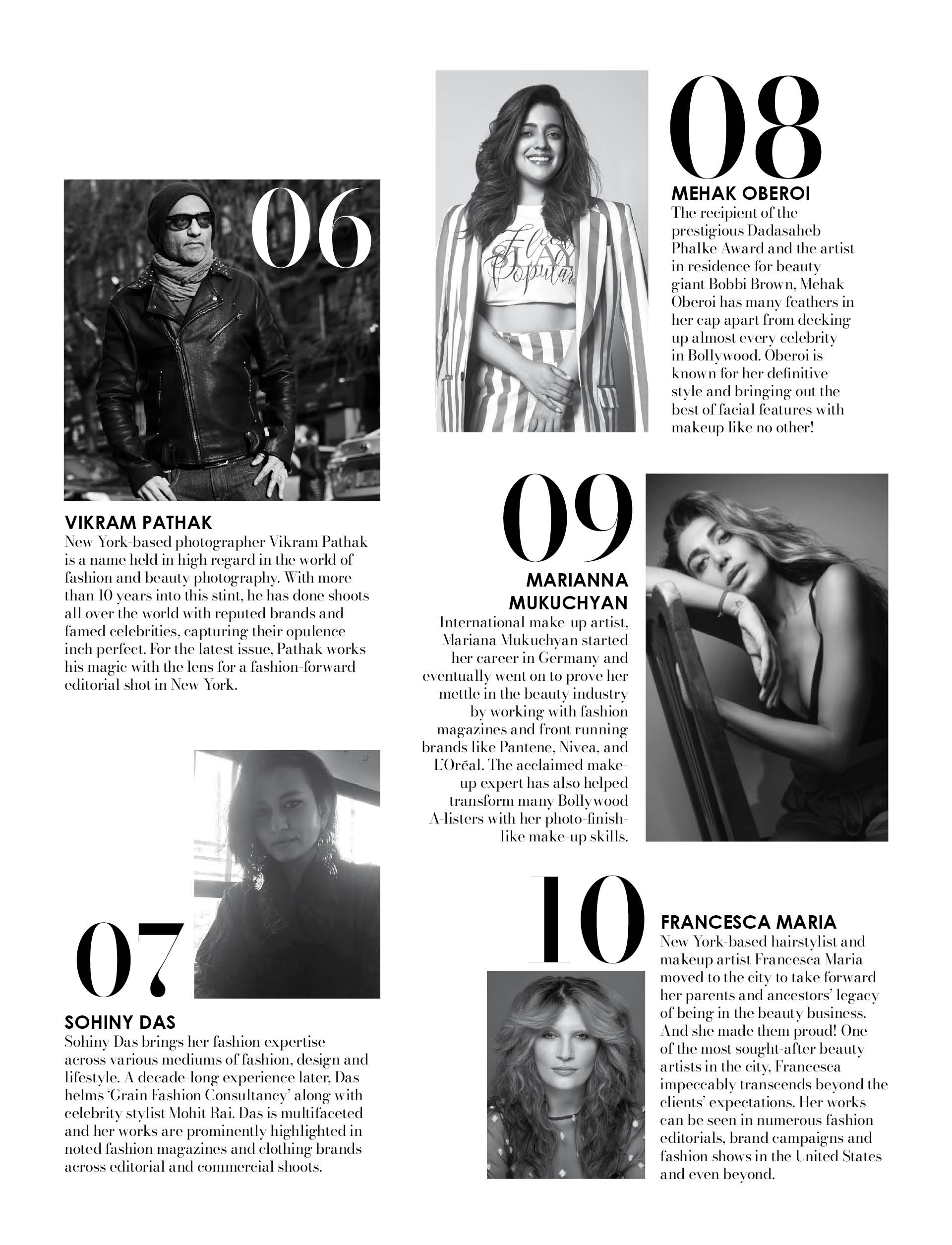 [6] Vikram Pathak
New York-based photographer Vikram Pathak is a name held in high regard in the world of fashion and beauty photography. With more than 10 years into this stint, he has done shoots all over the world with reputed brands and famed celebrities, capturing their opulence inch perfect. For the latest issue, Pathak works his magic with the lens for a fashion-forward editorial shot in New York.
[7] Sohiny Das
Sohiny Das brings her fashion expertise across various mediums of fashion, design and lifestyle. A decade-long experience later, Das helms 'Grain Fashion Consultancy' along with celebrity stylist Mohit Rai. Das is multifaceted and her works are prominently highlighted in noted fashion magazines and clothing brands across editorial and commercial shoots.
[8] Mehak Oberoi
The recipient of the prestigious Dadasaheb Phalke Award and the artist in residence for beauty giant Bobbi Brown, Mehak Oberoi has many feathers in her cap apart from decking up almost every celebrity in Bollywood. Oberoi is known for her definitive style and bringing out the best of facial features with makeup like no other!
[9] Marianna Mukuchyan
International make-up artist, Mariana Mukuchyan started her career in Germany and eventually went on to prove her mettle in the beauty industry by working with fashion magazines and front running brands like Pantene, Nivea, and L'Oréal. The acclaimed make-up expert has also helped transform many Bollywood A-listers with her photo-finish-like make-up skills.
[10] FRANCESCA MARIA
New York-based hairstylist and makeup artist Francesca Maria moved to the city to take forward her parents and ancestors' legacy of being in the beauty business. And she made them proud! One of the most sought-after beauty artists in the city, Francesca impeccably transcends beyond the clients' expectations. Her works can be seen in numerous fashion editorials, brand campaigns and fashion shows in the United States and even beyond.