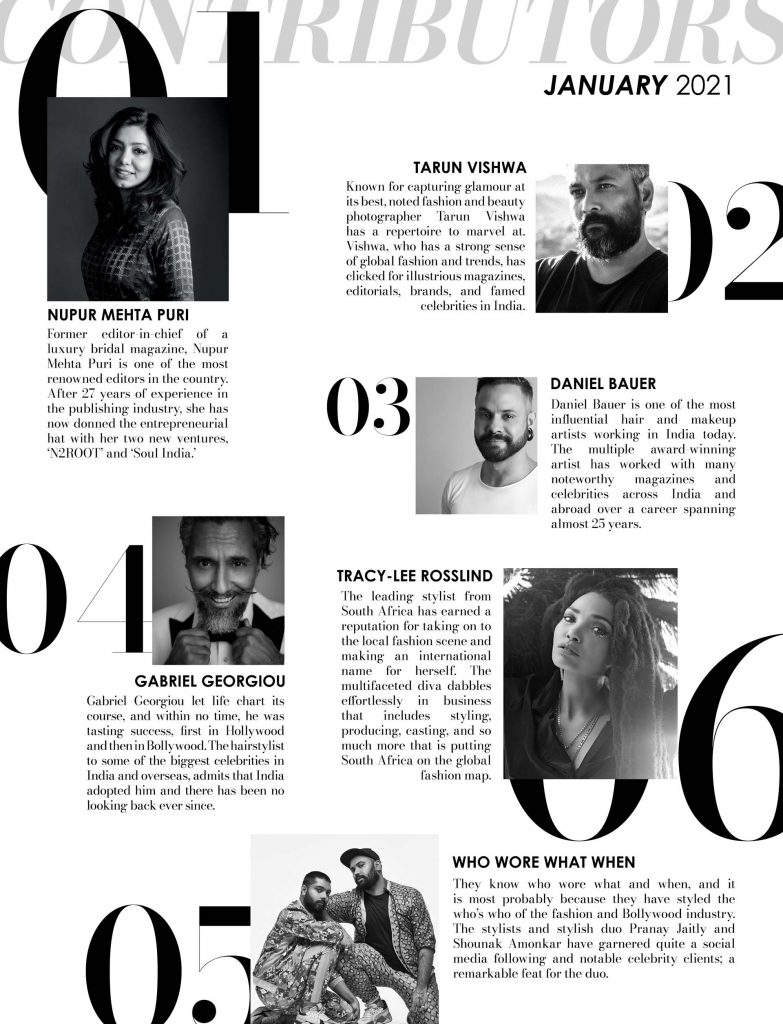 Nupur Mehta Puri
Former editor-in-chief of a luxury bridal magazine, Nupur Mehta Puri is one of the most renowned editors in the country. After 27 years of experience in the publishing industry, she has now donned the entrepreneurial hat with her two new ventures, 'N2ROOT' and 'Soul India.'
Tarun Vishwa
Known for capturing glamour at its best, noted fashion and beauty photographer Tarun Vishwa has a repertoire to marvel at. Vishwa, who has a strong sense of global fashion and trends, has clicked for illustrious magazines, editorials, brands, and famed celebrities in India.
Daniel Bauer
Regularly named as one of the most influential figures in Indian fashion, Daniel Bauer is the most influential hair and makeup artist working in India today. The multiple award-winning artist has worked with many noteworthy magazines and celebrities across India and abroad over a career spanning almost 25 years.
Gabriel Georgiou
Gabriel Georgiou let life chart its course, and within no time, he was tasting success, first in Hollywood and then in Bollywood. The hairstylist to some of the biggest celebrities in India and overseas, admits that India adopted him when he visited the country for an assignment and there has been no looking back ever since.
Tracy-Lee Rosslind
The leading stylist from South Africa has earned a reputation for taking on to the local fashion scene and making an international name for herself. The multifaceted diva dabbles effortlessly in business that includes styling, producing, casting, and so much more that is putting South Africa on the global fashion map.
Who Wore What When
They know who wore what and when, and it is most probably because they have styled the who's who of the fashion and Bollywood industry. The stylists and stylish duo Pranay Jaitly and Shounak Amonkar have garnered quite a social media following and notable celebrity clients; a remarkable feat for a brand that has just begun its journey.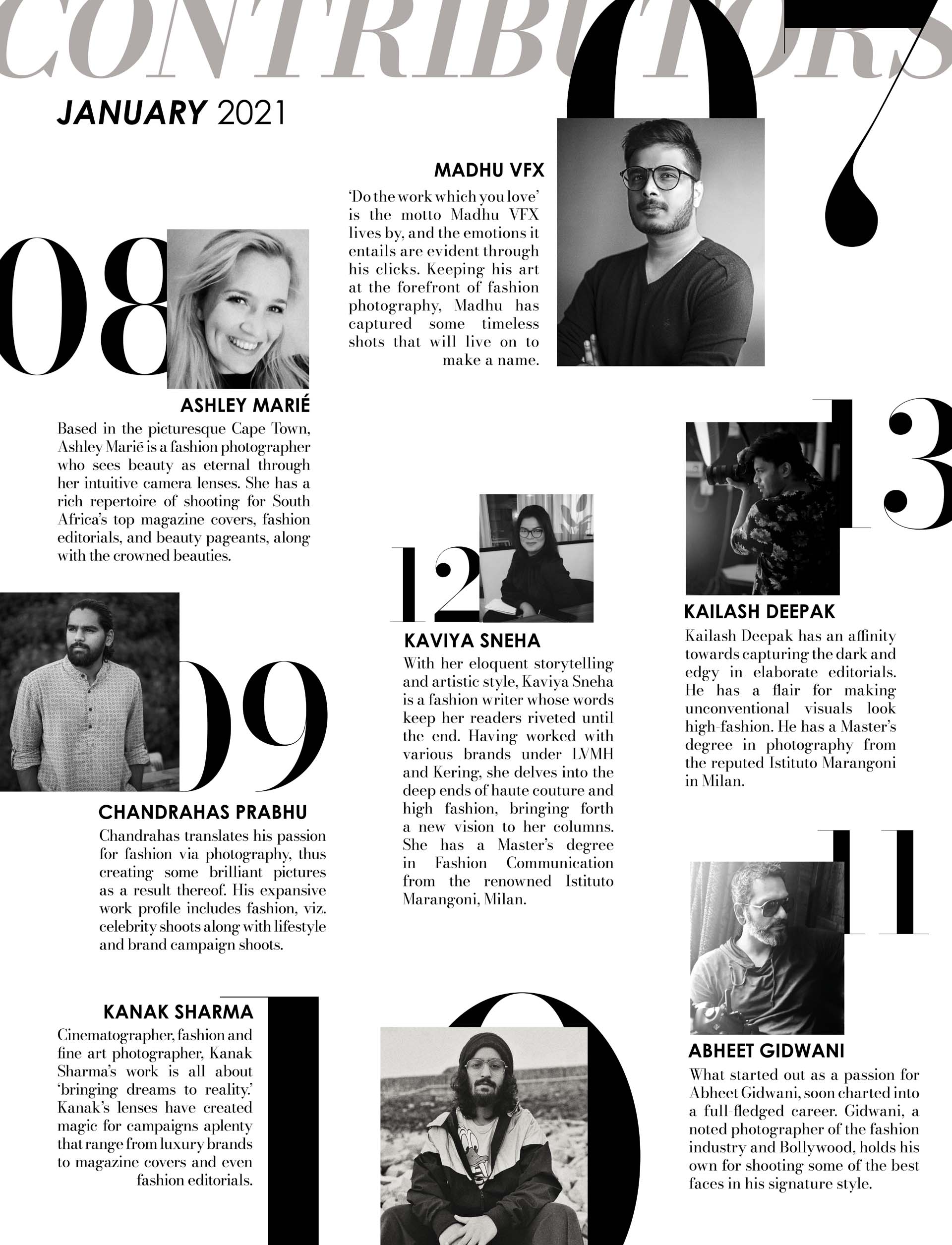 Madhu VFX
'Do the work which you love' is the motto Madhu VFX lives by, and the emotions it entails are evident through his clicks. Keeping his art at the forefront of fashion photography, Madhu has captured some timeless shots that will live on to make a name.
Ashley Marié
Based in the picturesque Cape Town in South Africa, Ashley Marié is a fashion photographer who sees beauty as eternal, especially African beauty through her intuitive camera lenses. She has a rich repertoire of shooting for South Africa's top magazine covers, fashion editorials, and beauty pageants, along with the crowned beauties.
Chandrahas Prabhu
Photographer Chandrahas Prabhu translates his passion for fashion via photography, thus creating some brilliant pictures as a result thereof. His expansive profile includes works mainly in the field of fashion, viz. celebrity shoots along with lifestyle and brand campaign shoots.
Kanak Sharma
Cinematographer, fashion and fine art photographer, Kanak Sharma's work is all about 'bringing dreams to reality.' Kanak's lenses have created magic for campaigns aplenty that range from luxury brands to magazine covers and even fashion editorials.
Kaviya Sneha
With her eloquent storytelling and artistic style, Kaviya Sneha is a fashion writer whose words keep her readers riveted until the end. Having worked with various brands under LVMH and Kering, she delves into the deep ends of haute couture and high fashion, bringing forth a new vision to her columns. She has a Master's degree in Fashion Communication from the renowned Istituto Marangoni, Milan.
Kailash Deepak
Fashion photographer and cinematographer, Kailash Deepak has an affinity towards capturing the dark and edgy in elaborate editorials. He has a flair for making unconventional visuals look tasteful and high-fashion. He has a Master's degree in photography from the reputed Istituto Marangoni in Milan.
Abheet Gidwani
What started out as a passion for Abheet Gidwani, soon charted into a full-fledged career. Gidwani, a noted photographer of the fashion industry and Bollywood, holds his own for shooting some of the best faces in his signature style.