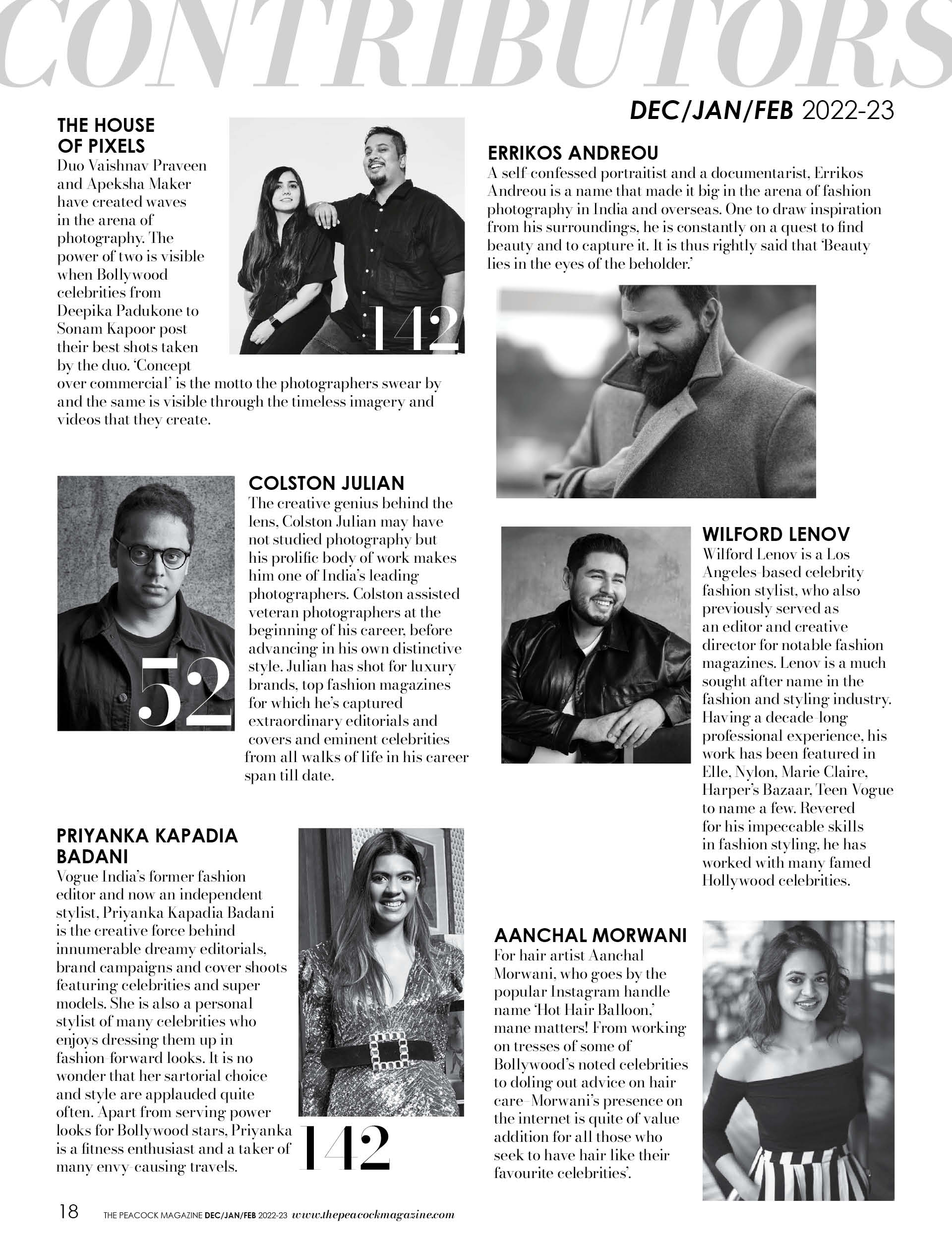 [1] The House of Pixels
Duo Vaishnav Praveen and Apeksha Maker have created waves in the arena of photography. The power of two is visible when Bollywood celebrities from Deepika Padukone to Sonam Kapoor post their best shots taken by the duo. 'Concept over commercial' is the motto the photographers swear by and the same is visible through the timeless imagery and videos that they create.
[2] Colston Julian
A creative genius behind the lens, Colston Julian may have not studied photography but his prolific body of work makes him one of India's leading photographers. Julian assisted veteran photographers at the beginning of his career, before pursuing his own distinctive style. Julian has shot for luxury brands and some top fashion magazines capturing extraordinary editorials and covers featuring eminent celebrities from all walks of life till date.
[3] Priyanka Kapadia Badani
Vogue India's former fashion editor and now an independent stylist, Priyanka Kapadia Badani is the creative force behind innumerable dreamy editorials, brand campaigns and cover shoots featuring celebrities and supermodels. A personal stylist of many celebrities, Badani's own sartorial choice and style also enjoy a fan following of their own. As an icing on the fashion cake, Priyanka is also a fitness enthusiast and free-spirited traveller.
[6] Errikos Andreou
A self-confessed portraitist and a documentarist, Errikos Andreou is a name that made it big in the arena of fashion photography in India and overseas. Living up to the maxim of 'Beauty lies in the eyes of the beholder, ' he is constantly on a quest to find beauty and to capture it.
[5] Aanchal Morwani
For hair artist Aanchal Morwani, who goes by the popular Instagram handle name 'Hot Hair Balloon,' mane matters! From working on tresses of some of Bollywood's noted celebrities to doling out advice on hair care — Morwani's online content adds value for all those who seek to have hair like that of their favourite celebrities.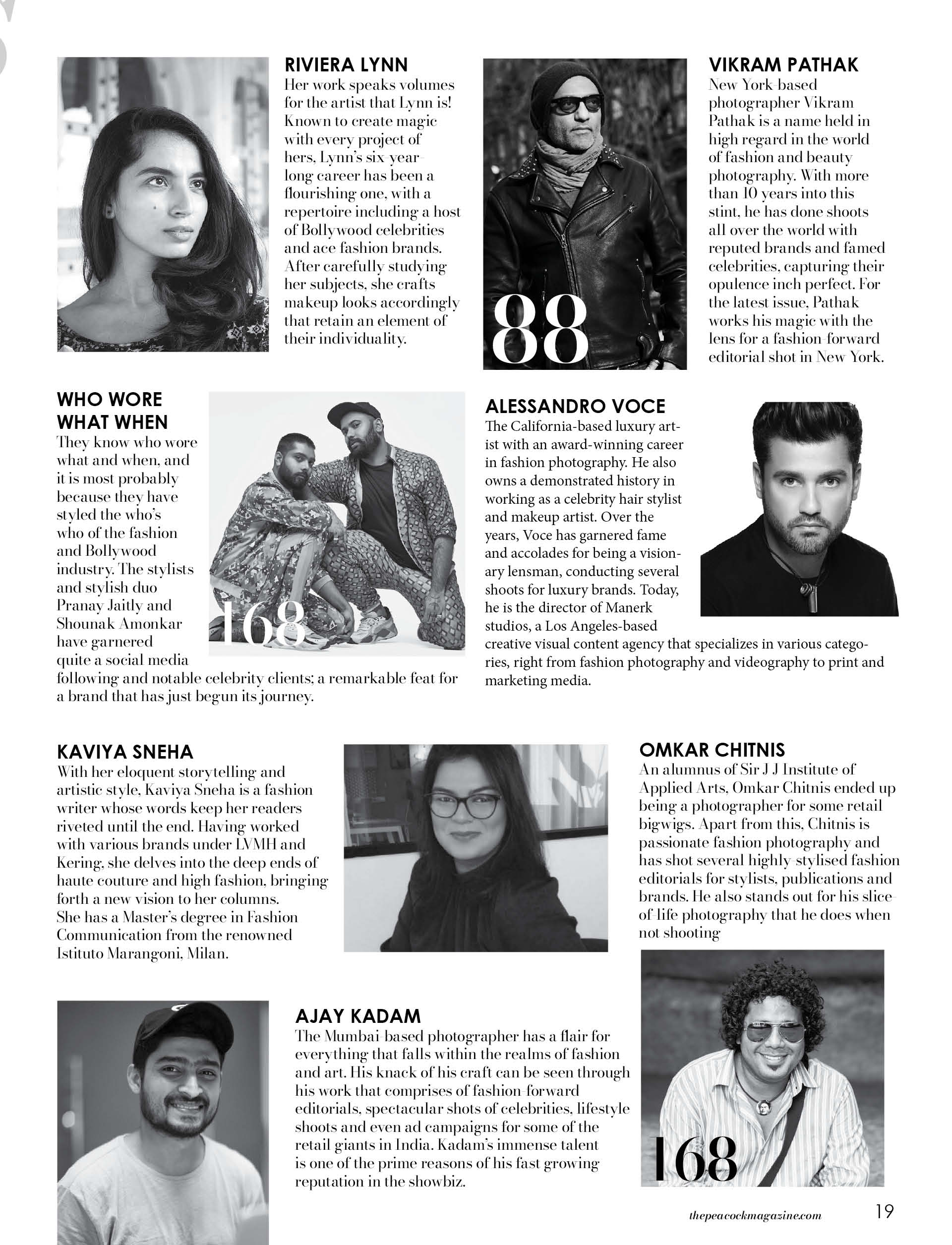 [6] Riviera Lynn
Her work speaks volumes for the artist that Lynn is! Known to create magic with every project of hers, Lynn's six-year-long career has been a flourishing one, with a repertoire including a host of Bollywood celebrities and ace fashion brands. After carefully studying her subjects, she crafts suitable makeup looks that retain an element of their individuality.
[7] Who Wore What When
They know who wore what and when, and it is most probably because they have styled the who's who of the fashion and Bollywood industry. The stylists and stylish duo Pranay Jaitly and Shounak Amonkar have garnered quite a social media following and notable celebrity clients; a remarkable feat for a brand that has just begun its journey.
[8] Kaviya Sneha
With her eloquent storytelling and artistic style, Kaviya Sneha is a fashion writer whose words keep her readers riveted until the end. Having worked with various brands under LVMH and Kering, she delves into the deep ends of haute couture and high fashion, bringing forth a new vision to her columns. She has a Master's degree in Fashion Communication from the renowned Istituto Marangoni, Milan.
[9] Ajay Kadam
The Mumbai-based photographer has a flair for everything that falls within the realms of fashion and art. His knack for his craft can be seen through his work that comprises fashion-forward editorials, spectacular shots of celebrities, lifestyle shoots and even ad campaigns for some of the retail giants in India. Kadam's immense talent is one of the prime reasons for his fast-growing reputation in showbiz.
[10] Vikram Pathak
New York-based hairstylist and makeup artist Francesca Maria moved to the city to take forward her parents and ancestors' legacy of being in the beauty business. And she made them proud! One of the most sought-after beauty artists in the city, Francesca impeccably transcends beyond the clients' expectations. Her works can be seen in numerous fashion editorials, brand campaigns and fashion shows in the United States and even beyond.
[11] Omkar Chitnis
An alumnus of Sir J J Institute of Applied Arts, Omkar Chitnis ended up being a photographer for some retail bigwigs. Apart from this, Chitnis is passionate about fashion photography and has shot several fashion editorials for stylists, publications and brands. He also stands out for his slice-of-life photography that he does when not shooting hyper-stylised campaigns.