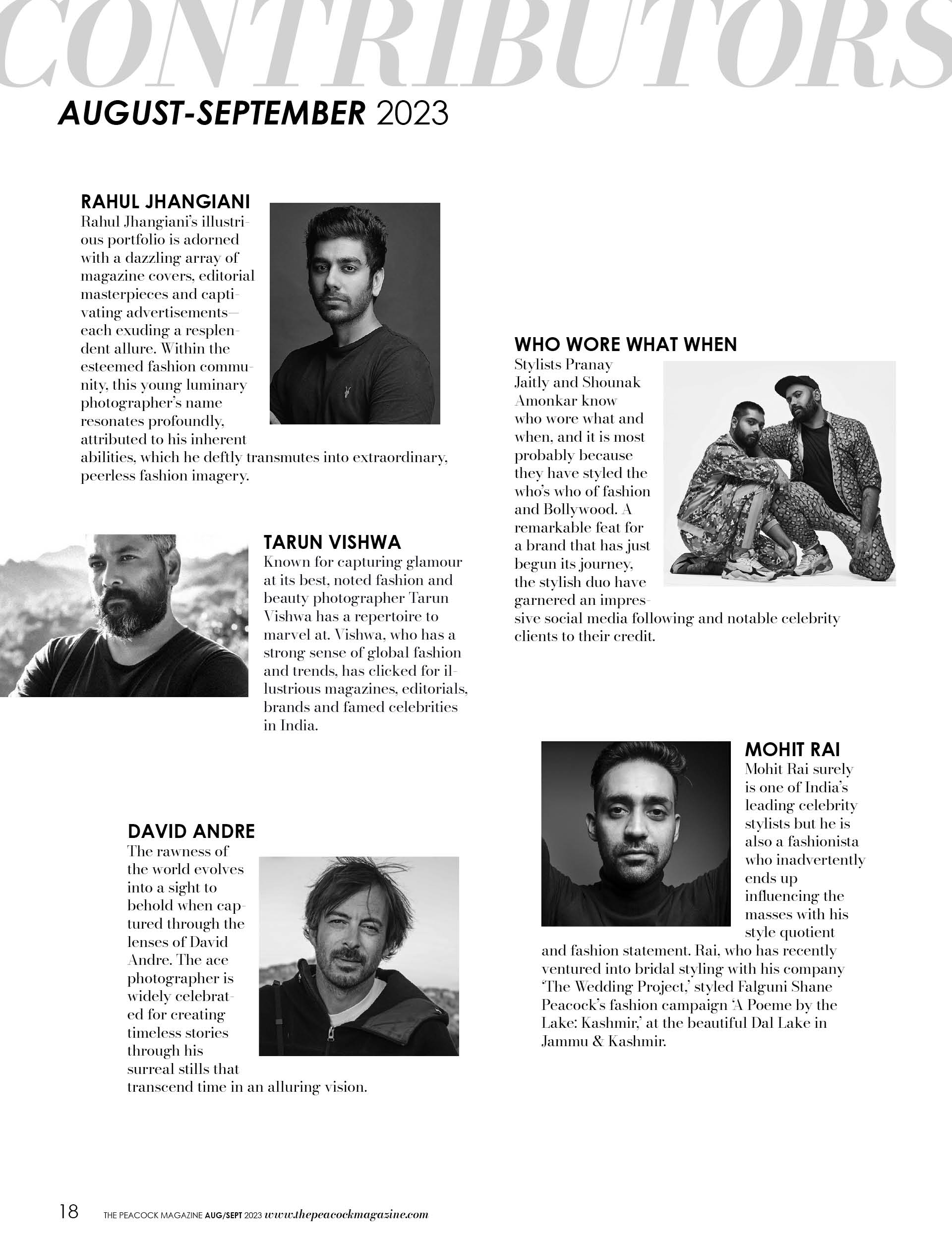 RAHUL JHANGIANI
Rahul Jhangiani's illustrious portfolio is adorned with a dazzling array of magazine covers, editorial masterpieces and captivating advertisements—each exuding a resplendent allure. Within the esteemed fashion community, this young luminary photographer's name resonates profoundly, attributed to his inherent abilities, which he deftly transmutes into extraordinary, peerless fashion imagery.
WHO WORE WHAT WHEN
Stylists Pranay Jaitly and Shounak Amonkar know who wore what and when, and it is most probably because they have styled the who's who of fashion and Bollywood. A remarkable feat for a brand that has just begun its journey, the stylish duo have garnered an impressive social media following and notable celebrity clients to their credit.
TARUN VISHWA
Known for capturing glamour at its best, noted fashion and beauty photographer Tarun Vishwa has a repertoire to marvel at. Vishwa, who has a strong sense of global fashion and trends, has clicked for illustrious magazines, editorials, brands and famed celebrities in India.
MOHIT RAI
Mohit Rai surely is one of India's leading celebrity stylists but he is also a fashionista who inadvertently ends up influencing the masses with his style quotient and fashion statement. Rai, who has recently ventured into bridal styling with his company 'The Wedding Project,' styled Falguni Shane Peacock's fashion campaign 'A Poeme by the Lake: Kashmir,' at the beautiful Dal Lake in Jammu & Kashmir.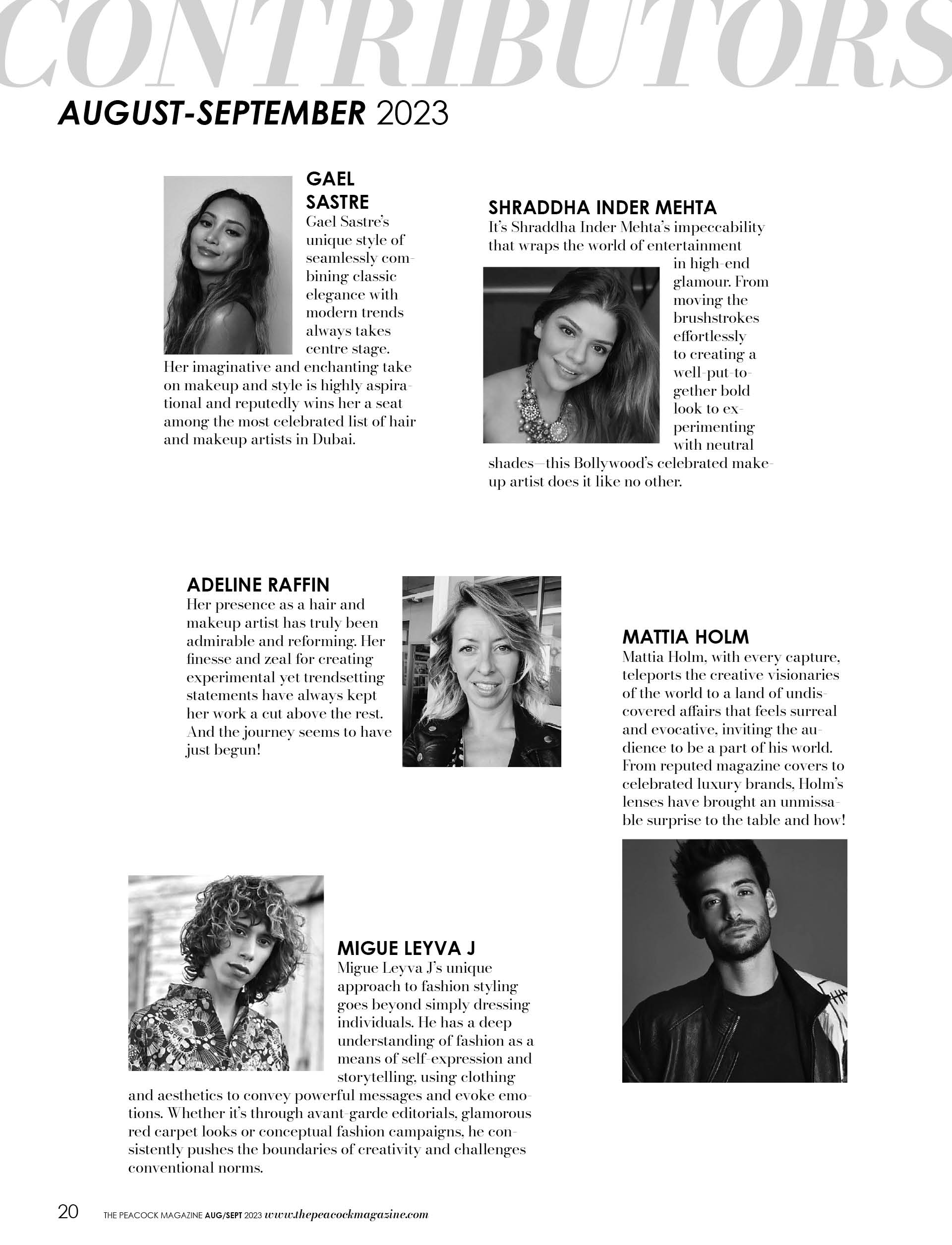 GAEL SASTRE
Gael Sastre's unique style of seamlessly combining classic elegance with modern trends always takes centre stage. Her imaginative and enchanting take on makeup and style is highly aspirational and reputedly wins her a seat among the most celebrated list of hair and makeup artists in Dubai.
SHRADDHA INDER MEHTA
It's Shraddha Inder Mehta's impeccability that wraps the world of entertainment in high-end glamour. From moving the brushstrokes effortlessly to creating a well-put-together bold look to experimenting with neutral shades—this Bollywood's celebrated makeup artist does it like no other.
ADELINE RAFFIN
Her presence as a hair and makeup artist has truly been admirable and reforming. Her finesse and zeal for creating experimental yet trendsetting statements have always kept her work a cut above the rest. And the journey seems to have just begun!
MATTIA HOLM
Mattia Holm, with every capture, teleports the creative visionaries of the world to a land of undiscovered affairs that feels surreal and evocative, inviting the audience to be a part of his world. From reputed magazine covers to celebrated luxury brands, Holm's lenses have brought an unmissable surprise to the table and how!
MIGUE LEYVA J
Migue Leyva J's unique approach to fashion styling goes beyond simply dressing individuals. He has a deep understanding of fashion as a means of self-expression and storytelling, using clothing and aesthetics to convey powerful messages and evoke emotions. Whether it's through avant-garde editorials, glamorous red carpet looks or conceptual fashion campaigns, he consistently pushes the boundaries of creativity and challenges conventional norms.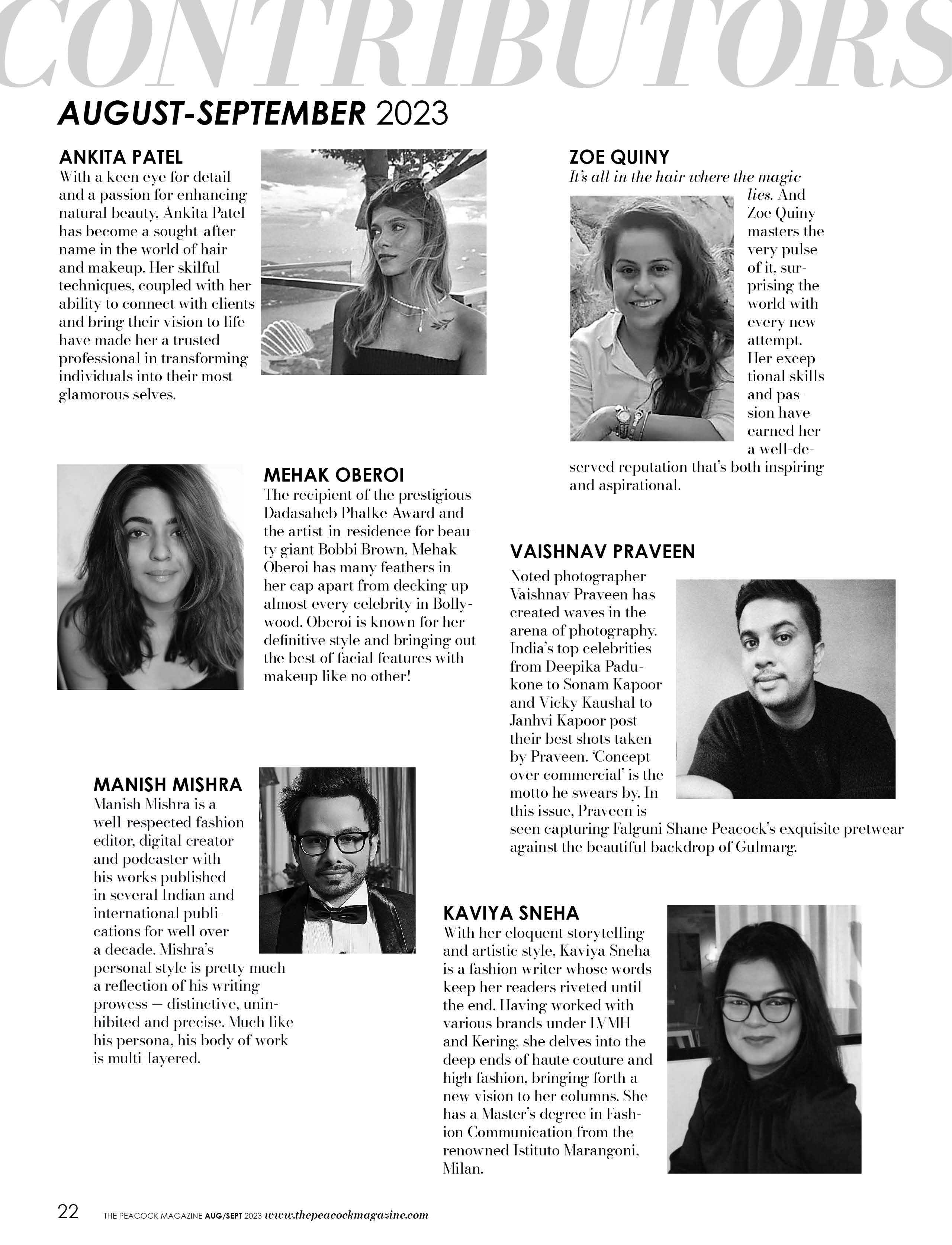 ANKITA PATEL
With a keen eye for detail and a passion for enhancing natural beauty, Ankita Patel has become a sought-after name in the world of hair and makeup. Her skilful techniques, coupled with her ability to connect with clients and bring their vision to life have made her a trusted professional in transforming individuals into their most glamorous selves.
ZOE QUINY
It's all in the hair where the magic lies. And Zoe Quiny masters the very pulse of it, surprising the world with every new attempt. Her exceptional skills and passion have earned her a well-deserved reputation that's both inspiring and aspirational.
MEHAK OBEROI
The recipient of the prestigious Dadasaheb Phalke Award and the artist-in-residence for beauty giant Bobbi Brown, Mehak Oberoi has many feathers in her cap apart from decking up almost every celebrity in Bollywood. Oberoi is known for her definitive style and bringing out the best of facial features with makeup like no other!
VAISHNAV PRAVEEN
Noted photographer Vaishnav Praveen has created waves in the arena of photography. India's top celebrities from Deepika Padukone to Sonam Kapoor and Vicky Kaushal to Janhvi Kapoor post their best shots taken by Praveen. 'Concept over commercial' is the motto he swears by. In this issue, Praveen is seen capturing Falguni Shane Peacock's exquisite pretwear against the beautiful backdrop of Gulmarg.
MANISH MISHRA
Manish Mishra is a well-respected fashion editor, digital creator and podcaster with his works published in several Indian and international publications for well over a decade. Mishra's personal style is pretty much a reflection of his writing prowess — distinctive, uninhibited and precise. Much like his persona, his body of work is multi-layered.
KAVIYA SNEHA
With her eloquent storytelling and artistic style, Kaviya Sneha is a fashion writer whose words keep her readers riveted until the end. Having worked with various brands under LVMH and Kering, she delves into the deep ends of haute couture and high fashion, bringing forth a new vision to her columns. She has a Master's degree in Fashion Communication from the renowned Istituto Marangoni, Milan.