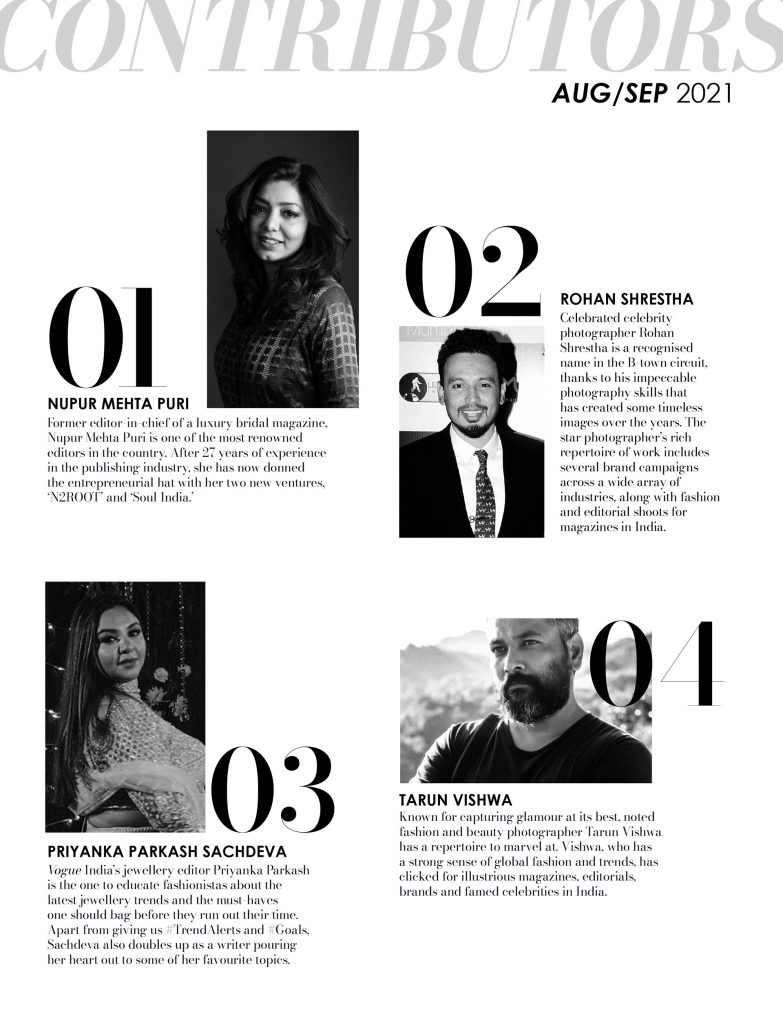 [1] Nupur Mehta Puri
Former editor-in-chief of a luxury bridal magazine, Nupur Mehta Puri is one of the most renowned editors in the country. After 27 years of experience in the publishing industry, she has now donned the entrepreneurial hat with her two new ventures, 'N2ROOT' and 'Soul India.'
[2] Rohan Shrestha
Celebrated celebrity photographer Rohan Shrestha is a recognised name in the B-town circuit, thanks to his impeccable photography skills that has created some timeless images over the years. The star photographer's rich repertoire of work includes several brand campaigns across a wide array of industries, along with fashion and editorial shoots for magazines in India.
[3] Priyanka Parkash Sachdeva
Vogue India's jewellery editor Priyanka Parkash is the one to educate fashionistas about the latest jewellery trends and the must-haves one should bag before they run out their time. Apart from giving us #TrendAlerts and #Goals, Sachdeva also doubles up as a writer pouring her heart out to some of her favourite topics.
[4] Tarun Vishwa
Known for capturing glamour at its best, noted fashion and beauty photographer Tarun Vishwa has a repertoire to marvel at. Vishwa, who has a strong sense of global fashion and trends, has clicked for illustrious magazines, editorials, brands and famed celebrities in India.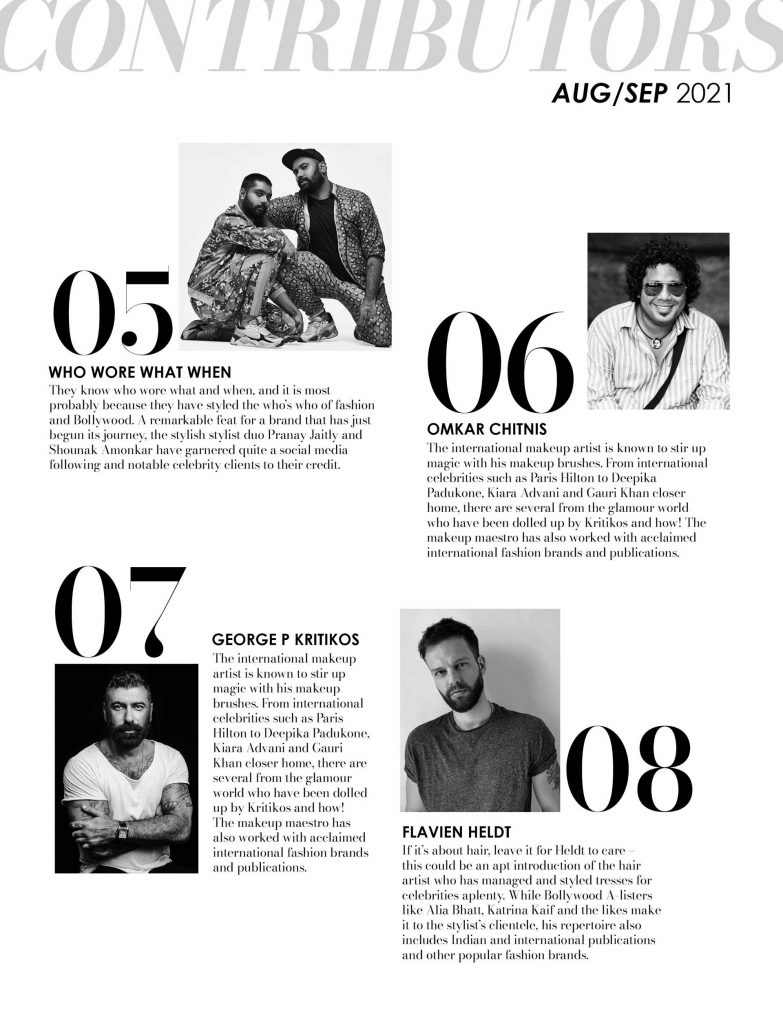 [5] Who Wore What When
They know who wore what and when, and it is most probably because they have styled the who's who of fashion and Bollywood. A remarkable feat for a brand that has just begun its journey, the stylish stylist duo Pranay Jaitly and Shounak Amonkar have garnered quite a social media following and notable celebrity clients to their credit.
[6] Omkar Chitnis
An alumnus of Sir J J Institute of Applied Arts, Omkar Chitnis ended up being a photographer for some retail bigwigs. Apart from his passionate fashion photography, he also stands out for his slice-of-life photography.
[7] George P Kritikos
The international makeup artist is known to stir up magic with his makeup brushes. From international celebrities such as Paris Hilton to Deepika Padukone, Kiara Advani and Gauri Khan closer home, there are several from the glamour world who have been dolled up by Kritikos and how! The makeup maestro has also worked with acclaimed international fashion brands and publications.
[8] Flavien Heldt
If it's about hair, leave it for Heldt to care — this could be an apt introduction of the hair artist who has managed and styled tresses for celebrities aplenty. While Bollywood A-listers like Alia Bhatt, Katrina Kaif and the likes make it to the stylist's clientele, his repertoire also includes Indian and international publications and other popular fashion brands.
[9] Adrian Jacobs
Working his magic on the faces of Kriti Sanon, Sara Ali Khan, Janhvi Kapoor and many more is noted makeup artist Adrian Jacobs. Jacobs took his love of makeup a notch higher when he launched his own makeup academy to impart his exemplary skills and hone those of the young and enthusiastic lot who harbour the big makeup dream.
[10] Aasif Ahmed
The snip specialist is the 'mane' man to Kriti Sanon, Alia Bhatt, Parineeti Chopra and many Bollywood actors. Aasif Ahmed is responsible for setting high hair goals in the fashion and film arena. The usually low-profile artist is a firm believer of letting his work do the talking, while constantly working towards upgrading his hair art in the hindsight.