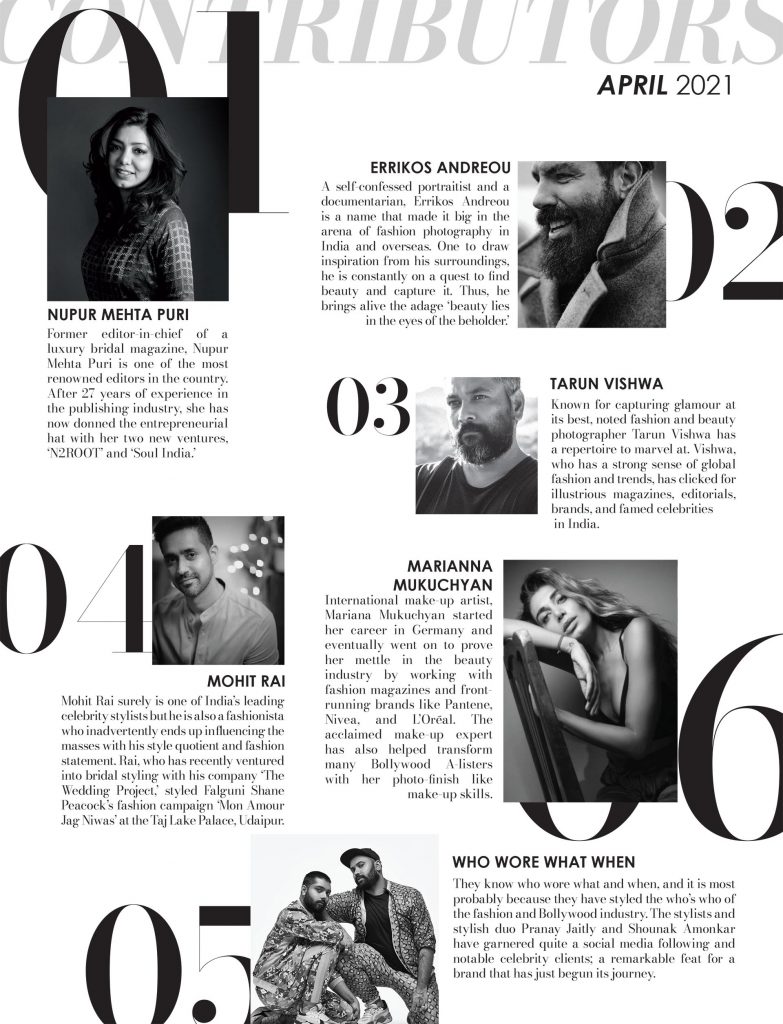 Nupur Mehta Puri
Former editor-in-chief of a luxury bridal magazine, Nupur Mehta Puri is one of the most renowned editors in the country. After 27 years of experience in the publishing industry, she has now donned the entrepreneurial hat with her two new ventures, 'N2ROOT' and 'Soul India.'
Errikos Andreou
A self-confessed portraitist and a documentarian, Errikos Andreou is a name that made it big in the arena of fashion photography in India and overseas. One to draw inspiration from his surroundings, he is constantly on a quest to find beauty and capture it. Thus, he brings alive the adage 'beauty lies in the eyes of the beholder.'
Tarun Vishwa
Known for capturing glamour at its best, noted fashion and beauty photographer Tarun Vishwa has a repertoire to marvel at. Vishwa, who has a strong sense of global fashion and trends, has clicked for illustrious magazines, editorials, brands, and famed celebrities in India.
Mohit Rai
Mohit Rai surely is one of India's leading celebrity stylists but he is also a fashionista who inadvertently ends up influencing the masses with his style quotient and fashion statement. Rai, who has recently ventured into bridal styling with his company 'The Wedding Project,' styled Falguni Shane Peacock's fashion campaign 'Mon Amour Jag Niwas' at the Taj Lake Palace, Udaipur.
Who Wore What When
They know who wore what and when, and it is most probably because they have styled the who's who of the fashion and Bollywood industry. The stylists and stylish duo Pranay Jaitly and Shounak Amonkar have garnered quite a social media following and notable celebrity clients; a remarkable feat for a brand that has just begun its journey.
Marianna Mukuchyan
International make-up artist, Mariana Mukuchyan started her career in Germany and eventually went on to prove her mettle in the beauty industry by working with fashion magazines and front-running brands like Pantene, Nivea, and L'Oréal. The acclaimed make-up expert has also helped transform many Bollywood A-listers with her photo-finish like make-up skills.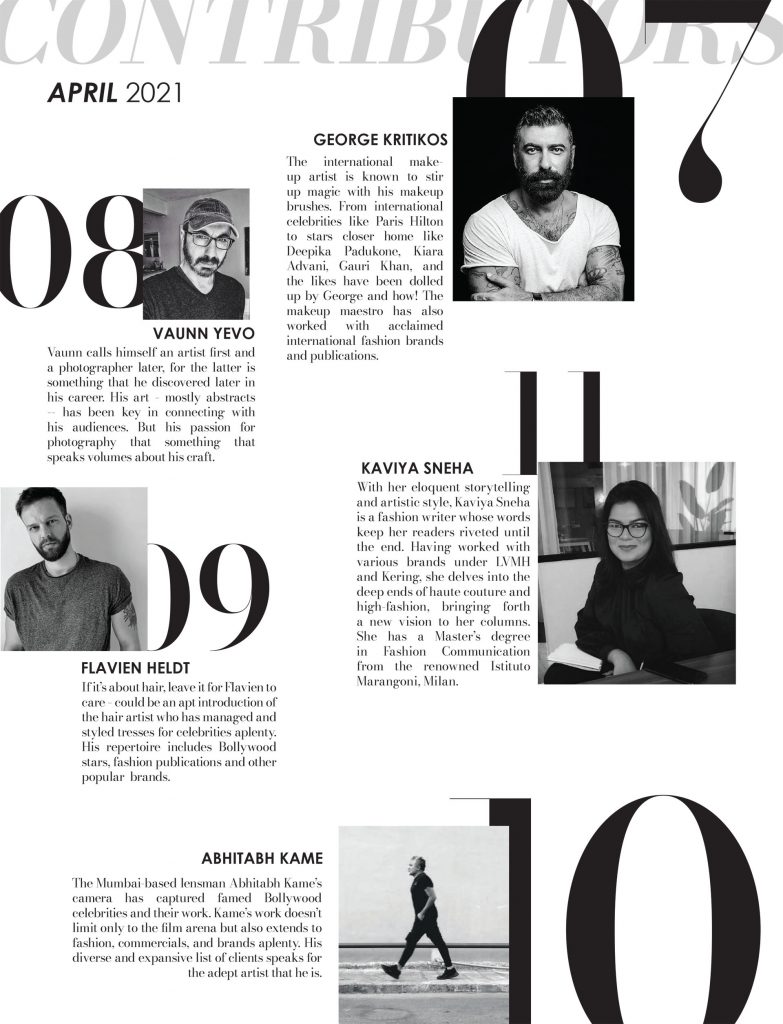 George Kritikos
The international make-up artist is known to stir up magic with his makeup brushes. From international celebrities like Paris Hilton to stars closer home like Deepika Padukone, Kiara Advani, Gauri Khan, and the likes have been dolled up by George and how! The makeup maestro has also worked with acclaimed international fashion brands and publications.
Vaunn Yevo
Vaunn calls himself an artist first and a photographer later, for the latter is something that he discovered later in his career. Until then, his art – mostly abstracts — has been key in connecting with his audiences. But his passion for photography and perfecting every image to make it a photograph is something that speaks volumes about his craft.
Flavien Heldt
If it's about hair, leave it for Flavien to care – could be an apt introduction of the hair artist who has managed and styled tresses for celebrities aplenty. Bollywood A-listers like Alia Bhatt, Katrina Kaif, and the likes make it to the stylists' clientele list. His repertoire also includes Indian and international publications and other popular fashion brands.
Abhitabh Kame
The Mumbai-based lensman Abhitabh Kame's camera has captured famed Bollywood celebrities and their work. Kame's work doesn't limit only to the film arena but also extends to fashion, commercials, and brands aplenty. His diverse and expansive list of clients speaks for the adept artist that he is.
Kaviya Sneha
With her eloquent storytelling and artistic style, Kaviya Sneha is a fashion writer whose words keep her readers riveted until the end. Having worked with various brands under LVMH and Kering, she delves into the deep ends of haute couture and high-fashion, bringing forth a new vision to her columns. She has a Master's degree in Fashion Communication from the renowned Istituto Marangoni, Milan.