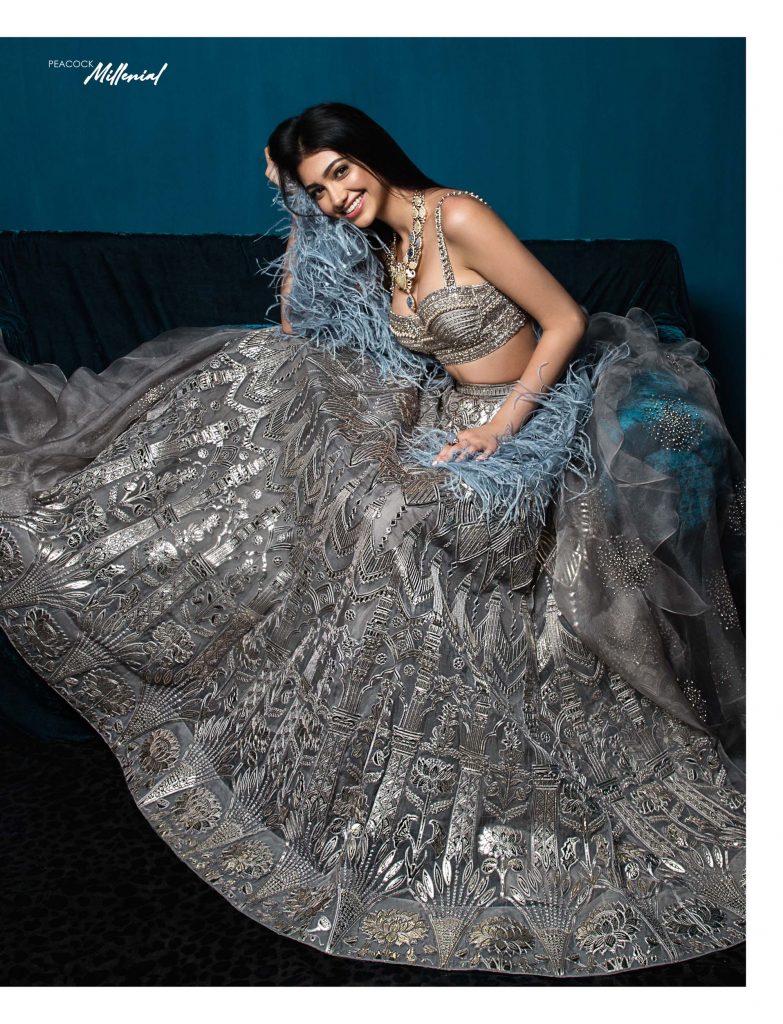 ALANNA PANDAY
NOUVEAU ACT
BLOGGER | INFLUENCER | MODEL
We caught up with this Instagram mover-and-shaker to get an insight into her life, her stint with fashion, and the life lessons she's learned so far. Take a look!
Alanna Panday has given numerous models a run for their money and for every right reason. A deadly combo of blogger, influencer, and model, Alanna made news even before she officially entered the limelight. Daughter of businessman Chikki Panday and fitness expert and author Deanne Panday; has become a national crush, thanks to her lit Instagram profile.
The 24-year-old popular millennial graduated from London College of Fashion, and her fashion aesthetics are proof of how well-versed she is she in her sartorial game. Alanna is also an avid traveler and takes to her blog to narrate the travel and fashion stories from her sojourn. Her social media presence is top-notch and has 'approved' written all over it. Apart from her blessed genes, it is her distinctive sense of fashion, her super personal style, and her excellent understanding of brands and their aesthetics, that keeps her at the top of her game. After modeling for ace designers, the leggy lass is rumoured to make her debut in Bollywood, and we can already vouch that she will go on to become a camera's darling in no time.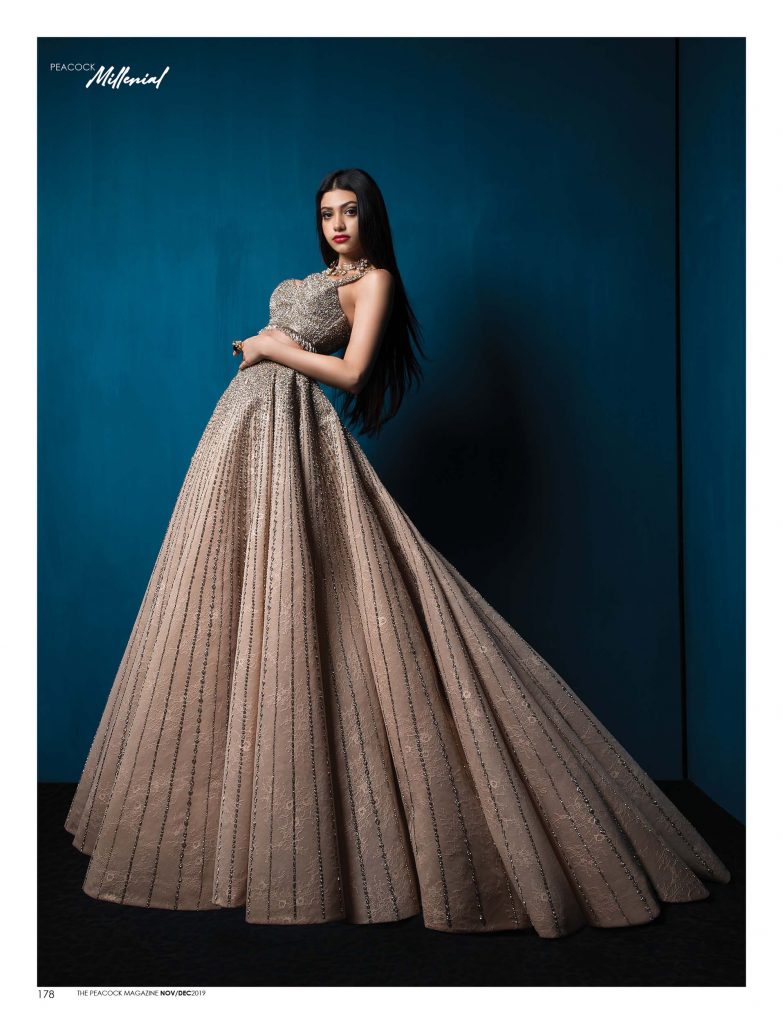 [Q] WHAT WAS THE FIRST INSTAGRAM PICTURE YOU BLOGGED ABOUT?
"It was really long ago, so I'm not too sure. I think it was a trip my boyfriend and I took to Mykonos.
[Q] WHAT DOES A DAY IN ALANNA PANDAY'S LIFE LOOK LIKE?
"That's very hard to say because I don't have a routine. Some days I'm traveling, others are shoots back to back, and some days are just relaxed.
[Q] WHAT ARE THE PERSONAL TECH TOOLS YOU USE?
"My iPhone, of course! My iPad, ear pods, DSLR, and GoPro. These are also my travel essentials.
[Q] WHO ARE YOUR ROLE MODELS?
"Too many to list! I follow a lot of models on Instagram and usually draw inspiration from them.
[Q] WHO/WHAT WAS YOUR BIGGEST INFLUENCE WHEN YOU STARTED OUT?
"My mother has always been a driving force in whatever I've done. She's always pushed me to do what I love, which is this.
[Q] WHAT IS THE BEST AND WORST THING ABOUT BEING AN INFLUENCER?
"You get to travel a lot and experience new things. Definitely the PR packages too! It's like it's your birthday every day. I can't really think of anything negative besides an erratic lifestyle. I'm always jet-lagged because of the travel.
[Q] WHAT KEEPS YOU GOING WHEN THINGS ARE TOUGH?
"My family and my boyfriend.
[Q] WHAT ARE SOME OF THE COMMON MISCONCEPTIONS PEOPLE HAVE ABOUT INFLUENCERS?
"That it's only about taking "good pictures." There's so much more work that goes into it that people don't see. Some people also don't think it's a "real job," which is ridiculous because they don't realize how much money is in that market.
[Q] ARE THERE DAYS WHEN YOU WANT TO GO ON A DIGITAL DETOX? WHAT DO YOU DO THEN?
"Yes! There are days I want to throw my phone away. I usually do a spa day or on a weekend when I need a break. But then I can't control myself, and I'll probably post a story or two – that's the irony.
[Q] IS THERE ANYTHING YOU WOULD DO DIFFERENTLY IF YOU WERE STARTING OUT NOW?
"Yes, so much. I would definitely choose the brands I work with more wisely. For me, it's not about the money; I just want to work with brands I love even if it means posting less. I won't post about something I don't use or trust just because I'm being paid to do so.
[Q] WHAT WOULD YOU BE IF NOT AN INFLUENCER?
"Nothing, I love my job!
[Q] WHAT ADVICE DO YOU HAVE FOR INFLUENCERS/BLOGGERS THAT ARE STARTING OUT?
"Please work with brands you love and can relate to! Don't post about stuff just because you're being paid to do so. Your followers need to trust you for your family to grow, and that can only happen when you actually use what you're promoting.
[Q] TELL US ABOUT YOUR FIRST FASHION MEMORY.
"My first fashion memory was a shoot I did for my mom's friend when I was 10. I think it was with my sisters Ananya and Aaliya.
[Q] STYLE TO YOU IS?
"It's hard to define style because I think it's something very personal. Something that is stylish to me might be considered hideous by another person. You can say, "Style is how we use clothes to portray our personalities."
[Q] WHAT IS YOUR FAVORITE HACK FOR THE RED CARPET?
"Go for anything with a cinched waist or a slit and lots and lots of highlighter.
[Q] WHAT'S YOUR FAVORITE FASHION TREND?
"Right now, it's definitely the mini bags!
[Q] WHAT'S THAT ONE FASHION TREND YOU'D NOT BE SEEN IN?
"A bucket hat. It's not like I hate them I think it looks cool on other people I just don't think it would suit me.
[Q] WHAT IS YOUR FAVORITE ITEM FROM YOUR CLOSET?
"That's a tough one. I think I'll go with my Chanel bag because it's classic and timeless and goes with everything.
[Q] WHAT ARE YOUR FAVORITE TIMELESS WARDROBE STAPLES?
"Ripped denim jeans, nude heels, and a classic black or beige bag that goes with everything.
[Q] WHAT ARE SOME ITEMS THAT ARE TOTALLY WORTH THE SPLURGE?
"Bag and shoes.
[Q] DO YOU WEAR YOUR FAVORITE PIECE TILL ITS DEATH? IF YES, WHAT WAS THE LAST PIECE YOU WORE TILL IT RAGGED?
"Yes, I have one pair of tracks that are so old, but I refuse to throw them because they're so comfortable!
[Q] WHO, ACCORDING TO YOU, ARE THE BEST-DRESSED PEOPLE IN THE SHOWBIZ?
"Deepika Padukone and Sonam Kapoor.
[Q] A CELEBRITY WHOSE WARDROBE YOU'D LIKE TO BUY OUT?
"One of the Kardashians.
Credits-
Photography – Sanjeev Kumar
Jewellery – Farah Khan Fine Jewellery
Hair & Makeup – Artist Factory India
Clothing – Falguni Shane Peacock