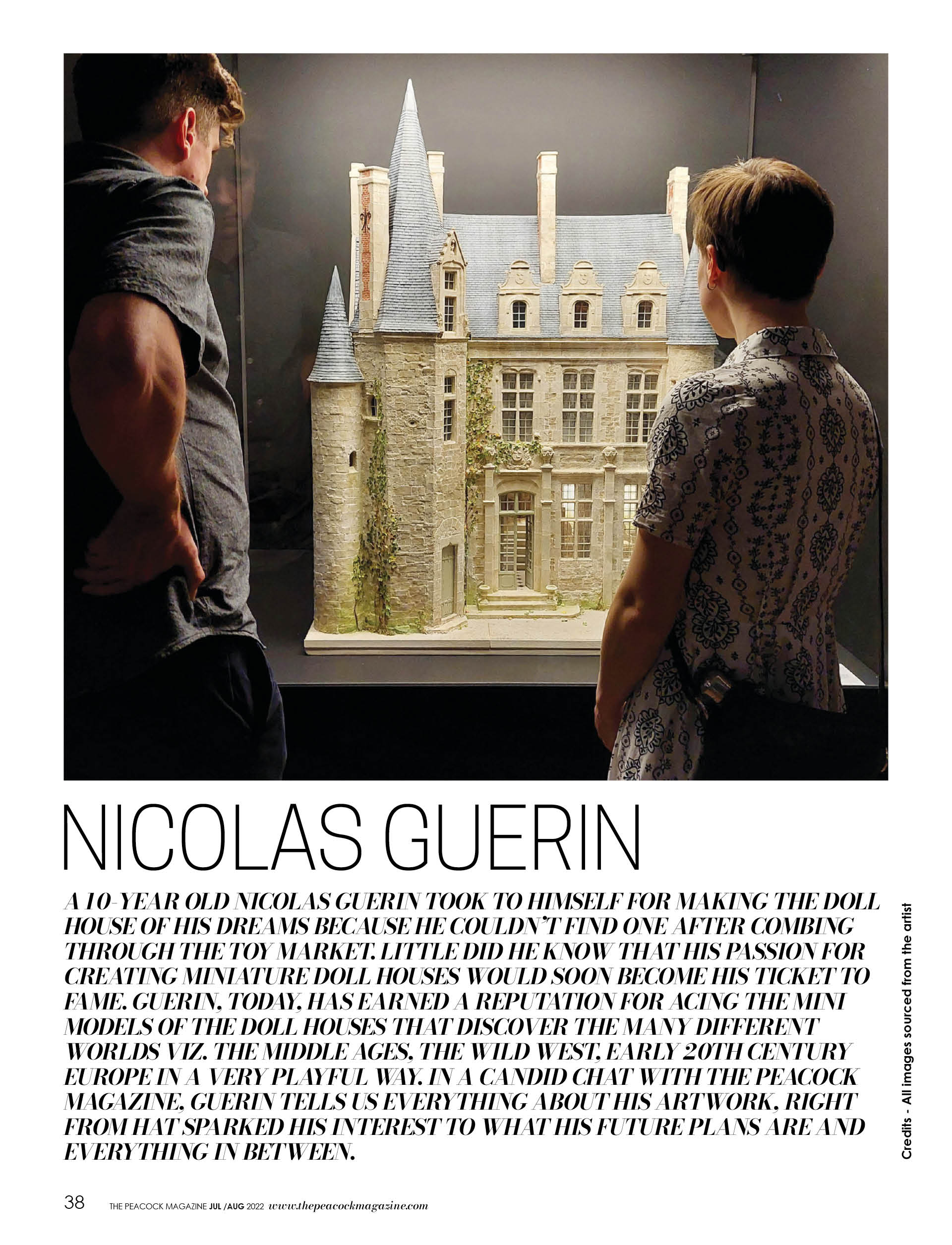 CREDITS: All images sourced from the artist

A 10-year old Nicolas Guerin took to himself for making the doll house of his dreams because he couldn't find one after combing through the toy market. Little did he know that his passion for creating miniature doll houses would soon become his ticket to fame. Guerin, today, has earned a reputation for acing the mini models of the doll houses that discover the many different worlds viz. The Middle Ages, the Wild West, early 20th century Europe in a very playful way. In a candid chat with The Peacock Magazine, Guerin tells us everything about his artwork, right from hat sparked his interest to what his future plans are and everything in between.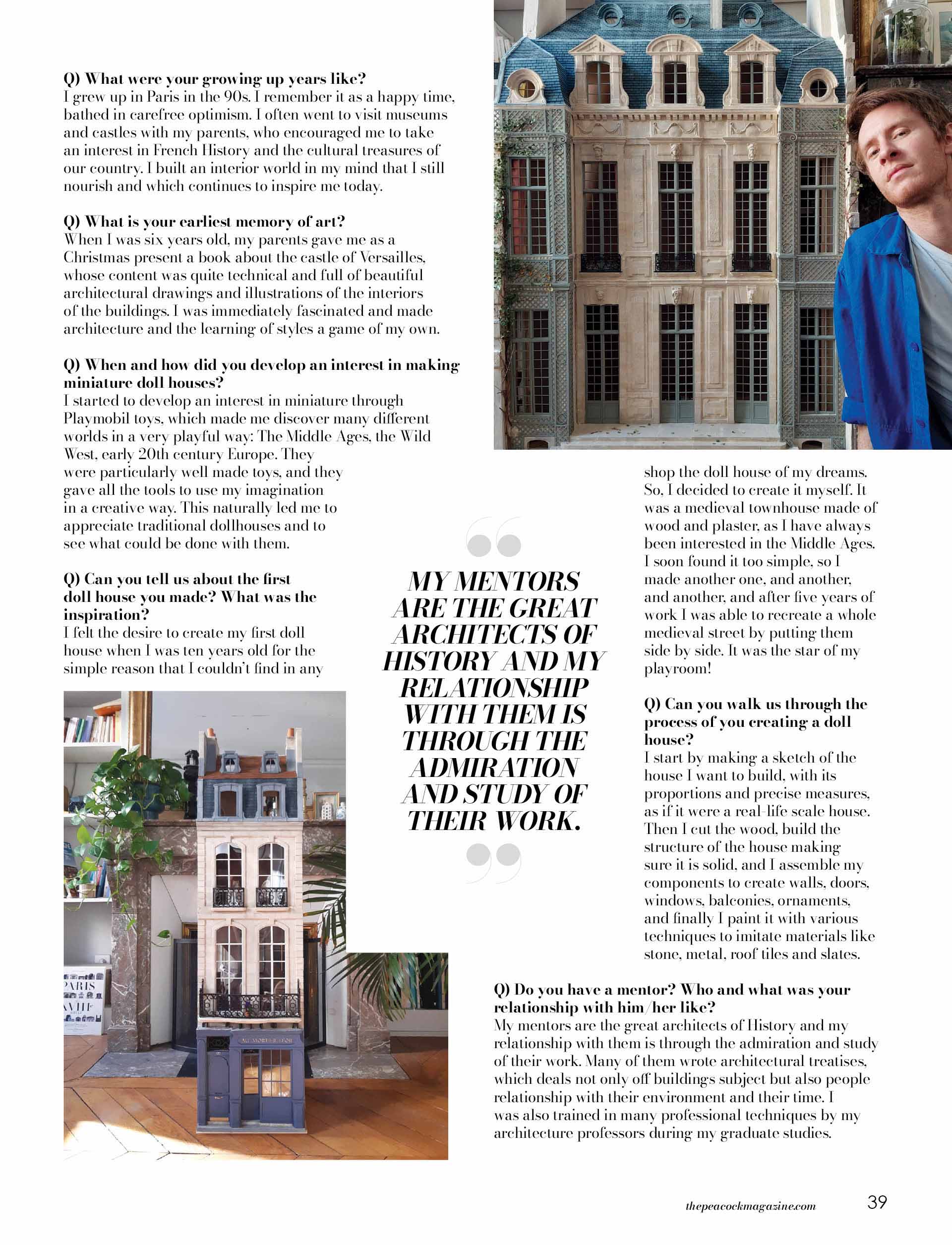 Q) WHAT WERE YOUR GROWING UP YEARS LIKE?
I grew up in Paris in the 90s. I remember it as a happy time, bathed in carefree optimism. I often went to visit museums and castles with my parents, who encouraged me to take an interest in French History and the cultural treasures of our country. I built an interior world in my mind that I still nourish and which continues to inspire me today.
Q) WHAT IS YOUR EARLIEST MEMORY OF ART?
When I was six years old, my parents gave me as a Christmas present a book about the castle of Versailles, whose content was quite technical and full of beautiful architectural drawings and illustrations of the interiors of the buildings. I was immediately fascinated and made architecture and the learning of styles a game of my own.
Q) WHEN AND HOW DID YOU DEVELOP AN INTEREST IN MAKING MINIATURE DOLL HOUSES?
I started to develop an interest in miniature through Playmobil toys, which made me discover many different worlds in a very playful way: The Middle Ages, the Wild West, early 20th century Europe. They were particularly well made toys, and they gave all the tools to use my imagination in a creative way. This naturally led me to appreciate traditional dollhouses and to see what could be done with them.
Q) CAN YOU TELL US ABOUT THE FIRST DOLL HOUSE YOU MADE? WHAT WAS THE INSPIRATION?
I felt the desire to create my first doll house when I was ten years old for the simple reason that I couldn't find in any shop the doll house of my dreams. So, I decided to create it myself. It was a medieval townhouse made of wood and plaster, as I have always been interested in the Middle Ages. I soon found it too simple, so I made another one, and another, and another, and after five years of work I was able to recreate a whole medieval street by putting them side by side. It was the star of my playroom!
Q) CAN YOU WALK US THROUGH THE PROCESS OF YOU CREATING A DOLL HOUSE?
I start by making a sketch of the house I want to build, with its proportions and precise measures, as if it were a real-life scale house. Then I cut the wood, build the structure of the house making sure it is solid, and I assemble my components to create walls, doors, windows, balconies, ornaments, and finally I paint it with various techniques to imitate materials like stone, metal, roof tiles and slates.
Q) DO YOU HAVE A MENTOR? WHO AND WHAT WAS YOUR RELATIONSHIP WITH HIM/HER LIKE?
My mentors are the great architects of History and my relationship with them is through the admiration and study of their work. Many of them wrote architectural treatises, which deals not only off buildings subject but also people relationship with their environment and their time. I was also trained in many professional techniques by my architecture professors during my graduate studies.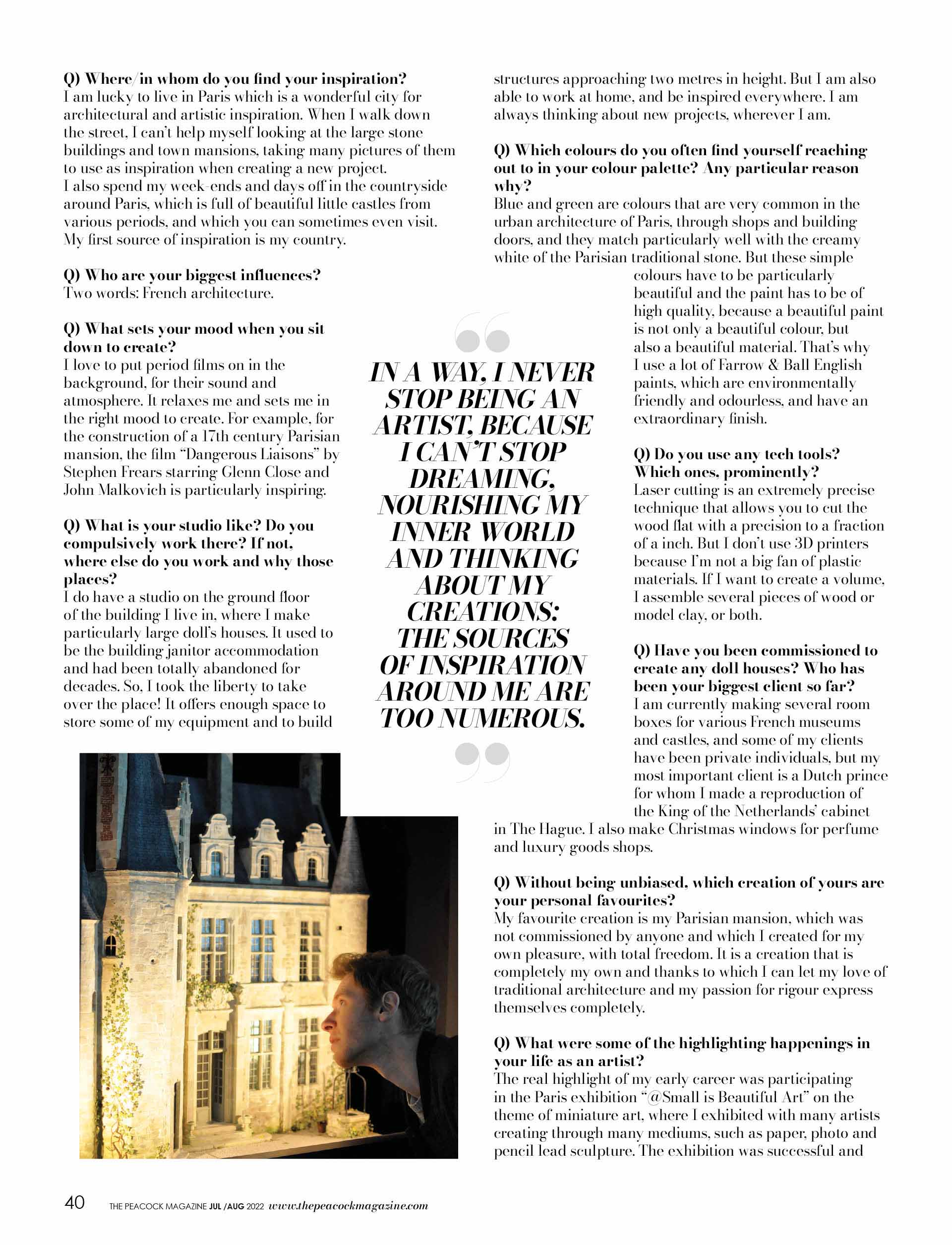 Q) WHERE/IN WHOM DO YOU FIND YOUR INSPIRATION?
I am lucky to live in Paris which is a wonderful city for architectural and artistic inspiration. When I walk down the street, I can't help myself looking at the large stone buildings and town mansions, taking many pictures of them to use as inspiration when creating a new project.
I also spend my week-ends and days off in the countryside around Paris, which is full of beautiful little castles from various periods, and which you can sometimes even visit. My first source of inspiration is my country.
Q) WHO ARE YOUR BIGGEST INFLUENCES?
Two words: French architecture.
Q) WHAT SETS YOUR MOOD WHEN YOU SIT DOWN TO CREATE?
I love to put period films on in the background, for their sound and atmosphere. It relaxes me and sets me in the right mood to create. For example, for the construction of a 17th century Parisian mansion, the film "Dangerous Liaisons" by Stephen Frears starring Glenn Close and John Malkovich is particularly inspiring.
Q) WHAT IS YOUR STUDIO LIKE? DO YOU COMPULSIVELY WORK THERE? IF NOT, WHERE ELSE DO YOU WORK AND WHY THOSE PLACES?
I do have a studio on the ground floor of the building I live in, where I make particularly large doll's houses. It used to be the building janitor accommodation and had been totally abandoned for decades. So, I took the liberty to take over the place! It offers enough space to store some of my equipment and to build structures approaching two metres in height. But I am also able to work at home, and be inspired everywhere. I am always thinking about new projects, wherever I am.
Q) WHICH COLOURS DO YOU OFTEN FIND YOURSELF REACHING OUT TO IN YOUR COLOUR PALETTE? ANY PARTICULAR REASON WHY?
Blue and green are colours that are very common in the urban architecture of Paris, through shops and building doors, and they match particularly well with the creamy white of the Parisian traditional stone. But these simple colours have to be particularly beautiful and the paint has to be of high quality, because a beautiful paint is not only a beautiful colour, but also a beautiful material. That's why I use a lot of Farrow & Ball English paints, which are environmentally friendly and odourless, and have an extraordinary finish.
Q) DO YOU USE ANY TECH TOOLS? WHICH ONES, PROMINENTLY?
Laser cutting is an extremely precise technique that allows you to cut the wood flat with a precision to a fraction of a inch. But I don't use 3D printers because I'm not a big fan of plastic materials. If I want to create a volume, I assemble several pieces of wood or model clay, or both.
Q) HAVE YOU BEEN COMMISSIONED TO CREATE ANY DOLL HOUSES? WHO HAS BEEN YOUR BIGGEST CLIENT SO FAR?
I am currently making several room boxes for various French museums and castles, and some of my clients have been private individuals, but my most important client is a Dutch prince for whom I made a reproduction of the King of the Netherlands' cabinet in The Hague. I also make Christmas windows for perfume and luxury goods shops.
Q) WITHOUT BEING UNBIASED, WHICH CREATION OF YOURS ARE YOUR PERSONAL FAVOURITES?
My favourite creation is my Parisian mansion, which was not commissioned by anyone and which I created for my own pleasure, with total freedom. It is a creation that is completely my own and thanks to which I can let my love of traditional architecture and my passion for rigour express themselves completely.
Q) WHAT WERE SOME OF THE HIGHLIGHTING HAPPENINGS IN YOUR LIFE AS AN ARTIST?
The real highlight of my early career was participating in the Paris exhibition "@Small is Beautiful Art" on the theme of miniature art, where I exhibited with many artists creating through many mediums, such as paper, photo and pencil lead sculpture. The exhibition was successful and therefore became a touring exhibition. It is currently in London and will most probably also go to the United States. It is a great pride for me to be able to share my work with the public and make them dream.
Q) WHICH CREATION OF YOURS WOULD BE THE MOST CHALLENGING ONE, ACCORDING TO YOU?
It was definitely a 16th century castle, which is not a reproduction of an existing castle but a true architectural creation respecting precise codes. The challenge of this doll's house was its turrets, which had to be decorated with tiles with great precision. As I could not use wood, which is two-dimensional, I had to resort to many subterfuges to create volumes that were geometric enough to be realistic!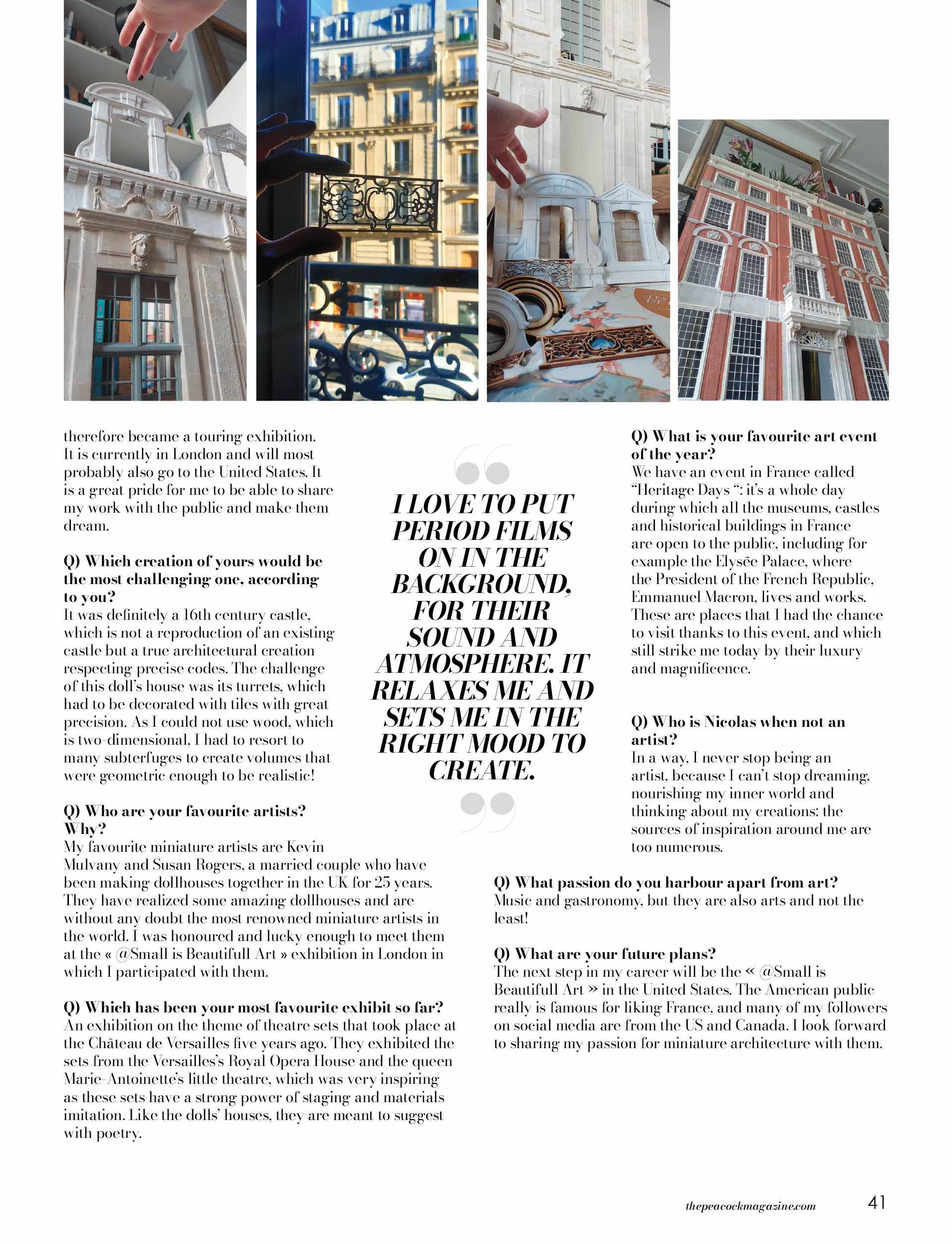 Q) WHO ARE YOUR FAVOURITE ARTISTS? WHY?
My favourite miniature artists are Kevin Mulvany and Susan Rogers, a married couple who have been making dollhouses together in the UK for 25 years. They have realized some amazing dollhouses and are without any doubt the most renowned miniature artists in the world. I was honoured and lucky enough to meet them at the « @Small is Beautifull Art » exhibition in London in which I participated with them.
Q) WHICH HAS BEEN YOUR MOST FAVOURITE EXHIBIT SO FAR?
An exhibition on the theme of theatre sets that took place at the Château de Versailles five years ago. They exhibited the sets from the Versailles's Royal Opera House and the queen Marie-Antoinette's little theatre, which was very inspiring as these sets have a strong power of staging and materials imitation. Like the dolls' houses, they are meant to suggest with poetry.
Q) WHAT IS YOUR FAVOURITE ART EVENT OF THE YEAR?
We have an event in France called "Heritage Days ": it's a whole day during which all the museums, castles and historical buildings in France are open to the public, including for example the Elysée Palace, where the President of the French Republic, Emmanuel Macron, lives and works. These are places that I had the chance to visit thanks to this event, and which still strike me today by their luxury and magnificence.
Q) WHO IS NICOLAS WHEN NOT AN ARTIST?
In a way, I never stop being an artist, because I can't stop dreaming, nourishing my inner world and thinking about my creations: the sources of inspiration around me are too numerous.
Q) WHAT PASSION DO YOU HARBOUR APART FROM ART?
Music and gastronomy, but they are also arts and not the least!
Q) WHAT ARE YOUR FUTURE PLANS?
The next step in my career will be the « @Small is Beautifull Art » in the United States. The American public really is famous for liking France, and many of my followers on social media are from the US and Canada. I look forward to sharing my passion for miniature architecture with them.