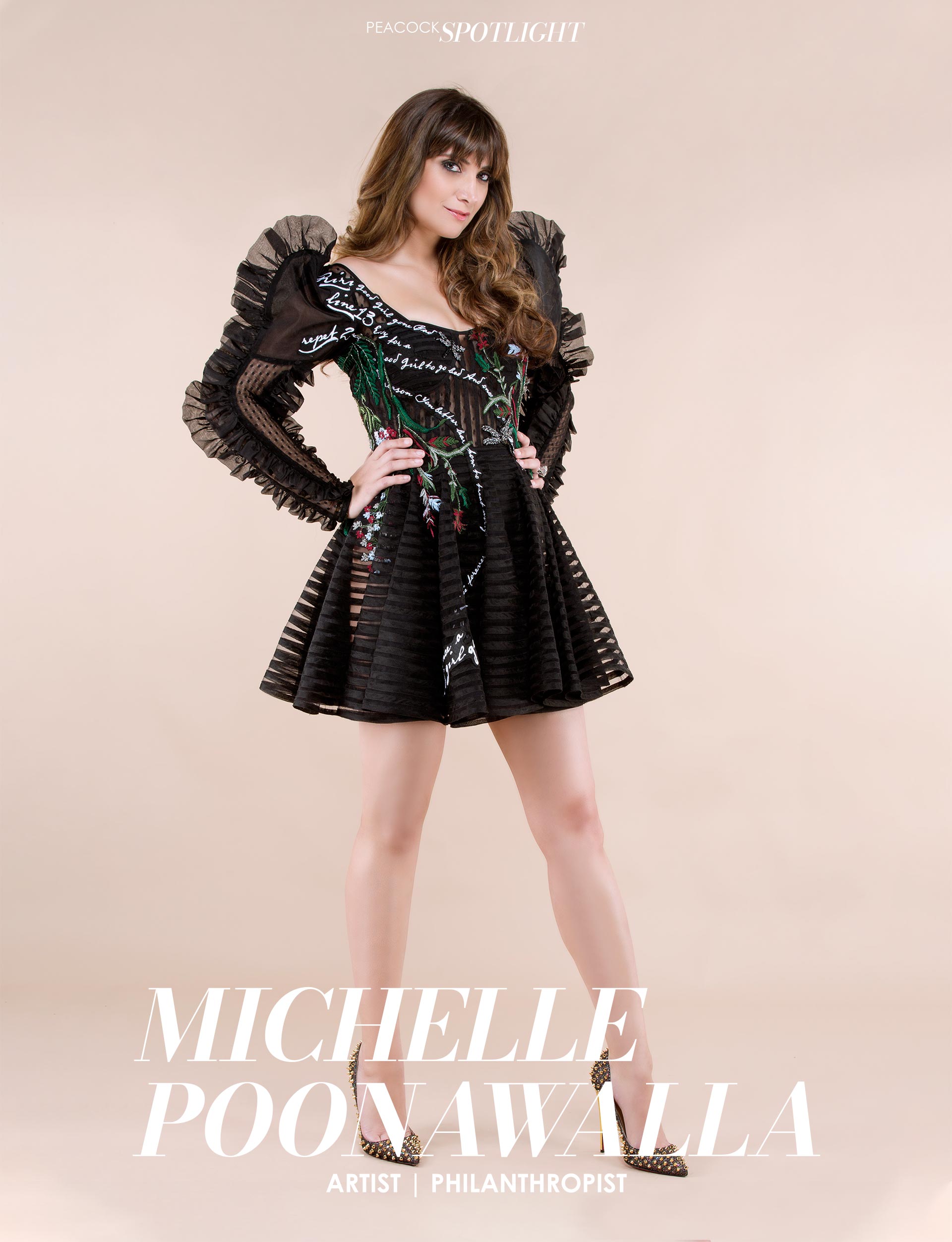 "I like to be myself. I make my own fashion rules and I style myself. That makes me an individual."
If 'panache' walked on Earth in flesh, it would be none other than Michelle Y. Poonawalla. The Pune-based billionaire, artist and socialite for long has left us gaping with every move of hers, including that of her paint brushes. Hailing from the first family of Pune, Michelle was raised in India as well as the UK. Her dual-cultured upbringing is attributed to be an inspiration for her artwork. Art, for her, has been a fundamental part of her life. To formally further it, she went ahead and pursued her graduate degree in Interior Design and a Bachelor of Arts from the American College, London. Her first showcase stint at the Gateway School, Mumbai in 2016, that marked her debut, earned her reviews to be rhapsodized over. Ever since, she has done a variety of solo and group exhibitions back home and overseas. Poonawalla's artwork is perceived to be futuristic, avant-garde and classic. Her amalgam of art with technology that imbibes mixed-media and digital mapping technology has resulted in the creation of artworks that are remarkable.
Excepting her wondrous artworks, Michelle is also touted as the unspoken ambassadress of fashion. We take a bow and celebrate this side of her via the first ever digital print of 'The Peacock Magazine'. Some of her noted works include Khushi – India On Canvas in conjunction with Sotheby's, New Delhi, 2017; a project at the Parma Art Fair, Italy with Gallery Marco Antonio Patrizio, 2018 and the Introspection, a collateral project at the recently-concluded Kochi-Muziris Biennale 2018. Parallel to her stint with art, Michelle has also illustrated and published a prominent children's book 'The Adventures of Harvey Mouse Sleepover' along with her daughter.

1) BE YOURSELF
"I like to be myself. I make my own fashion rules and I style myself. That makes me an individual."
2) BE CHOOSY
"I choose which trends suits me. I don't follow trends blindly. I like to keep myself updated."
3) BE IN THE MOMENT
"I wear what suits me. I dress for the moment and depending on the occasion."
4) EVERYONE HAS A SIGNATURE
"I love my jeans and boots on a casual day – that would be my signature."
5) SOMETHING THAT DEFINES YOU
"I'm an artist!"