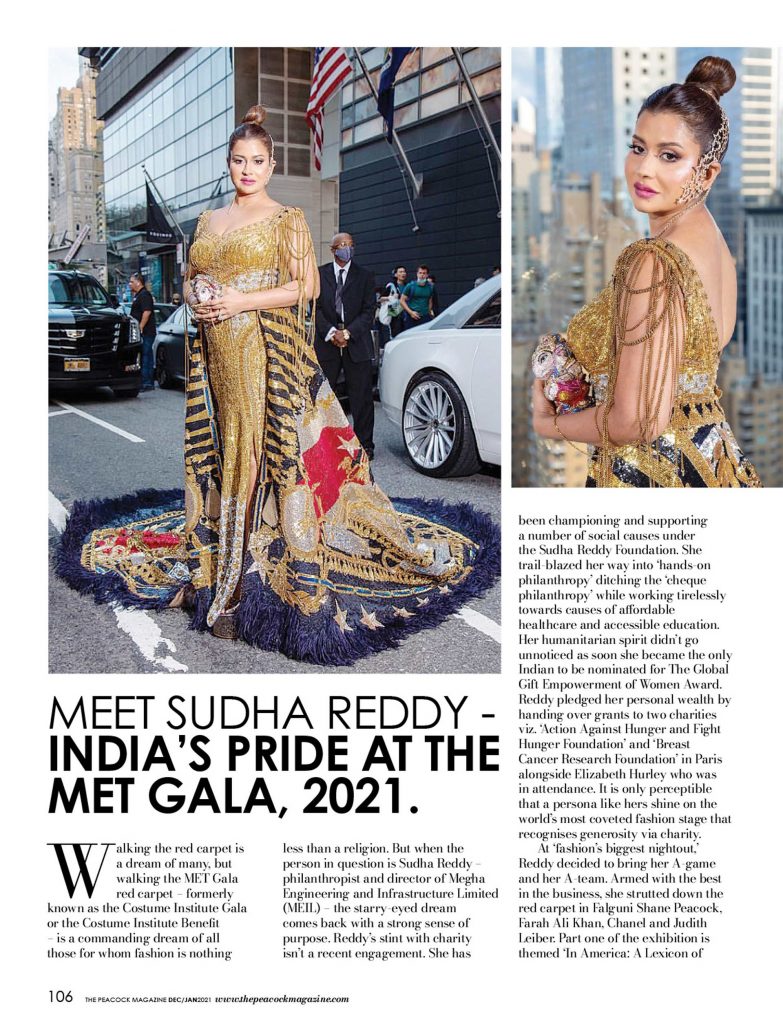 Walking the red carpet is a dream of many, but walking the MET Gala red carpet — formerly known as the Costume Institute Gala or the Costume Institute Benefit — is a commanding dream of all those for whom fashion is nothing less than a religion. But when the person in question is Sudha Reddy — philanthropist and director of Megha Engineering and Infrastructure Limited (MEIL) — the starry-eyed dream comes back with a strong sense of purpose. Reddy's stint with charity isn't a recent engagement. She has been championing and supporting a number of social causes under the Sudha Reddy Foundation. She trail-blazed her way into 'hands-on philanthropy' ditching the 'cheque philanthropy' while working tirelessly towards causes of affordable healthcare and accessible education. Her humanitarian spirit didn't go unnoticed as soon she became the only Indian to be nominated for The Global Gift Empowerment of Women Award. Reddy pledged her personal wealth by handing over grants to two charities viz. 'Action Against Hunger and Fight Hunger Foundation' and 'Breast Cancer Research Foundation' in Paris alongside Elizabeth Hurley who was in attendance. It is only perceptible that a persona like hers shine on the world's most coveted fashion stage that recognises generosity via charity.
At 'fashion's biggest nightout,' Reddy decided to bring her A-game and her A-team. Armed with the best in the business, she strutted down the red carpet in Falguni Shane Peacock, Farah Ali Khan, Chanel and Judith Leiber. Part one of the exhibition is themed 'In America: A Lexicon of Fashion,' — a tribute, celebration and reflection of American fashion and its history, while also delving into the modern vocabulary of American fashion. Reddy roped in internationally renowned luxury couture designers Falguni Shane Peacock, who are also her friends and now family (as she chooses to call them), for her outfit. She was clear that she wanted her outfit to be in sync with the Gala's theme while retaining a sense of Indianness, and her vision was brought to life with utmost perfection.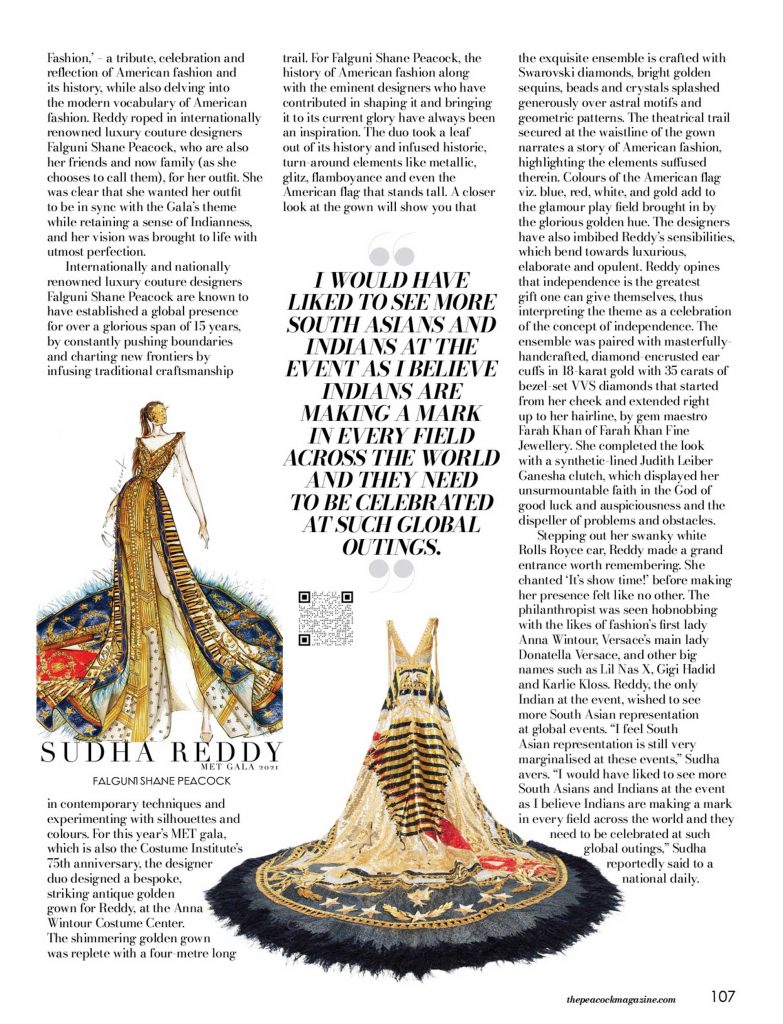 Internationally and nationally renowned luxury couture designers Falguni Shane Peacock are known to have established a global presence for over a glorious span of 15 years, by constantly pushing boundaries and charting new frontiers by infusing traditional craftsmanship in contemporary techniques and experimenting with silhouettes and colours. For this year's MET gala, which is also the Costume Institute's 75th anniversary, the designer duo designed a bespoke, striking antique golden gown for Reddy, at the Anna Wintour Costume Center. The shimmering golden gown was replete with a four-metre long trail. For Falguni Shane Peacock, the history of American fashion along with the eminent designers who have contributed in shaping it and bringing it to its current glory have always been an inspiration. The duo took a leaf out of its history and infused historic, turn-around elements like metallic, glitz, flamboyance and even the American flag that stands tall. A closer look at the gown will show you that the exquisite ensemble is crafted with Swarovski diamonds, bright golden sequins, beads and crystals splashed generously over astral motifs and geometric patterns. The theatrical trail secured at the waistline of the gown narrates a story of American fashion, highlighting the elements suffused therein. Colours of the American flag viz. blue, red, white, and gold add to the glamour play field brought in by the glorious golden hue. The designers have also imbibed Reddy's sensibilities, which bend towards luxurious, elaborate and opulent. Reddy opines that independence is the greatest gift one can give themselves, thus interpreting the theme as a celebration of the concept of independence. The ensemble was paired with masterfully-handcrafted, diamond-encrusted ear cuffs in 18-karat gold with 35 carats of bezel-set VVS diamonds that started from her cheek and extended right up to her hairline, by gem maestro Farah Khan of Farah Khan Fine Jewellery. She completed the look with a synthetic-lined Judith Leiber Ganesha clutch, which displayed her unsurmountable faith in the God of good luck and auspiciousness and the dispeller of problems and obstacles.
Stepping out her swanky white Rolls Royce car, Reddy made a grand entrance worth remembering. She chanted 'It's show time!' before making her presence felt like no other. The philanthropist was seen hobnobbing with the likes of fashion's first lady Anna Wintour, Versace's main lady Donatella Versace, and other big names such as Lil Nas X, Gigi Hadid and Karlie Kloss. Reddy, the only Indian at the event, wished to see more South Asian representation at global events. "I feel South Asian representation is still very marginalised at these events," Sudha avers. "I would have liked to see more South Asians and Indians at the event as I believe Indians are making a mark in every field across the world and they need to be celebrated at such global outings," Sudha reportedly said to a national daily.