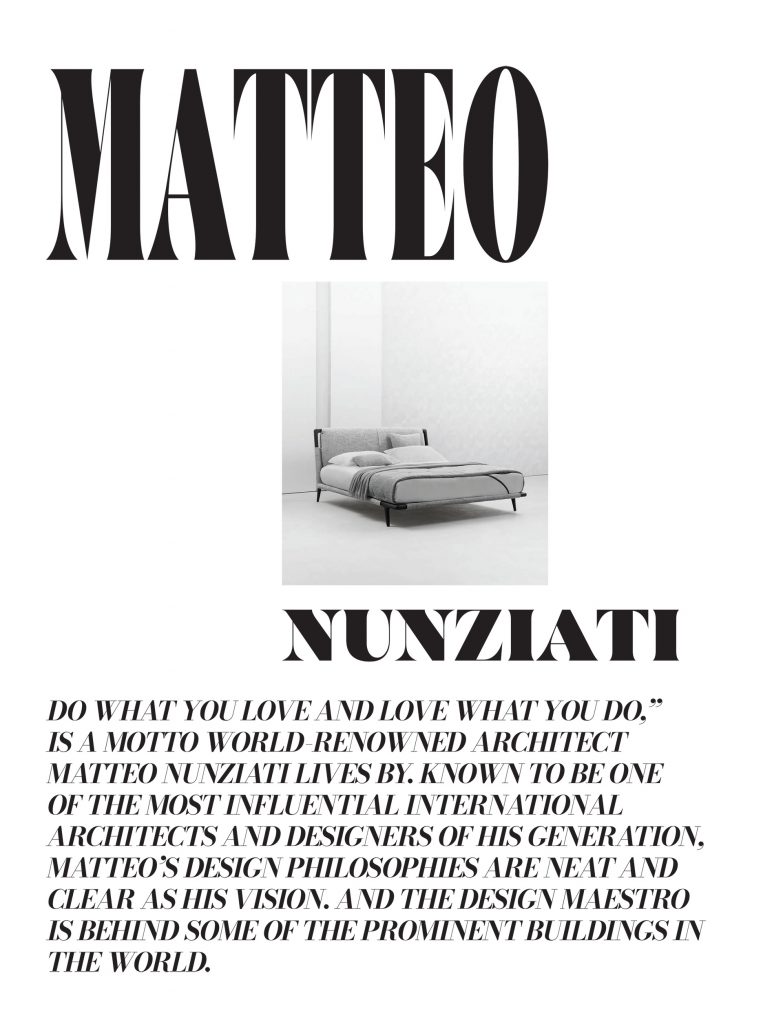 "DO WHAT YOU LOVE AND LOVE WHAT YOU DO," IS A MOTTO WORLD-RENOWNED ARCHITECT MATTEO NUNZIATI LIVES BY. KNOWN TO BE ONE OF THE MOST INFLUENTIAL INTERNATIONAL ARCHITECTS AND DESIGNERS OF HIS GENERATION, MATTEO'S DESIGN PHILOSOPHIES ARE NEAT AND CLEAR AS HIS VISION. AND THE DESIGN MAESTRO IS BEHIND SOME OF THE PROMINENT BUILDINGS IN THE WORLD.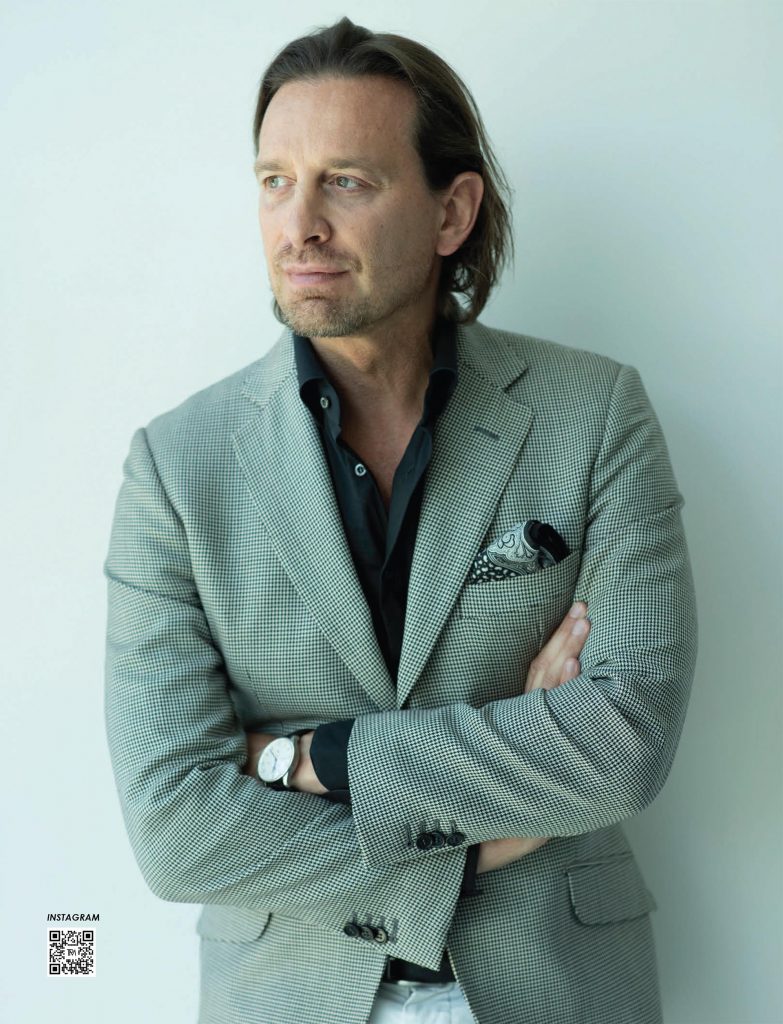 CREDITS-
Images sourced from the artist.

[Q] What were your growing up years like?
I was always passionate about drawing. I like to draw. I just take up a pencil and start drawing, and end up spending hours doing that. I discovered that I was good at it early on in my life, when I was a child to be precise. Since then, I have tried to improve my skill and eventually, went to art school. I set up my office 20 years ago, and now it is one of the most famous interior and product offices, internationally. It's a miracle, I believe. I realized that I am very lucky because I am doing something I really like.
[Q] When did you first realize your inclination of getting into design?
I believe synchronization with clients is important because you need to work with a common vision with them. For example, with Panchsheel Realty of Mr. Sagar Chordia and Mr. Atul Chordia, we had a distinct vision in terms of design. We really wanted to create something unique and focus on investing in the design quality and innovation. It is, in fact, incredible when your vision matches with that of the clients'. In effect, you can create something great when you combine a concrete idea with creativity.
It is very stimulating to create the right balance between the two aspects, i.e. poetry, beauty, and art on one hand, and the technical and commercial aspects on the other. I always strive to maintain the balance because that is essential to create something concrete on the lines of both functionality and art.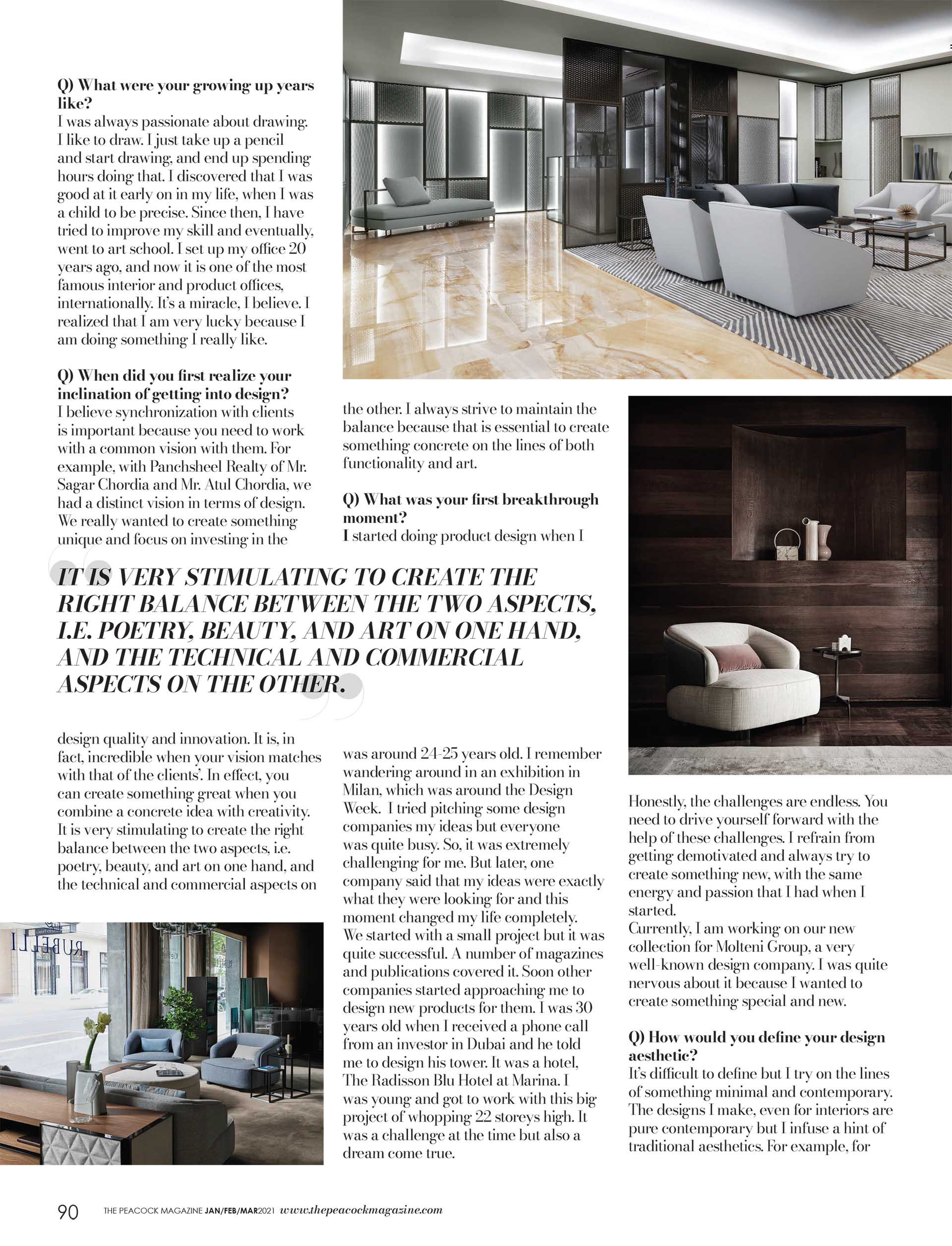 [Q] What was your first breakthrough moment?
I started doing product design when I was around 24-25 years old. I remember wandering around in an exhibition in Milan, which was around the Design Week. I tried pitching some design companies my ideas but everyone was quite busy. So, it was extremely challenging for me. But later, one company said that my ideas were exactly what they were looking for and this moment changed my life completely.
We started with a small project but it was quite successful. A number of magazines and publications covered it. Soon other companies started approaching me to design new products for them. I was 30 years old when I received a phone call from an investor in Dubai and he told me to design his tower. It was a hotel, The Radisson Blu Hotel at Marina. I was young and got to work with this big project of whopping 22 storeys high. It was a challenge at the time but also a dream come true.
Honestly, the challenges are endless. You need to drive yourself forward with the help of these challenges. I refrain from getting demotivated and always try to create something new, with the same energy and passion that I had when I started.
Currently, I am working on our new collection for Molteni Group, a very well-known design company. I was quite nervous about it because I wanted to create something special and new.
[Q] How would you define your design aesthetic?
It's difficult to define but I try on the lines of something minimal and contemporary. The designs I make, even for interiors are pure contemporary but I infuse a hint of traditional aesthetics. For example, for the Trump Tower in Pune in India that I did for Panchsheel Realty, I designed a very contemporary lobby but I also added sculptures of beautiful mango trees, forests, and parks in the design. Or for a hotel that I designed in Doha, Qatar, I carefully studied Islamic traditions, and while I stuck to my contemporary design language I also infused inspirations from the geographical territories and traditions of the region. So, bringing the right balance between the two is the essence of my design aesthetic.
[Q] Why, according to you, is it necessary for your work to have an element of surrealism and fantasy?
I tend to incline towards the new kind of classics; it is not widely beloved. As a style, people find that classic is too airy. But I feel that the idea of a classic is to be proportional in every aspect. It is neat and timeless. When I start to design, for example, a chair or a table, I tell myself that I have to create something timeless that is above the trends.
[Q] How do you get yourself into the creative mode?
I try to be extremely precise when I start designing for a project. For example, if I need to design a chair, I conduct a detailed web research to understand what the market is offering currently. After that, I forget everything I have learned, keep only my sketches, my ideas, be true and direct, and create something that I would like to put in my house.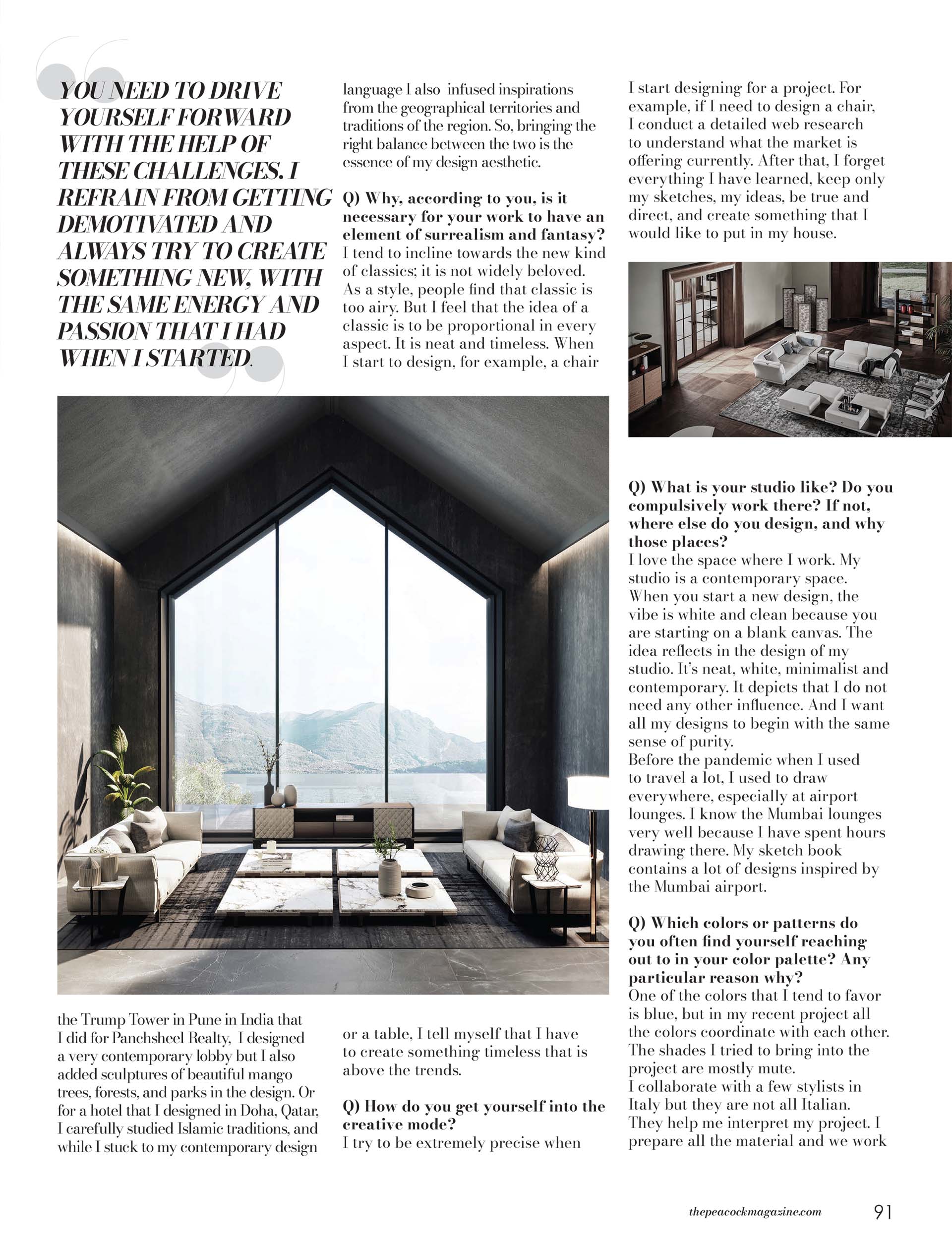 [Q] What is your studio like? Do you compulsively work there? If not, where else do you design, and why those places?
I love the space where I work. My studio is a contemporary space. When you start a new design, the vibe is white and clean because you are starting on a blank canvas. The idea reflects in the design of my studio. It's neat, white, minimalist and contemporary. It depicts that I do not need any other influence. And I want all my designs to begin with the same sense of purity.
Before the pandemic when I used to travel a lot, I used to draw everywhere, especially at airport lounges. I know the Mumbai lounges very well because I have spent hours drawing there. My sketch book contains a lot of designs inspired by the Mumbai airport.
[Q] Which colors or patterns do you often find yourself reaching out to in your color palette? Any particular reason why?
One of the colors that I tend to favor is blue, but in my recent project all the colors coordinate with each other. The shades I tried to bring into the project are mostly mute.
I collaborate with a few stylists in Italy but they are not all Italian. They help me interpret my project. I prepare all the material and we work together to have a different side of my vision. So, it would be a different interpretation of my project and it's very stimulating because they suggest some color that I may have never thought about in my project. At the end of the day they work.
Of course the final decision is mine but I believe teamwork is something that gives a feminine touch. I feel it's my designs that organically tends to be masucline.
[Q] Tell us about that significant turning point in your journey so far?
To be honest, I think it's the next one. I try to move a step forward, even with my designs. I always believe that my next project would outstrip my previous work. I believe it's stimulating to work with this outlook.
Currently, I am working on a new project for airport lounges in Doha, Qatar, and a couple of big projects of buildings in different countries. It's very exciting for me to plan what I could create next.
People who are close to me, like friends and family know how anxious I get and they always advise me to be content with my work. I tend not to repeat my previous work and always focus on creating something new and better.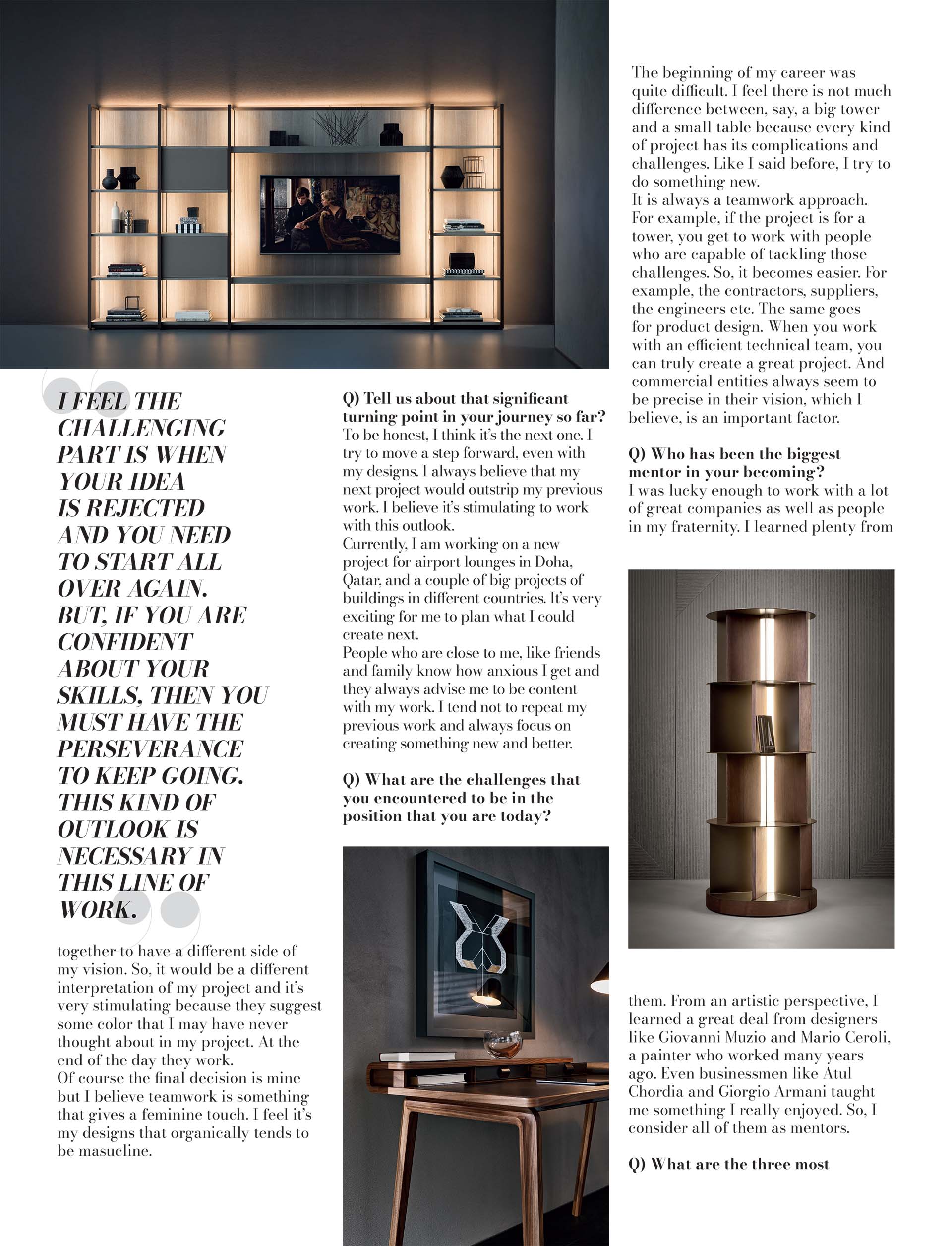 [Q] What are the challenges that you encountered to be in the position that you are today?
The beginning of my career was quite difficult. I feel there is not much difference between, say, a big tower and a small table because every kind of project has its complications and challenges. Like I said before, I try to do something new.
It is always a teamwork approach. For example, if the project is for a tower, you get to work with people who are capable of tackling those challenges. So, it becomes easier. For example, the contractors, suppliers, the engineers etc. The same goes for product design. When you work with an efficient technical team, you can truly create a great project. And commercial entities always seem to be precise in their vision, which I believe, is an important factor.
[Q] Who has been the biggest mentor in your becoming?
I was lucky enough to work with a lot of great companies as well as people in my fraternity. I learned plenty from them. From an artistic perspective, I learned a great deal from designers like Giovanni Muzio and Mario Ceroli, a painter who worked many years ago. Even businessmen like Atul Chordia and Giorgio Armani taught me something I really enjoyed. So, I consider all of them as mentors.
[Q] What are the three most important lessons you learned in your career and what you would advise to young designers and architects?
First of all, if you believe that you have the talent and skill, then you need to act upon this career seriously. Concentrating completely on this, you have to learn to never give up and be true to yourself.
I feel the challenging part is when your idea is rejected and you need to start all over again. But, if you are confident about your skills, then you must have the perseverance to keep going. This kind of outlook is necessary in this line of work.
[Q] Which project, of all the projects that you have done, is your personal favorite?
Like I said before, it's the next one.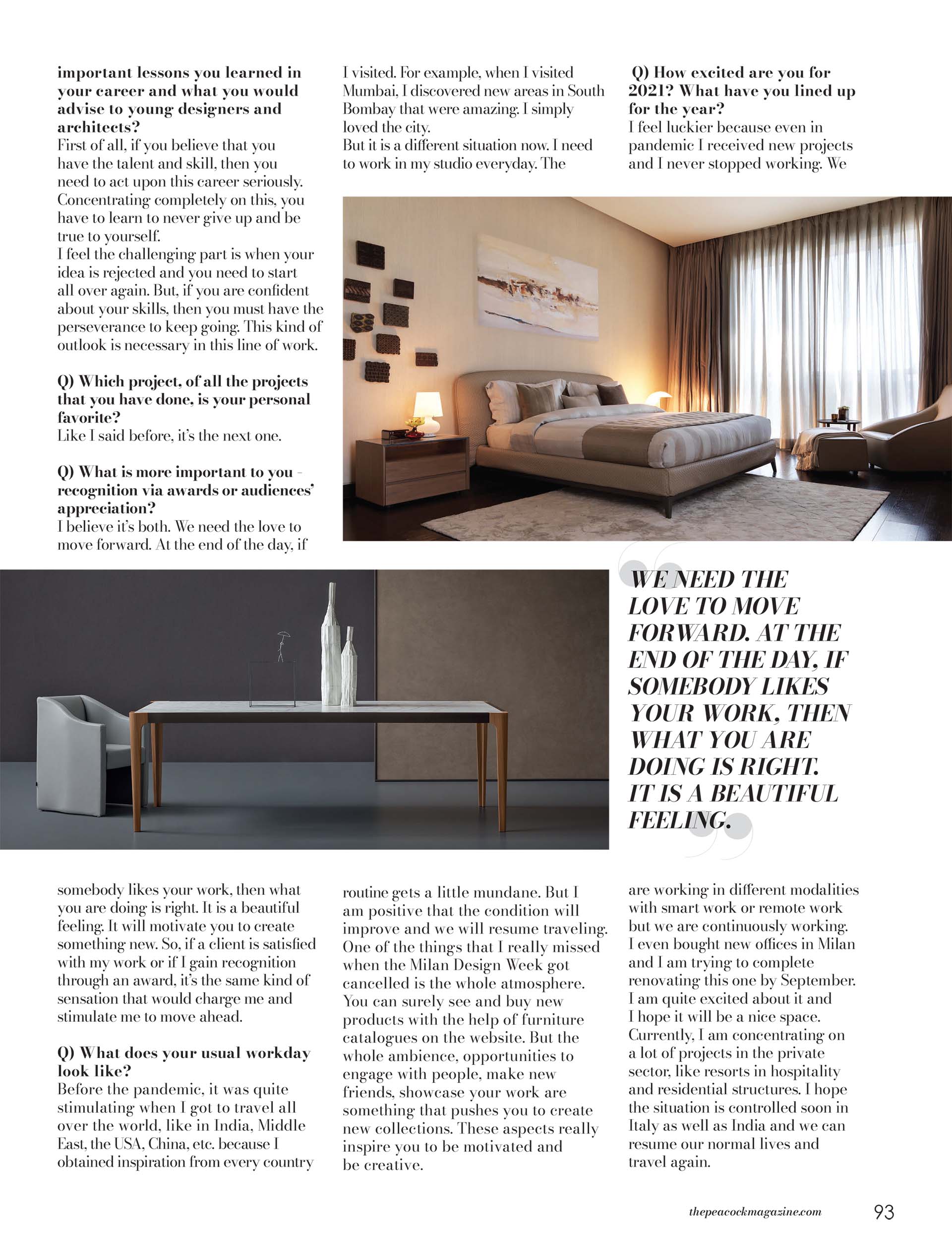 [Q] What is more important to you – recognition via awards or audiences' appreciation?
I believe it's both. We need the love to move forward. At the end of the day, if somebody likes your work, then what you are doing is right. It is a beautiful feeling. It will motivate you to create something new. So, if a client is satisfied with my work or if I gain recognition through an award, it's the same kind of sensation that would charge me and stimulate me to move ahead.
[Q] What does your usual workday look like?
Before the pandemic, it was quite stimulating when I got to travel all over the world, like in India, Middle East, the USA, China, etc. because I obtained inspiration from every country I visited. For example, when I visited Mumbai, I discovered new areas in South Bombay that were amazing. I simply loved the city.
But it is a different situation now. I need to work in my studio everyday. The routine gets a little mundane. But I am positive that the condition will improve and we will resume traveling.
One of the things that I really missed when the Milan Design Week got cancelled is the whole atmosphere. You can surely see and buy new products with the help of furniture catalogues on the website. But the whole ambience, opportunities to engage with people, make new friends, showcase your work are something that pushes you to create new collections. These aspects really inspire you to be motivated and be creative.
[Q] How excited are you for 2021? What have you lined up for the year?
I feel luckier because even in pandemic I received new projects and I never stopped working. We are working in different modalities with smart work or remote work but we are continuously working. I even bought new offices in Milan and I am trying to complete renovating this one by September. I am quite excited about it and I hope it will be a nice space. Currently, I am concentrating on a lot of projects in the private sector, like resorts in hospitality and residential structures. I hope the situation is controlled soon in Italy as well as India and we can resume our normal lives and travel again.