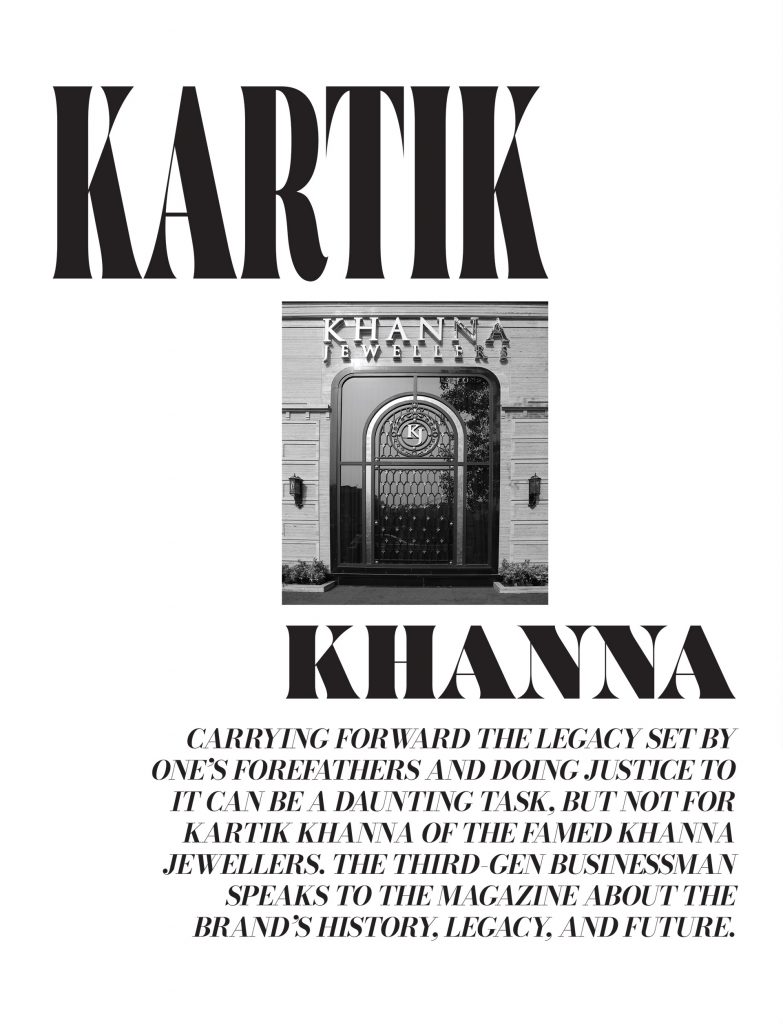 CARRYING FORWARD THE LEGACY SET BY ONE'S FOREFATHERS AND DOING JUSTICE TO IT CAN BE A DAUNTING TASK, BUT NOT FOR KARTIK KHANNA OF THE FAMED KHANNA JEWELLERS. THE THIRD-GEN BUSINESSMAN SPEAKS TO THE MAGAZINE ABOUT THE BRAND'S HISTORY, LEGACY, AND FUTURE.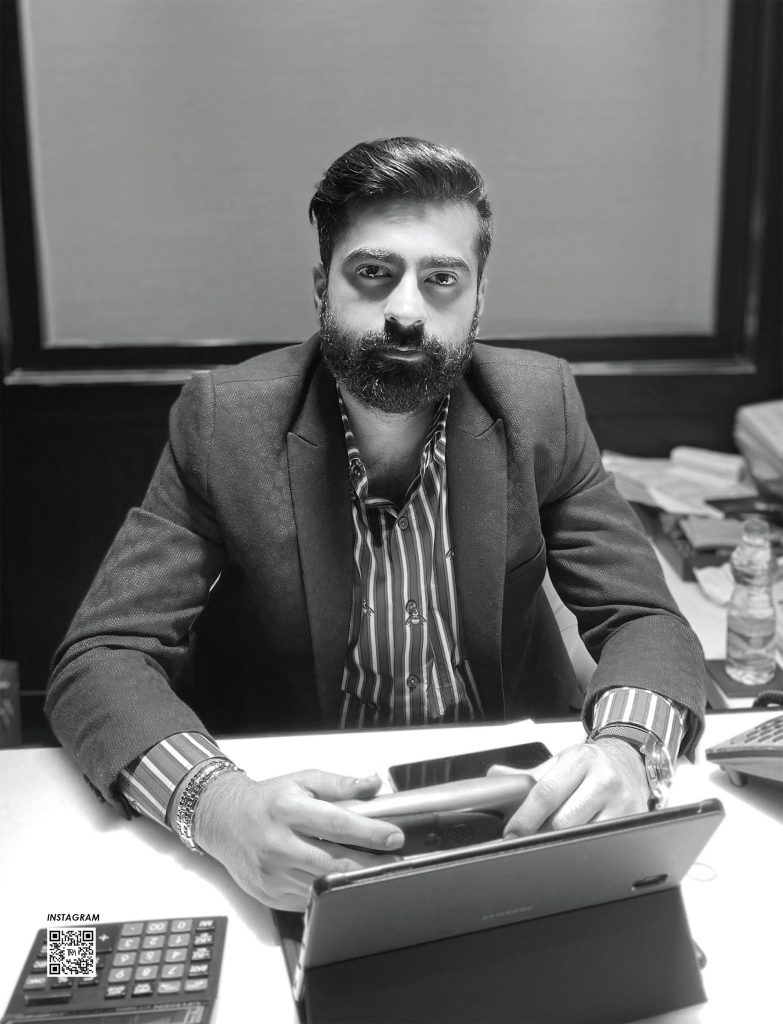 CREDITS-
Images sourced from the artist.

[Q] How did Khanna Jewellers come about to be?
Khanna Jewellers was founded by my great-grandfather Shri Wazir Chand Khanna in 1953, the brand has since then been consciously managed and nurtured by our family.
[Q] How have your roots influenced your design aesthetics?
We, as a family, have always valued the artistry and quality of the products that we offer to the consumer. This deeply ingrained virtuosity has stayed with us at every step of our journey and in every aspect of our being, be it in design, manufacturing, or selling.
[Q] How has your journey with Khanna Jewellers been in the last decade?
The last decade has been full of growth, both personally and professionally. From foraying into the family business as a young boy to realizing my dreams and aspirations and working towards giving it shape, it has been exciting, overwhelming, and truly fulfilling.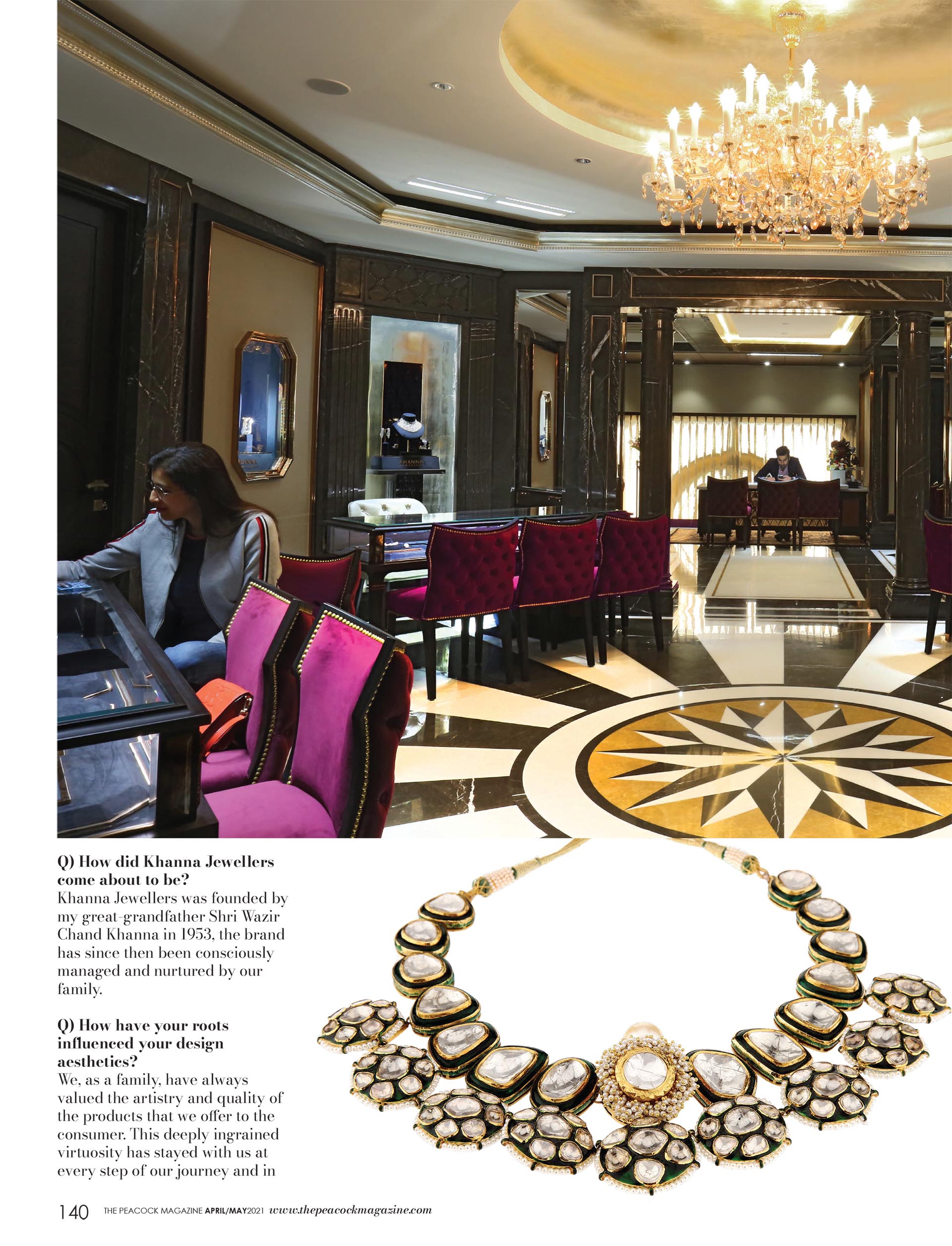 [Q] The designs at Khanna Jewellers are an impeccable fusion of traditional and contemporary, keeping in mind renowned traditions of Indian workmanship and the breath-taking aura of priceless gems. How did the design vision shape up to be?
At Khanna Jewellers, it is our constant endeavour to dedicatedly curate high-jewellery combining our distinct, signature eye for high art and exemplary workmanship. We offer designs that are inimitably imbued with a distinct design sensibility that is uniquely ours.
[Q] What lessons have you learned from your great-grandfather Shri. Wazir Chand Khanna, who was the first-gen in a jewellery manufacturing and design company?
He was a principled man with a very strong sense of values; these have remained intact through generations and we, as a family, take extreme pride in the fact.
[Q] How would you define your design aesthetic?
Very modern. I very often do find myself inspired by the 'Art Deco' period. Think tessellating patterns and a little geometrics here and there.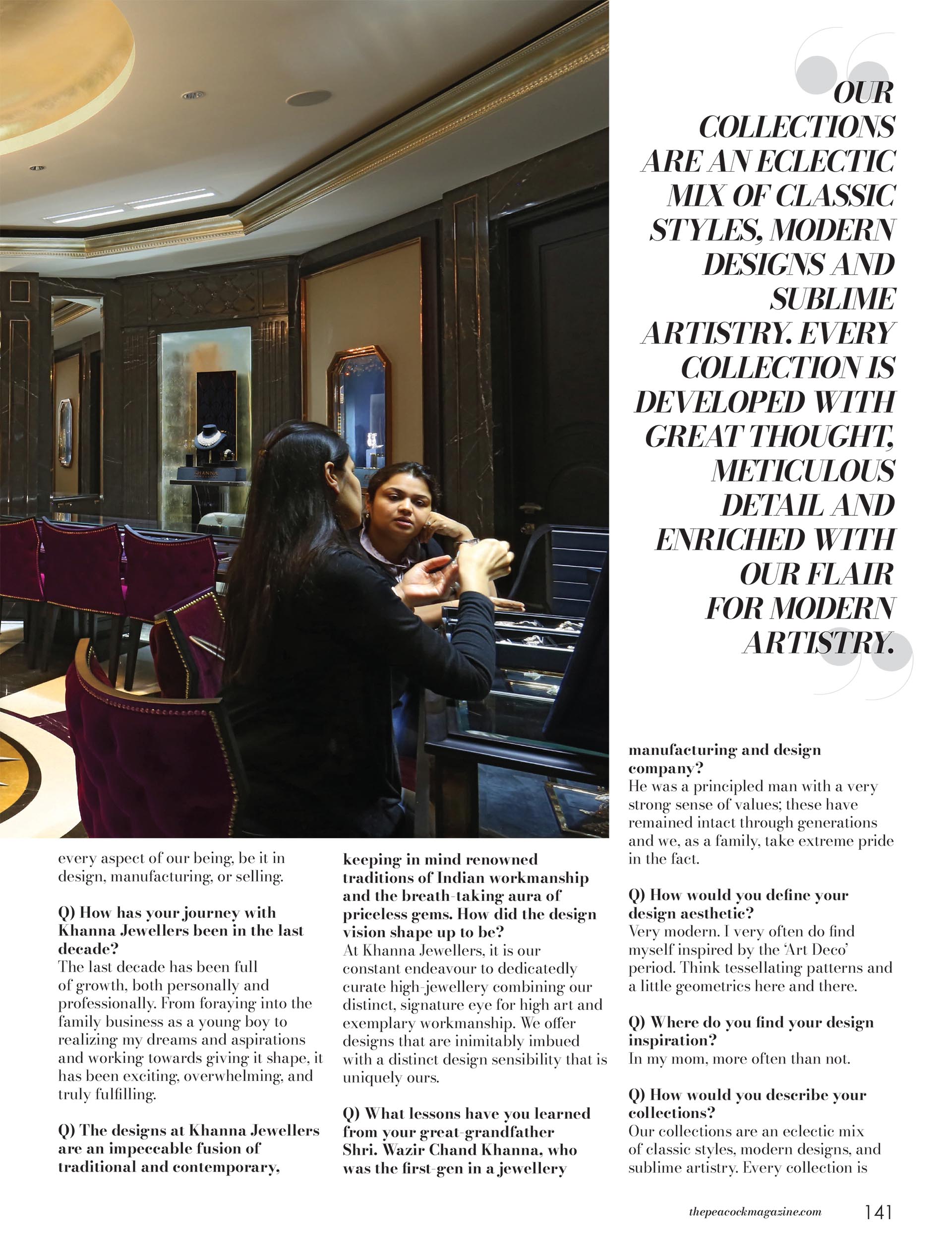 [Q] Where do you find your design inspiration?
In my mom, more often than not.
[Q] How would you describe your collections?
Our collections are an eclectic mix of classic styles, modern designs, and sublime artistry. Every collection is developed with great thought and meticulous detail, and enriched with our flair for modern artistry.
[Q] How do you decide upon the theme for each of your collections and collaborations?
Each theme is preceded by extensive market research of customers' inclinations and demands. There is, of course, our personal aesthetic and creative leanings in play. Our choice of partners is largely decided by shared or similar design language and values.
[Q] In the wake of the pandemic, how did Khanna Jewellers provide for its artisans and other skilled and unskilled labour?
We have tried our best to make sure of the continuity of work to all our craftsmen, to make sure that they and their families remain provided for then and now.
[Q] Who has been the biggest influence/mentor in your becoming?
My father, his father before him and his brothers, these pillars of the Khanna family have been the ones I have always looked up to and from whom I have learnt all that I know of.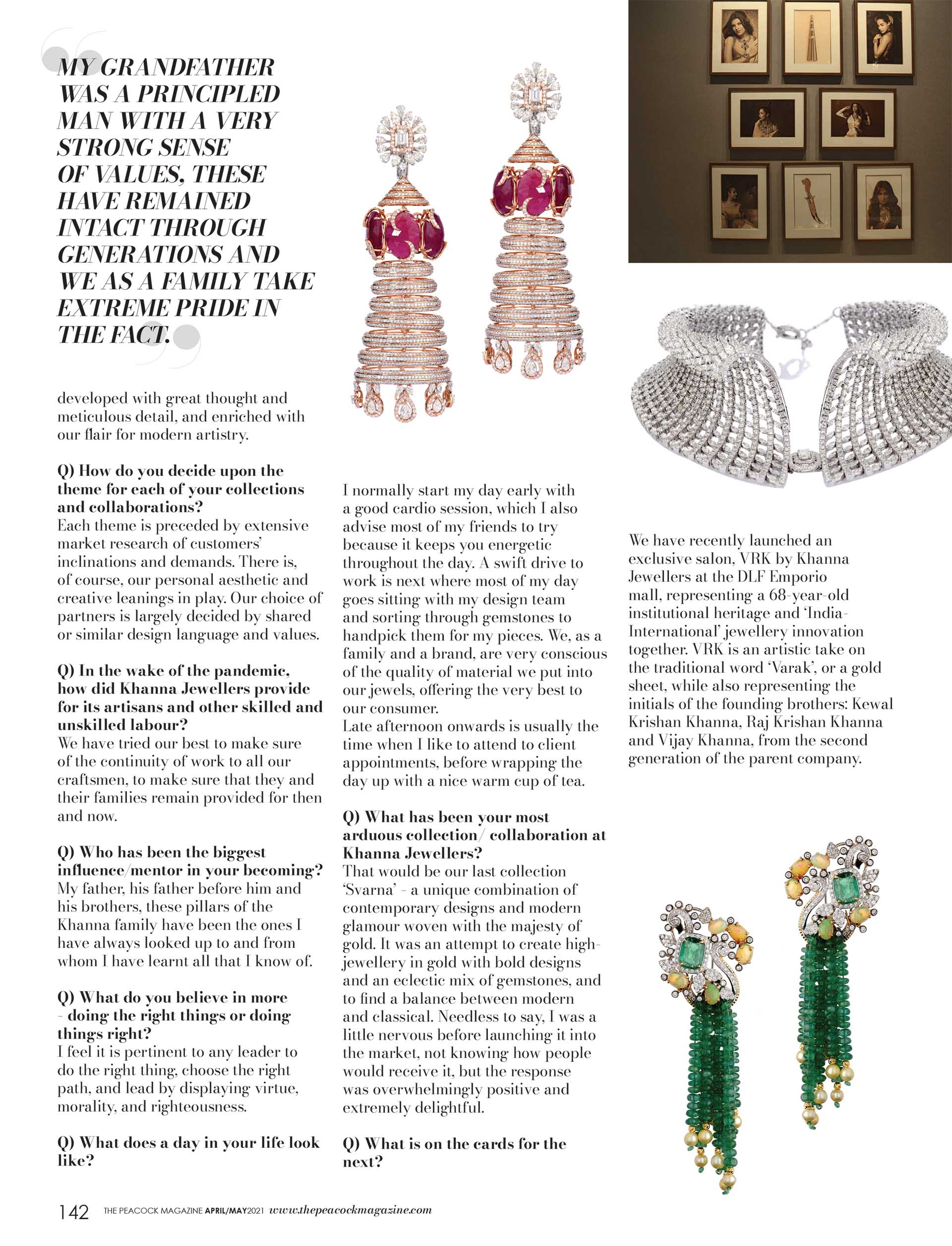 [Q] What do you believe in more – doing the right things or doing things right?
I feel it is pertinent to any leader to do the right thing, choose the right path, and lead by displaying virtue, morality, and righteousness.
[Q] What does a day in your life look like?
I normally start my day early with a good cardio session, which I also advise most of my friends to try because it keeps you energetic throughout the day. A swift drive to work is next where most of my day goes sitting with my design team and sorting through gemstones to handpick them for my pieces. We, as a family and a brand, are very conscious of the quality of material we put into our jewels, offering the very best to our consumer.
Late afternoon onwards is usually the time when I like to attend to client appointments, before wrapping the day up with a nice warm cup of tea.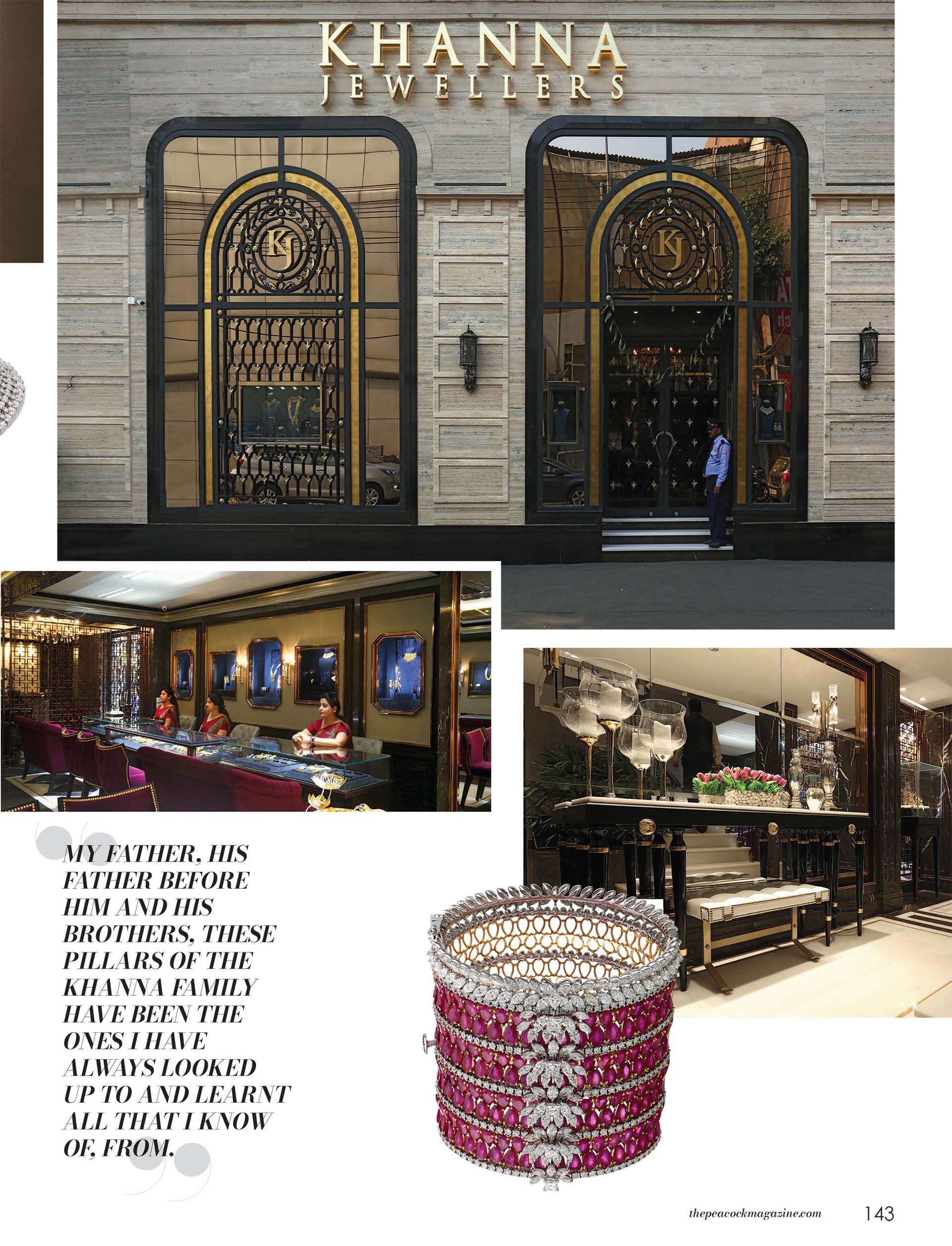 [Q] What has been your most arduous collection/ collaboration at Khanna Jewellers?
That would be our last collection 'Svarna' – a unique combination of contemporary designs and modern glamour woven with the majesty of gold. It was an attempt to create high-jewellery in gold with bold designs and an eclectic mix of gemstones, and to find a balance between modern and classical. Needless to say, I was a little nervous before launching it into the market, not knowing how people would receive it, but the response was overwhelmingly positive and extremely delightful.
[Q] What is on the cards for the next?
We have recently launched an exclusive salon, VRK by Khanna Jewellers at the DLF Emporio mall, representing a 68-year-old institutional heritage and 'India-International' jewellery innovation together. VRK is an artistic take on the traditional word 'Varak', or a gold sheet, while also representing the initials of the founding brothers: Kewal Krishan Khanna, Raj Krishan Khanna and Vijay Khanna, from the second generation of the parent company.