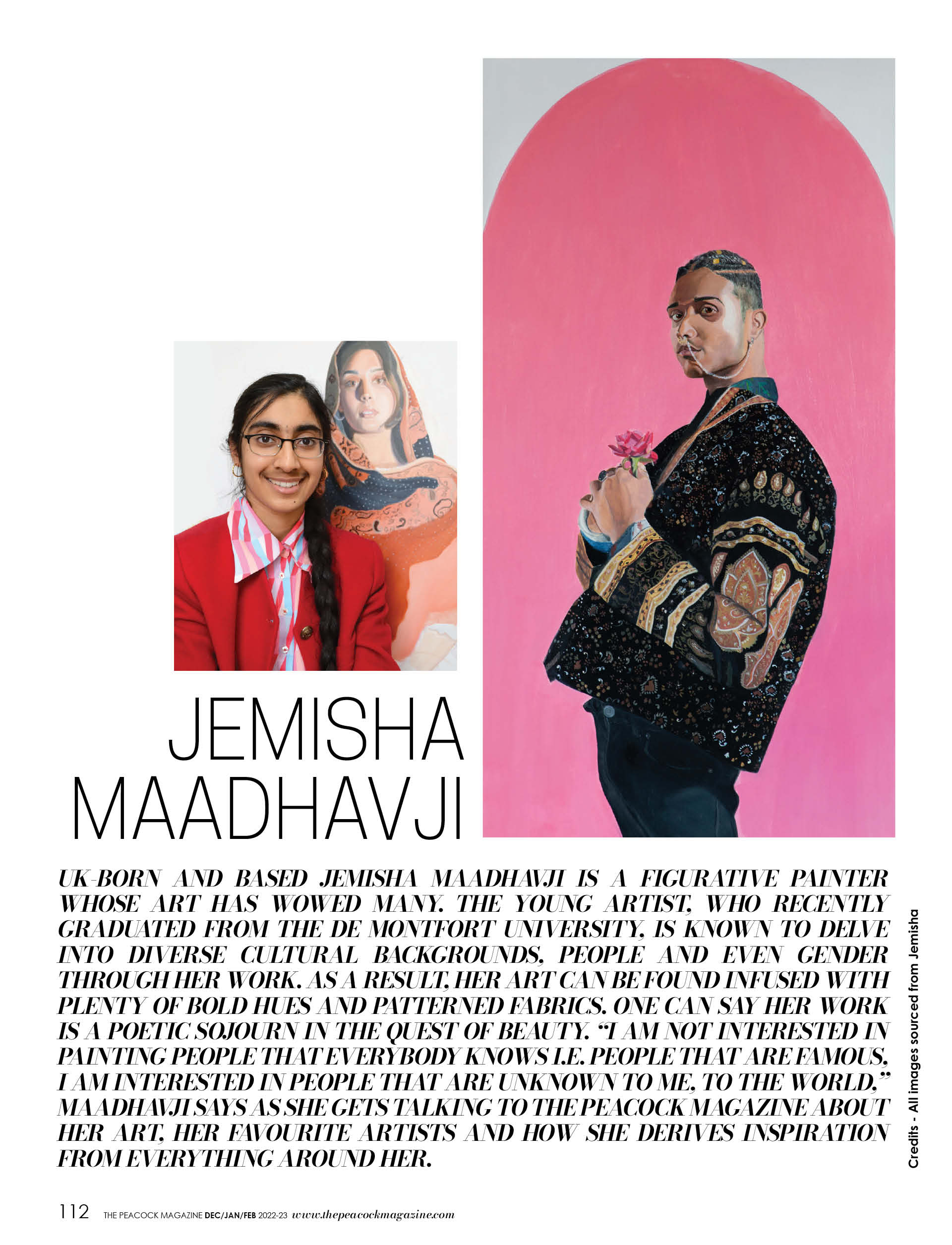 CREDITS: All images sourced from Jemisha

UK-born and based Jemisha Maadhavji is a figurative painter whose art has wowed many. The young artist, who recently graduated from the De Montfort University, is known to delve into diverse cultural backgrounds, people and even gender through her work. As a result, her art can be found infused with plenty of bold hues and patterned fabrics. One can say her work is a poetic sojourn in the quest of beauty. "I am not interested in painting people that everybody knows i.e. people that are famous, I am interested in people that are unknown to me, to the world," Maadhavji says as she gets talking to The Peacock Magazine about her art, her favourite artists and how she derives inspiration from everything around her.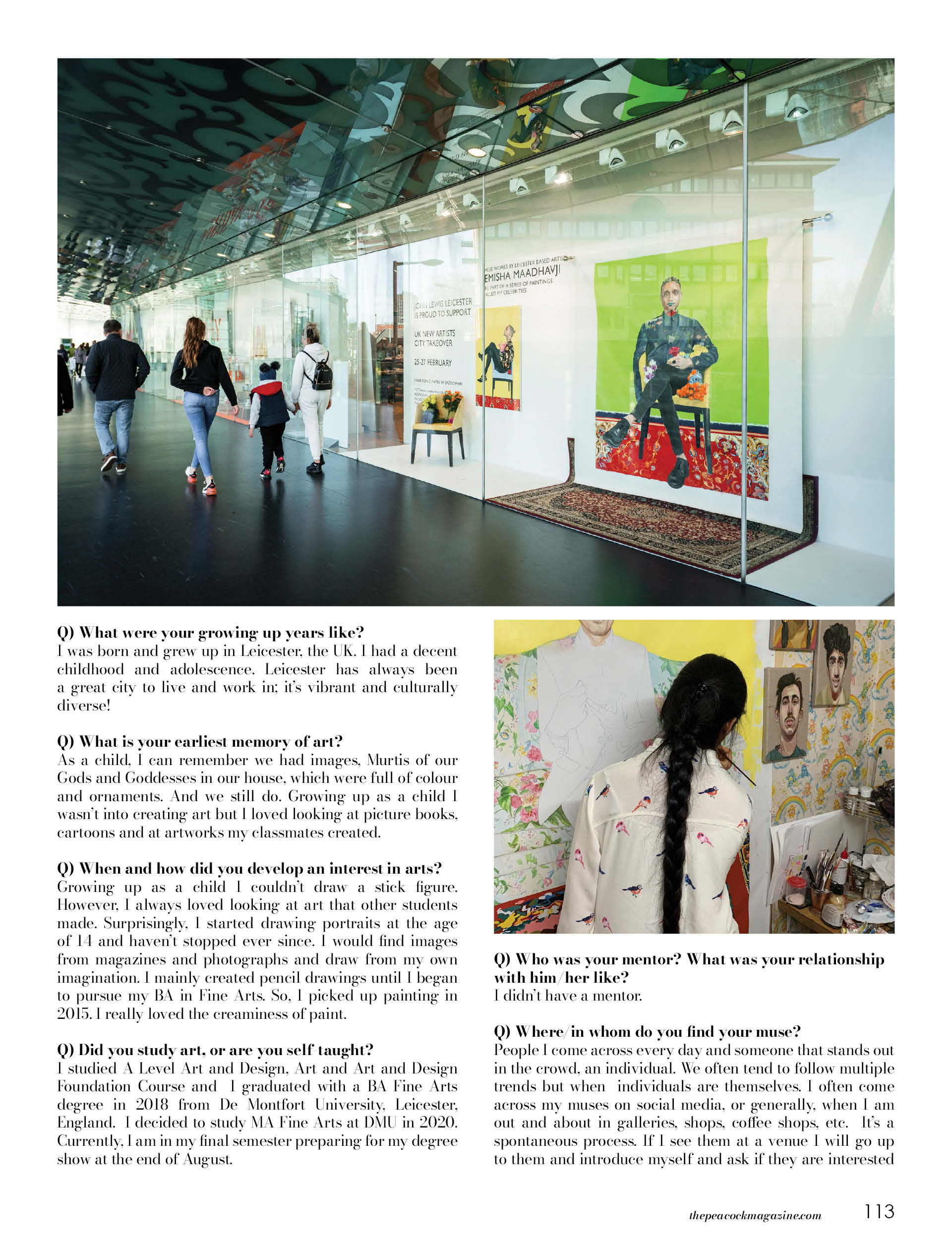 Q) What were your growing up years like?
I was born and grew up in Leicester, the UK. I had a decent childhood and adolescence. Leicester has always been a great city to live and work in; it's vibrant and culturally diverse!
Q) What is your earliest memory of art?
As a child, I can remember we had images, Murtis of our Gods and Goddesses in our house, which were full of colour and ornaments. And we still do. Growing up as a child I wasn't into creating art but I loved looking at picture books, cartoons and at artworks my classmates created.
Q) When and how did you develop an interest in arts?
Growing up as a child I couldn't draw a stick figure. However, I always loved looking at art that other students made. Surprisingly, I started drawing portraits at the age of 14 and haven't stopped ever since. I would find images from magazines and photographs and draw from my own imagination. I mainly created pencil drawings until I began to pursue my BA in Fine Arts. So, I picked up painting in 2015. I really loved the creaminess of paint.
Q) Did you study art, or are you self-taught?
I studied A Level Art and Design, Art and Art and Design Foundation Course and I graduated with a BA Fine Arts degree in 2018 from De Montfort University, Leicester, England. I decided to study MA Fine Arts at DMU in 2020. Currently, I am in my final semester preparing for my degree show at the end of August.
Q) Who was your mentor? What was your relationship with him/her like?
I didn't have a mentor.
Q) Where/in whom do you find your muse?
People I come across every day and someone that stands out in the crowd, an individual. We often tend to follow multiple trends but when individuals are themselves I often come across my muses on social media, or generally, when I am out and about in galleries, shops, coffee shops, etc. It's a spontaneous process. If I see them at a venue I will go up to them and introduce myself and ask if they are interested in modelling for me. If they are interested we have a couple of meetings such that I can understand them better and it gives them a chance to get to know me too. By meeting the subject it helps me to know them better and determine the scale, colours, and composition I will do for the paintings. It is followed by a photoshoot. I like to paint people that are not famous.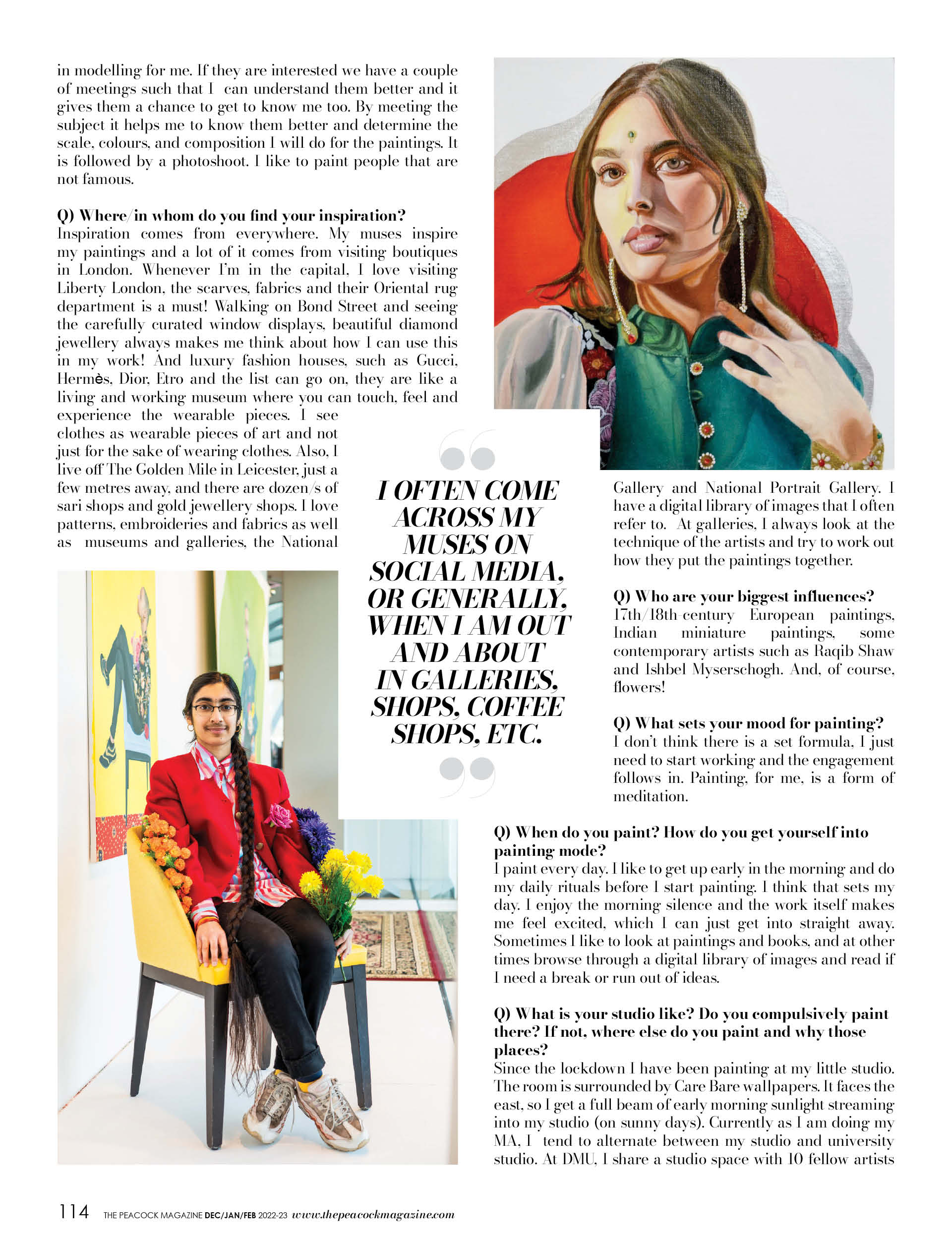 Q) Where/in whom do you find your inspiration?
Inspiration comes from everywhere. My muses inspire my paintings and a lot of it comes from visiting boutiques in London. Whenever I'm in the capital, I love visiting Liberty London, the scarves, fabrics and their Oriental rug department is a must! Walking on Bond Street and seeing the carefully curated window displays, beautiful diamond jewellery always makes me think about how I can use this in my work! And luxury fashion houses, such as Gucci, Hermès, Dior, Etro and the list can go on, they are like a living and working museum where you can touch, feel and experience the wearable pieces. I see clothes as wearable pieces of art and not just for the sake of wearing clothes. Also, I live off The Golden Mile in Leicester, just a few metres away, and there are dozen/s of sari shops and gold jewellery shops. I love patterns, embroideries and fabrics as well as museums and galleries, the National Gallery and National Portrait Gallery. I have a digital library of images that I often refer to. At galleries, I always look at the technique of the artists and try to work out how they put the paintings together.
Q) Who are your biggest influences?
17th/18th-century European paintings, Indian miniature paintings, some contemporary artists such as Raqib Shaw and Ishbel Myserschogh. And, of course, flowers!
Q) What sets your mood for painting?
I don't think there is a set formula, I just need to start working and the engagement follows in. Painting, for me, is a form of meditation.
Q) When do you paint? How do you get yourself into painting mode?
I paint every day. I like to get up early in the morning and do my daily rituals before I start painting. I think that sets my day. I enjoy the morning silence and the work itself makes me feel excited, which I can just get into straight away. Sometimes I like to look at paintings and books, and at other times browse through a digital library of images and read if I need a break or run out of ideas.
Q) What is your studio like? Do you compulsively paint there? If not, where else do you paint and why those places?
Since the lockdown I have been painting at my little studio. The room is surrounded by Care Bare wallpapers. It faces the east, so I get a full beam of early morning sunlight streaming into my studio (on sunny days). Currently as I am doing my MA, I tend to alternate between my studio and university studio. At DMU, I share a studio space with 10 fellow artists on the 11th floor of Vijay Patel Arts Tower. It's a large and white space with a skylight and multiple large windows for natural light.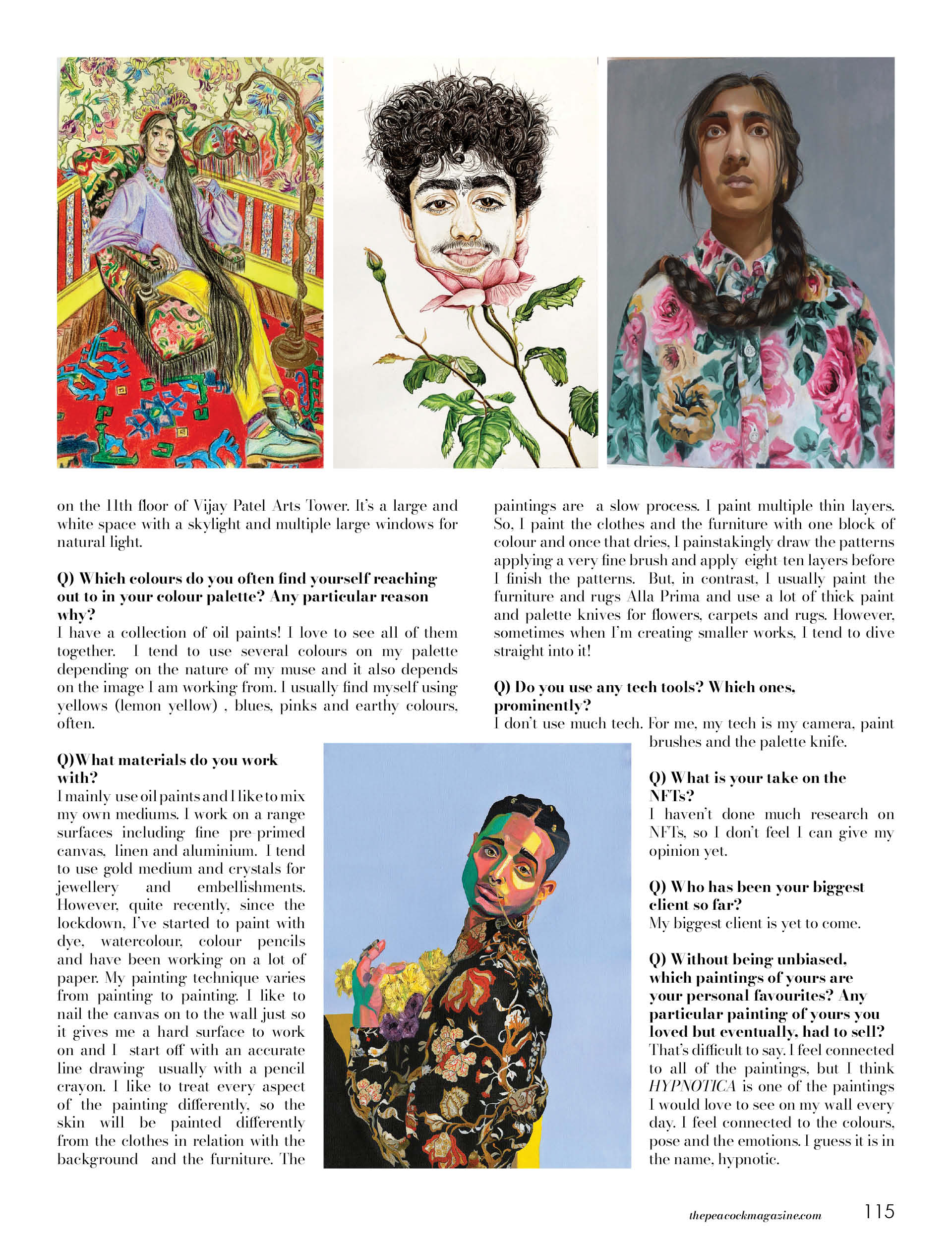 Q) Which colours do you often find yourself reaching out to in your colour palette? Any particular reason why?
I have a collection of oil paints! I love to see all of them together. I tend to use several colours on my palette depending on the nature of my muse and it also depends on the image I am working from. I usually find myself using yellows (lemon yellow) , blues, pinks and earthy colours, often.
Q) What materials do you work with?
I mainly use oil paints and I like to mix my own mediums. I work on a range surfaces including fine pre-primed canvas, linen and aluminium. I tend to use gold medium and crystals for jewellery and embellishments. However, quite recently, since the lockdown, I've started to paint with dye, watercolour, colour pencils and have been working on a lot of paper. My painting technique varies from painting to painting. I like to nail the canvas on to the wall just so it gives me a hard surface to work on and I start off with an accurate line drawing usually with a pencil crayon. I like to treat every aspect of the painting differently, so the skin will be painted differently from the clothes in relation with the background and the furniture. The paintings are a slow process. I paint multiple thin layers. So, I paint the clothes and the furniture with one block of colour and once that dries, I painstakingly draw the patterns applying a very fine brush and apply eight-ten layers before I finish the patterns. But, in contrast, I usually paint the furniture and rugs Alla Prima and use a lot of thick paint and palette knives for flowers, carpets and rugs. However, sometimes when I'm creating smaller works, I tend to dive straight into it!
Q) Do you use any tech tools? Which ones, prominently?
I don't use much tech. For me, my tech is my camera, paint brushes and the palette knife.
Q) What is your take on the NFTs?
I haven't done much research on NFTs, so I don't feel I can give my opinion yet.
Q) Who has been your biggest client so far?
My biggest client is yet to come.
Q) Without being unbiased, which paintings of yours are your personal favourites? Any particular painting of yours you loved but eventually, had to sell?
That's difficult to say. I feel connected to all of the paintings, but I think HYPNOTICA is one of the paintings I would love to see on my wall every day. I feel connected to the colours, pose and the emotions. I guess it is in the name, hypnotic.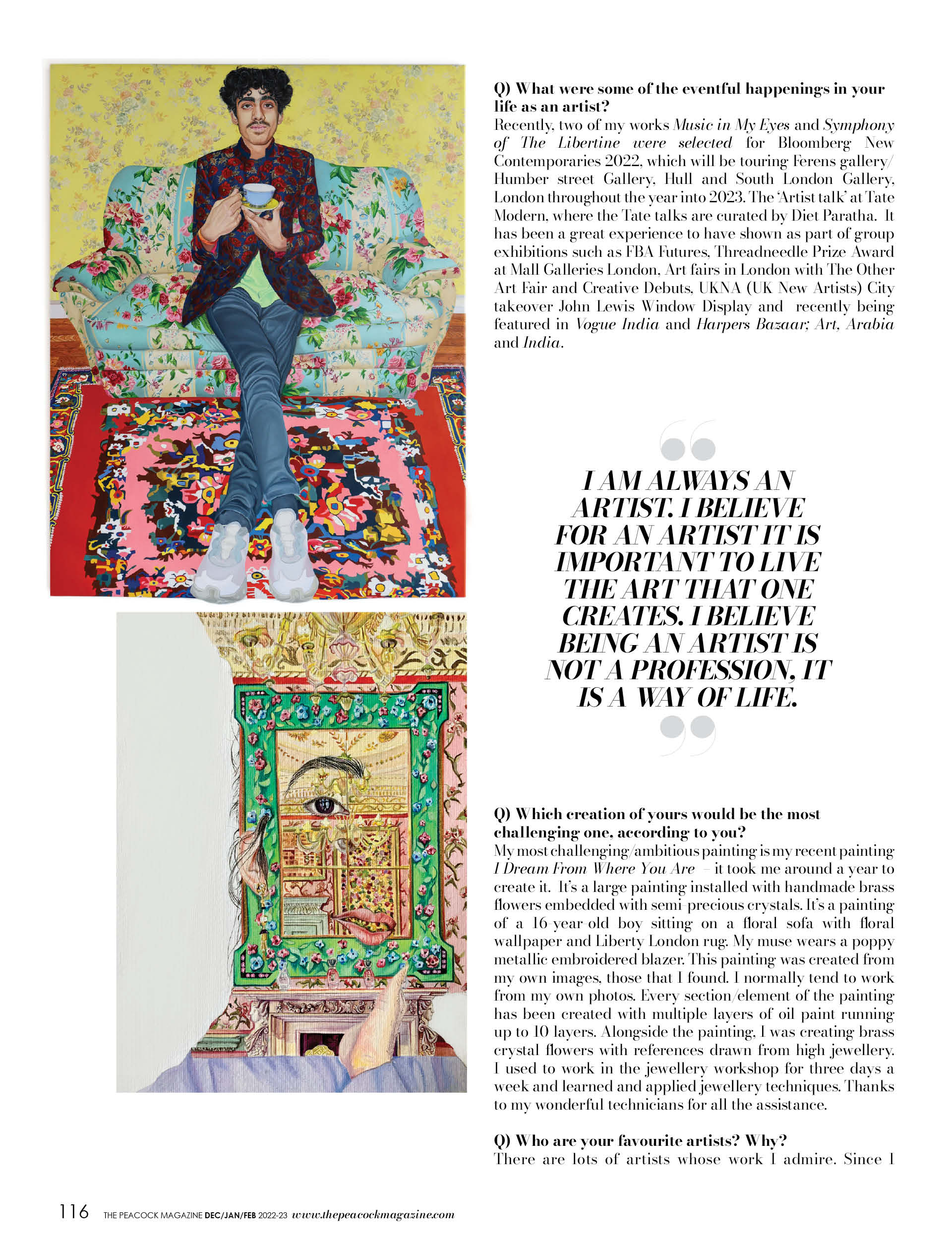 Q) What were some of the eventful happenings in your life as an artist?
Recently, two of my works Music in My Eyes and Symphony of The Libertine were selected for Bloomberg New Contemporaries 2022, which will be touring Ferens gallery/Humber street Gallery, Hull and South London Gallery, London throughout the year into 2023. The 'Artist talk' at Tate Modern, where the Tate talks are curated by Diet Paratha. It has been a great experience to have shown as part of group exhibitions such as FBA Futures, Threadneedle Prize Award at Mall Galleries London, Art fairs in London with The Other Art Fair and Creative Debuts, UKNA (UK New Artists) City takeover John Lewis Window Display and recently being featured in Vogue India and Harpers Bazaar; Art, Arabia and India.
Q) Which creation of yours would be the most challenging one, according to you?
My most challenging/ambitious painting is my recent painting I Dream From Where You Are — it took me around a year to create it. It's a large painting installed with handmade brass flowers embedded with semi-precious crystals. It's a painting of a 16-year-old boy sitting on a floral sofa with Sabyasachi floral wallpaper and Liberty London rug. My muse wears a poppy metallic embroidered blazer. This painting was created from my own images, those that I found. I normally tend to work from my own photos. Every section/element of the painting has been created with multiple layers of oil paint running up to 10 layers. Alongside the painting, I was creating brass crystal flowers with references drawn from high jewellery. I used to work in the jewellery workshop for three days a week and learned and applied jewellery techniques. Thanks to my wonderful technicians for all the assistance.
Q) Who are your favourite artists? Why?
There are lots of artists whose work I admire. Since I started drawing I have always looked up to the old masters and for the first time when I was 19, I visited the National Gallery and saw Rembrandt's self-portrait loaded with thick oil paint sculpted delicately with defined features. For the first time when I saw 'The Supper at Emmaus' by Caravaggio in the flesh, I really loved the way the master handled the paint, techniques and specifically the use of light 'Chiaroscuro'. The contrast of light and shadow adds so much depth to the painting and the context. It makes the painting feel alive! I also admire the styles of the Pre-Raphaelites and Pahari Indian miniature paintings. I find the paintings of contemporary artist Raqib Shaw magical in the sense that it takes me into another world and dimensions altogether.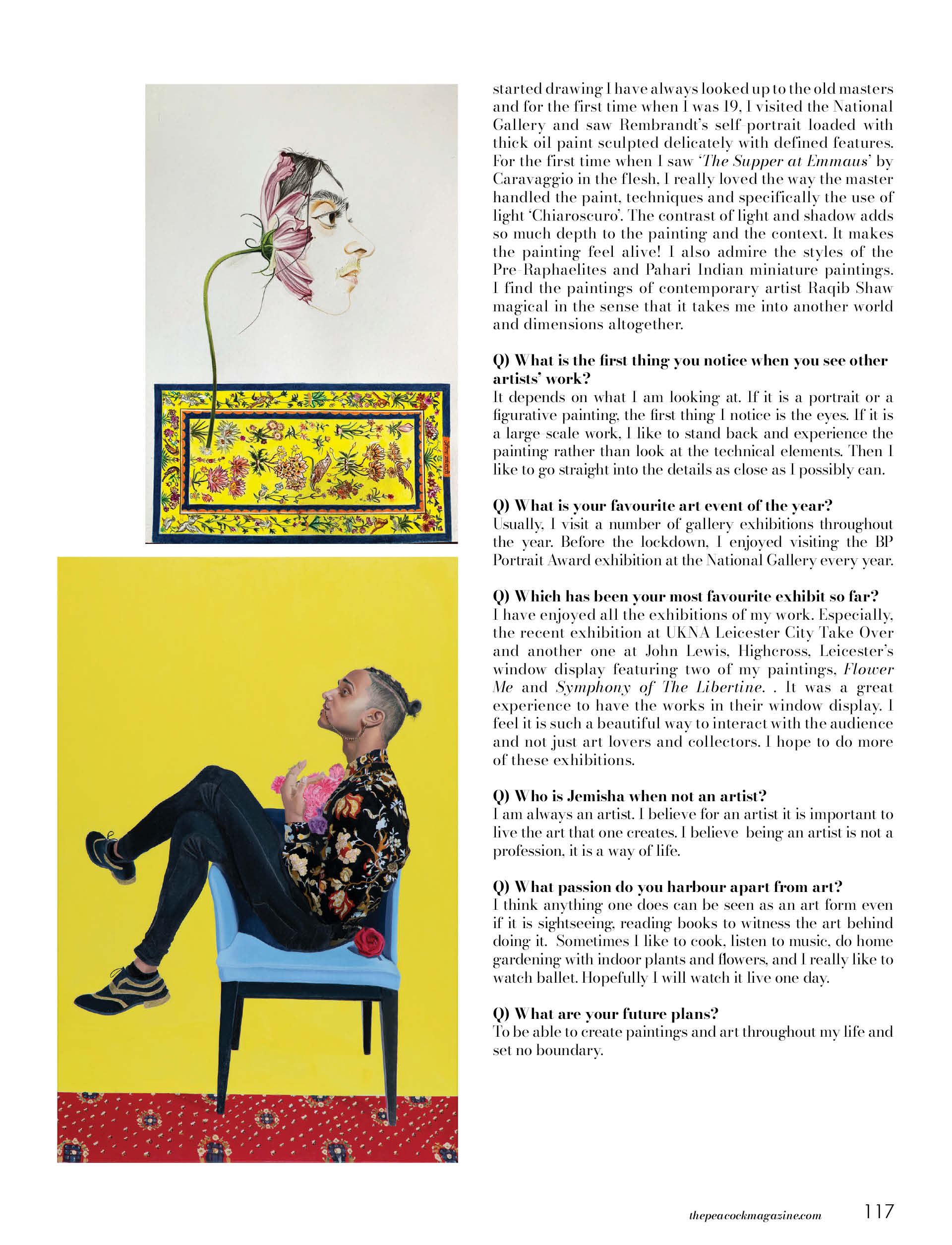 Q) What is the first thing you notice when you see other artists' work?
It depends on what I am looking at. If it is a portrait or a figurative painting, the first thing I notice is the eyes. If it is a large-scale work, I like to stand back and experience the painting rather than look at the technical elements. Then I like to go straight into the details as close as I possibly can.
Q) What is your favourite art event of the year?
Usually, I visit a number of gallery exhibitions throughout the year. Before the lockdown, I enjoyed visiting the BP Portrait Award exhibition at the National Gallery every year.
Q) Which has been your most favourite exhibit so far?
I have enjoyed all the exhibitions of my work. Especially, the recent exhibition at UKNA Leicester City Take Over and another one at John Lewis, Highcross, Leicester's window display featuring two of my paintings, Flower Me and Symphony of The Libertine. . It was a great experience to have the works in their window display. I feel it is such a beautiful way to interact with the audience and not just art lovers and collectors. I hope to do more of these exhibitions.
Q) Who is Jemisha when not an artist?
I am always an artist. I believe for an artist it is important to live the art that one creates. I believe being an artist is not a profession, it is a way of life.
Q) What passion do you harbour apart from art?
I think anything one does can be seen as an art form even if it is sightseeing, reading books to witness the art behind doing it. Sometimes I like to cook, listen to music, do home gardening with indoor plants and flowers, and I really like to watch ballet. Hopefully I will watch it live one day.
Q) What are your future plans?
To be able to create paintings and art throughout my life and set no boundary.