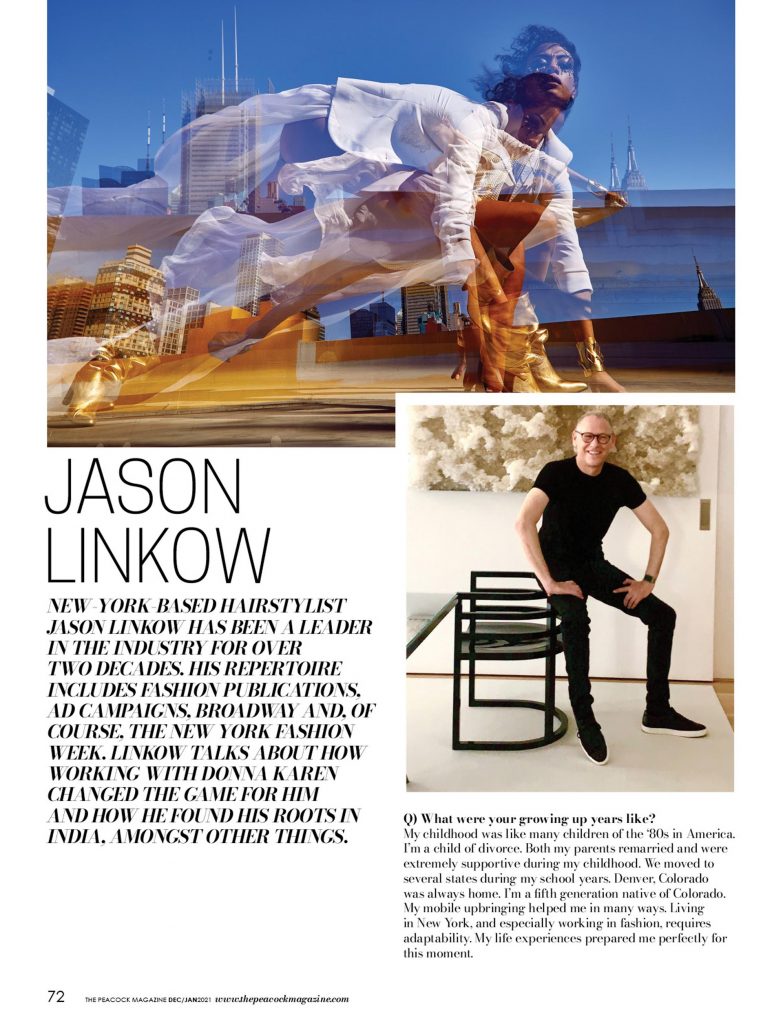 CREDITS – All images sourced from the artist.
New-York-based hairstylist Jason Linkow has been a leader in the industry for over two decades. His repertoire includes fashion publications, ad campaigns, Broadway and, of course, the New York Fashion Week. Linkow talks about how working with Donna Karen changed the game for him and how he found his roots in India, amongst other things.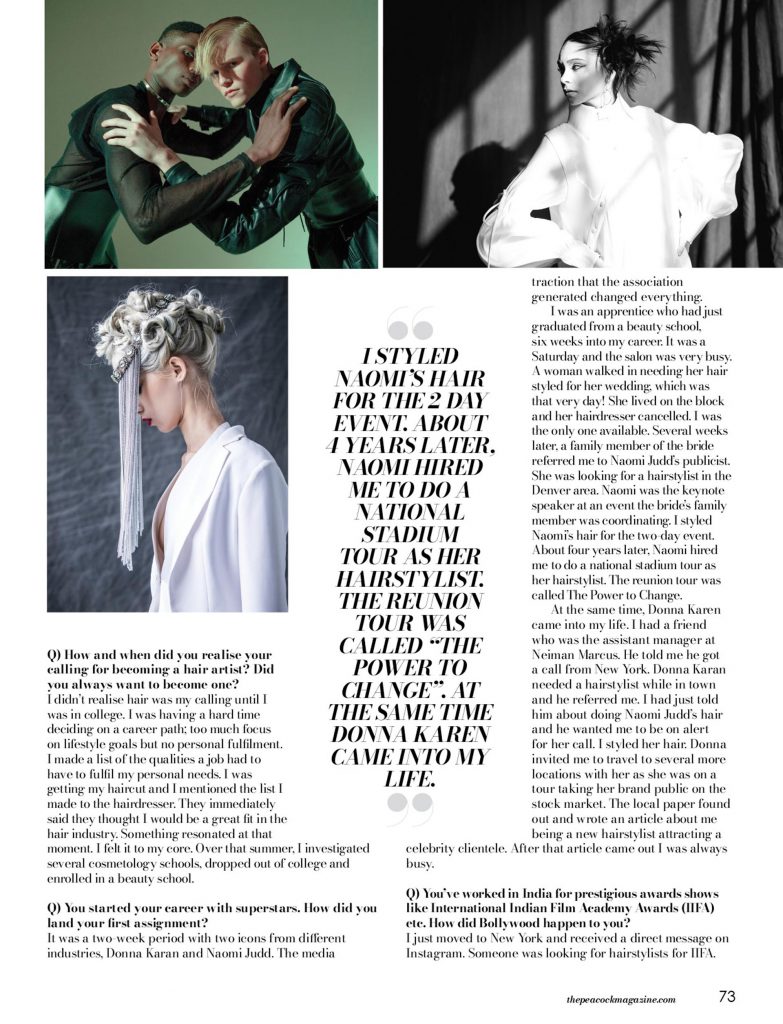 [Q] What were your growing up years like?
My childhood was like many children of the '80s in America. I'm a child of divorce. Both my parents remarried and were extremely supportive during my childhood. We moved to several states during my school years. Denver, Colorado was always home. I'm a fifth generation native of Colorado. My mobile upbringing helped me in many ways. Living in New York, and especially working in fashion, requires adaptability. My life experiences prepared me perfectly for this moment.
[Q] How and when did you realise your calling for becoming a hair artist? Did you always want to become one?
I didn't realise hair was my calling until I was in college. I was having a hard time deciding on a career path; too much focus on lifestyle goals but no personal fulfilment. I made a list of the qualities a job had to have to fulfil my personal needs. I was getting my haircut and I mentioned the list I made to the hairdresser. They immediately said they thought I would be a great fit in the hair industry. Something resonated at that moment. I felt it to my core. Over that summer, I investigated several cosmetology schools, dropped out of college and enrolled in a beauty school.
[Q] You started your career with superstars. How did you land your first assignment?
It was a two-week period with two icons from different industries, Donna Karan and Naomi Judd. The media traction that the association generated changed everything.
I was an apprentice who had just graduated from a beauty school, six weeks into my career. It was a Saturday and the salon was very busy. A woman walked in needing her hair styled for her wedding, which was that very day! She lived on the block and her hairdresser cancelled. I was the only one available. Several weeks later, a family member of the bride referred me to Naomi Judd's publicist. She was looking for a hairstylist in the Denver area. Naomi was the keynote speaker at an event the bride's family member was coordinating. I styled Naomi's hair for the two-day event. About four years later, Naomi hired me to do a national stadium tour as her hairstylist. The reunion tour was called The Power to Change.
At the same time, Donna Karen came into my life. I had a friend who was the assistant manager at Neiman Marcus. He told me he got a call from New York. Donna Karan needed a hairstylist while in town and he referred me. I had just told him about doing Naomi Judd's hair and he wanted me to be on alert for her call. I styled her hair. Donna invited me to travel to several more locations with her as she was on a tour taking her brand public on the stock market. The local paper found out and wrote an article about me being a new hairstylist attracting a celebrity clientele. After that article came out I was always busy.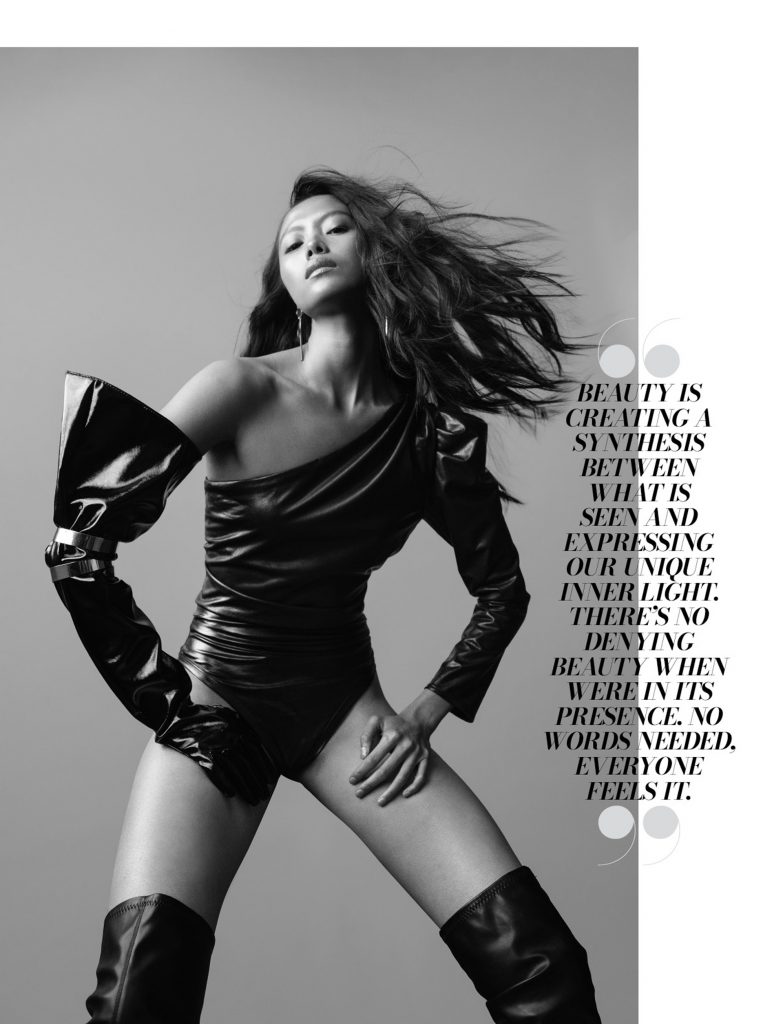 [Q] You've worked in India for prestigious awards shows like International Indian Film Academy Awards (IIFA) etc. How did Bollywood happen to you?
I just moved to New York and received a direct message on Instagram. Someone was looking for hairstylists for IIFA. It was from a stranger, a makeup artist in school. When the coordinator for the event met me and saw my ability, she asked me to be the lead hair (artist) and do the final looks. I showed up to style hair with the team and by the end of the day, I was doing the final looks for Falguni Shane Peacock's runway show. That was the first day of events in Times Square announcing the arrival of IIFA! Just like that, a dream was realised! My work was being shown in quite possibly the world's most iconic location! The next day I was asked to do hair for the main media correspondents for Red FM's RJ Malishka and RJ Devaki. They hosted the live green carpet international broadcast. Once again, the director approached me and said they needed someone to do final touch-ups for IIFA Rocks and the award show. I had a small set-up just offstage. I was with every presenter and musician before they went out in case they needed any last-minute touch-ups! So amazing!
[Q] How do you decide the hairstyles for any shoot? Do you always go by the memo or do you choose to go by your instincts?
That depends on the type of project. Editorials have more creative freedom. Creating a dream or fantasy is more abstract than designing for campaigns, runways or e-commerce. After I know what the project is all about, I ask what feeling needs to be communicated. Most projects provide references for inspiration. There are instances when the inspiration and the end goal conflict. Overall, it's usually a combination. As creative artists, we are chosen for our point of view, it's expected that my authentic self will be allowed to be part of the editorial process. When it comes to runways, e-commerce and campaigns, the vision is always clearly defined. It's not good to deviate from the memo unless you're testing the looks in advance with the client. Being able to deliver a level of quality consistently is why I'm hired.
[Q] How would you describe your signature look?
I feel my aesthetic is best described as aspirational cool. I tend to gravitate to tousled looks that have combinations of hyper-focused details with organic elements. I'm always interested in what's next. If I visit the past aesthetically, I add something modern to make it relevant.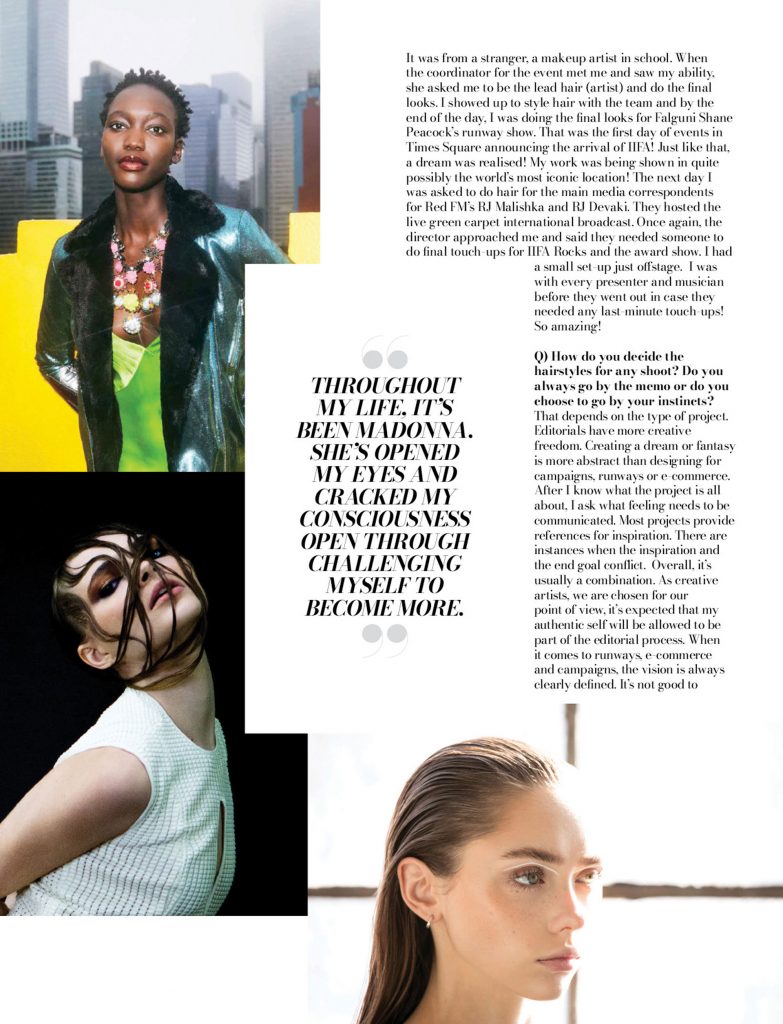 [Q] What have been the highlights of your career until now?
The biggest highlight is always combined with the biggest risks with letting go. First, it was owning a salon and letting it go to become a freelance artist. Then, giving up my entire salon career in Denver to move to NY. Each time it freed my energy to express myself at a new level.
[Q] What's your definition of 'beauty'?
Beauty is creating a synthesis between what is seen and expressing our unique inner light. There's no denying beauty when we're in its presence. No word is needed, everyone feels it.
[Q] Who is your ultimate hair icon and why?
Vidal Sassoon. He created the modern vocabulary and methodology for modern hairdressing. He created a system of communication for the entire industry as well as between client and hairdresser. His system allowed knowledge to be shared and he invented the tools and products to create beautiful looks consistently. He empowered women to be independent and free with their hair. I'm very inspired by how he elevated his craft and was able to not just keep to himself. His methods are still the foundation of the entire craft.
[Q] Who is your style icon?
Throughout my life, it's been Madonna. She's opened my eyes and cracked my consciousness open by challenging myself to become more.
[Q] Debunk the biggest hair myth you've heard.
Don't shave your hair, especially if you're young. It will grow back thicker and darker. It's 100% false! If true there would be no hair regrowth industry, everyone would have unbelievably thick hair.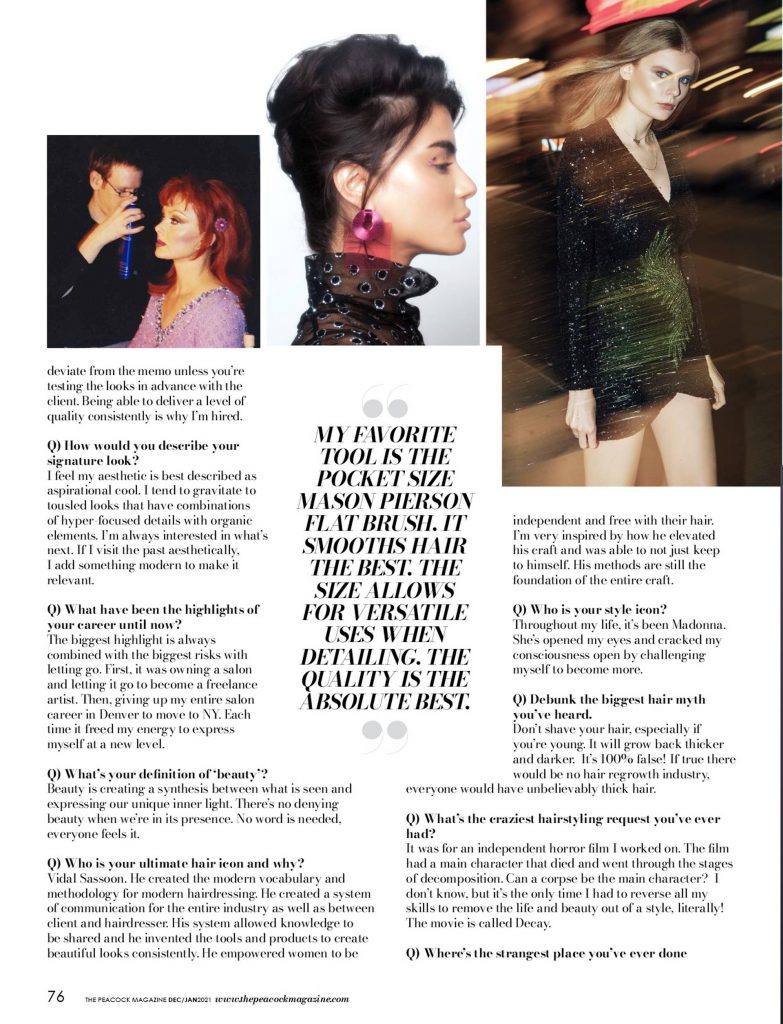 [Q] What's the craziest hairstyling request you've ever had?
It was for an independent horror film I worked on. The film had a main character that died and went through the stages of decomposition. Can a corpse be the main character? I don't know, but it's the only time I had to reverse all my skills to remove the life and beauty out of a style, literally! The movie is called Decay.
[Q] Where's the strangest place you've ever done someone's hair?
In bed with RJ Malishka! New York hotel rooms are small. The most comfortable place to do her hair was in bed and it's one of my favourite memories with her.
[Q] What are the three hair products you can't live without?
Thickening/ texture spray, Argan oil, hairspray.
[Q] What is your number one hair care tip?
Stop using shampoo to wash your hair! There are better cleansing systems that don't strip the oils from your hair. This allows your natural texture to be an attribute. Air drying can be achieved with substantially less frizz. One cleanser that works on all hair textures and races.
[Q] Which is that one hair product or tool that is always in your kit?
My favourite tool is the pocket size Mason Pierson flat brush. It smooths hair the best. The size allows for versatile uses when detailing. The quality is the absolute best.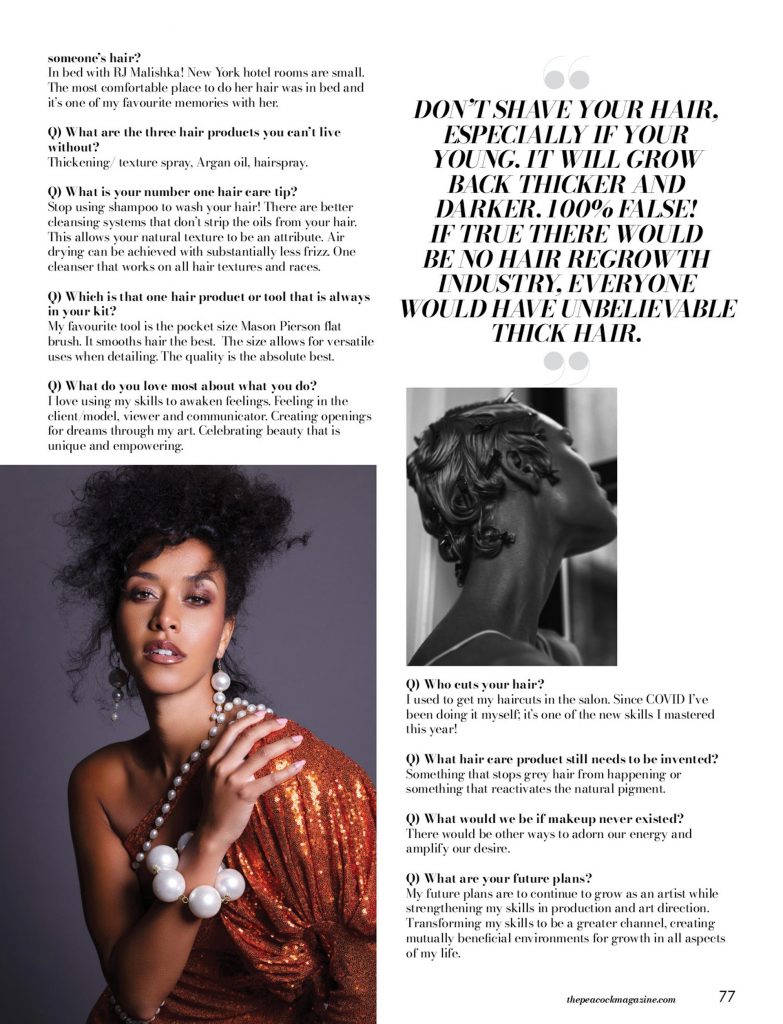 [Q] What do you love most about what you do?
I love using my skills to awaken feelings. Feeling in the client/model, viewer and communicator. Creating openings for dreams through my art. Celebrating beauty that is unique and empowering.
[Q] Who cuts your hair?
I used to get my haircuts in the salon. Since COVID I've been doing it myself; it's one of the new skills I mastered this year!
[Q] What hair care product still needs to be invented?
Something that stops grey hair from happening or something that reactivates the natural pigment.
[Q] What would we be if makeup never existed?
There would be other ways to adorn our energy and amplify our desire.
[Q] What are your future plans?
My future plans are to continue to grow as an artist while strengthening my skills in production and art direction. Transforming my skills to be a greater channel, creating mutually beneficial environments for growth in all aspects of my life.