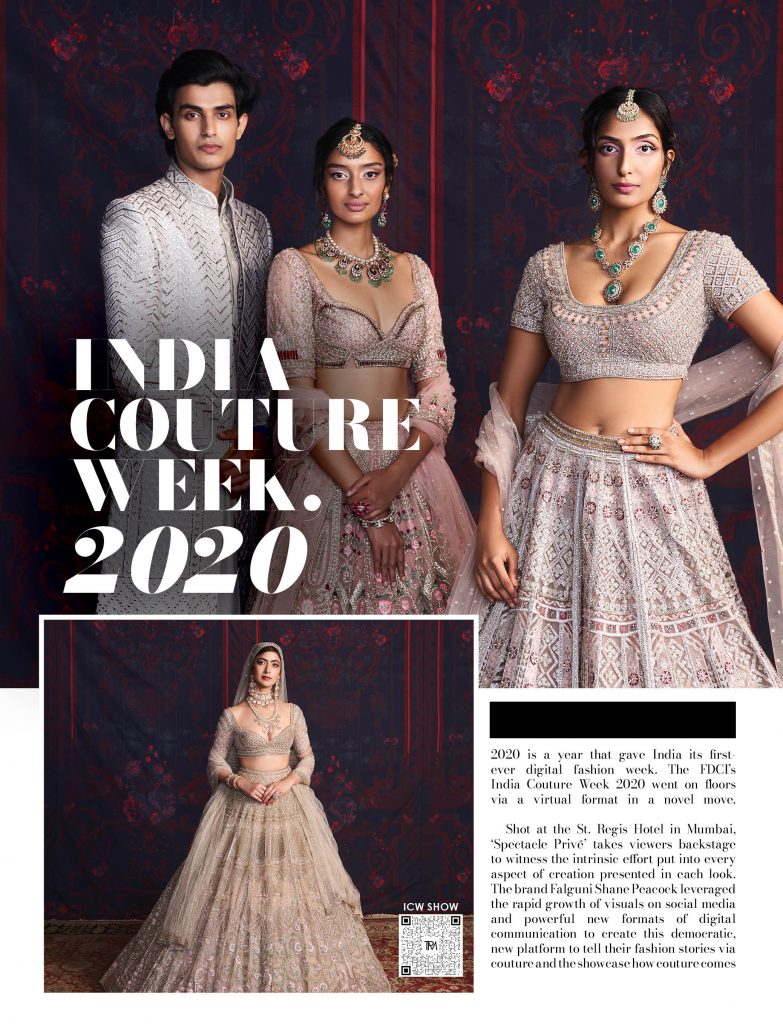 CREDITS-
PHOTOGRAPHER – KAILASH DEEPAK
CLOTHING – FALGUNI SHANE PEACOCK

2020 is a year that gave India its first-ever digital fashion week. The FDCI's 'India Couture Week 2020' went on floors via a virtual format in a novel move.
Shot at the St. Regis Hotel in Mumbai, 'Spectacle Privé' takes viewers backstage to witness the intrinsic effort put into every aspect of creation presented in each look. The brand Falguni Shane Peacock leveraged the rapid growth of visuals on social media and powerful new formats of digital communication to create this democratic, new platform to tell their fashion stories via couture and the showcase how couture comes to life. The purpose of the fashion film 'Spectacle Privé' at ICW 20/21 was to present an artistic showcase that recreates the reverie as the excitement from live runway shows moves to a new narrative. Fashion and technology merge beautifully to create a thrilling experience. In an almost surreal manner, the physical barriers are disrupted and the runway gives way to a rail track leading into five different mood boards.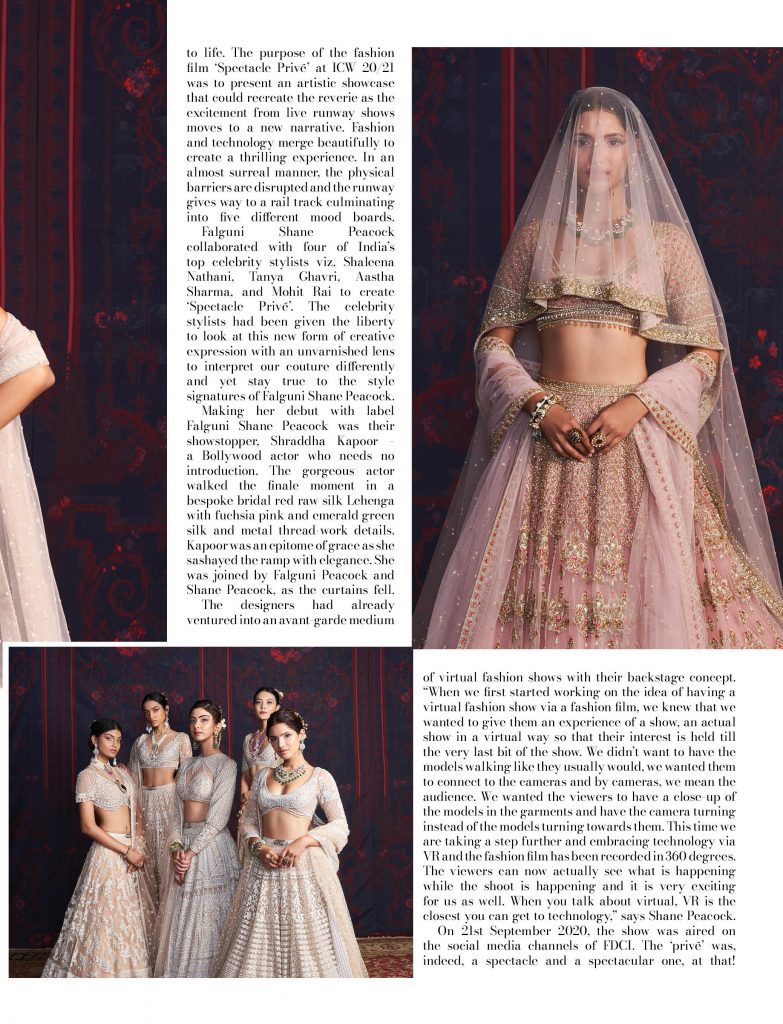 Falguni Shane Peacock collaborated with four of India's top celebrity stylists viz. Shaleena Nathani, Tanya Ghavri, Aastha Sharma, and Mohit Rai to create 'Spectacle Privé'. The celebrity stylists had been given the liberty to look at this new form of creative expression with an unvarnished lens to interpret our couture differently and yet stay true to the style signatures of Falguni Shane Peacock.

Making her debut with label Falguni Shane Peacock was their showstopper, Shraddha Kapoor – a Bollywood actress who needs no introduction. The gorgeous actress walked the finale moment in a bespoke bridal red raw silk Lehenga with fuchsia pink and emerald green silk and metal thread work details. Shraddha was an epitome of grace as she sashayed the ramp with elegance. She was joined by Falguni Peacock and Shane Peacock, as the curtains fell.

The designers had already ventured into an Avant-Garde medium of virtual fashion shows with their backstage concept. "When we first started working on the idea of having a virtual fashion show via a fashion film, we knew that we wanted to give them an experience of a show, an actual show in a virtual way so that their interest is held till the very last bit of the show. We didn't want to have the models walking like they usually would, we wanted them to connect to the cameras and by cameras, we mean the audience. We wanted the viewers to have a close up of the models in the garments and have the camera turning instead of the models turning towards them. This time we are taking a step further and embracing technology via VR and the fashion film has been recorded in 360 degrees. The viewers can now actually see what is happening while the shoot is happening and it is very exciting for us as well. When you talk about virtual, VR is the closest you can get to technology," Shane Peacock added.
On 21st September 2020, the show was aired on the social media channels of FDCI. The 'privé' was, indeed, a spectacle and a spectacular one, at that!