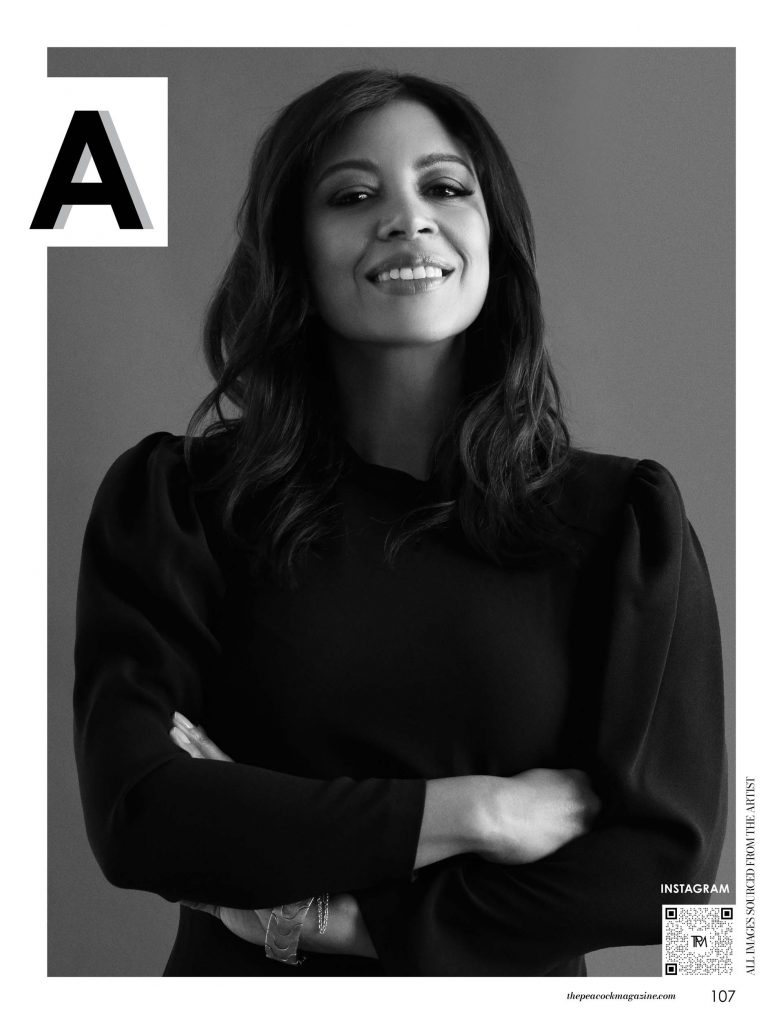 WITH A SOUTH ASIAN BACKGROUND AND GLOBAL DESIGNING AESTHETICS, INTERIOR DESIGNER HUMA SULAIMAN HAS PRETTY MUCH CONQUERED THE WORLD. FROM STARTING SMALL WITH 'TAJ VIVANTA' IN INDIA TO DOING UP HOMES OF THE SWISH SETS IN CALI, HUMA HAS SURE COME A LONG WAY. THE DESIGN CURATOR SPEAKS TO THE PEACOCK MAGAZINE ABOUT WHAT INSPIRES HER, HOW SHE GETS IN THE DESIGNING GROOVE, AND MUCH MORE IN A TELL-ALL CONVERSATION.

CREDITS-
Images artist's own.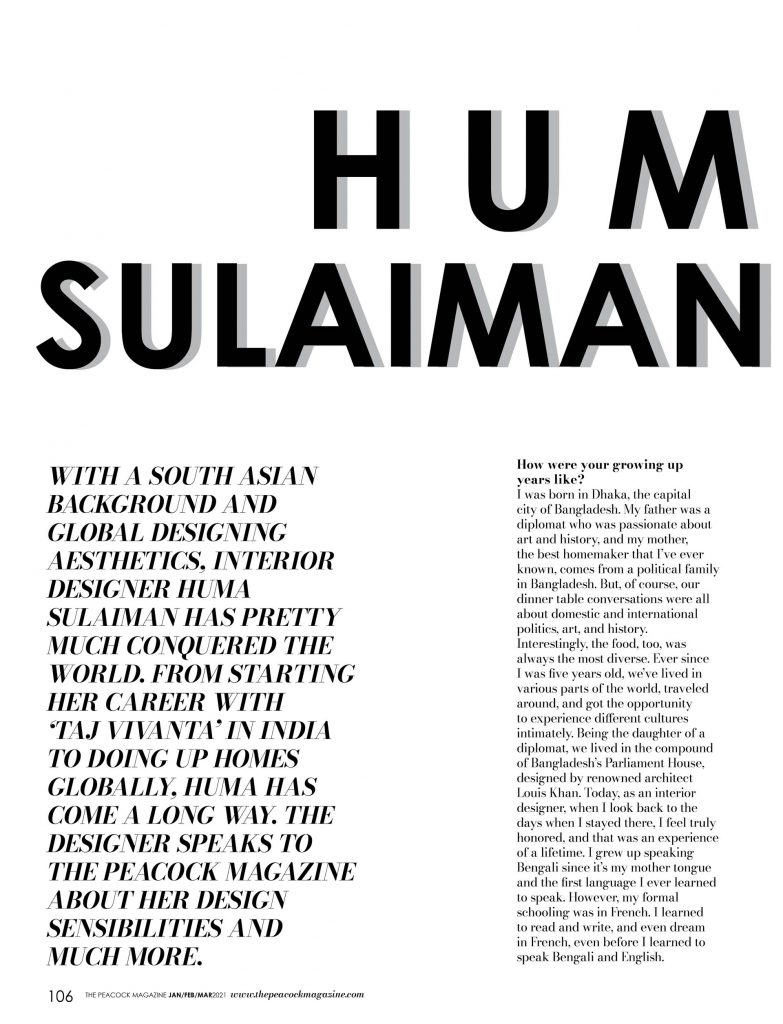 [Q] How were your growing up years like?
I was born in Dhaka, the capital city of Bangladesh. My father was a diplomat who was passionate about art and history, and my mother, the best homemaker I've ever known, comes from a political family in Bangladesh. But, of course, our dinner table conversations were all about domestic and international politics, art, and history. Interestingly, the food, too, was always the most diverse. Ever since I was five years old, we've lived in various parts of the world, traveled around, and got the opportunity to experience different cultures intimately. Being the daughter of a diplomat, we lived in the compound of Bangladesh's Parliament house, designed by renowned architect Louis Khan. Today, as an interior designer, when I look back to the days when I stayed there, I feel truly honored, and that was an experience of a lifetime. I grew up speaking Bengali since it's my mother tongue and the first language I ever learned to speak. However, my formal schooling was in French. I learned to read and write, and even dream in French, even before I learned to speak Bengali and English.
[Q] What is the earliest memory of you finding yourself getting inclined towards interior designing?
I was probably nine or ten years old. I was visiting one of my dad's friends' home with my parents. I remember they had a large living area that was not only beautifully designed, but the layout was also unique. There was something that caught my attention. The vast living space was divided into two very distinct areas. An ottoman was used ingeniously to create that division. That has been engraved in my memory since then. I still find it fascinating how as a young child that detail caught my attention and stayed with me forever.
[Q] How did you land your first assignment?
We had just moved to Bengaluru, India from Dallas, Texas on a three-year international assignment for my husband's work. I was contemplating making a shift in my career for a while, but then I thought the overseas move would be the time to start anew. I was not particularly thinking 'Interior Design,' but it just fell into my lap. I was asked by a friend, who I believe has a great aesthetic, to take on the task of soft furnishing some of the spaces in 'Taj Vivanta' in Yeshwanthpur after she had visited my home in Bengaluru. She asked me if I would like to meet the General Manager, which I did and got the job!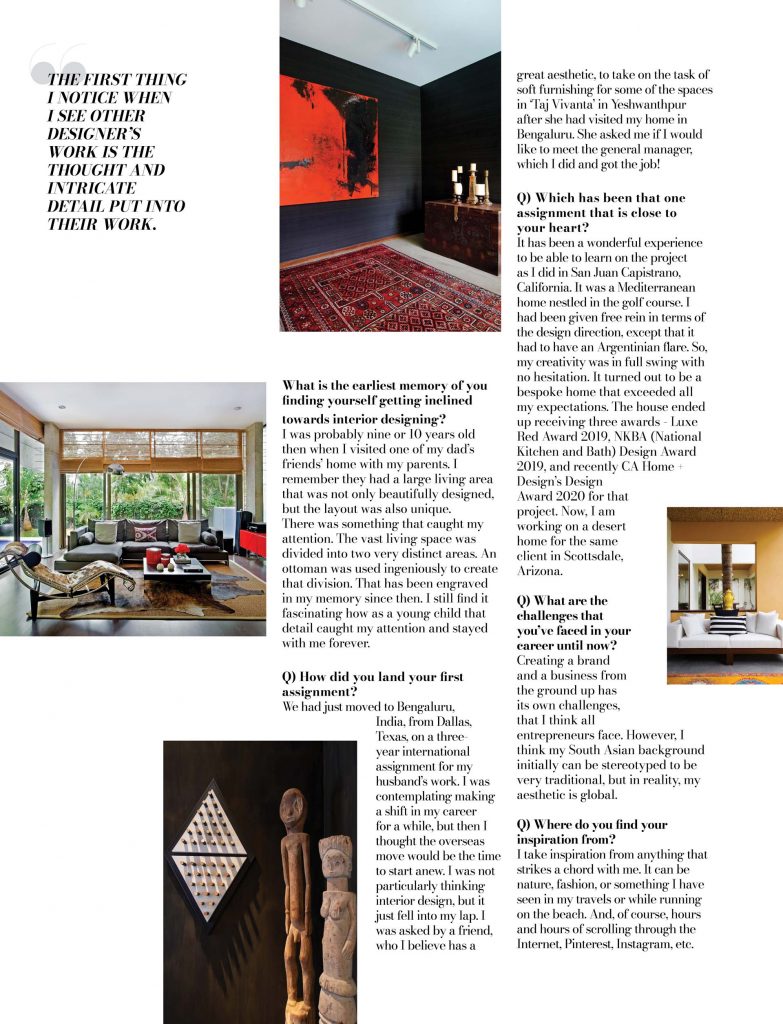 [Q] Which has been that one assignment that is close to your heart?
A project I did in San Juan Capistrano, California. It was a Mediterranean home nestled in the golf course. I had been given free rein in terms of the design direction, except that it had to have an Argentinian flare. So, my creativity was in full swing with no hesitation. It turned out to be a bespoke home that exceeded all my expectations. The house ended up receiving three awards – Luxe Red Award 2019, NKBA (National Kitchen and Bath) Design Award 2019, and recently CA Home + Design's Design Award 2020 for that project. Now, I am working on a desert home for the same client in Scottsdale, Arizona.
[Q] What are the challenges that you've faced in your career until now?
Creating a brand and a business from the ground up has its own challenges, that I think all entrepreneurs face. However, I think my South Asian background initially can be stereotyped to be very traditional, but in reality, my aesthetic is global.
[Q] Where do you find your inspiration from?
I take inspiration from anything that strikes a chord with me. It can be nature, fashion, or something I have seen in my travels or while running on the beach. And, of course, hours and hours of scrolling through the internet, Pinterest, Instagram, etc.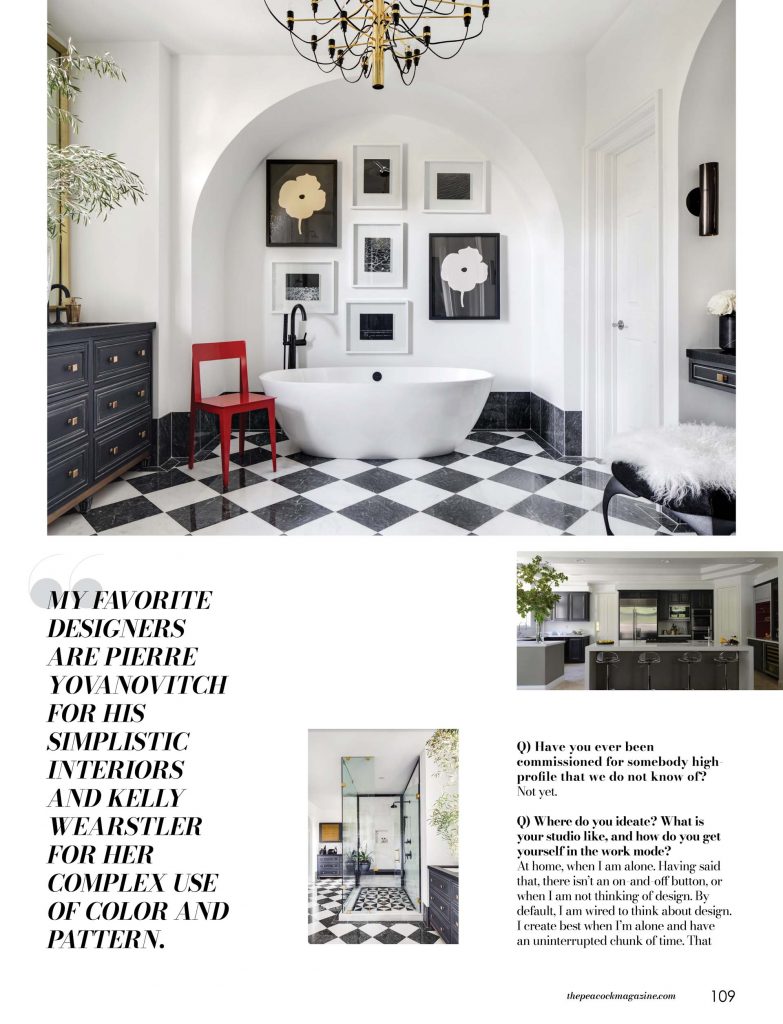 [Q] Have you ever been commissioned for somebody high profile that we do not know of?
Not yet.
[Q] Where do you ideate? What is your studio like, and how do you get yourself in the work mode?
At home, when I am alone. Having said that, there isn't an on-and-off button, or when I am not thinking of design. By default, I am wired to think about design. I create best when I'm alone and have an uninterrupted chunk of time. That process mostly happens at home, during off-hours, either late at night or early in the morning, when everything is calm and quiet. No phone calls, no meetings, it's just me and myself. My surrounding directly impacts how I feel when I design, so naturally, my home is where I feel the best. The sensory smell plays a big role in how I think. So, when I need to get in the zone, I always like to light my favorite candle 'Baies' by Diptyque.
[Q] What steps do you take to understand in-depth what the clients' housing aesthetics and their requirements are?
I always start by asking the clients for inspirational images that they can share with me, followed by at-length conversations, phone calls, and exchanging images. Then I go over those images with them in great detail. I often find that the reason my client likes a certain picture could be very different from what I am seeing in that same picture. In this case, asking a lot of detailed questions is the key. I ask them about their lifestyle, their passion, how they like to entertain themselves, etc. I observe how they dress. Oftentimes, you can tell someone's design aesthetic by observing the way they dress. I create a collage of images that I think best interprets their style and aesthetic. I love this process!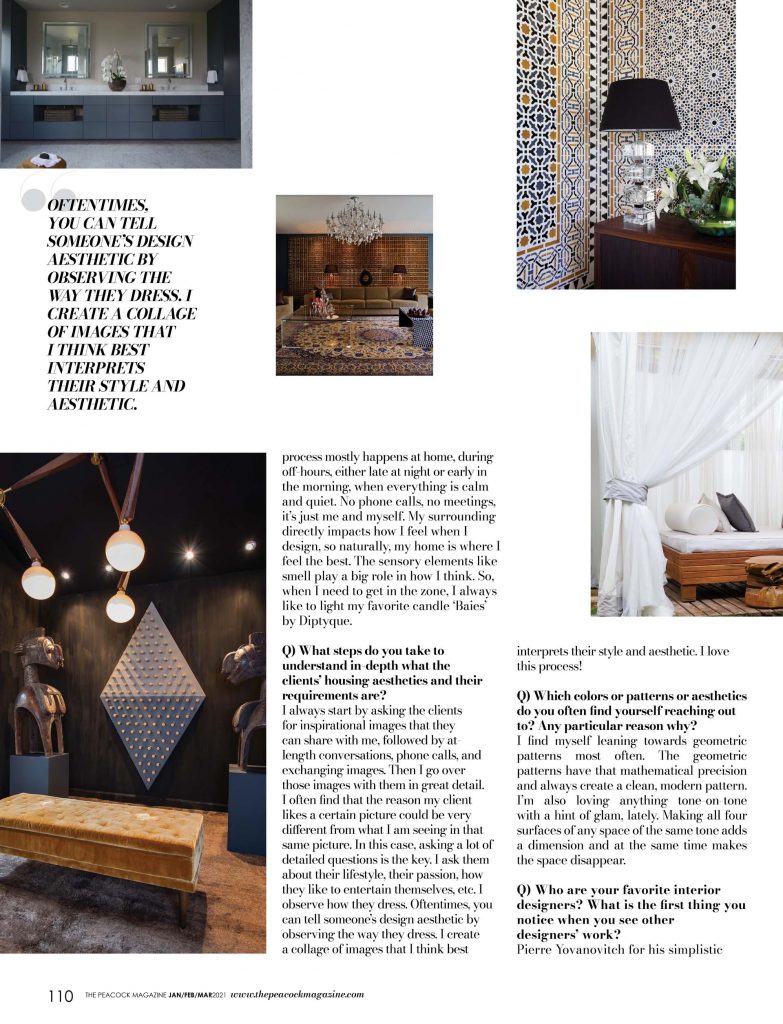 [Q] Which colors or patterns or aesthetics do you often find yourself reaching out to? Any particular reason why?
I find myself leaning towards geometric patterns most often. The geometric patterns have that mathematical precision and always create a clean modern pattern. I'm also loving anything tone-on-tone with a hint of glam, lately. Making all four surfaces of any space of the same tone adds a dimension and at the same time makes the space disappear.
[Q] Who are your favorite interior designers? What is the first thing you notice when you see other designers' work?
Pierre Yovanovitch for his simplistic interiors, and Kelly Wearstler for her complex use of color and pattern. They're two very different aesthetics and that's what I love about design. The power of one's perspective can create beautiful work no matter what the style is. The first thing I notice when I see other designer's work is the thought and intricate detail put into their work.
[Q] Who is Huma Sulaiman when not an interior designer?
A mom, wife, sister, daughter, and friend.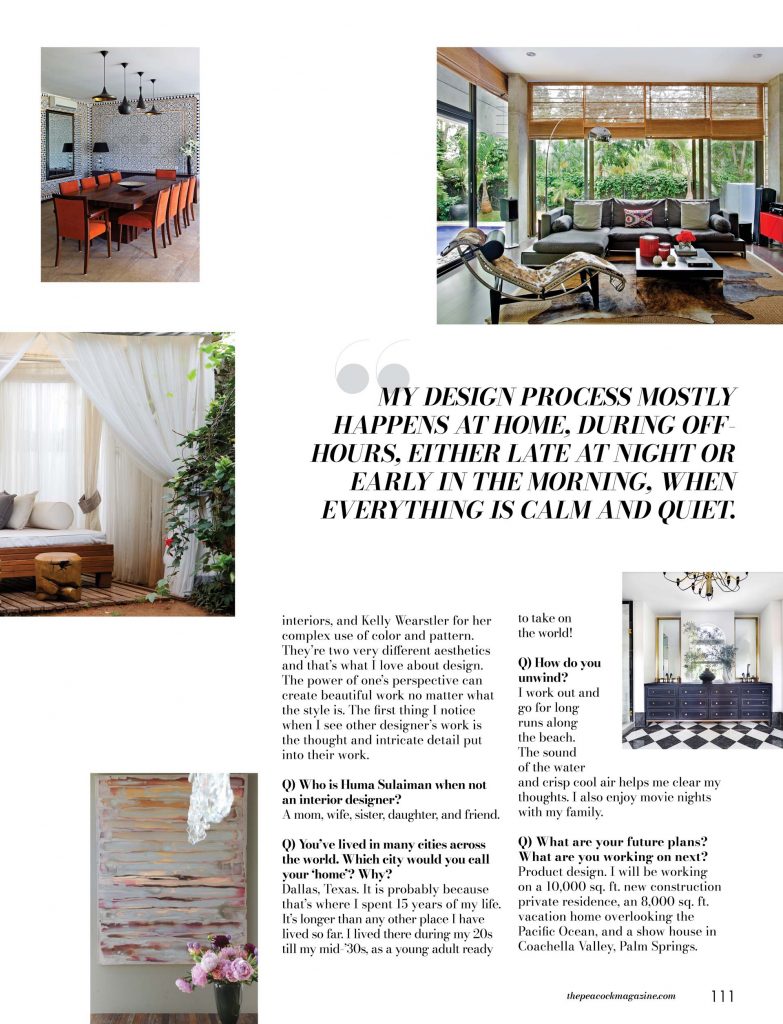 [Q] You've lived in many cities across the world. Which city would you call your 'home'? Why?
Dallas, Texas. It is probably because that's where I spent fifteen years of my life. It's longer than any other place I have lived so far. I lived there during my 20's till my mid-'30s, as a young adult ready to take on the world!
[Q] How do you unwind?
I work out and go for long runs along the beach. The sound of the water and crisp cool air helps me clear my thoughts. I also enjoy movie nights with my family.
[Q] What are your future plans? What are you working on next?
Product design. I will be working on a 10,000 sq. ft. new construction private residence, an 8,000 sq. ft. vacation home overlooking the Pacific Ocean, and a show house in Coachella Valley, Palm Springs.