GET DIWALI-READY WITH FALGUNI PEACOCK
CREDITS-
PHOTOGRAPHER – KAILASH DEEPAK
MAKE-UP & HAIR – SHAYLI NAYAK
JEWELLERY – GOENKA INDIA, ANOKKHI – DIAMONDS AND JADAU, RAZWADA JEWELS, RENU OBEROI
WARDROBE – FALGUNI SHANE PEACOCK

[Q] What does 'Diwali' mean to you?
Diwali, for me, is that favorite time of the year when we dressed up, wore new outfits, and gathered together as a family. I used to be so eager to meet all my cousins and catch up from where we left off last. When we were kids, we had a tradition where all our uncles would give us fancy envelopes that had money in it. As kids, we would always look forward to that and then scampering off to burst crackers.
[Q] What's your one fond Diwali memory?
I used and still love decorating my house. I always looked forward to decorating my entire home with the yellow and orange marigold flowers, giving it a whole Diwali vibe using hues of oranges and reds and adding lights to the house. Even the smallest of things like laying out my silver crockery and cooking an entire traditional Diwali dinner are a part of the fond memories. We even look forward to performing Pujas at the factory and our home.
[Q] How are you planning on celebrating Diwali this year?
This Diwali, we are planning to have a small, close-knit family gathering where all my cousins will be coming home for an intimate celebration. I will be spending a lot of time decorating my house this year. I've taken 3-4 days off from work, and I will dedicate it entirely to the festivities. I will be cooking the entire Diwali dinner and even prepare sweets for sending out to our family and friends. All in all, Diwali will be all about family and spending time at home this year.
[Q] Tell us how you've put together your look for this year's Diwali?
This year I've already planned my Diwali-special wardrobe. I'm going to wear a traditional suit for each of the five days, starting from Dhanteras. And on the Laxmi Puja day, I will be wearing a saree. I'm also excited to dress up my pets, Luna and Pepper in ethnic wear.
[Q] Are you a homebody during festive occasions, or are you a party person?
I'm a homebody when it comes to celebrating festivals and its celebrations!
[Q] How do you do your bit for the environment during Diwali?
Ever since I realized how hazardous bursting crackers are for the environment, I have stopped bursting them, and it's a no-no for my family too. Another reason why I urge everyone to stop using crackers is for the sake of the animals, be it our pets or the strays. It's heart-breaking to see the animals get scared and seek refuge under the beds or the cars on the streets. It's about time we give up on the cracker-bursting menace!
[Q] You always say 'Diwali is a festival of giving'. Why so?
Every year on the Diwali day, Shane and I go to distribute food packets and clothes to the ones in dire need. It's something we have been doing for years now, and the practice will live on as long as we celebrate Diwali.
[Q] What is it that you do differently every year for Diwali?
Over the years, I have consciously tried to replace the decorative items, the lights, Diyas, etc. with eco-friendly alternatives. Environment-conducive alternatives not only reduce the waste that is generated but also lasts longer than the others. After Diwali, I clean up most of the décor and pack and keep it for next year. I now sit on a treasure box of pretty, eco-friendly Diwali décor that I can reuse or recycle.
[Q] What are some of your favorite Diwali sweets?
I like the sugar-free rose-shaped mithai that is loaded with dry fruits. I just can't resist them!
[Q] What do you plan to shop for this year's Diwali?
Nothing. This year has made me realize that I have more than enough, and I'm content with whatever I have with me. Just grateful for all of it!
[Q] What have you planned to gift your family this Diwali?
I'm buying a pretty pair of earrings for my mother and mother-in-law. I'm looking forward to seeing them wear it for the Diwali night!
[Q] What are Luna and Pepper dressing up in for the festival?
Both my darlings will dress up in traditional rompers for the festival.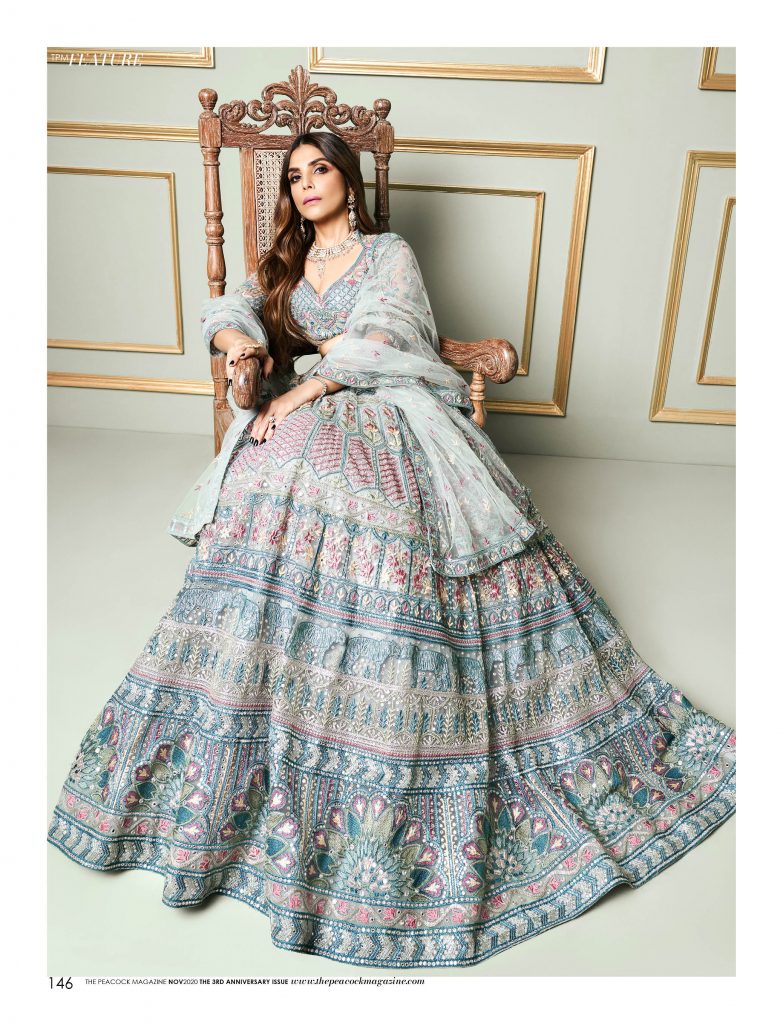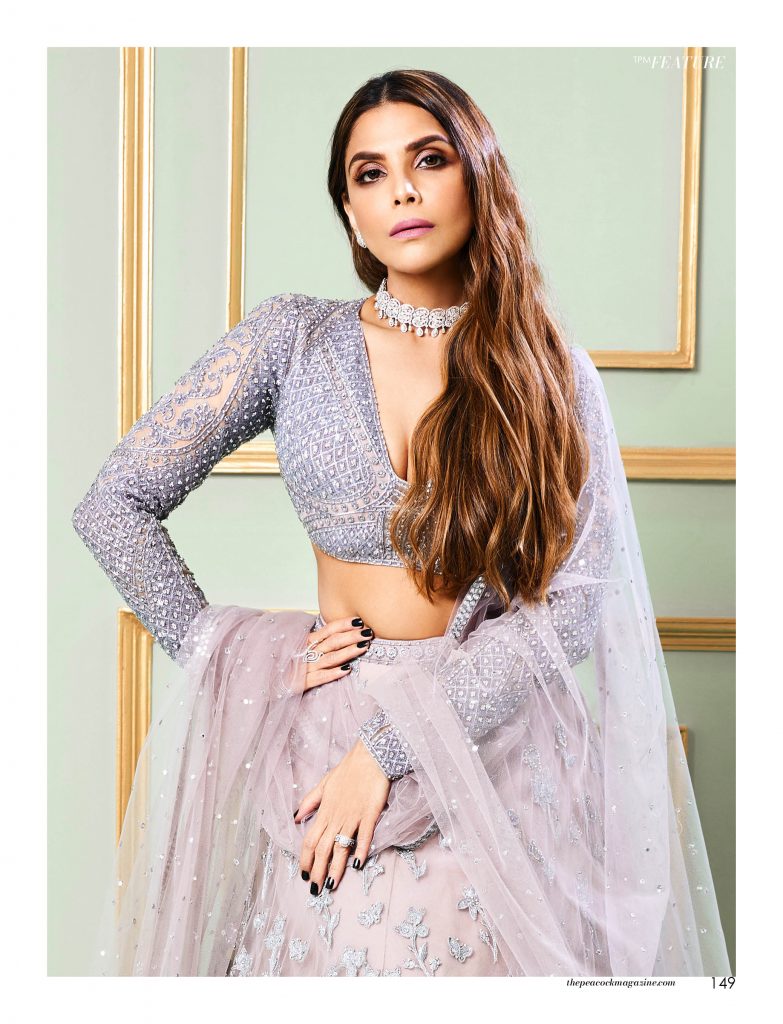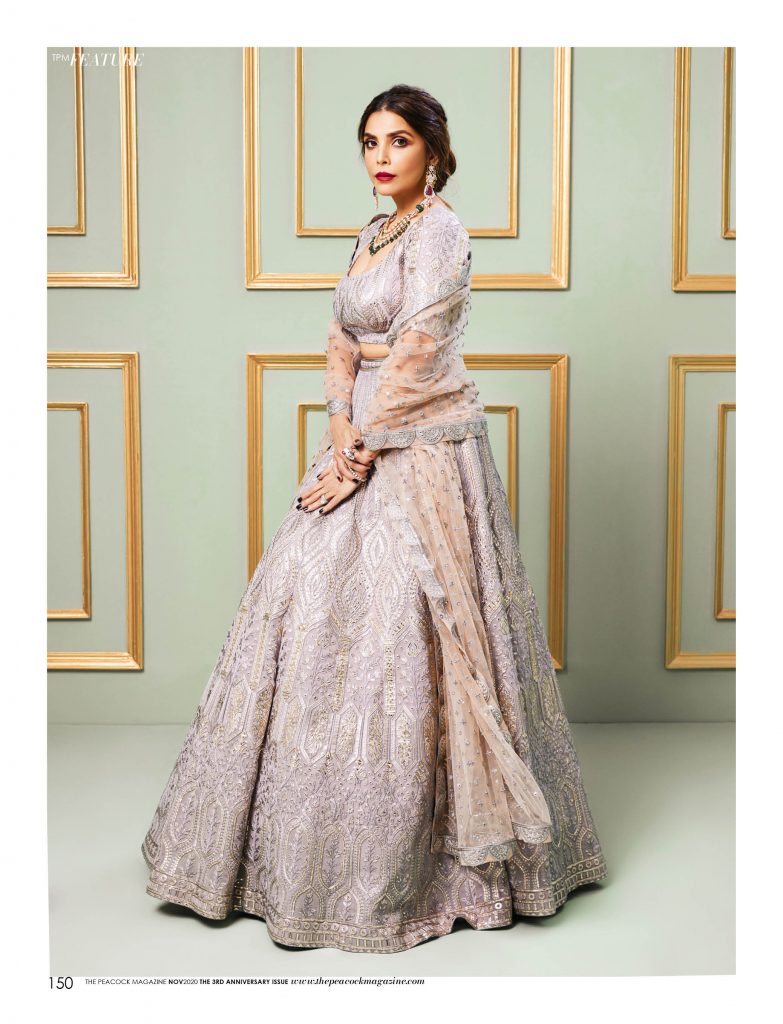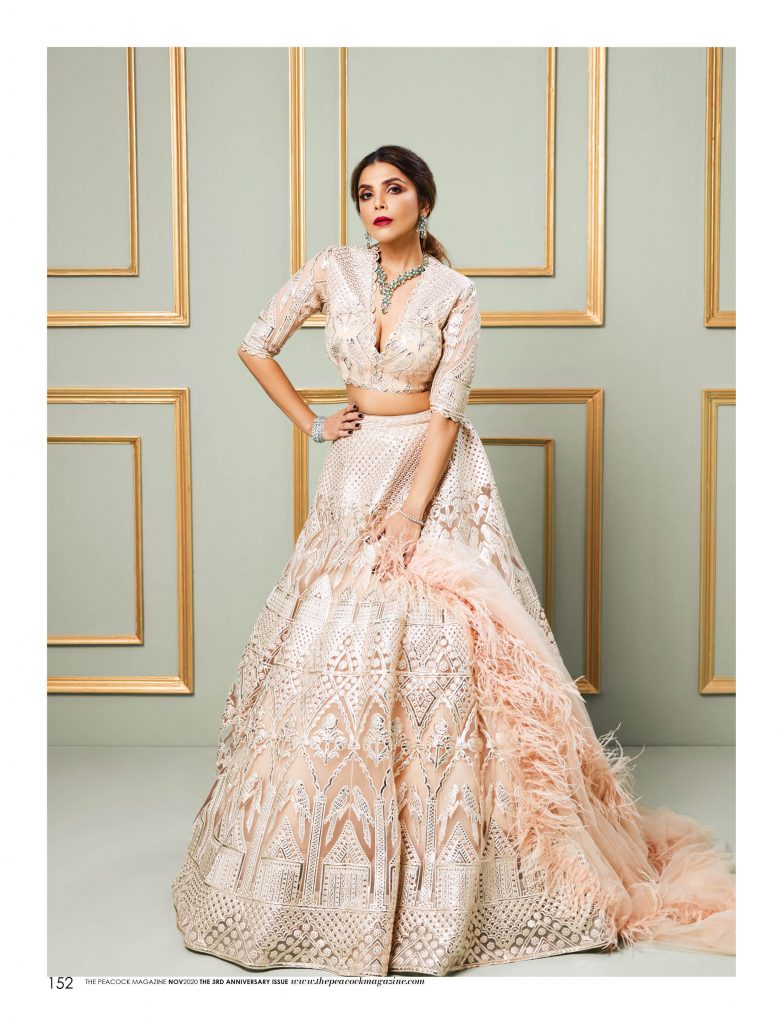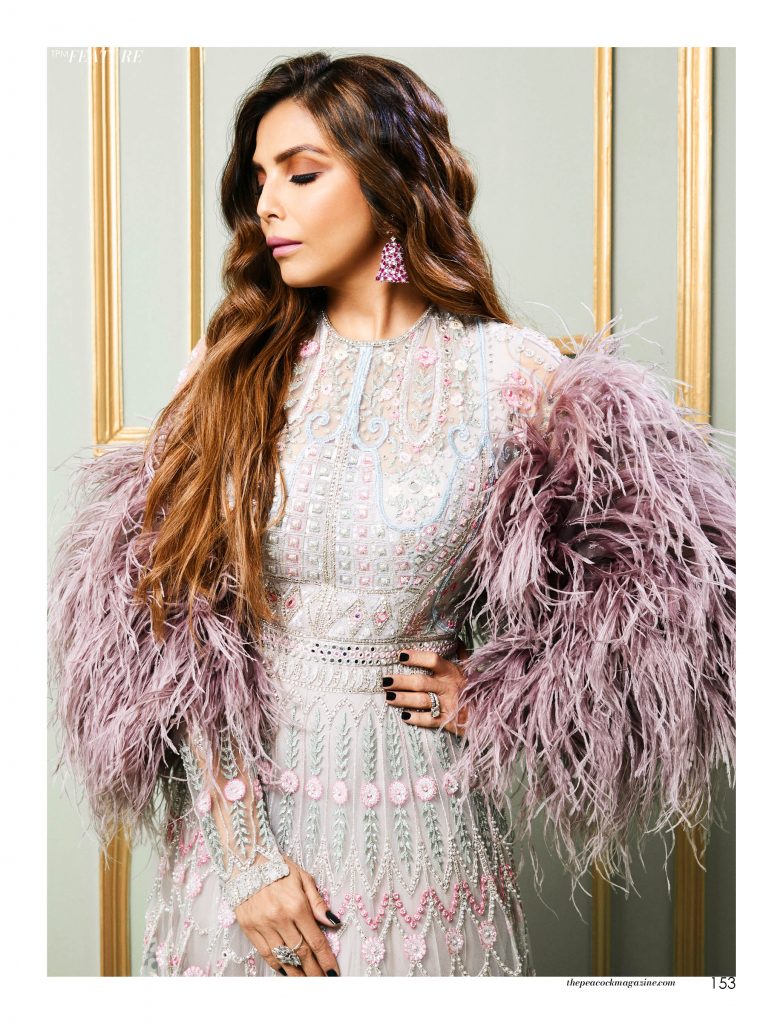 THIS OR THAT

[Q] Which are the 3 best colors for traditional wear?
Blue, Ivory and Pink.
[Q] Lehengas or Suits?
Lehengas!
[Q] Pinned dupatta/drape or Flowy?
A flowy dupatta/drape, any day!
[Q] Which is that one versatile piece of jewellery that goes with any traditional wear?
A pair of Chandbalis.
[Q] A lot of bangles or Statement Kadas?
It depends on the outfits again. But if I had to choose one, then it would be a lot of bangles.
[Q] How many finger rings are too many rings?
I think you can easily fit and style 6 rings in a go. Yes, that many! (laughs)
[Q] Chokers or Layered Neckpieces?
Chokers!
[Q] Loose hair or Tied hair?
Loose hair. It's sexy!
[Q] Dewy eyes or Smokey eyes?
Smokey eyes!
[Q] Red lips or Nude lips?
For me, it's always red lips!
[Q] An ideal watch that goes with traditional wear.
I like to team my Apple Watch with the traditional wear because I get to keep on changing my bands depending upon the choice of my outfits. I also like to wear my Cartier Ballon Bleu with my ethnic wear.
[Q] A no-brainer footwear that you can slip into that goes with any traditional wear.
A pair of stilettos!
[Q] A perfume you can't get enough of lately.
Dior's Purple Oud
[Q] One thing that no traditional wear is complete without.
Bindi! It's not traditional wear if there ain't a bindi with it.
[Q] Clutch or Potli?
It mostly depends on what the traditional wear is and how it's being styling it. I like to team my traditional wear with a clutch because that's what gives it a modern twist.