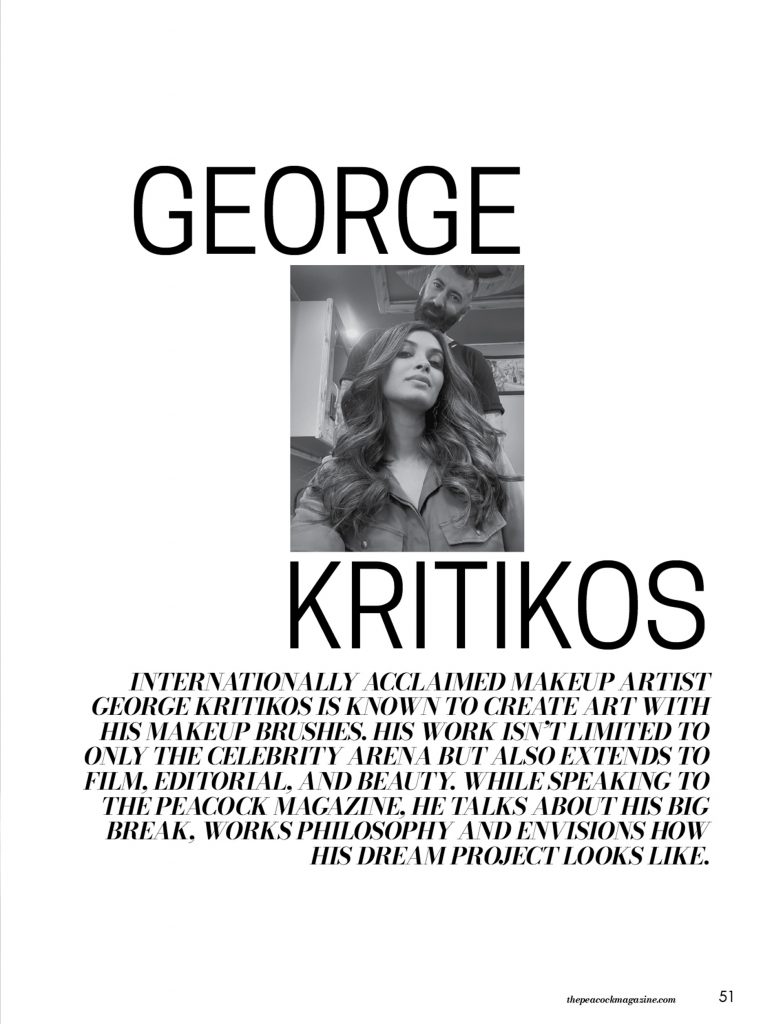 INTERNATIONALLY ACCLAIMED MAKEUP ARTIST GEORGE KRITIKOS IS KNOWN TO CREATE ART WITH HIS MAKEUP BRUSHES. HIS WORK ISN'T LIMITED TO ONLY THE CELEBRITY ARENA BUT ALSO EXTENDS TO FILM, EDITORIAL, AND BEAUTY. WHILE SPEAKING TO THE PEACOCK MAGAZINE, HE TALKS ABOUT HIS BIG BREAK, WORKS PHILOSOPHY AND ENVISIONS HOW HIS DREAM PROJECT LOOKS LIKE.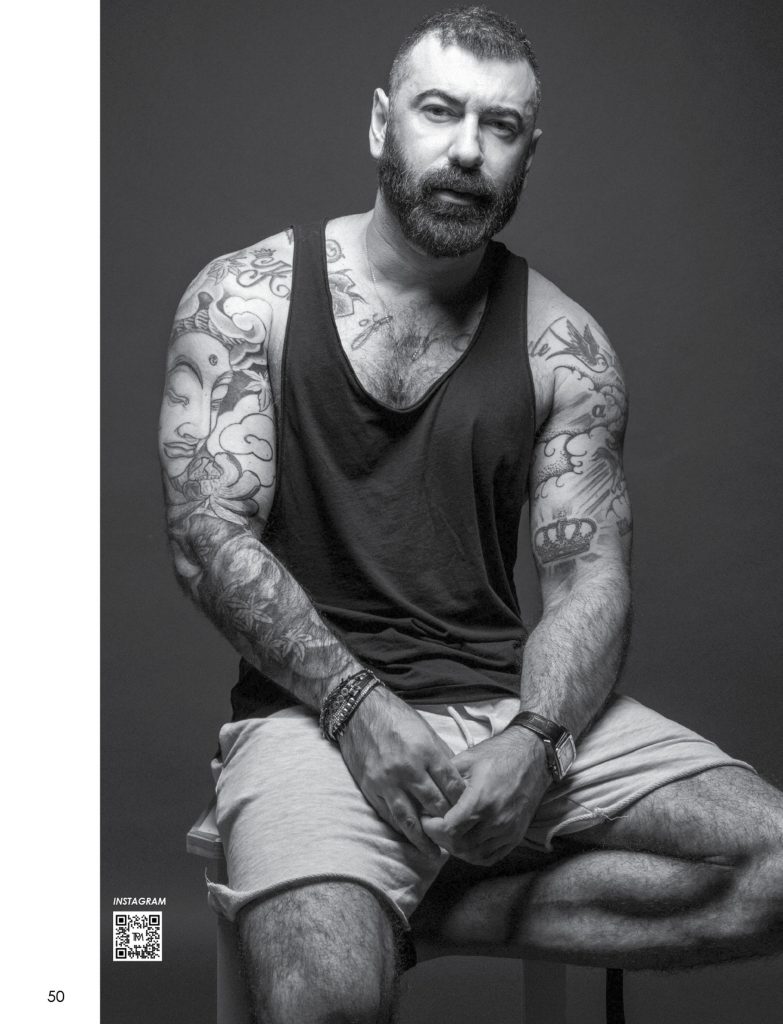 [Q] How and when did you realise your calling for becoming a makeup artist? Did you always want to become one?
I was a fashion design student and makeup happened two years after I realised my interest in painting faces. I also realised it was a beautiful form of art.
[Q] How did Bollywood happen to you?
I was approached by an Indian agency, so I took a chance and Bollywood welcomed me. I have not looked back since. I enjoy working in this industry and working on diverse projects that allow me to create beautiful looks.
[Q] When did you get your first big break?
My first big gig was with Paris Hilton and Christian Louboutin back in 2016. Since then I have worked with celebrities like Katrina Kaif, Malaika Arora, Deepika Padukone, Anushka Sharma, Kiara Advani, Dia Mirza, Diana Penty, Kalki Koechlin, Twinkle Khanna, Chitrangda Singh, Jacqueline Fernandez, Athiya Shetty to name a few, as well as for some amazing brand campaigns.
[Q] What's your definition of 'beauty'?
Beauty comes from within. I like to see elegance and class in my work. I don't believe there is one such thing; it can be anything.
[Q] What is your day-to-day makeup routine?
I use only a day cream on a daily basis. It is very important to moisturise and keep your skin healthy. Also, eat well and drink lots of water.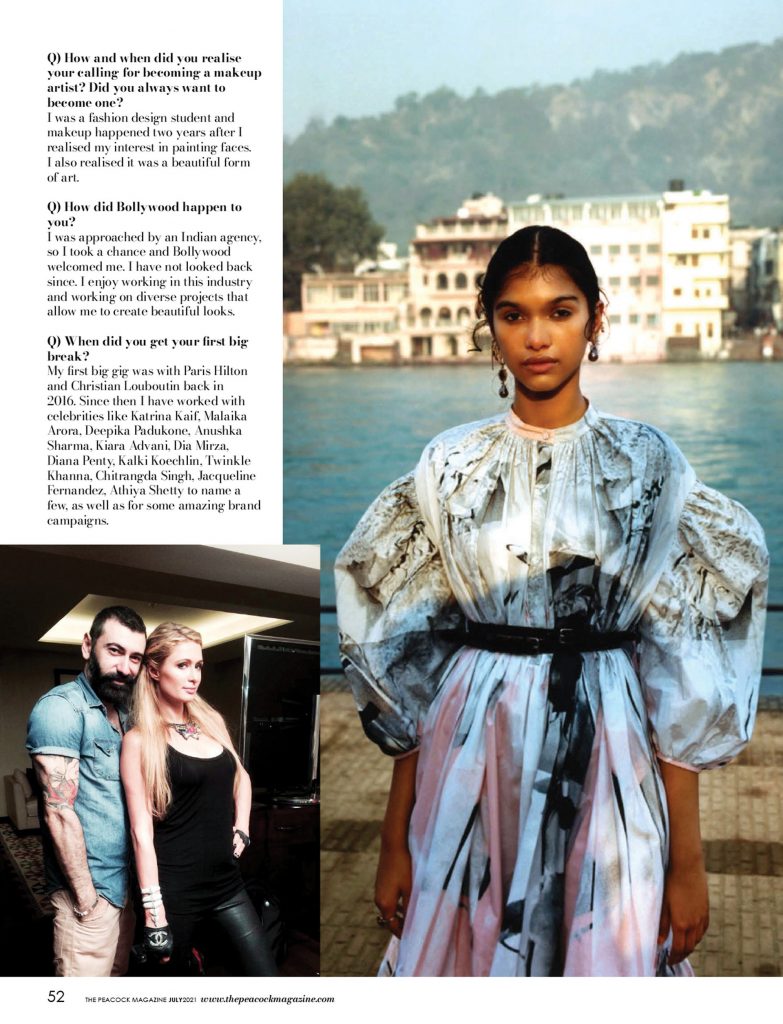 [Q] Tell us about your life-changing experience that led you to become a leading makeup expert.
Nothing life-changing really happened. It is all hard work and dedication for what you do. Every project is important and I research my client/brand before getting into it. I believe that there is a need to create beautiful images and something different than the usual, when it comes to fashion or a campaign, or someone who wants a makeover.
[Q] What have been the highlights of your career until now?
Working with leading actors in Bollywood and fashion designers and the fact that they trust your work and your vision for their looks, and receiving respect for my work.
[Q] How do you decide the looks for celebrities? Do you discuss it with them, or do you go by your instincts?
Yes, I usually discuss the look with them, see the outfit/s as well and then I might add something small as a final touch!
[Q] How would you describe your signature look?
I am a minimalist. I believe you do not need to use an excessive amount of makeup to look good. Sometimes a combination of a few good things is enough to achieve a simple, elegant and flawless look.
[Q] Who is your ultimate style icon and why?
Yves Saint Laurent! I remember looking at his collections and how he wanted women to look. It was mesmerising. And then he launched his makeup collection. I am obsessed with it to the point that I still use his products, nonstop for years now.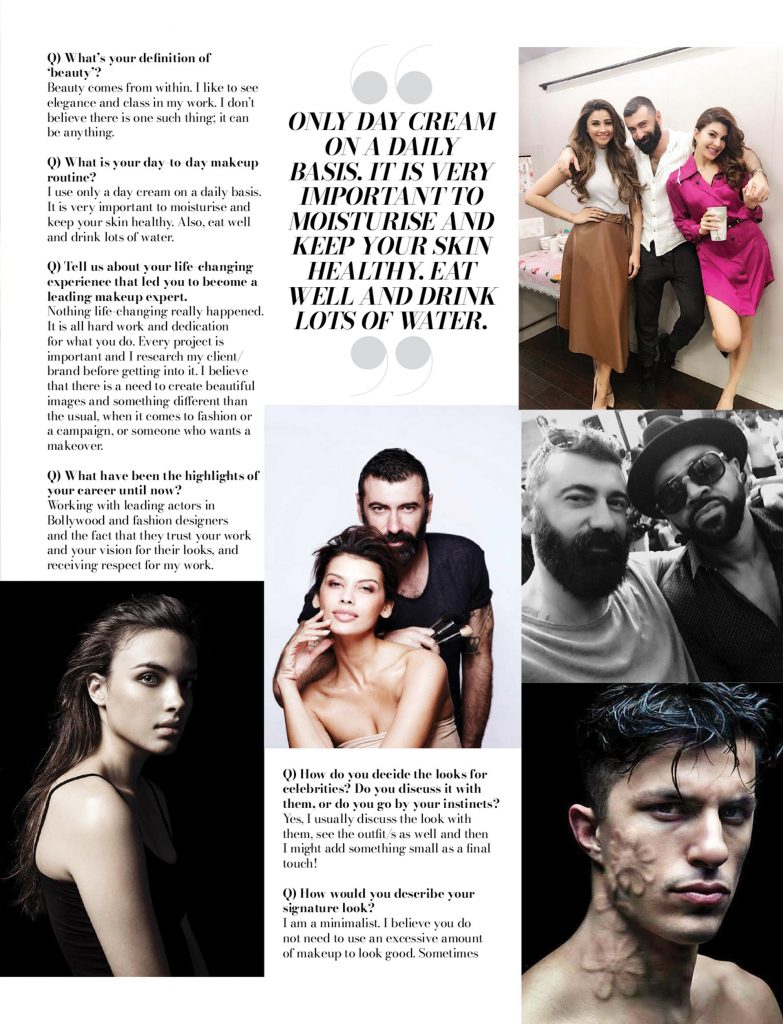 [Q] Whom would you love to give a makeover to?
Anyone that would like one.
[Q] What do you love most about what you do?
Creating beautiful images, giving people the chance to look different, and experimenting with a look that would look great but they were afraid to take a chance on.
[Q] Where's the strangest request you have had by any celebrity/ fashion show /shoots for makeup?
Unfortunately, nothing crazy has been requested yet, but you never know what tomorrow brings.
[Q] Debunk the biggest makeup myth you've heard.
It surely has to be that smokey eyes are a heavy makeup look. I believe it can be simple and beautifully done if done right. Using dark eye shadows doesn't mean that the look is going to come out heavy, it is just the way you work and play with it that makes it look beautiful.
[Q] What's one celebrity beauty secret we might not know about, but should?
These are personal beauty secrets, so if we knew, then it won't be a secret anymore, would it?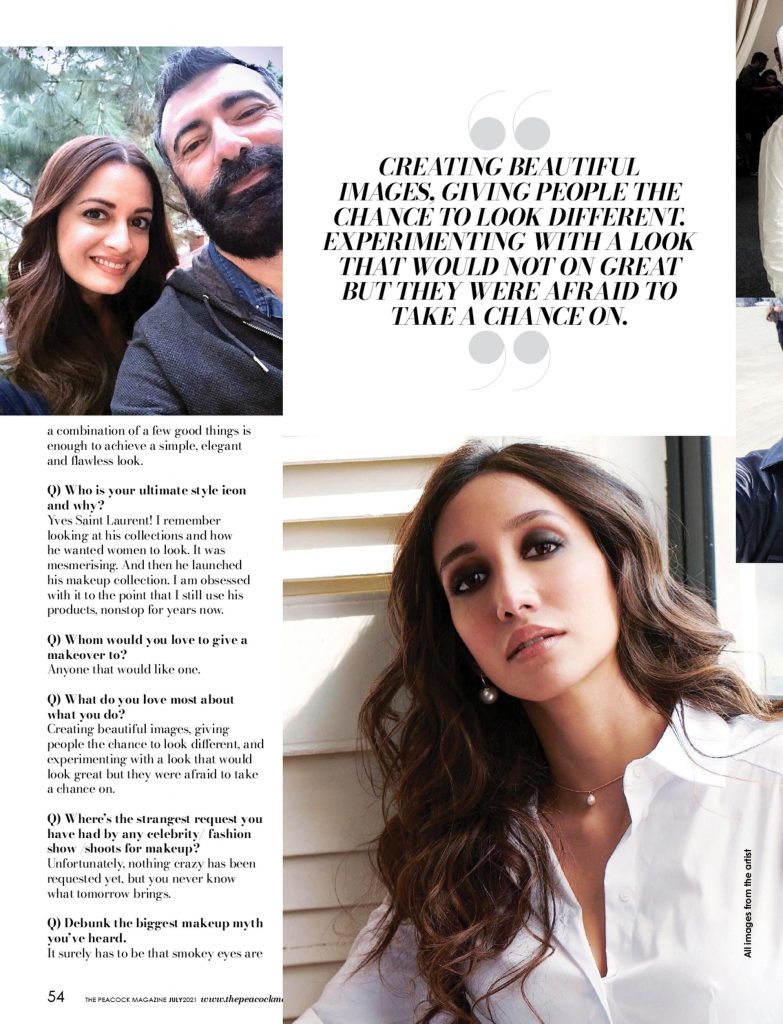 [Q] Where's the strangest place you've ever done someone's make-up?
This has to be during the filming of a movie back in 2018. We were on the deck of a Yacht, while I was doing the makeup with a quite "angry" ocean, so nothing was easy!
[Q] What is your number one beauty tip?
A lip scrub! An age-old remedy from the time of our grandmothers – some sugar and a few drops of lemon. That's all it takes to give your lips a fresh and plump look, without any flaking. A natural and easy-to-make fix to get well-moisturised and healthy lips.
[Q] What are the three makeup products you can't live without?
Three products I can't work without would have to include my favourite YSL Touch Eclat, a gorgeous lipstick from Chanel and the soft eye pencils from MAC.
[Q] Which beauty products and tools are always in your kit?
Apart from my top three must-have products, I also make sure to always have natural tones of blushes, and of course, my brushes! Usually, when travelling for work the only thing I don't put into the check-in bags are my brush kits. It has to be with me!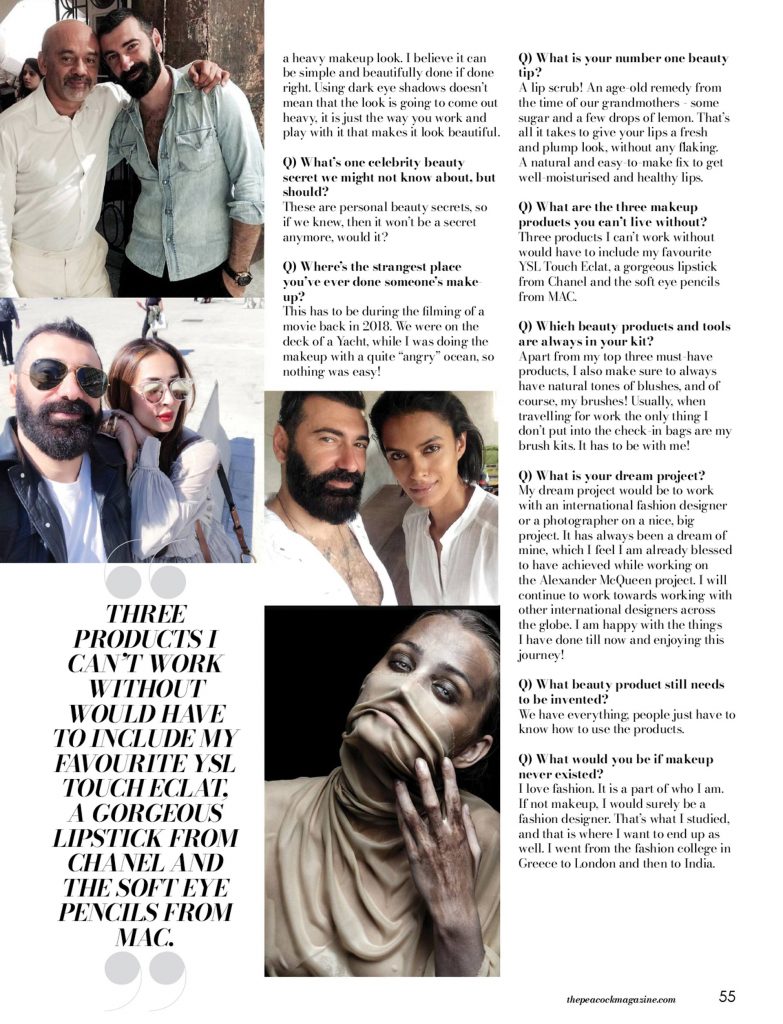 [Q] What is your dream project?
My dream project would be to work with an international fashion designer or a photographer on a nice, big project. It has always been a dream of mine, which I feel I am already blessed to have achieved while working on the Alexander McQueen project. I will continue to work towards working with other international designers across the globe. I am happy with the things I have done till now and enjoying this journey!
[Q] What beauty product still needs to be invented?
We have everything, people just have to know how to use the products.
[Q] What would you be if makeup never existed?
I love fashion. It is a part of who I am. If not makeup, I would surely be a fashion designer. That's what I studied, and that is where I want to end up as well. I went from the fashion college in Greece to London and then to India.