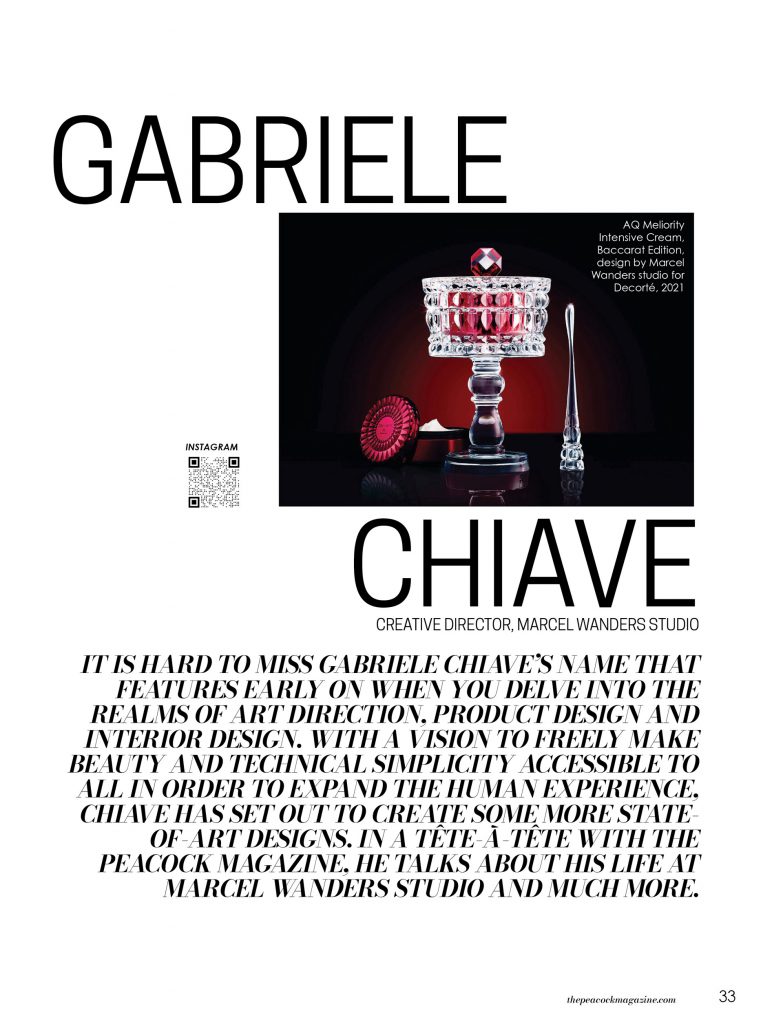 GABRIELE CHIAVE, CREATIVE DIRECTOR, MARCEL WANDERS STUDIO

It is hard to miss Gabriele Chiave's name that features early on when you delve into the realms of art direction, product design and interior design. The creative director of the renowned Marcel Wanders studio has brought about some profound designs that leave an imprint at its first glance. With a vision to freely make beauty and
technical simplicity accessible to all in order to expand the human experience, Chiave has set out to create some more state-of-art designs. In a tête-à-tête with The Peacock Magazine, he talks about his life at Marcel Wanders studio, some of his arduous projects and gives a glimpse into a day in his life.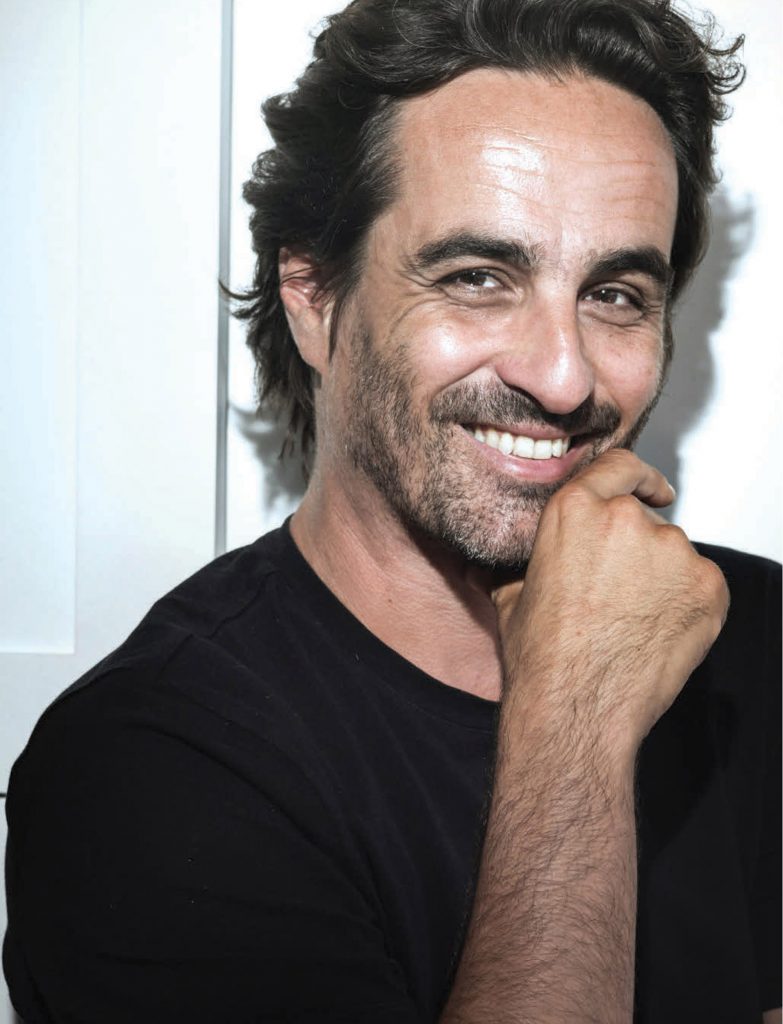 [Q] What were your growing up years like?
I was born of diplomat parents, in Metz, France, and spent my childhood and teenage years in several countries, from Dakar to Caracas, Buenos Aires, Milan and Rome. All of this moving around exposed me to many cultures and customs that have influenced my work.
[Q] When did you first realise your inclination of getting into design?
I was on an archaeological dig, spending four months excavating. As we discovered artefacts, I realised I was holding entire histories in my hand and that antiques are repositories of istories. Each object tells the story of the maker and the object itself has its own unique story. I was captivated by the meaning and connection each object possessed for humanity.
[Q] What was your first breakthrough moment?
I don't think there is one breakthrough moment. Our careers, our lives are the culmination of moments and experiences that make us who we are. A big moment for me was coming to Amsterdam (the Netherlands), of course, and embracing a new perspective of creativity. Growing into the role of creative director at the studio was another milestone. But it is all part of my journey, and every new experience and challenge is a breakthrough.
[Q] How would you define your design aesthetic?
I don't believe design can be narrowed down to a specific aesthetic. But I will say our work is defined as poetic. That is one thread that connects all of our collaborative work — often very daring, surprising. Often, the aesthetic we achieve is influenced by the client and their goals as well. We keep our approach organic and let the product or interior space inform us of what the aesthetic needs to be.
[Q] How do you decide upon the theme and art décor for each of your projects?
The solution comes out of the project in almost every instance. As we look to tell stories, the common theme comes down to designing with craftsmanship, and bringing humanity to each design. The theme, therefore, is unique for each project. It would be foolish to decide upon a theme or décor, first, because we trust that the creative process will reveal what's best for the assignment.
[Q] How do you get yourself into creative mode?
When am I not in creative mode? Curiosity is a constant for me, and it is a defining attribute. Having the mindset that everything I see and do influences the work means there is no time that I'm not in the creative mode.
[Q] How did you find yourself at Marcel Wanders studio?
I began my career in industrial design, and at that time, I was creating very functional items. During the early years, I learned to design using so many different materials. I knew of Marcel Wanders and how his studio concentrated on creating for international brands. And after coming to Amsterdam I found that we were aligned in our passion for creating meaningful connections within design. I started as a design intern, and eventually, Marcel needed someone to coordinate the product team with a total overview of all projects, therefore I became head of the product department working on all projects related to products, furniture, lighting, as well as personal editions and collectable design pieces. I was able to bring my experience of industrial design and marry it with the philosophy of bringing humanism to our beautiful products and interior spaces.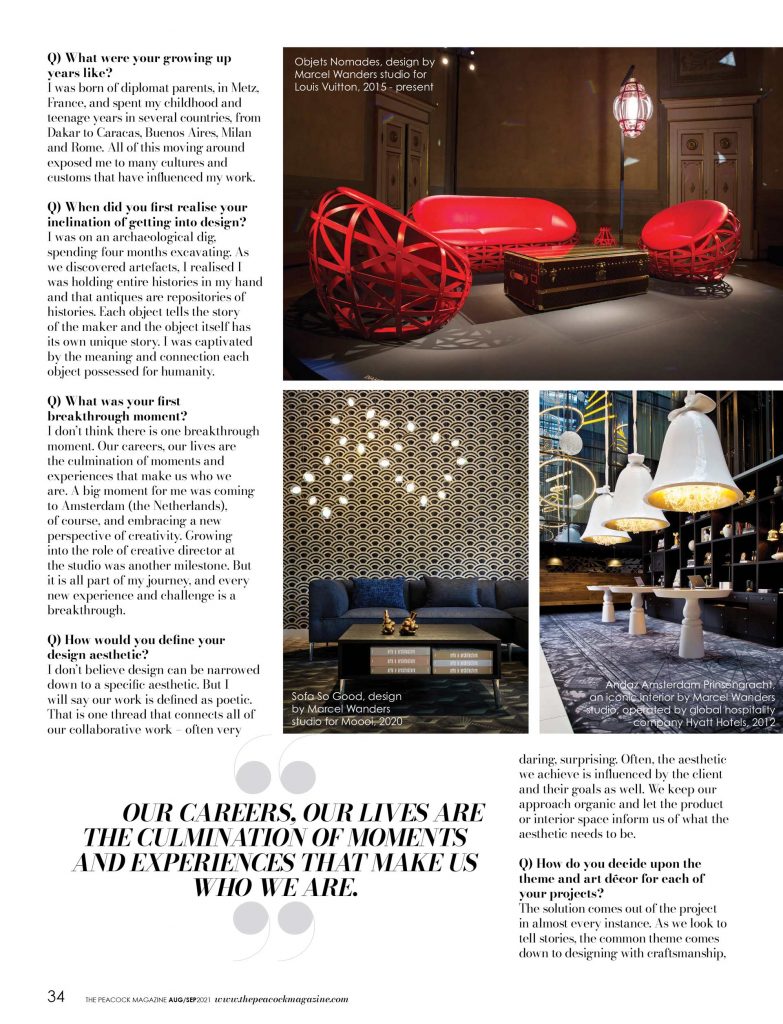 [Q] What is your space at Marcel Wanders studio like? Do you compulsively work there? If not, where else do you design, and why those places?
I design everywhere and nowhere. I work when inspiration appears. It's not like I can come to the studio and flip a switch and say, 'Now I'm going to be creative'. There's no set time to be creative. Compulsively working in the studio would not be prudent either. Instead of forcing creativity within a specific locale, I design anywhere.
[Q] What vision do you have for Marcel Wanders studio?
My vision is to build on the foundation set by Marcel Wanders. From the man, I see us developing into a brand that evolves and continues to design with a humanistic view and approach. I see us expanding our creative offerings to influence more than a specific piece of a brand or typology. Our goal is to create holistic solutions for clients.
[Q] Which colours or patterns do you often find yourself reaching out to in your colour palette? Any particular reason why?
Over time, we have become known for iconic patterns and themes like 'Monsters' for example, and 'delft blue', those things that resonate with our DNA. We have some design language elements, but we are always expanding our palette.
[Q] Tell us about a significant turning point in your journey so far?
I'd say what has had the most influence on my career so far has been coming to Amsterdam and becoming creative director here.
[Q] What has been your personal experience as one of the crucial navigators of your domain?
My personal experience has been one of continual growth. I work with a sense of never arriving and never settling. There is always something new to learn, and you have to be open to creative influences as you navigate your career.
[Q] What are the challenges that you encountered to be in the position that you are today?
The first challenge is enabling the studio to grow into a brand. Within that mission, other challenges come from my personal creative boundaries that I keep pushing, working to align with Marcel and also adhering to client expectations. Beyond that, it is a challenge to expand my creative reach, as I wear many hats. Every day, I am seeing through different lenses, and jumping from art direction to product design, and then to interior design. While straddling all of these domains, I need to shift gears and wear a director's hat as I guide our younger designers, moving from the role of a creator to that of a supporter.
[Q] Who has been the biggest mentor in your becoming you?
Without a doubt, Marcel Wanders. When I was younger, of course, I had experienced designers shaping my career, but no one has had the exponential impact on my personal and professional growth as he has.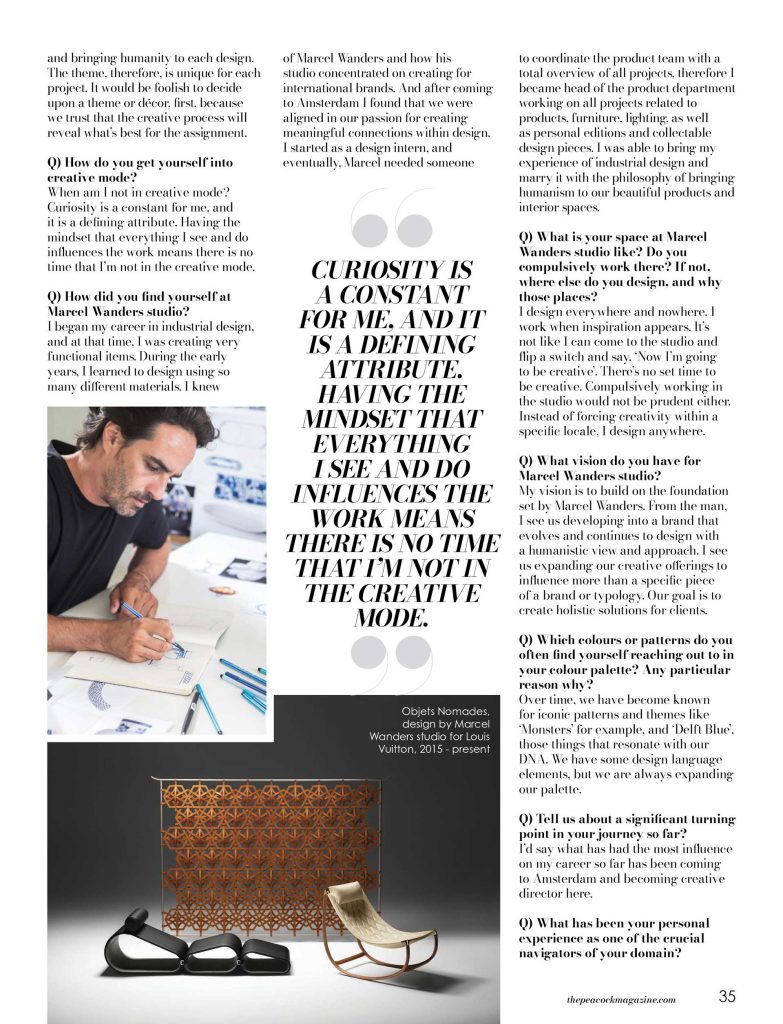 [Q] What are the three most important lessons you learned in your career?
Many of the lessons I have learned come down to a single thing: It's all about people. It's so important to make a connection through design. I am constantly reminding myself that we work for people. That's when we are designing at our best. Also, collaboration is essential — designers don't do any of this on their own.
[Q] What do you believe in more — Doing the right things or doing the things right?
I believe in doing the right things right.
[Q] What has been the most arduous project you've worked on until now?
KLM Airlines was the biggest investment in a project I have made as a designer. Beyond industrial design, this project, which took four years to complete, required me to immerse myself in the airline industry. Everything from understanding the scale of the airline to weight restrictions and material restrictions made this assignment a logistical nightmare. And that was all before the challenge of designing something beautiful for their luxury inflight service.
[Q] What is more important to you — recognition via awards or audiences' appreciation?
Appreciation. It will always be about that.
[Q] What are some of the qualities an architect must have in today's time?
Today's architects need to focus on sustainability and use environmentally friendly mats, environmentally friendly materials as they design and build. We work closely with architects to implement biophilic design to reduce the ecological impact on our world.
[Q] What does your usual workday look like?
I am on a wide variety of projects every day. My day is spent going from team to team to assess project status and to lend help where I can. There are client meetings to attend as well. I find the constant switching and problem-solving energising, as it forces me to use different skill sets and mindsets, rejuvenating my creativity throughout the day.
[Q] How would you sum up your design philosophy?
My design philosophy is to make what we do align with our studio brand values as we design to aspire people and connect with their hopes and dreams. We are here to create an environment of love, live with passion and make our most exciting dreams come true.
[Q] What is in the cards for the next five years' plan?
Over the next five years, we want to break the boundaries of design. Our goal is to achieve bigger concepts within a design universe for our clients and not just design products. Instead of just executing product design or interior design, we want to evolve into a comprehensive holistic brand. As art directors, we will be expanding to create brand identities from the beginning so that we can impact every element of the experience and ensure a unified, cohesive experience.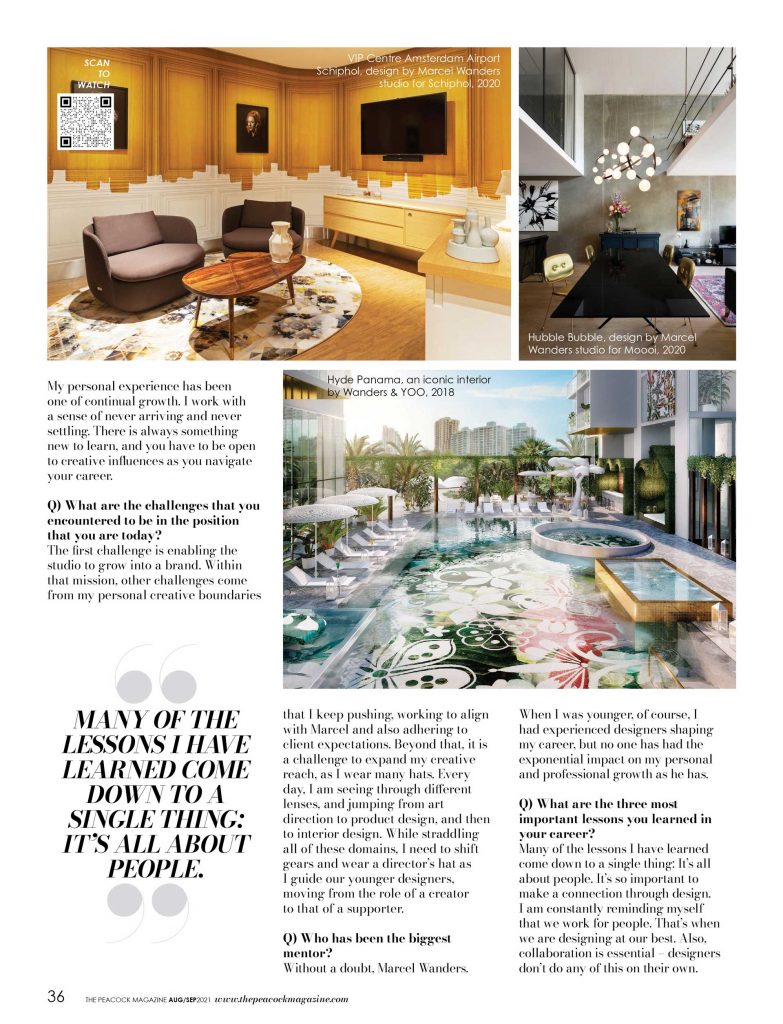 [Q] Who is Gabriele Chiave when not a designer?
I very much enjoy photographing, cooking, dancing, playing and listening to music. I am also a new dad and it gives me a completely different perspective on everything.
[Q] What passion do you harbour apart from designing?
If I had to choose one, it would be photography. I love capturing the moments of life.
[Q] What are some of your favourite work tools?
My mind is my best tool. I think first and find ways to express it before picking up a sketchbook or begin working with any material.
[Q] Your favourite holiday destination?
Japan. I love the traditional culture, which is also very contemporary and bold. It is a collective culture that appreciates craftsmanship, and I love the food there.
[Q] A cuisine you enjoy a lot?
Authentic Japanese, which I enjoy most when visiting Japan.
[Q] How do you unwind?
Listening to music. I like to spend time dancing and cooking. Sometimes, all at once!
[Q] A book that has impacted you immensely?
NLP at Work by Sue Knight; it is more of a coaching course.
[Q] Your favourite genre of movies?
I enjoy '70s Italian movies and animation shorts. My most recent favourite is Death + Robots.
[Q] A meal you'd whip up for your family on any given day?
Risotto! Or, whatever my guests desire.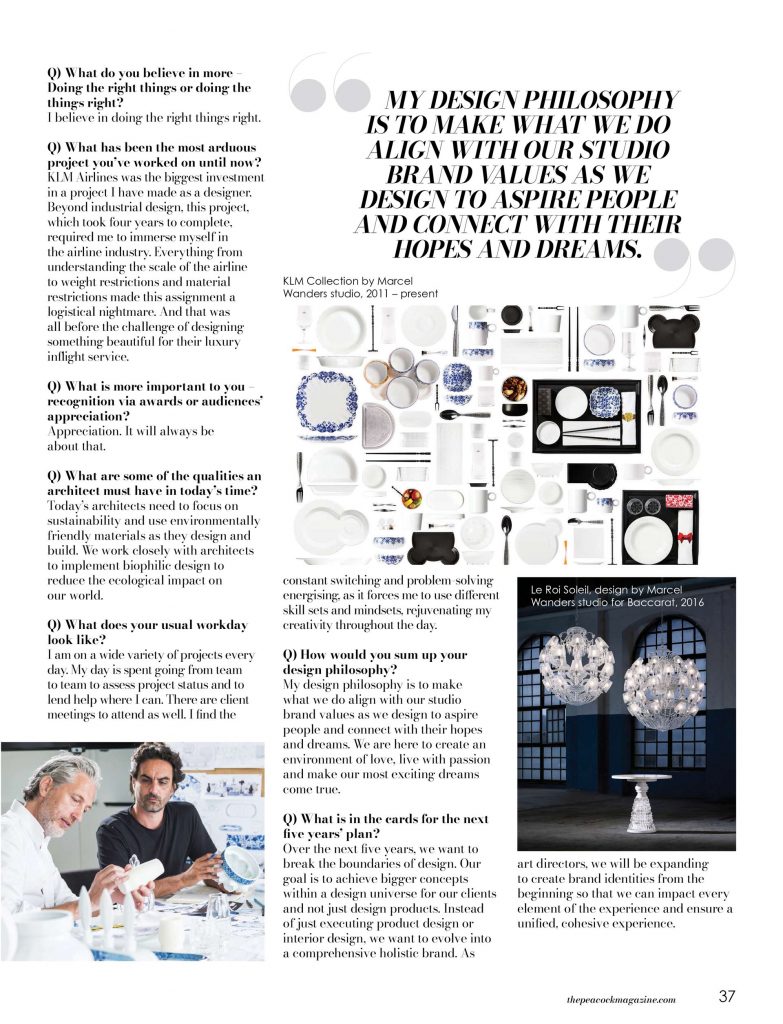 [Q] If you could get inside the mind of anyone, who would it be and why?
I would like to be in the mind of Leonardo da Vinci. He was a multi-disciplinarian before that was even a term. I would want to see it from his point of view. A true innovator, he was fearless, creating what was totally foreign to people of the time. He made people uncomfortable, which I think is part of our job, at times. He was a pioneer in every sense of the word.
[Q] Your go-to karaoke song would be?
I would have to say Sympathy for the Devil by the Rolling Stones.
[Q] A TV show you binge-watched and wouldn't mind doing so again?
My two most favourite binge-worthy shows have been Breaking Bad and Peaky Blinders.
[Q] If you wrote an autobiography, what would you name it?
I would like my autobiography to be called Just Me.
[Q] What would you be if not a designer?
I would be an actor. In fact, I believe it's never too late to try something new, because whatever you try only adds to the mosaic that is our lives.