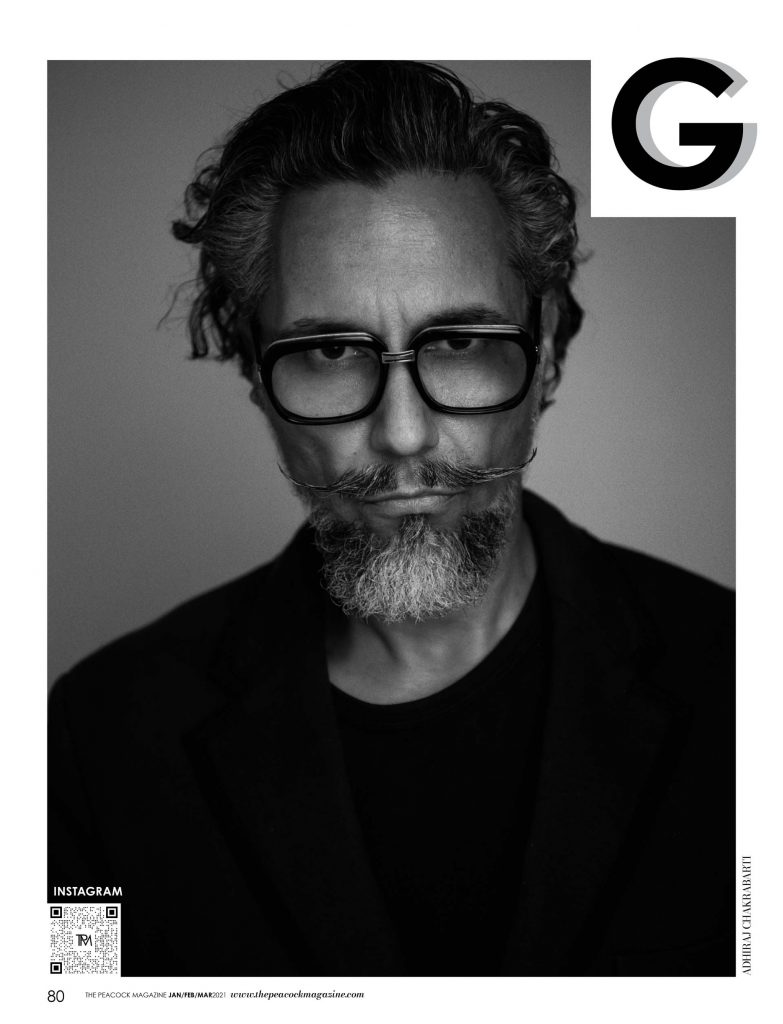 GABRIEL GEORGIOU LET LIFE CHART ITS COURSE, AND WITHIN NO TIME, HE WAS TASTING SUCCESS IN, FIRST HOLLYWOOD AND THEN IN BOLLYWOOD. HAIRSTYLIST TO THE WHO'S-WHO IN HOLLYWOOD ADMITS THAT INDIA ADOPTED HIM WHEN HE VISITED THE COUNTRY FOR AN ASSIGNMENT AND THERE HAS BEEN NO LOOKING BACK EVER SINCE. FOR THE PEACOCK MAGAZINE'S UPCOMING ISSUE, GABRIEL SPILLS THE TEA ABOUT HIS LIFE, HIS JOURNEY SO FAR, AND HIS PASSION.

CREDITS-
Images artist's own.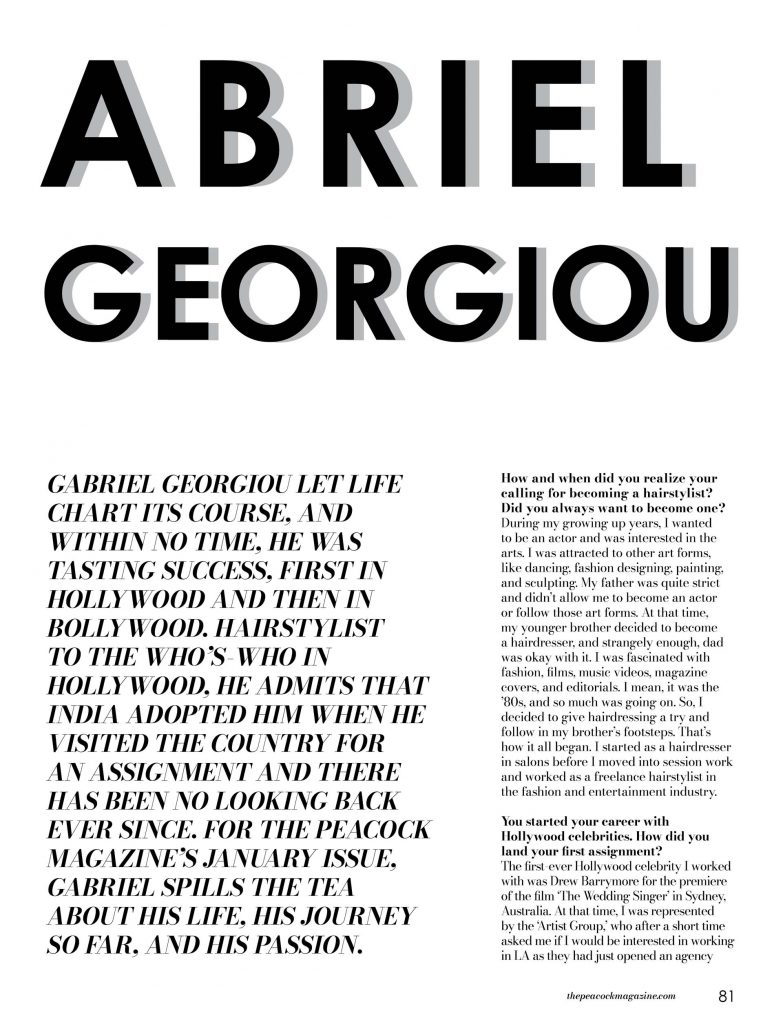 [Q] How and when did you realize your calling for becoming a hair artist? Did you always want to become one?
During my growing up years, I wanted to be an actor and was interested in the Arts. I was attracted to other art forms, like dance, fashion design, painting, and sculpture. My father was quite strict and didn't allow me to become an actor or follow those art forms. At that time, my younger brother decided to become a hairdresser, and strangely enough, dad was okay with it. I was fascinated with fashion, films, music videos, magazine covers, and editorials. I mean, it was the 80s, and so much was going on. So, I decided to give hairdressing a try and follow in my brother's footsteps. That's how it all began. I started as a hairdresser in salons before moving into session work and working as a freelance hairstylist in the fashion and entertainment industry.
[Q] You started your career with Hollywood celebrities. How did you land your first assignment?
The first-ever Hollywood celebrity I worked with was Drew Barrymore for the premiere of the film 'The Wedding Singer' in Sydney, Australia. At that time, I was represented by the 'Artist Group,' who after a short time asked me if I would be interested in working in LA as they had just opened an agency there and believed that I would do well. I happily accepted the proposal, and I went to Hollywood, where that journey and chapter of my life started back in 1999.
[Q] How did Bollywood happen to you?
In 2008, 'Anima Creative Management' invited me to come to India and work for three months to try it out because they had never represented a foreign hairstylist and there were no foreign hairstylists on-stay in India at the time. That sounded exciting to me as I'm quite the adventurer who is always open to new things. Then later, at the beginning of 2012, I was directly booked for a magazine shoot and was supposed to leave straight after that. But there was too much work, and one month led to another, then the third and a fourth, and before I knew it, I was working on my first Bollywood film with Katrina Kaif. India welcomed me and adopted me, so I went with the flow.
[Q] When did you get your first big break?
My first big break was in the early '90s when I was freelancing in Athens and eventually got represented by 'Agence Creative,' the biggest model and creative artist agency in Greece, at that time. I got a chance to work with many Greek celebrities, actors, singers, models, and TV presenters, which paved the way for what was to come next.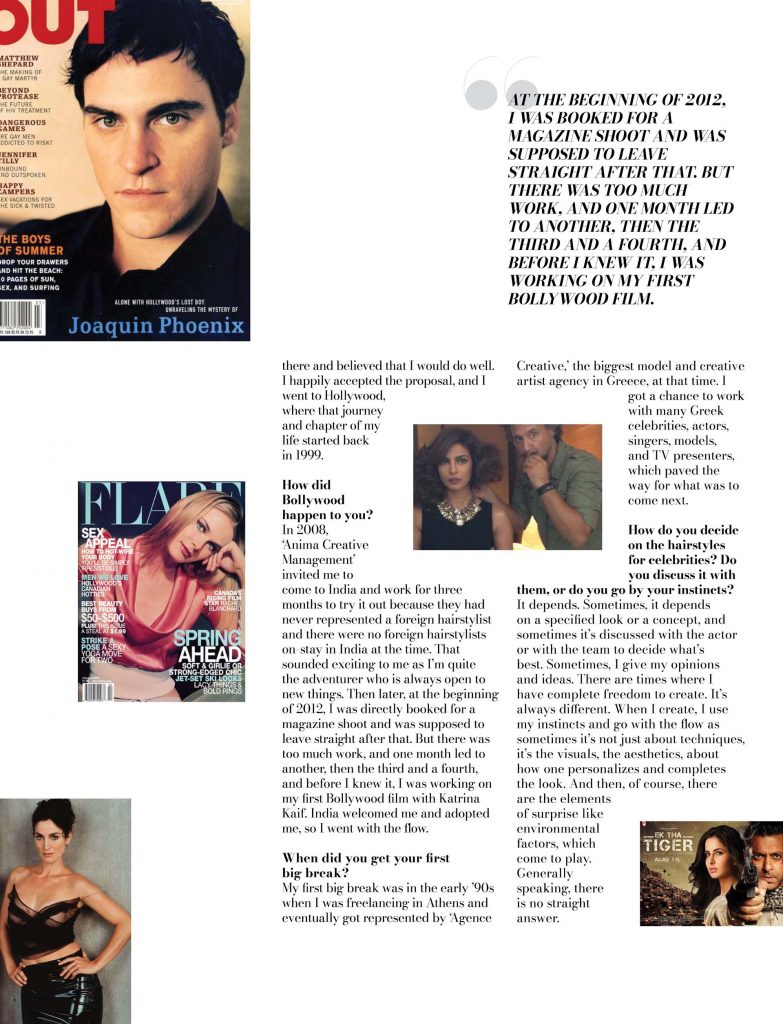 [Q] How do you decide on the hairstyles for celebrities? Do you discuss it with them, or do you go by your instincts?
It depends. Sometimes it depends on a specified look or a concept, and sometimes it's discussed with the actress or with the team to decide what's best. Sometimes I give my opinions and ideas. There are times where I have complete freedom to create. It's always different. When I create, I use my instincts and go with the flow as sometimes it's not just about techniques, it's the visuals, it's the aesthetics, it's about how one personalizes and completes the look. And then, of course, there are the elements of surprise like environmental factors which come to play. Generally speaking, there is no straight answer.
[Q] How would you describe your signature look?
My signature look would be described as 'easy, textured, wavy, done but undone.
[Q] What have been the highlights of your career until now?
Many! The list begins with my very first magazine cover that happened when I had started out as a session stylist in Greece. Then comes my first international cover, my first Bollywood movie, my first Hollywood movie, Met Gala, the Cannes Film Festival, my first Golden Globes with Jessica Alba, my first international Jay Z music video, and my first calendar with Miss World USA Natasha Allas. Working with noteworthy photographer legends like Herb Ritz, David Bailey, David LaChapelle, Ellen Von Unwerth are also some of the highlights of my career. And then there's working with some of the biggest Hollywood and Bollywood actors. There are plenty!
[Q] What's your definition of 'Beauty'?
I believe the key to 'Beauty' is that no matter how avant-garde or simple, symmetrical or asymmetrical, flat or voluminous a hairstyle might be, it just has to look beautiful and harmonious. It has to be aesthetically pleasing. The hair is like a halo. You just can't not take notice of it. I also strongly believe that beauty and aesthetics are connected with the divine. The lower the moral standard, the uglier the aesthetics, and that holds not only for hair but in all aspects whether it be architecture or art. So, beauty is personal, and yes, it is in the 'eyes of the beholder' as the saying goes. Through personal experiences, as I better myself as a person, the more refined my aesthetics become. Harmony and beauty are important for mankind.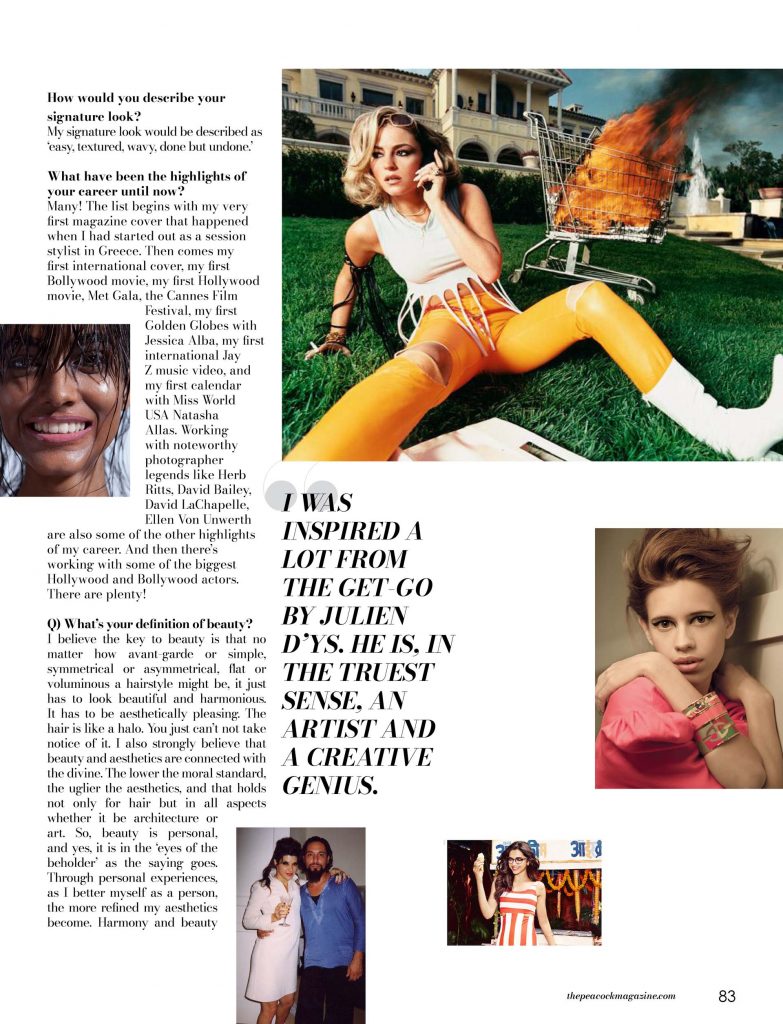 [Q] Who is your ultimate hair icon, and why?
There are a few like Eugene Souleiman and Nicolas Jurnjack. But keeping with the question, I was inspired a lot from the get-go by Julien d'Ys. He is, in the truest sense, an artist and a creative genius.
[Q] Who is your style icon?
I don't think I have one. A lot of people whom I admire have a lot of different styles. I, myself, am attracted to many different styles as long as it's chic with a twist. I love Etro and Dolce & Gabbana, to name a few.
[Q] Debunk the biggest hair myth you've heard.
If you trim your ends, your hair grows faster. It certainly doesn't. It will keep your ends healthy, yes.
[Q] What's the craziest hair styling request you've ever had?
I don't know if I would call it the craziest but it was, certainly, challenging. It was for a nine-day beauty TVC in Brazil, where I had to create hair for a model who was merged and camouflaged into a dry leaf and eventually comes out of it and jumps into a swimming pool from a very high diving board and then turns into a beautiful girl. So, there were a lot of long extensions, different shades of colors and textures, and all of them glued in with waterproof glue. For those two days, I honestly lost count of how many times she had to do the dive from a diving board from a huge height and get wet and had very little time between takes to dry the hair fully and reset the look only to do it all again. It was intense!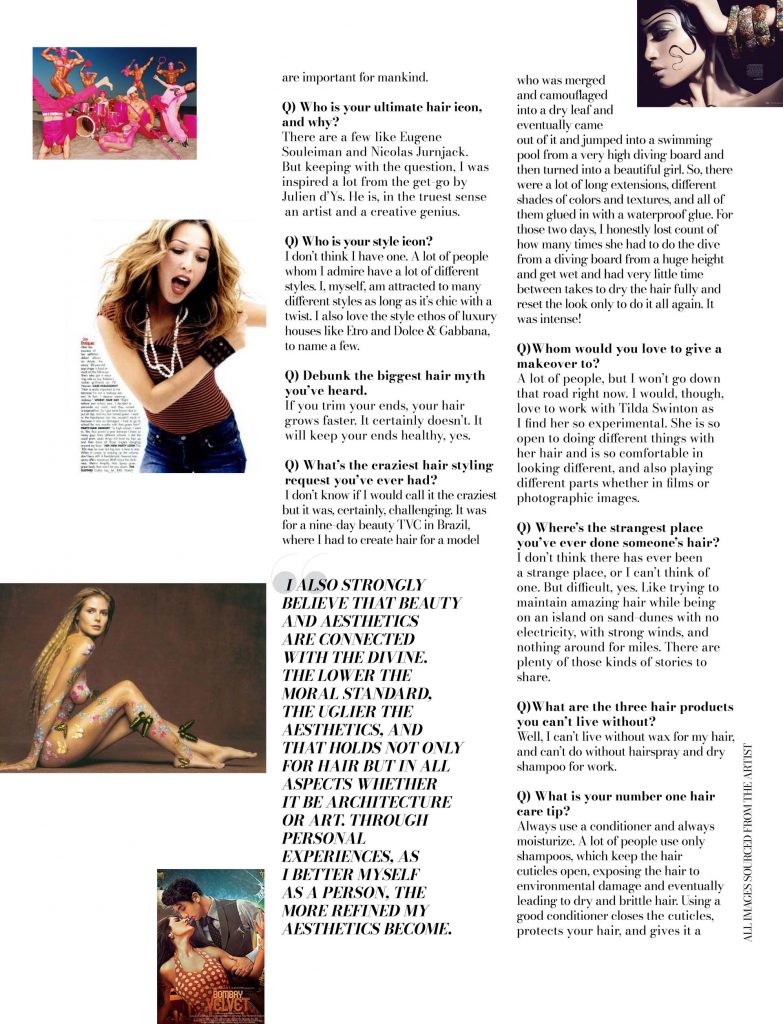 [Q] Whom would you love to give a makeover to?
A lot of people, but I won't go down that road right now. I would, though, love to work with Tilda Swinton as I find her so experimental. She is so open to doing different things with her hair and is so comfortable in looking different, and also playing different parts whether in film or photographic images.
[Q] Where's the strangest place you've ever done someone's hair?
I don't think there has ever been a strange place, or I can't think of one. But difficult, yes. Like trying to maintain amazing hair while being on an island on sand-dunes with no electricity, with strong winds, and nothing around for miles. There are plenty of those kinds of stories to share.
[Q] What are the three hair products you can't live without?
Well, I can't live without wax for my hair, and can't do without hairspray and dry shampoo for work.
[Q] What is your number one hair care tip?
Always use a conditioner and always moisturize. A lot of people use only shampoos, which keep the hair cuticles open, exposing the hair to environmental damage and eventually leading to dry and brittle hair. Using a good conditioner closes the cuticles, protects your hair, and gives it a smooth, softer feel and look. Moisturising can either be done, as I mentioned, with a good conditioner but I would recommend using oils or treatments that can work wonders in dry climates, tropical climates, and cold climates. The more organic, the better.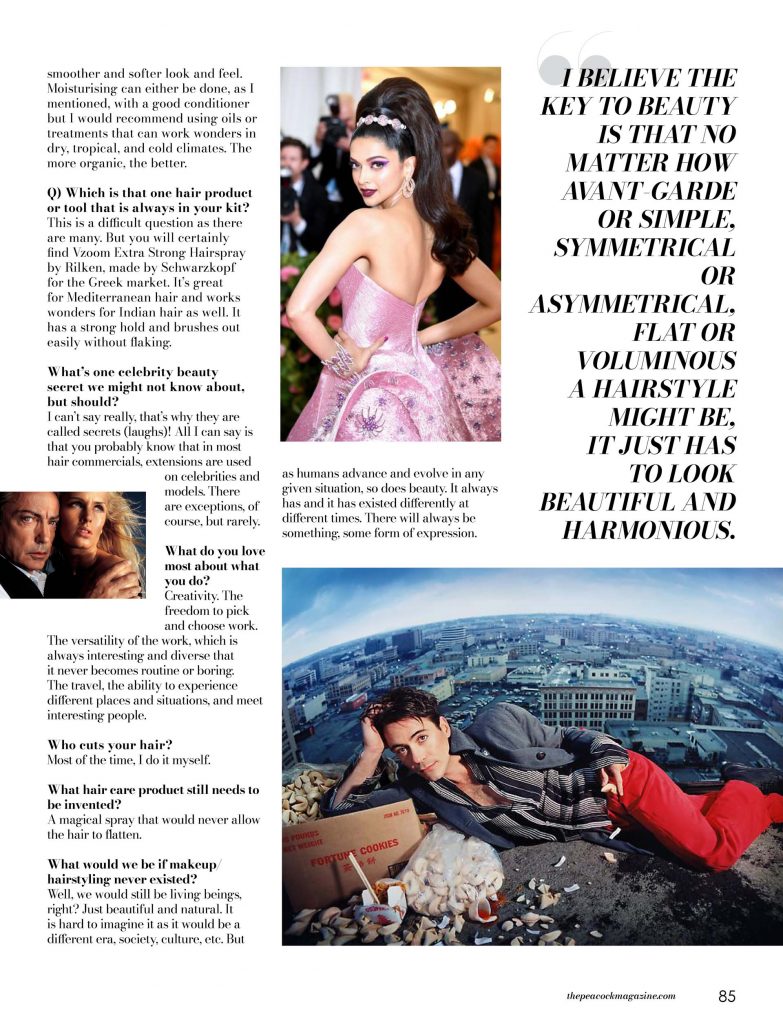 [Q] Which is that one hair product or tool that is always in your kit?
This is a difficult question as there are many. But you will certainly find Vzoom Extra Strong Hairspray by Rilken, made by Schwarzkopf for the Greek market. It's great for Mediterranean hair and works wonders for Indian hair as well. It has a strong hold and brushes out easily without flaking.
[Q] What's one celebrity beauty secret we might not know about, but should?
I can't say really, that's why they are called secrets! (laughs) All I can say is that you probably know that in most hair commercials, extensions are used on celebrities and models. There are exceptions, of course, but rarely.
[Q] What do you love most about what you do?
Creativity. The freedom to pick and choose work. The versatility of the work, which is always interesting and diverse that it never becomes routine or boring. The travel, the ability to experience different places and situations and meet interesting people.
[Q] Who cuts your hair?
Most of the time, I do it myself.
[Q] What hair care product still needs to be invented?
A magical spray that would never allow the hair to flatten.
[Q] What would we be if makeup/hair never existed?
Well, we would still be living beings, right? Just beautiful and natural. It is hard to imagine it as it would be a different era, society, culture, etc. But as humans advance and evolve in any given situation, so does beauty. It always has and it has existed differently at different times. There will always be something, some form of expression.