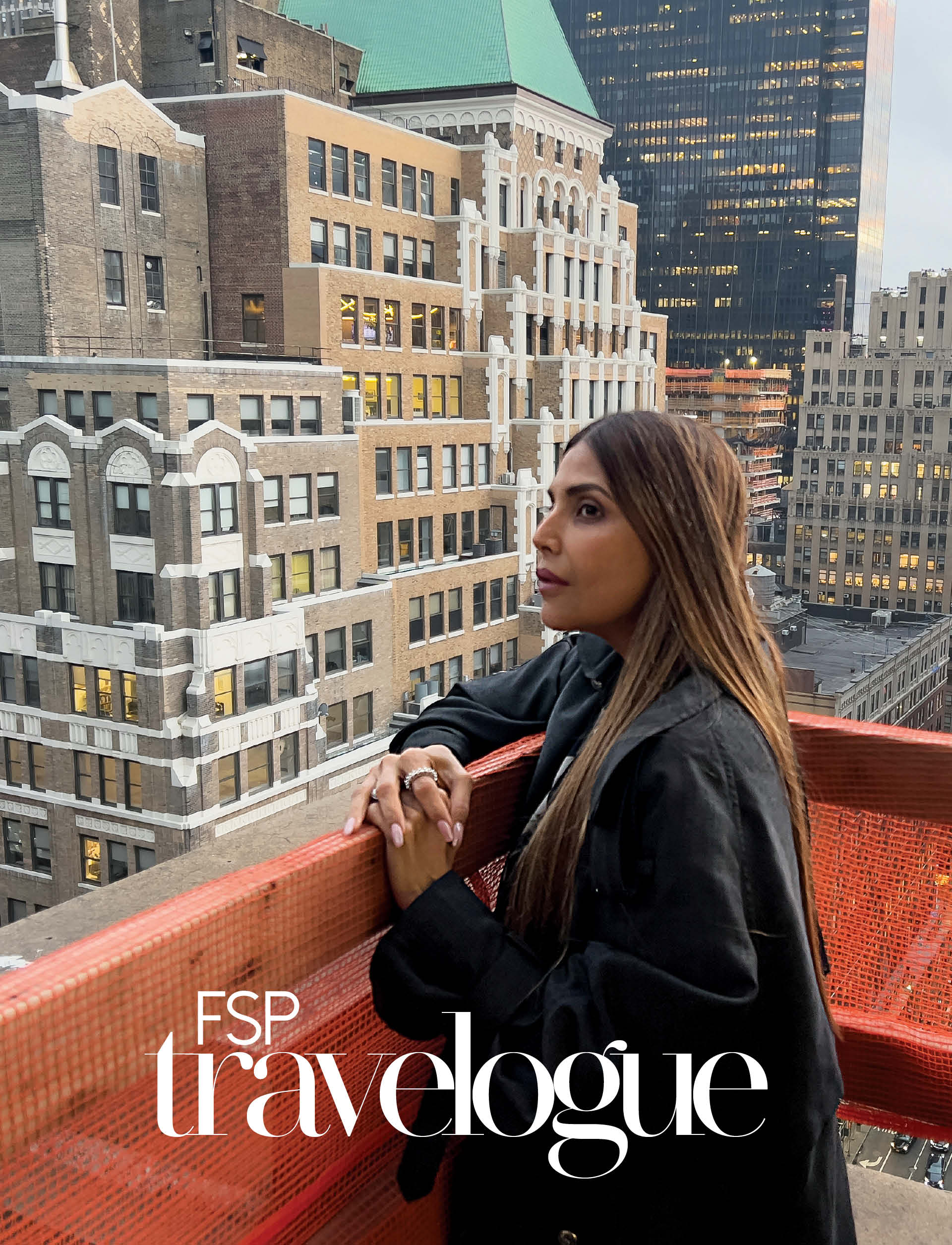 In India, Diwali is one of the most sought-after festivals, with celebrations and merriment going on for days — as a matter of fact, sometimes even before and after the actual days of the festival! However, the celebrations which used to be full of gusto and fun, were subdued in the last two years owing to the pandemic. So, finally when the lockdown restrictions lifted and there was a sign that the celebrations could go back to be as they used to be pre-pandemic, we knew we had to make most of the opportunity and what better than taking the festival of light overseas and celebrating with our close friends and loved ones over there!
We rounded up a couple of our close Indian friends — Anjula Acharia, Maneesh Goyal and Anita Chaterjee — who are some of the prominent names in the United States and discussed on what can be down with the opportunity and how we could make it the best Diwali party NYC had ever seen. Our small group was soon a bigger one as we roped in other Indian contemporaries like Alvina Patel Buxani, Huma Abedin, Jay Sean, Kal Penn, Prabal Gurung, Radhika Jones, Sakshi Khurana, Sean Gupta and Versha Sharma to make it the party of 2022's Diwali gala. They were more than delighted to make this happen! Maneesh, Anjula and Anita had earlier held the annual festivities in a true Desi style. This year, the idea was to take it a notch higher and bring together as many people as possible who would embrace the holiday and celebrate the festival with us.
The preparations for the same began two months in advance with a vow to ensure every minute detail was executed to perfection. We started ticking off our to-do list with zeal. With each passing day, the excitement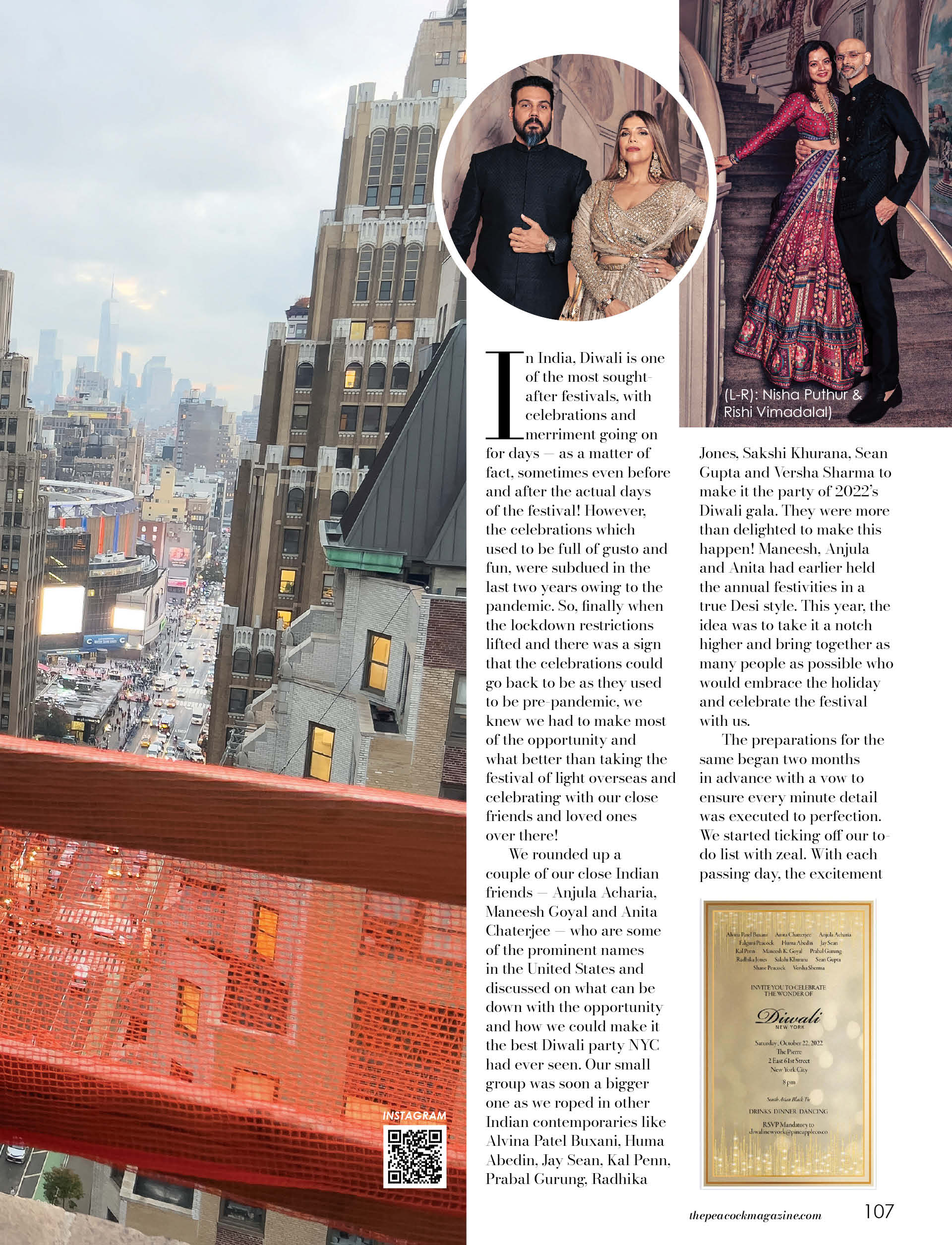 soared and we couldn't wait for the celebrations to kick off. Needless to say, we took the onus of dressing up our co-hosts and some of the guests who wanted to sport the bespoke Falguni Shane Peacock couture Lehengas and Kurta sets. On the 22nd of October, the ballroom of The Pierre at the Taj, located near Central Park, was transformed into an opulent wonderland. The room was packed by high-powered South Asians along with other luminaries from New York. The Pierre's ornate muraled Rotunda room doubled up as the picturesque backdrop as guests lined up for processional entries and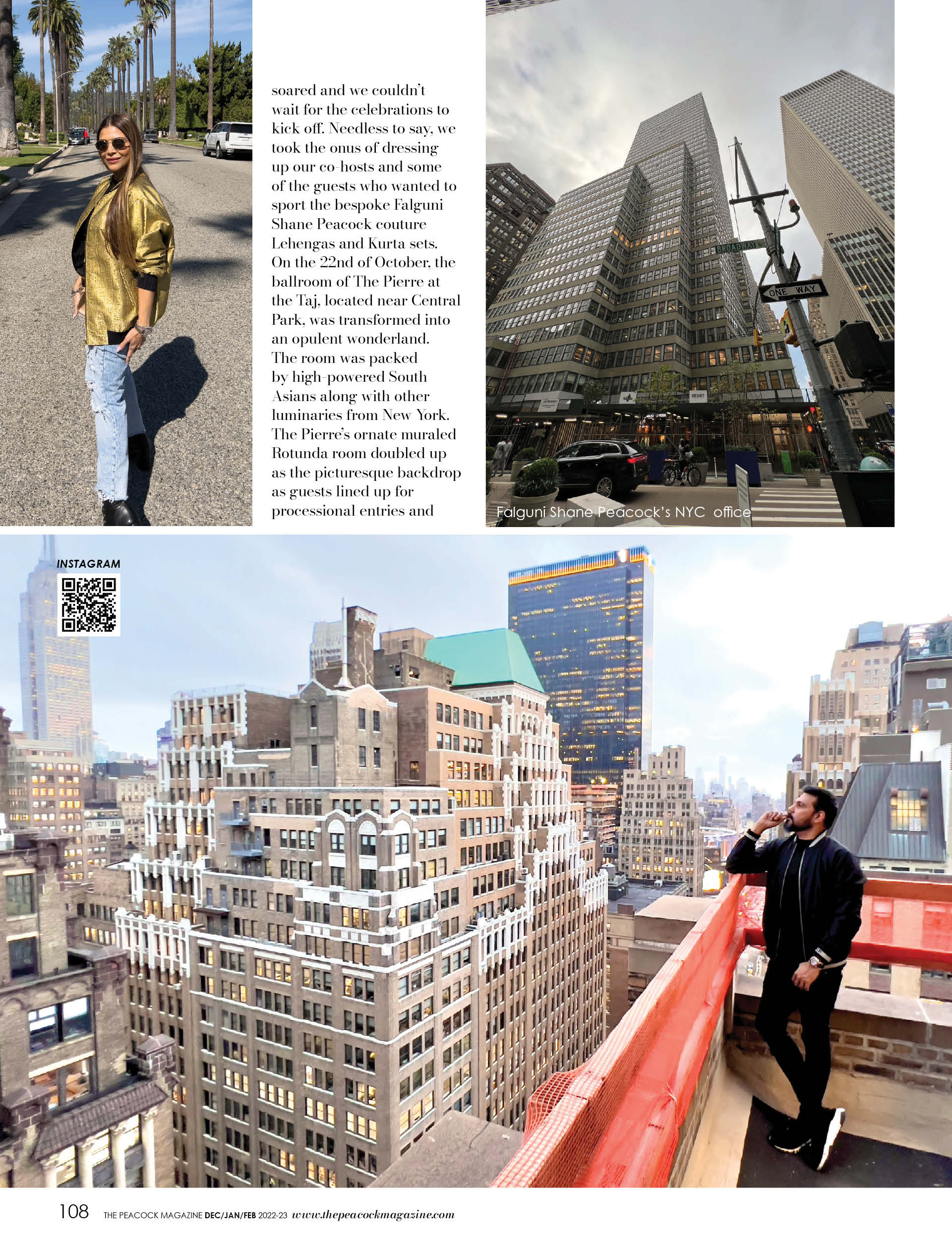 extravagant photographs, which was a true sight to behold. With Desi music to groove on, Desi food to gorge on and with the Desi Diwali celebratory spirit taking over, the room was filled with festive fervour!
But New York wasn't the only city that we took the Diwali celebrations to. Soon after our debut Diwali party in NYC, we headed to Washington DC in the august company of our friends as we'd been invited to the White House by POTUS and FLOTUS Joe and Jill Biden. The Diwali party at the White House will be one of the highlighting moments of 2022. 'While Shane had to miss the celebrations due to some unforeseen reason, I attended and had a time of my life walking around the White House and being consumed by its beautiful architecture," Falguni said. President Joe Biden lit the ceremonial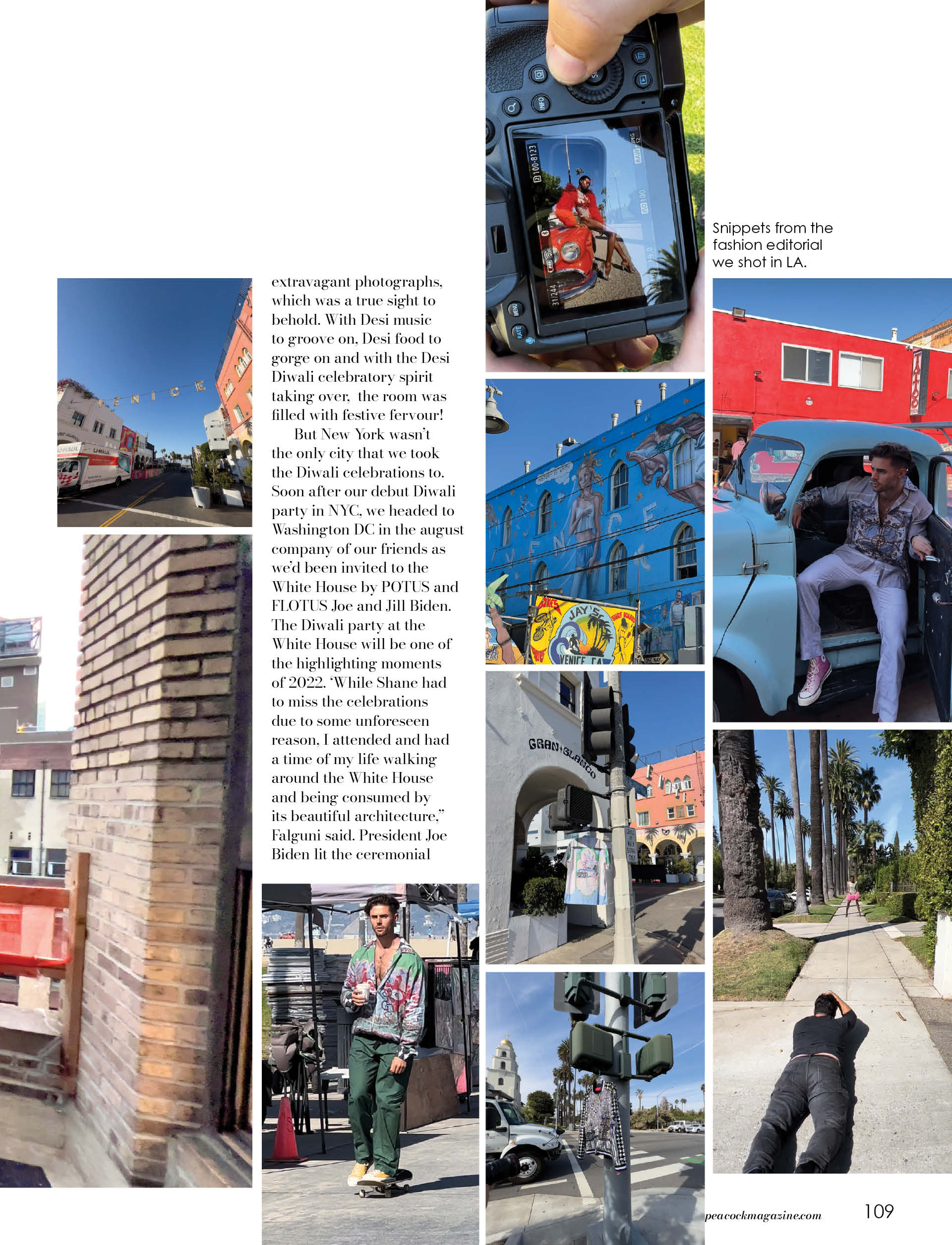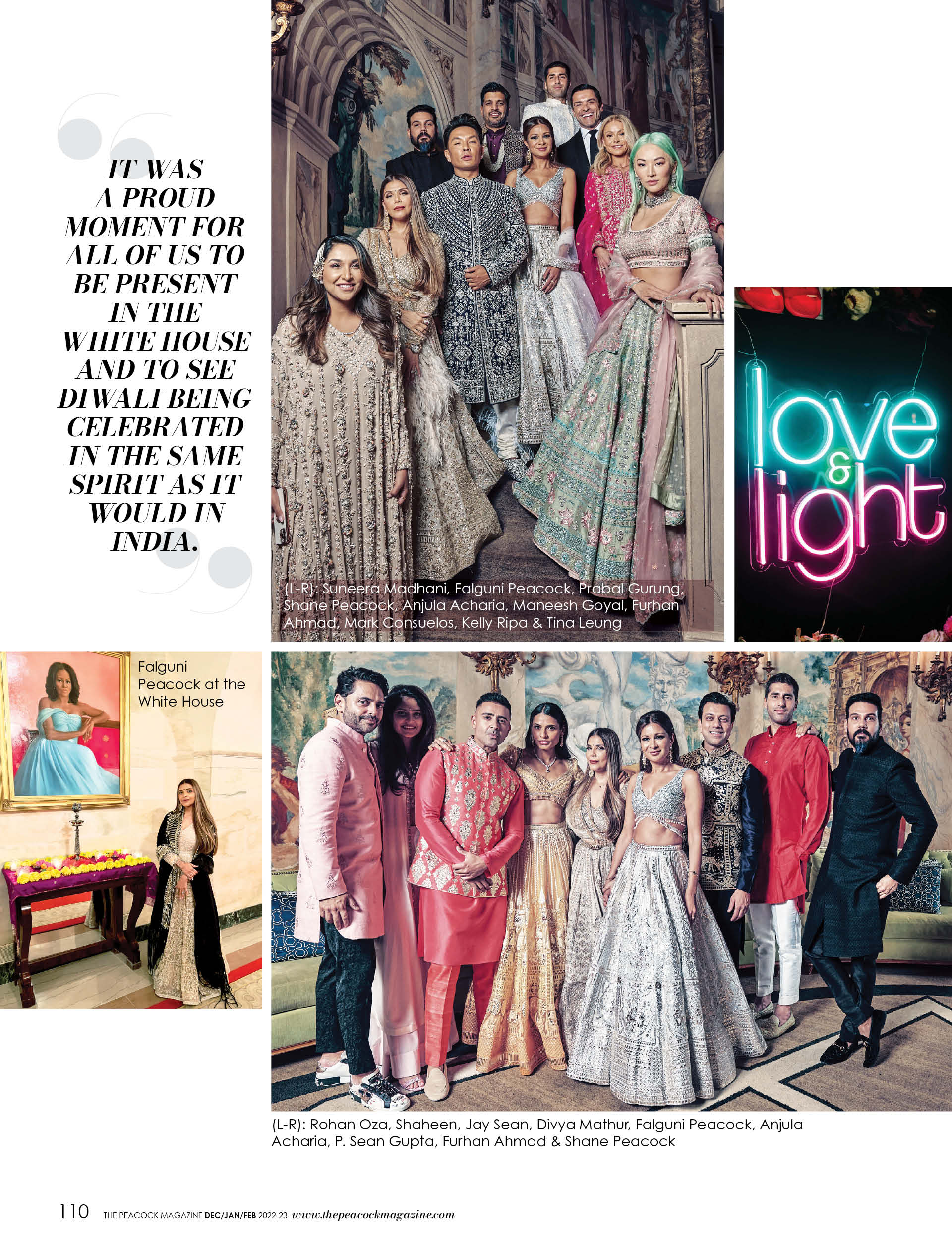 lamp and addressed the room expounding upon the significance of the celebrations. He was then joined by first lady Jill Biden and Vice President Kamala Harris — who took to the stage to speak about what the festival means to them. The Sa Dance Company — a group led by entrepreneur Payal Kadakia Pujji and Sitar player Rishab Sharma put on a mesmerising performance for the guests. As Indians, it was a proud moment for all of us present in the room, to see Diwali being celebrated in the same spirit as it would in India. Many of our friends who made it big in the US touted this moment to be something they had dreamt of. With about 200 guests in attendance, the party went on to become the biggest-ever Diwali party ever hosted by the White House and we couldn't be any more happier and prouder to be a part of this gala!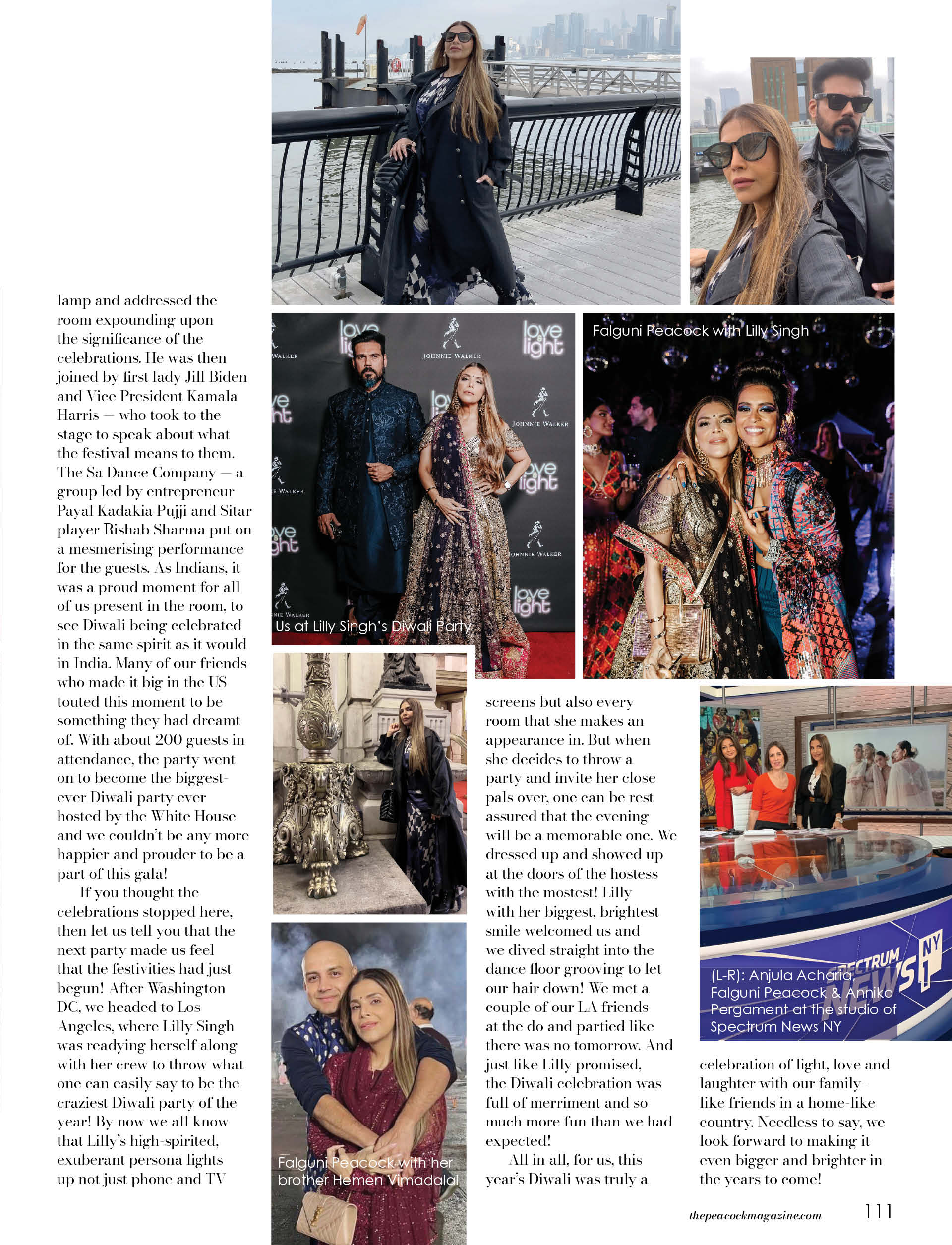 If you thought the celebrations stopped here, then let us tell you that the next party made us feel that the festivities had just begun! After Washington DC, we headed to Los Angeles, where Lilly Singh was readying herself along with her crew to throw what one can easily say to be the craziest Diwali party of the year! By now we all know that Lilly's high-spirited, exuberant persona lights up not just phone and TV screens but also every room that she makes an appearance in. But when she decides to throw a party and invite her close pals over, one can be rest assured that the evening will be a memorable one. We dressed up and showed up at the doors of the hostess with the mostest! Lilly with her biggest, brightest smile welcomed us and we dived straight into the dance floor grooving to let our hair down! We met a couple of our LA friends at the do and partied like there was no tomorrow. And just like Lilly promised, the Diwali celebration was full of merriment and so much more fun than we had expected!
All in all, for us, this year's Diwali was truly a celebration of light, love and laughter with our family-like friends in a home-like country. Needless to say, we look forward to making it even bigger and brighter in the years to come!