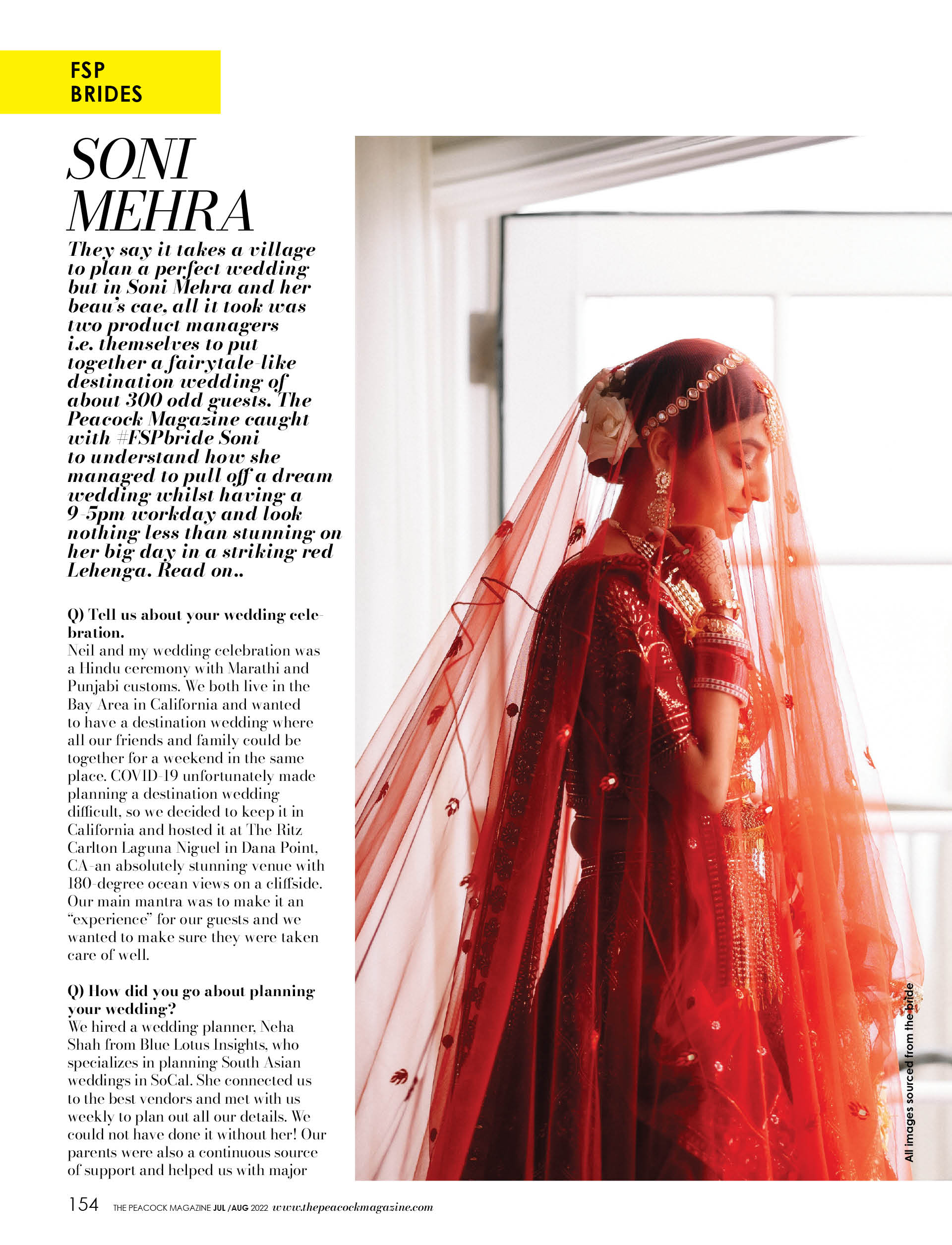 All images sourced from the bride

They say it takes a village to plan a perfect wedding but in Soni Mehra and her beau's cae, all it took was two product managers i.e. themselves to put together a fairytale-like destination wedding of about 300 odd guests. The Peacock Magazine caught with #FSPbride Soni to understand how she managed to pull off a dream wedding whilst having a 9-5pm workday and look nothing less than stunning on her big day in a striking red Lehenga. Read on..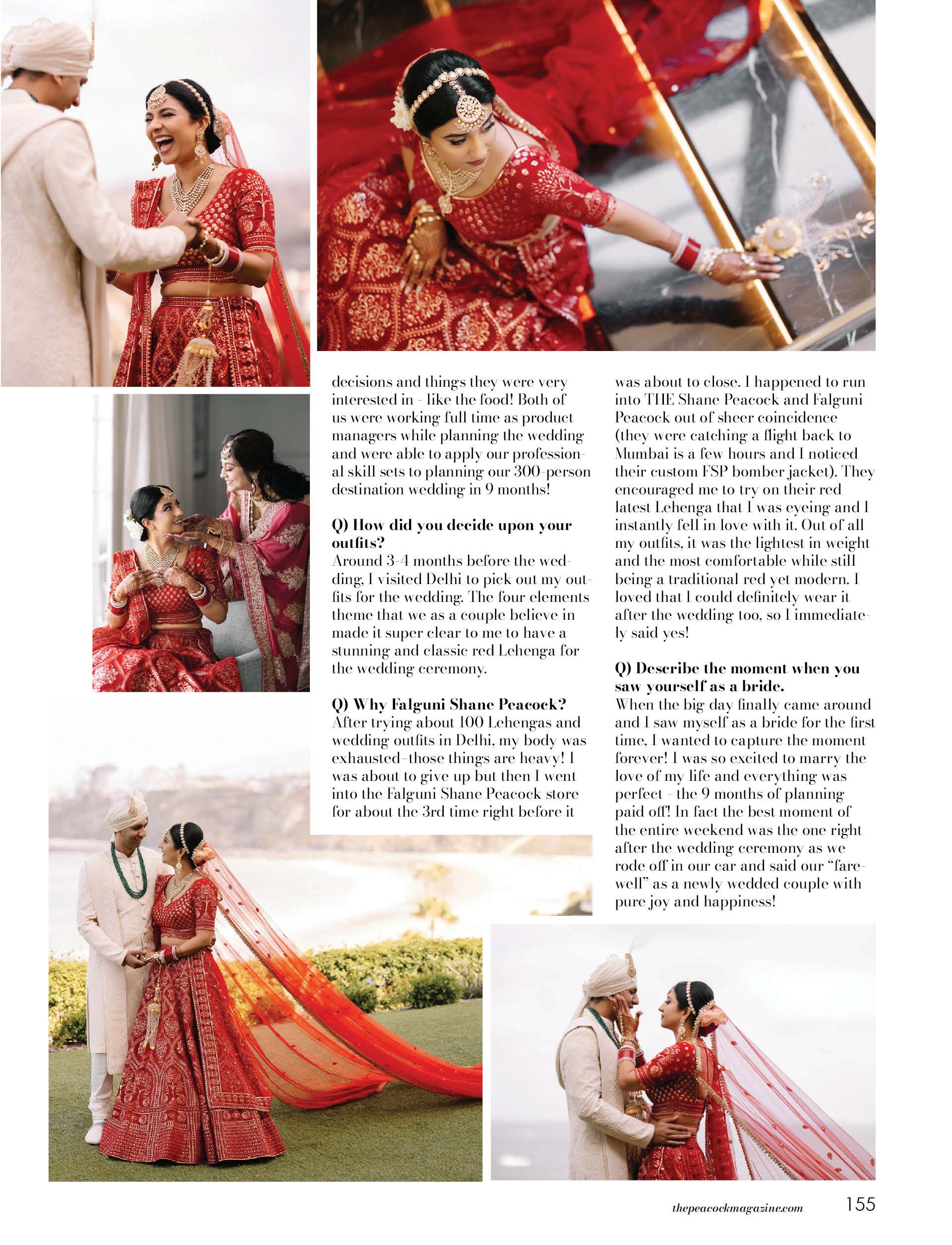 Q) TELL US ABOUT YOUR WEDDING CELEBRATION.
Neil and my wedding celebration was a Hindu ceremony with Marathi and Punjabi customs. We both live in the Bay Area in California and wanted to have a destination wedding where all our friends and family could be together for a weekend in the same place. COVID-19 unfortunately made planning a destination wedding difficult, so we decided to keep it in California and hosted it at The Ritz Carlton Laguna Niguel in Dana Point, CA–an absolutely stunning venue with 180-degree ocean views on a cliffside. Our main mantra was to make it an "experience" for our guests and we wanted to make sure they were taken care of well.
Q) HOW DID YOU GO ABOUT PLANNING YOUR WEDDING?
We hired a wedding planner, Neha Shah from Blue Lotus Insights, who specializes in planning South Asian weddings in SoCal. She connected us to the best vendors and met with us weekly to plan out all our details. We could not have done it without her! Our parents were also a continuous source of support and helped us with major decisions and things they were very interested in – like the food! Both of us were working full time as product managers while planning the wedding and were able to apply our professional skill sets to planning our 300-person destination wedding in 9 months!
Q) HOW DID YOU DECIDE UPON YOUR OUTFITS?
Around 3-4 months before the wedding, I visited Delhi to pick out my outfits for the wedding. The four elements theme that we as a couple believe in made it super clear to me to have a stunning and classic red Lehenga for the wedding ceremony.
Q) WHY FALGUNI SHANE PEACOCK?
After trying about 100 Lehengas and wedding outfits in Delhi, my body was exhausted—those things are heavy! I was about to give up but then I went into the Falguni Shane Peacock store for about the 3rd time right before it was about to close. I happened to run into THE Shane Peacock and Falguni Peacock out of sheer coincidence (they were catching a flight back to Mumbai is a few hours and I noticed their custom FSP bomber jacket). They encouraged me to try on their red latest Lehenga that I was eyeing and I instantly fell in love with it. Out of all my outfits, it was the lightest in weight and the most comfortable while still being a traditional red yet modern. I loved that I could definitely wear it after the wedding too, so I immediately said yes!
Q) DESCRIBE THE MOMENT WHEN YOU SAW YOURSELF AS A BRIDE.
When the big day finally came around and I saw myself as a bride for the first time, I wanted to capture the moment forever! I was so excited to marry the love of my life and everything was perfect – the 9 months of planning paid off! In fact the best moment of the entire weekend was the one right after the wedding ceremony as we rode off in our car and said our "farewell" as a newly wedded couple with pure joy and happiness!