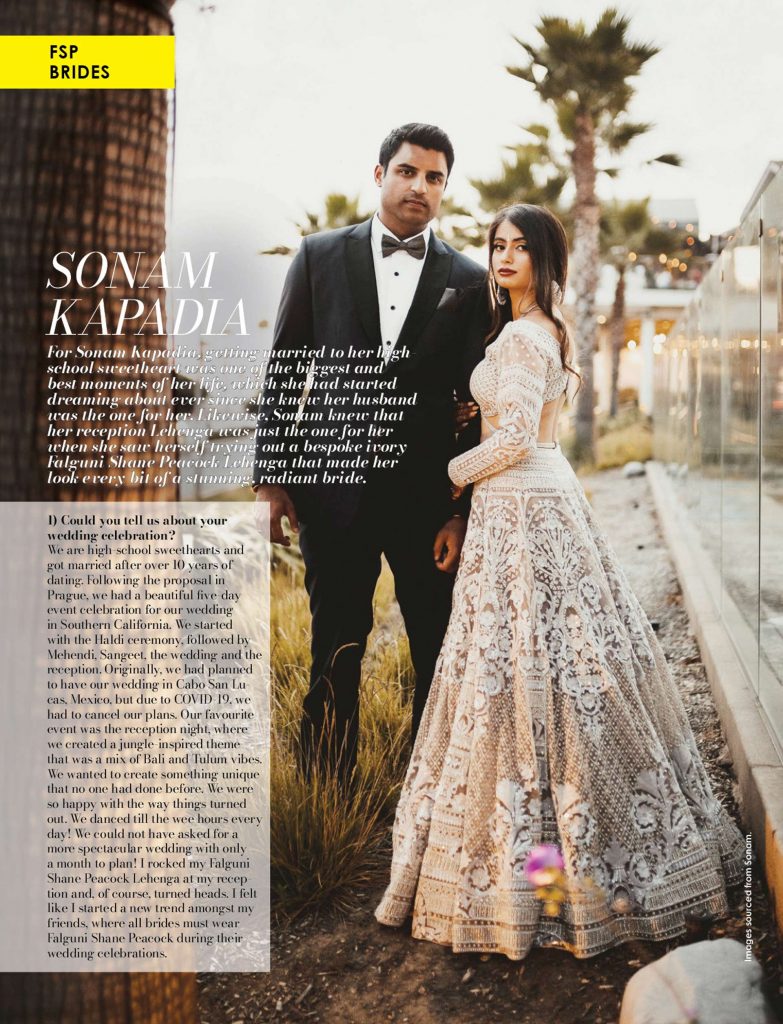 CREDITS: Images sourced from Sonam.

For Sonam Kapadia, getting married to her high-school sweetheart was one of the biggest and best moments of her life, which she had started dreaming about ever since she knew her husband was the one for her. Likewise, Sonam knew that her reception Lehenga was just the one for her when she saw herself trying out a bespoke ivory Falguni Shane Peacock Lehenga that made her look every bit of a stunning, radiant bride.

[Q] Could you tell us about your wedding celebration?
We are high-school sweethearts and got married after over 10 years of dating. Following the proposal in Prague, we had a beautiful five-day event celebration for our wedding in Southern California. We started with the Haldi ceremony, followed by Mehendi, Sangeet, the wedding and the reception. Originally, we had planned to have our wedding in Cabo San Lucas, Mexico, but due to COVID-19, we had to cancel our plans. Our favourite event was the reception night, where we created a jungle-inspired theme that was a mix of Bali and Tulum vibes. We wanted to create something unique that no one had done before. We were so happy with the way things turned out. We danced till the wee hours every day! We could not have asked for a more spectacular wedding with only a month to plan! I rocked my Falguni Shane Peacock Lehenga at my reception and, of course, turned heads. I felt like I started a new trend amongst my friends, where all brides must wear Falguni Shane Peacock during their wedding celebrations.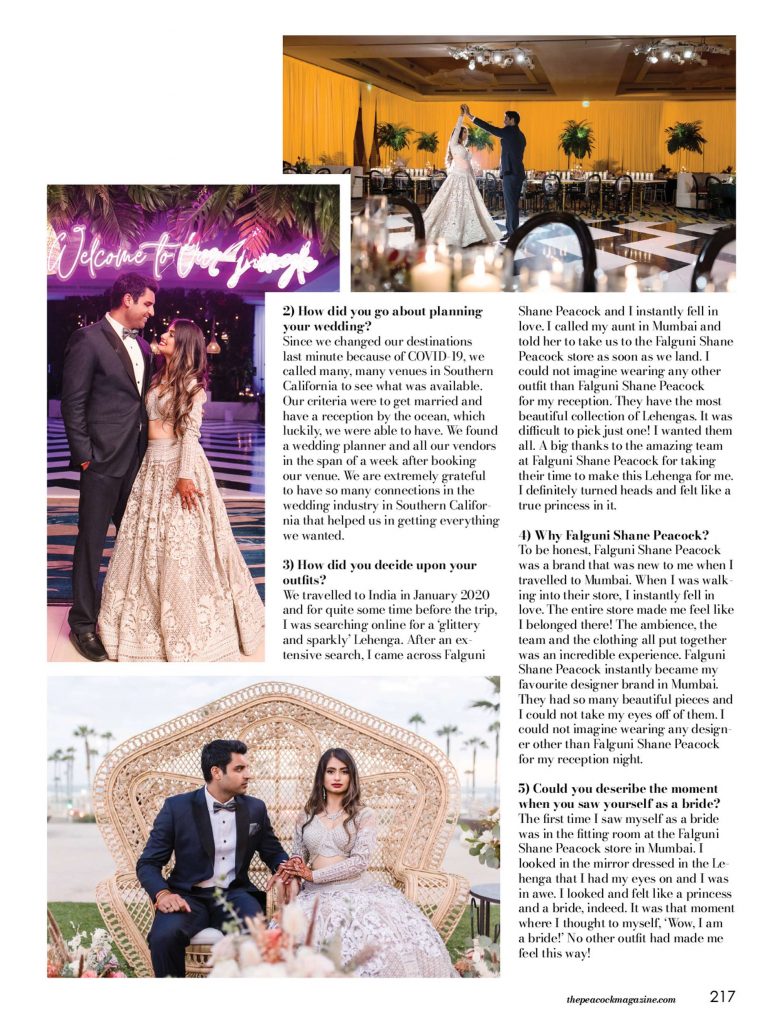 [Q] How did you go about planning your wedding?
Since we changed our destinations last minute because of COVID-19, we called many, many venues in Southern California to see what was available. Our criteria were to get married and have a reception by the ocean, which luckily, we were able to have. We found a wedding planner and all our vendors in the span of a week after booking our venue. We are extremely grateful to have so many connections in the wedding industry in Southern California that helped us in getting everything we wanted.
[Q] How did you decide upon your outfits?
We travelled to India in January 2020 and for quite some time before the trip, I was searching online for a 'glittery and sparkly' Lehenga. After an extensive search, I came across Falguni Shane Peacock and I instantly fell in love. I called my aunt in Mumbai and told her to take us to the Falguni Shane Peacock store as soon as we land. I could not imagine wearing any other outfit than Falguni Shane Peacock for my reception. They have the most beautiful collection of Lehengas. It was difficult to pick just one! I wanted them all. A big thanks to the amazing team at Falguni Shane Peacock for taking their time to make this Lehenga for me. I definitely turned heads and felt like a true princess in it.
[Q] Why Falguni Shane Peacock?
To be honest, Falguni Shane Peacock was a brand that was new to me when I travelled to Mumbai. When I was walking into their store, I instantly fell in love. The entire store made me feel like I belonged there! The ambience, the team and the clothing all put together was an incredible experience. Falguni Shane Peacock instantly became my favourite designer brand in Mumbai. They had so many beautiful pieces and I could not take my eyes off of them. I could not imagine wearing any designer other than Falguni Shane Peacock for my reception night.
[Q] Could you describe the moment when you saw yourself as a bride?
The first time I saw myself as a bride was in the fitting room at the Falguni Shane Peacock store in Mumbai. I looked in the mirror dressed in the Lehenga that I had my eyes on and I was in awe. I looked and felt like a princess and a bride, indeed. It was that moment where I thought to myself, 'Wow, I am a bride!' No other outfit had made me feel this way!