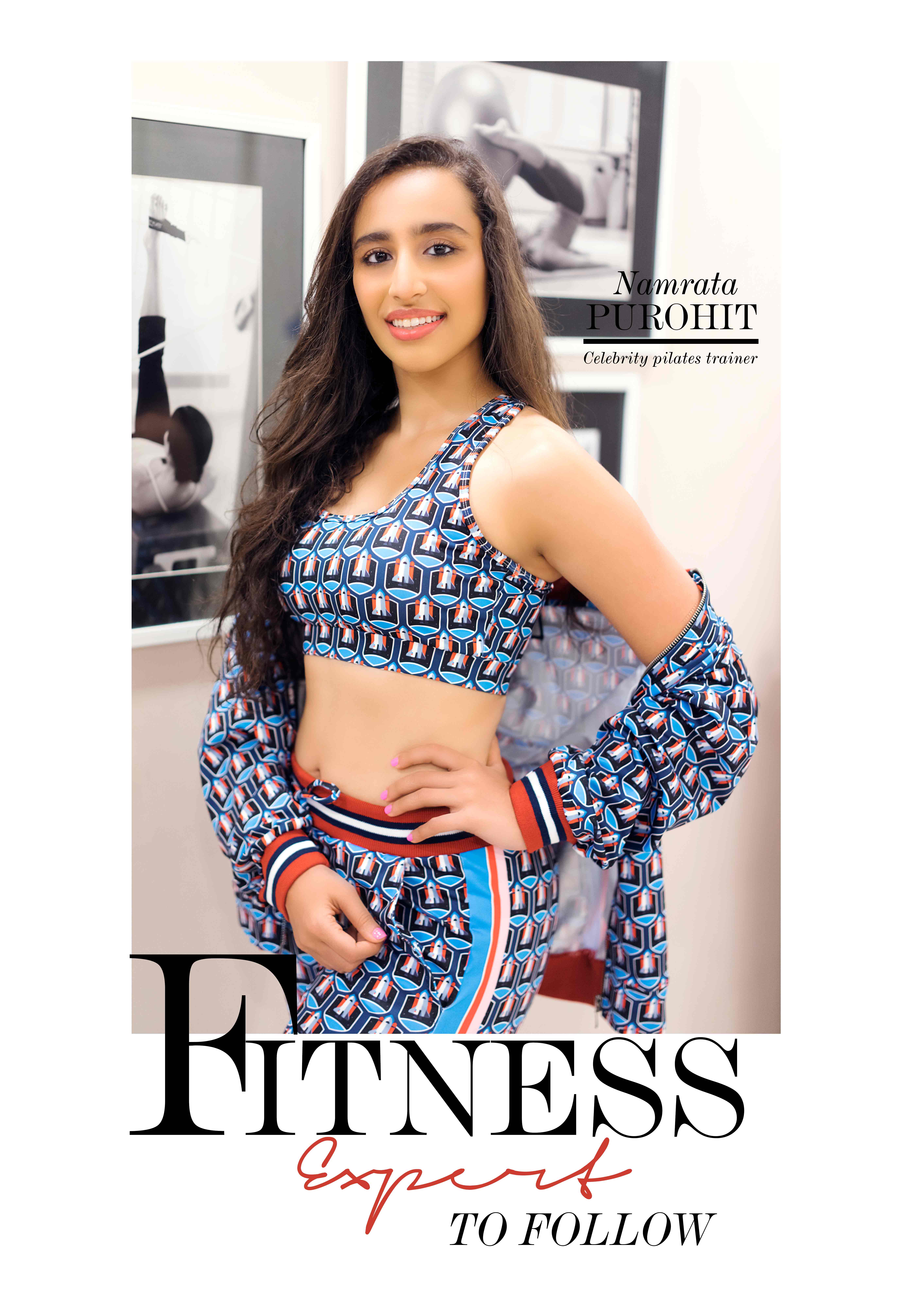 Namrata Purohit is a trail blazer in the competitive fitness industry in India. The young fitness instructor founded her popular Pilates studio with her father Sameer Purohit, and hasn't looked back ever since. Namrata revolutionized the concept of fitness in India by introducing Pilates and educating the masses beyond lifting at the gym. Bollywood starlets like Malaika Arora, Jacqueline Fernandez, Kareena Kapoor Khan owe their wash board abs to Purohit. At a very early stage in her life, Namrata broke the stereotype by choosing a rather unusual career; her lean physic is a visual example of her disciplined lifestyle from the start. Not only is her training considered the best and is sworn by the finest actresses and socialites, she is also the youngest certified Stott Pilates instructor in the world. When she's not busy sculpting the bodies of heavy-weight Bollywood names, Namrata trains International pageant contestants as she is the official fitness partner for the Femina Miss India Organization. In a conversation with the ever so enthusiastic fitness trainer, she revealed about her first encounter with Pilates – how the circumstances weren't so pleasant and so much more.
1) AT A VERY YOUNG AGE YOU OPTED FOR AN UNUSUAL CAREER, CAN YOU TELL US ABOUT YOUR JOURNEY?
"It has been a really interesting journey because I started early at the age of 15 and it started with falling off a horse and having a really bad knee injury. I was asked to stop playing squash, dancing and horse riding – those were the things I loved the most. It was hard for me to accept and I was acting rebellious by joining 3 dance classes right after the injury, something I shouldn't have done. When dad was hosting a Pilate's course in Mumbai, I did the course, and 2 to 3 days into the course and I was completely pain free. So, that's how my journey began. It has been great, working while studying simultaneously at that age was something I enjoyed."

2) HOW WOULD YOU EXPLAIN/BREAK-DOWN PILATES AS A WORK OUT TO A LAYMAN?
"Pilates was stated in World War II by Joseph Pilates for men at war and then it was transformed for Ballet and contemporary dancers. So in simple words, doing Pilates you get the best of both worlds. You get the strength of a warrior and the flexibility of a ballet dancer."

3) WHAT IS FITNESS TO YOU AND HOW HAS IT CHANGED OVER THE YEARS?
"Initially when I started training, fitness was about looking a certain way. Even for me it started off that way and over the years I have realized that there is so much more to fitness than just how you look. Someone could look great but they can't even do a single pushup or a squat. There are people who have injuries they are dealing with, they look good, but are they fit? The whole definition of fitness has opened up for me, there's more that has come on to the realm of fitness than just good looks. It's about strength, endurance, balance and stability. It's about having lean body mass, fat percentage cardio vascular endurance.

4) WHY DID YOU CHOOSE TO LEARN AND TEACH PILATES OVER ANY OTHER FORM OF WORKOUT?
"After my knee injury, I was trying a lot of things; I was going to the gym, doing physiotherapy. I was doing better but I wasn't fine. Once I did Pilates, I was fine, I was back on cott, I played for Nationals and stood fourth that year and my coach actually told me I seemed fitter than I was before my injury. I became a believer. My dad, who have been into fitness for over 30 years, he use to struggle with severe back pain and when he started Pilates, 4 days into it and he woke up pain free. It was amazing – the pain he struggled with for over 40 years was gone after a few sessions of Pilates."

5) HOW HAS YOUR PERSONAL FITNESS JOURNEY BEEN AND HOW HAS IT EVOLVED OVER TIME?
"It has been great, there's so much more I can do know as compared to before. I remember when I started, I could not do a simple pushup, and now I can, so that's one thing I can give as an example. I feel so much stronger, I have more energy, and I can go on for hours. People keep asking me, how do you keep going and it's just that I have so much energy now. In terms of energy, skin, working out every day has helped with everything."

6) LIST OF SUPER/POWER FOODS YOU SWEAR BY AND WHY?
"I am more a traditionalist when it comes to food. I believe in having balanced meals throughout the day. The traditional Indian way of eating is extremely healthy and good for you. I have my ghee which is important, I love yogurt, paneer and like I said it's all about the balanced diet. There's no one such super food I swear by, but your meal should be packed with nutrients."

7) HAVING TRAINED A NUMBER OF A-LIST CELEBRITIES, HOW DO YOU PREPARE A DIFFERENT MODULE FOR EACH ONE OF THEM?
"We look at their body type, their goal and the time they have to achieve that goal. Accordingly we design their regime; everyone's regime is completely different."

8) WHAT DO YOU THINK ABOUT BEING A FITNESS TRENDSETTER IN INDIA?
"I don't know if I am one, if I am, then I am thankful to the people who actually listen and do what I say. Sometimes it's really nice to receive messages from people who have benefited from my videos and it has helped them. It motivates me to do better; sometimes it's overwhelming but makes me happy to see where I am."

9) WHAT DO YOU SWITCH TO WHEN YOU WANT A BREAK FROM PILATES?
"I don't think I've ever taken a break from Pilates – I can never take a break from Pilates because I love it so much.