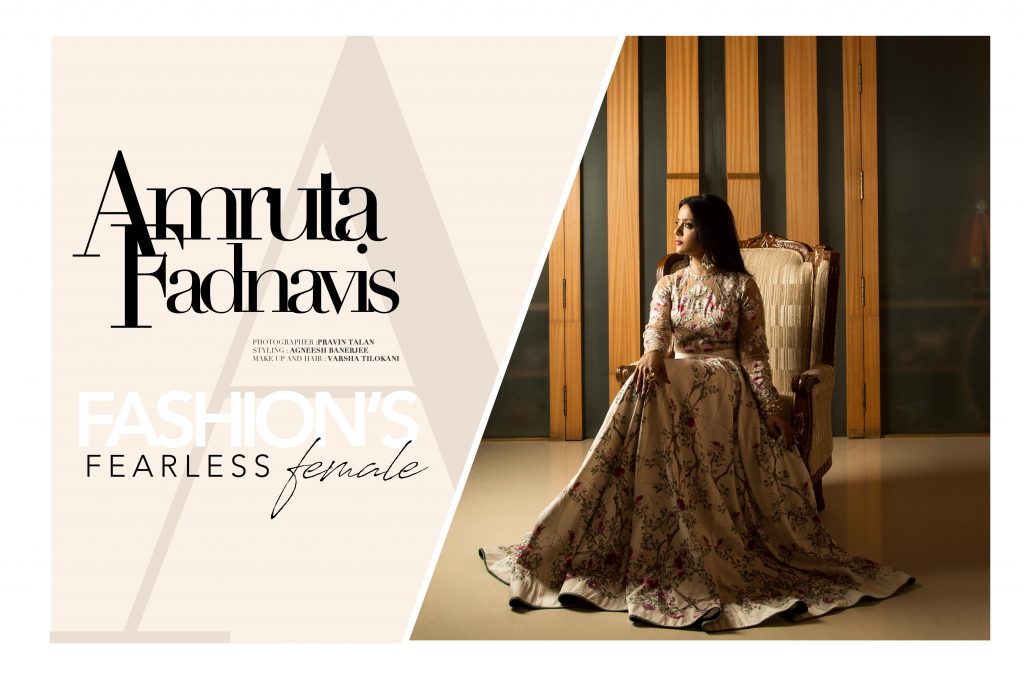 Article By Manish Mishra 
Fashion's Fearless Female
Maharashtra's First Lady Amruta Devendra Fadnavis is the true metaphor for the new India – bold, confident and ambitious…
Maharashtra's First Lady Amruta Devendra Fadnavis wears many a hat – she's a trained classical singer, a social activist, and also a banker. Married to 18th Chief Minister of Maharashtra, Devendra Fadnavis, she is the youngest First Lady in the history of the state. This fiercely-independent woman achiever currently holds the post of Deputy Vice President – Corporate Head (west India) with Axis bank. Her litany of accomplishments is limitless – she has represented India at National Prayer Breakfast – 2017, an international peace initiative presided by US President Donald Trump. Philanthropy, social welfare and public causes form the core of career trajectory.
STRONG SENSE OF INDEPENDENCE
"She grew up in a household where education and independence for women was of  paramount importance. At the outset, she studied at St. Joseph Convent School, Nagpur and later graduated from G.S. College of Commerce and Economics. Post that she pursued MBA in finance and studied taxation laws from Symbiosis Law School, Pune. And wait till you read this. She effortlessly managed to strike that elusive balance between academics and sports by proving herself as a well-rounded individual. She was a state level under 16 tennis player. Perhaps that explains the athletic streak in her. Mrs.
Fadnavis started her career with Axis bank as Executive – Cashier in 2003 and subsequently headed Axis Bank business branch in Nagpur."
FORCE BEHIND THE CM
"Amruta married CM Devendra Fadnavis in December 2005 and the couple have a daughter named Divija. She's managed to juggle several roles over the years – a professional, a wife and also a hands-on mother. During Assembly election of Maharashtra in the year 2014, she actively campaigned for her husband in Nagpur while he was travelling across the state, she acted as a catalyst in conveying his ideologies to the people of the city. She was tuned to the concerns of the masses and played a key role in getting the right message across."
SINGING SENSATION
"She is a trained classical singer, performed at various social events and has been an active participant in the entertainment industry. She made her debut as a playback singer in Prakash Jha's Jai Gangaajal with a soulful rendition of Sab Dhan Mati. She also sang a song in a biopic Sangharsh Yatra based on the Life of the late BJP leader Gopinath Munde. The gorgeous lady also performed at a prestigious charity event 'Umang-2017' for the welfare of Mumbai Police. Her first music video Phir Se featuring Amitabh Bachchan released by T-Series was viewed over 7 lakh times in a single day and reached over 1.4 million views in 3 days. Now that's something!"
STYLE MAVEN
"Her flirtation with style has been exemplary. From a traditional handwoven sari to a body-con dress – the lady, who's in excellent shape, has managed to assert herself as a veritable clothes-horse. One look at all her social red carpet appearances and one can vouch she likes bold colours and isn't afraid to take style risks. She walked the ramp as showstopper for the promotion of handloom and education of girl child at New York Fashion Week. The philanthropist also sashayed down the ramp for NIFT to promote Tribal Craft – weaving form of Maharashtra. It just goes to prove that she's rooted to her state and serious about the local dying crafts and craftsmen. May her tribe increase!"